Abstract
Enteroendocrine cells (EECs) control a wide range of physiological processes linked to metabolism1. We show that EEC hormones are differentially expressed between crypts (for example, Glp1) and villi (for example, secretin). As demonstrated by single-cell mRNA sequencing using murine Lgr5+ cell-derived organoids, BMP4 signals alter the hormone expression profiles of individual EECs to resemble those found in the villus. Accordingly, BMP4 induces hormone switching of EECs migrating up the crypt–villus axis in vivo. Our findings imply that EEC lineages in the small intestine exhibit a more flexible hormone repertoire than previously proposed. We also describe a protocol to generate human EECs in organoids and demonstrate a similar regulation of hormone expression by BMP signalling. These findings establish alternative strategies to target EECs with therapeutically relevant hormone production through BMP modulation.
Access options
Subscribe to Journal
Get full journal access for 1 year
$99.00
only $8.25 per issue
All prices are NET prices.
VAT will be added later in the checkout.
Tax calculation will be finalised during checkout.
Rent or Buy article
Get time limited or full article access on ReadCube.
from$8.99
All prices are NET prices.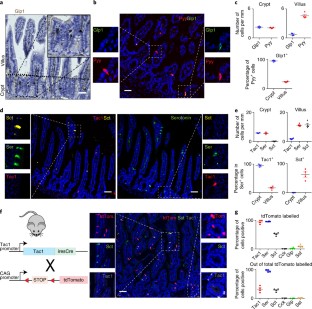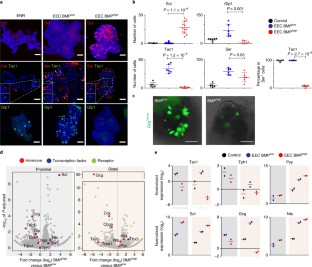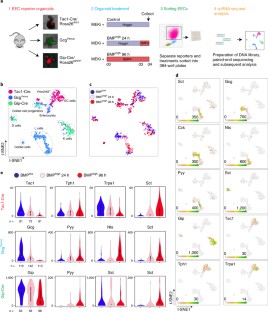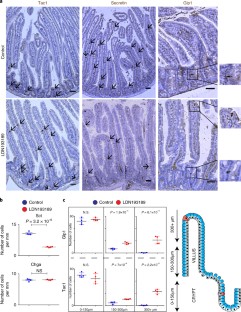 References
1.

Furness, J. B., Rivera, L. R., Cho, H.-J., Bravo, D. M. & Callaghan, B. The gut as a sensory organ. Nat. Rev. Gastroenterol. Hepatol. 1010, 729–740 (2013).

2.

Connor, T. M. O. et al. The role of substance P in inflammatory disease. J. Cell. Physiol. 201, 167–180 (2004).

3.

Egerod, K. L. et al. A major lineage of enteroendocrine cells coexpress CCK, secretin, GIP, GLP-1, PYY, and neurotensin but not somatostatin. Endocrinology 153, 5782–5795 (2012).

4.

Haber, A. L. et al. A single-cell survey of the small intestinal epithelium. Nature 551, 333–339 (2017).

5.

Barker, N. et al. Identification of stem cells in small intestine and colon by marker gene Lgr5. Nature 449, 1003–1007 (2007).

6.

Sato, T. et al. Single Lgr5 stem cells build crypt–villus structures in vitro without a mesenchymal niche. Nature 459, 262–265 (2009).

7.

Grün, D. et al. Single-cell messenger RNA sequencing reveals rare intestinal cell types. Nature 525, 251–5 (2015).

8.

Basak, O. et al. Induced quiescence of Lgr5+ stem cells in intestinal organoids enables differentiation of hormone-producing enteroendocrine cells. Cell Stem Cell 20, 177–190.e4 (2017).

9.

Roth, K. A. & Gordon, J. I. Spatial differentiation of the intestinal epithelium: analysis of enteroendocrine cells containing immunoreactive serotonin, secretin, and substance P in normal and transgenic mice. Proc. Natl Acad. Sci. USA 87, 6408–6412 (1990).

10.

Grunddal, K. V. et al. Neurotensin is coexpressed, coreleased, and acts together with GLP-1 and PYY in enteroendocrine control of metabolism. Endocrinology 157, 176–194 (2016).

11.

Harris, J. A. et al. Anatomical characterization of Cre driver mice for neural circuit mapping and manipulation. Front. Neural Circuits 8, 78 (2014).

12.

Aiken, K. D. & Roth, K. A. Temporal differentiation and migration of substance P, serotonin, and secretin immunoreactive enteroendocrine cells in the mouse proximal small intestine. Dev. Dyn. 194, 303–310 (1992).

13.

Haramis, A.-P. G. De novo crypt formation and juvenile polyposis on BMP inhibition in mouse intestine. Science 303, 1684–1686 (2004).

14.

Beumer, J. & Clevers, H. Regulation and plasticity of intestinal stem cells during homeostasis and regeneration. Development 143, 3639–3649 (2016).

15.

Camacho, S. et al. Anti-obesity and anti-hyperglycemic effects of cinnamaldehyde via altered ghrelin secretion and functional impact on food intake and gastric emptying. Sci. Rep. 5, 7919 (2015).

16.

Habib, A. M. et al. Overlap of endocrine hormone expression in the mouse intestine revealed by transcriptional profiling and flow cytometry. Endocrinology 153, 3054–3065 (2012).

17.

Svendsen, B. et al. GLP1- and GIP-producing cells rarely overlap and differ by bombesin receptor-2 expression and responsiveness. J. Endocrinol. 228, 39–48 (2016).

18.

Muraro, M. J. et al. A Single-cell transcriptome atlas of the human pancreas. Cell Syst. 3, 385–394 (2016).

19.

Hashimshony, T. et al. CEL-Seq2: sensitive highly-multiplexed single-cell RNA-Seq. Genome Biol. 17, 77 (2016).

20.

Grün, D. et al. De novo prediction of stem cell identity using single-cell transcriptome data. Cell Stem Cell 19, 266–277 (2016).

21.

Nozawa, K. et al. TRPA1 regulates gastrointestinal motility through serotonin release from enterochromaffin cells. Proc. Natl Acad. Sci. USA 106, 13 (2009).

22.

Zhang, X.-X. et al. Neuroendocrine hormone amylin in diabetes. World J. Diabetes 7, 189–197 (2016).

23.

Gross, S. et al. The novel enterochromaffin marker Lmx1a regulates serotonin biosynthesis in enteroendocrine cell lineages downstream of Nkx2.2. Development 143, 2616–2628 (2016).

24.

Zhang, J., McKenna, L. B., Bogue, C. W. & Kaestner, K. H. The diabetes gene Hhex maintains δ-cell differentiation and islet function. Genes Dev. 28, 829–834 (2014).

25.

Kaaij, L. T. et al. DNA methylation dynamics during intestinal stem cell differentiation reveals enhancers driving gene expression in the villus. Genome Biol. 14, R50 (2013).

26.

Hollnagel, A., Oehlmann, V., Heymer, J., Rüther, U. & Nordheim, A. Id genes are direct targets of bone morphogenetic protein induction in embryonic stem cells. J. Biol. Chem. 274, 19838–19845 (1999).

27.

Jenny, M. et al. Neurogenin3 is differentially required for endocrine cell fate specification in the intestinal and gastric epithelium. EMBO J. 21, 6338–6347 (2002).

28.

Whissell, G. et al. The transcription factor GATA6 enables self-renewal of colon adenoma stem cells by repressing BMP gene expression. Nat. Cell Biol. 16, 695–707 (2014).

29.

Qi, Z. et al. BMP restricts stemness of intestinal Lgr5+ stem cells by directly suppressing their signature genes. Nat. Commun. 8, 13824 (2017).

30.

Sato, T. et al. Long-term expansion of epithelial organoids from human colon, adenoma, adenocarcinoma, and Barrett's epithelium. Gastroenterology 141, 1762–1772 (2011).

31.

Clevers, H. The intestinal crypt, a prototype stem cell compartment. Cell 154, 274–284 (2013).

32.

Fothergill, L. J., Callaghan, B., Hunne, B., Bravo, D. M. & Furness, J. B. Costorage of enteroendocrine hormones evaluated at the cell and subcellular levels in male mice. Endocrinology 158, 2113–2123 (2017).

33.

Aiken, K. D., Kisslinger, J. A. & Roth, K. A. Immunohistochemical studies indicate multiple enteroendocrine cell differentiation pathways in the mouse proximal small intestine. Dev. Dyn. 201, 63–70 (1994).

34.

Bellono, N. W. et al. Enterochromaffin cells are gut chemosensors that couple to sensory neural pathways. Cell 170, 185–198.e16 (2017).

35.

Bohorquez, D. V. et al. Neuroepithelial circuit formed by innervation of sensory enteroendocrine cells. J. Clin. Investig. 125, 782–786 (2015).

36.

Beumer, J. & Clevers, H. Induction of different human enteroendocrine cells in intestinal organoids. Protoc. Exch. https://doi.org/10.1038/protex.2018.077 (2018).

37.

Farin, H. F. et al. Visualization of a short-range Wnt gradient in the intestinal stem-cell niche. Nature 530, 340–343 (2016).

38.

Muñoz, J. et al. The Lgr5 intestinal stem cell signature: robust expression of proposed quiescent '+4' cell markers. EMBO J. 31, 3079–3091 (2012).

39.

Li, H. & Durbin, R. Fast and accurate short read alignment with Burrows–Wheeler transform. Bioinformatics 25, 1754–1760 (2009).

40.

Love, M. I., Huber, W. & Anders, S. Moderated estimation of fold change and dispersion for RNA-seq data with DESeq2. Genome Biol. 15, 550 (2014).

41.

Grün, D., Kester, L. & van Oudenaarden, A. Validation of noise models for single-cell transcriptomics. Nat. Methods 11, 637–640 (2014).
Acknowledgements
We thank S. van der Elst, R. van der Linden and Y. Bar-Ephraim for their help with FACS experiments. B.A. is supported by NWO/VENI 863.15.015.
Ethics declarations
Competing interests
The authors declare no competing interests.
Additional information
Publisher's note: Springer Nature remains neutral with regard to jurisdictional claims in published maps and institutional affiliations.
Integrated supplementary information
Supplementary Information
About this article
Cite this article
Beumer, J., Artegiani, B., Post, Y. et al. Enteroendocrine cells switch hormone expression along the crypt-to-villus BMP signalling gradient. Nat Cell Biol 20, 909–916 (2018). https://doi.org/10.1038/s41556-018-0143-y
Received:

Accepted:

Published:

Issue Date: