Abstract
Measurements of trace gases in planetary atmospheres help us explore chemical conditions different to those on Earth. Our nearest neighbour, Venus, has cloud decks that are temperate but hyperacidic. Here we report the apparent presence of phosphine (PH3) gas in Venus's atmosphere, where any phosphorus should be in oxidized forms. Single-line millimetre-waveband spectral detections (quality up to ~15σ) from the JCMT and ALMA telescopes have no other plausible identification. Atmospheric PH3 at ~20 ppb abundance is inferred. The presence of PH3 is unexplained after exhaustive study of steady-state chemistry and photochemical pathways, with no currently known abiotic production routes in Venus's atmosphere, clouds, surface and subsurface, or from lightning, volcanic or meteoritic delivery. PH3 could originate from unknown photochemistry or geochemistry, or, by analogy with biological production of PH3 on Earth, from the presence of life. Other PH3 spectral features should be sought, while in situ cloud and surface sampling could examine sources of this gas.
Relevant articles
Open Access articles citing this article.
Luca Bindi

,

Tian Feng

&

Matthew A. Pasek

Communications Earth & Environment Open Access 14 March 2023

F. Westall

,

D. Höning

…

C. Wilson

Space Science Reviews Open Access 22 February 2023

Antonio Francés-Monerris

,

Javier Carmona-García

…

Daniel Roca-Sanjuán

Nature Communications Open Access 30 July 2022
Access options
Access Nature and 54 other Nature Portfolio journals
Get Nature+, our best-value online-access subscription
$29.99 / 30 days
cancel any time
Subscribe to this journal
Receive 12 digital issues and online access to articles
$119.00 per year
only $9.92 per issue
Rent or buy this article
Prices vary by article type
from$1.95
to$39.95
Prices may be subject to local taxes which are calculated during checkout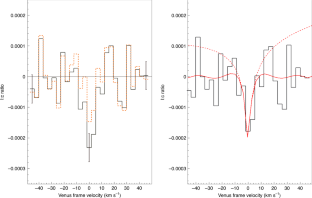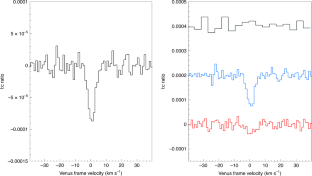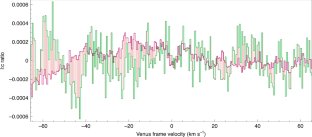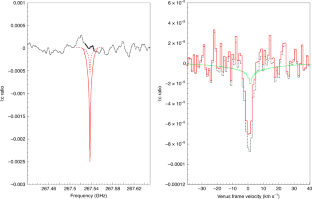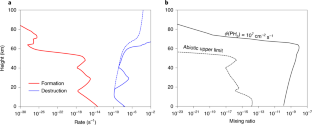 References
Baudino, J.-L. et al. Toward the analysis of JWST exoplanet spectra: identifying troublesome model parameters. Astrophys. J. 850, 150 (2017).

Boston, P. J., Ivanov, M. V. & McKay, C. P. On the possibility of chemosynthetic ecosystems in subsurface habitats on Mars. Icarus 95, 300–308 (1992).

McKay, C. P., Porco, C. C., Altheide, T., Davis, W. L. & Kral, T. A. The possible origin and persistence of life on Enceladus and detection of biomarkers in the plume. Astrobiology 8, 909–919 (2008).

Pappalardo, R. T. et al. Does Europa have a subsurface ocean? Evaluation of the geological evidence. J. Geophys. Res. Planets 104, 24015–24055 (1999).

Roth, L. et al. Transient water vapor at Europa's south pole. Science 343, 171–174 (2014).

Waite, J. H. et al. Cassini Ion and Neutral Mass Spectrometer: Enceladus plume composition and structure. Science 311, 1419–1422 (2006).

Postberg, F. et al. Macromolecular organic compounds from the depths of Enceladus. Nature 558, 564–568 (2018).

Oehler, D. Z. & Etiope, G. Methane seepage on Mars: where to look and why. Astrobiology 17, 1233–1264 (2017).

Gillen, E., Rimmer, P. B. & Catling, D. C. Statistical analysis of Curiosity data shows no evidence for a strong seasonal cycle of Martian methane. Icarus 336, 113407 (2020).

Sousa-Silva, C. et al. Phosphine as a biosignature gas in exoplanet atmospheres. Astrobiology 20, 235–268 (2020).

Pasek, M. A., Sampson, J. M. & Atlas, Z. Redox chemistry in the phosphorus biogeochemical cycle. Proc. Natl. Acad. Sci. USA 111, 15468–15473 (2014).

Bregman, J. D., Lester, D. F. & Rank, D. M. Observation of the ν 2 band of PH3 in the atmosphere of Saturn. Astrophys. J. 202, L55–L56 (1975).

Tarrago, G. et al. Phosphine spectrum at 4–5 μm: analysis and line-by-line simulation of 2ν 2, ν 2 + ν 4, 2ν 4, ν 1, and ν 3 bands. J. Mol. Spectrosc. 154, 30–42 (1992).

Noll, K. S. & Marley, M. S. in Planets Beyond the Solar System and the Next Generation of Space Missions (ed. Soderblom, D.) 155 (ASP, 1997).

Visscher, C., Lodders, K. & Fegley, B. Atmospheric chemistry in giant planets, brown dwarfs, and low-mass dwarf stars. II. Sulfur and phosphorus. Astrophys. J. 648, 1181 (2006).

Morowitz, H. & Sagan, C. Life in the clouds of venus? Nature 215, 1259 (1967).

Limaye, S. S. et al. Venus' spectral signatures and the potential for life in the clouds. Astrobiology 18, 1181–1198 (2018).

Bains, W., Petkowski, J. J., Sousa-Silva, C. & Seager, S. New environmental model for thermodynamic ecology of biological phosphine production. Sci.Total Environ. 658, 521–536 (2019).

Weisstein, E. W. & Serabyn, E. Detection of the 267 GHz J = 1-0 rotational transition of PH3 in Saturn with a new Fourier transform spectrometer. Icarus 109, 367–381 (1994).

Cram, T. A directable modular approach to data processing. Astron. Astrophys. Suppl. Ser. 15, 339 (1974).

Warmels, R. et al. ALMA Cycle 6 Technical Handbook doc. 6.3 (ALMA, 2018).

Encrenaz, T., Moreno, R., Moullet, A., Lellouch, E. & Fouchet, T. Submillimeter mapping of mesospheric minor species on Venus with ALMA. Planet. Space Sci. 113, 275–291 (2015).

Jacquinet-Husson, N. et al. The 2015 edition of the GEISA spectroscopic database. J. Mol. Spectrosc. 327, 31–72 (2016).

Gordon, I. E. et al. The HITRAN2016 molecular spectroscopic database. J. Quant. Spectrosc. Radiat. Transf. 203, 3–69 (2017).

Tennyson, J. et al. The ExoMol database: molecular line lists for exoplanet and other hot atmospheres. J. Mol. Spectrosc. 327, 73–94 (2016).

Kuczkowski, R. L., Suenram, R. D. & Lovas, F. J. Microwave spectrum, structure, and dipole moment of sulfuric acid. J. Am. Chem. Soc. 103, 2561–2566 (1981).

Piccialli, A. et al. Mapping the thermal structure and minor species of Venus mesosphere with ALMA submillimeter observations. Astron. Astrophys. 606, A53 (2017).

Gurwell, M. A., Melnick, G. J., Tolls, V., Bergin, E. A. & Patten, B. M. SWAS observations of water vapor in the Venus mesosphere. Icarus 188, 288–304 (2007).

Dartnell, L. R. et al. Constraints on a potential aerial biosphere on Venus: I. Cosmic rays. Icarus 257, 396–405 (2015).

Sousa-Silva, C., Hesketh, N., Yurchenko, S. N., Hill, C. & Tennyson, J. High temperature partition functions and thermodynamic data for ammonia and phosphine. J. Quant. Spectrosc.Radiat. Transf. 142, 66–74 (2014).

Sousa-Silva, C., Tennyson, J. & Yurchenko, S. N. Communication: tunnelling splitting in the phosphine molecule. J. Chem. Phys. 145, 091102 (2016).

Krasnopolsky, V. A. Vega mission results and chemical composition of Venusian clouds. Icarus 80, 202–210 (1989).

Lorenz, R. D. Lightning detection on Venus: a critical review. Prog. Earth Planet. Sci. 5, 34 (2018).

Shalygin, E. V. et al. Active volcanism on Venus in the Ganiki Chasma rift zone. Geophys. Res. Lett. 42, 4762–4769 (2015).

Grinspoon, D. H. & Bullock, M. A. in Exploring Venus as a Terrestrial Planet (eds Esposito, L. W., Stofan, E. R. & Cravens, T. E.) 191 (American Geophysical Union, 2007).

Sánchez-Lavega, A., Lebonnois, S., Imamura, T., Read, P. & Luz, D. The atmospheric dynamics of Venus. Space Sci. Rev. 212, 1541–1616 (2017).

Currie, M. J. et al. Starlink Software in 2013. Astron. Soc. Pac. Conf. Ser. 485, 391–394 (2014).

Currie, M. J. & Berry, D. S. KAPPA: Kernel Applications Package ascl:1403.022 (Astrophysics Source Code Library, 2014).

Jenness., T. et al. Automated reduction of sub-millimetre single-dish heterodyne data from the James Clerk Maxwell Telescope using ORAC-DR. Mon. Not. R. Astron. Soc. 453, 73–88 (2015).

Škoda, P., Draper, P. W., Neves, M. C., Andrešič, D. & Jenness, T. Spectroscopic analysis in the virtual observatory environment with SPLAT-VO. Astron. Comput. 7, 108–120 (2014).

Sandor, B. J. & Clancy, R. T. First measurements of ClO in the Venus atmosphere–altitude dependence and temporal variation. Icarus 313, 15–24 (2018).

Barnes, D. G., Briggs, F. H. & Calabretta, M. R. Postcorrelation ripple removal and radio frequency interference rejection for Parkes Telescope survey data. Radio Sci. 40, 1–10 (2005).

Butler, B. ALMA Memo 594: Flux Density Models for Solar System Bodies in CASA (ALMA Memo Series, NRAO, 2012).

Sandor, B. J. & Clancy, R. T. Water vapor variations in the Venus mesosphere from microwave spectra. Icarus 177, 129–143 (2005).

Rimmer, P. B. & Helling, C. A chemical kinetics network for lightning and life in planetary atmospheres. Astrophys. J. Suppl. Ser. 224, 9 (2016).

Krasnopolsky, V. A. Chemical kinetic model for the lower atmosphere of Venus. Icarus 191, 25–37 (2007).

Rimmer, P. B. & Rugheimer, S. Hydrogen cyanide in nitrogen-rich atmospheres of rocky exoplanets. Icarus 329, 124–131 (2019).

Krasnopolsky, V. A. S3 and S4 abundances and improved chemical kinetic model for the lower atmosphere of Venus. Icarus 225, 570–580 (2013).

Zhang, X., Liang, M. C., Mills, F. P., Belyaev, D. A. & Yung, Y. L. Sulfur chemistry in the middle atmosphere of Venus. Icarus 217, 714–739 (2012).

Burcat, A. & Ruscic, B. Third Millenium Ideal Gas and Condensed Phase Thermochemical Database for Combustion (with Update from Active Thermochemical Tables) (Argonne National Laboratory, 2005).

Visscher, C. & Moses, J. I. Quenching of carbon monoxide and methane in the atmospheres of cool brown dwarfs and hot Jupiters. Astrophys. J. 738, 72 (2011).

Lyons, J. R. An estimate of the equilibrium speciation of sulfur vapor over solid sulfur and implications for planetary atmospheres. J. Sulphur Chem. 29, 269–279 (2008).

Kulmala, M. & Laaksonen, A. Binary nucleation of water–sulfuric acid system: comparison of classical theories with different H2SO4 saturation vapor pressures. J. Chem. Phys. 93, 696–701 (1990).

Bierson, C. J. & Zhang, X. Chemical cycling in the Venusian atmosphere: a full photochemical model from the surface to 110 km. J. Geophys. Res. Planets https://doi.org/10.1029/2019JE006159 (2019).

Sander, R. Compilation of Henry's law constants (version 4.0) for water as solvent. Atmos. Chem. Phys. 15, 4399–4981 (2015).

Krasnopolsky, V. A. A photochemical model for the Venus atmosphere at 47–112 km. Icarus 218, 230–246 (2012).

Seiff, A. et al. Models of the structure of the atmosphere of Venus from the surface to 100 kilometers altitude. Adv. Space Res. 5, 3–58 (1985).

Keating, G. M. et al. Models of Venus neutral upper atmosphere: structure and composition. Adv. Space Res. 5, 117–171 (1985).

Linstrom, P. J. & Mallard, W. G. The NIST Chemistry WebBook: a chemical data resource on the internet. J. Chem. Eng. Data 46, 1059–1063 (2001).

Frost, B. R. in Oxide Minerals: Petrologic and Magnetic Significance (ed. Lindsley, D. H.) Ch. 1 (Mineralogical Society of America, 1991).

Seager, S. et al. The Venusian lower atmosphere haze as a depot for desiccated microbial life: a proposed life cycle for persistence of the venusian aerial biosphere. Astrobiology https://doi.org/10.1089/ast.2020.2244 (2020).
Acknowledgements
Venus was observed under JCMT Service Program S16BP007 and ALMA Director's Discretionary Time programme 2018.A.00023.S. As JCMT users, we express our deep gratitude to the people of Hawaii for the use of a location on Mauna Kea, a sacred site. We thank M. Gurwell, I. Gordon and M. Knapp for useful discussions; personnel of the UK Starlink Project for training; S. Dougherty for award of ALMA Director's discretionary time; and D. Petry and other Astronomers on Duty and project preparation scientists at ALMA for ensuring timely observations. The James Clerk Maxwell Telescope is operated by the East Asian Observatory on behalf of The National Astronomical Observatory of Japan; Academia Sinica Institute of Astronomy and Astrophysics; the Korea Astronomy and Space Science Institute; Center for Astronomical Mega-Science (as well as the National Key R&D Program of China with no. 2017YFA0402700). Additional funding support is provided by the Science and Technology Facilities Council of the United Kingdom and participating universities in the United Kingdom (including Cardiff, Imperial College and the Open University) and Canada. Starlink software is currently supported by the East Asian Observatory. ALMA is a partnership of ESO (representing its member states), NSF (United States) and NINS (Japan), together with NRC (Canada), MOST and ASIAA (Taiwan), and KASI (Republic of Korea), in cooperation with the Republic of Chile. The Joint ALMA Observatory is operated by ESO, AUI/NRAO and NAOJ. Funding for the authors was provided by STFC (grant ST/N000838/1, D.L.C.); Radionet/MARCUs through ESO (J.S.G.); the Japan Society for the Promotion of Science KAKENHI (grant no. 16H02231, H.S.); the Heising-Simons Foundation, the Change Happens Foundation, the Simons Foundation (495062, S.R.); the Simons Foundation (SCOL award 59963, P.B.R.). RadioNet has received funding from the European Union's Horizon 2020 research and innovation programme under grant agreement no. 730562. J.S.G. is a Visitor at the Institute of Astronomy, University of Cambridge. S.R. is a SCOL Postdoctoral Fellow.
Ethics declarations
Competing interests
The authors declare no competing interests.
Additional information
Peer review information Nature Astronomy thanks Kevin Zahnle and the other, anonymous, reviewer(s) for their contribution to the peer review of this work.
Publisher's note Springer Nature remains neutral with regard to jurisdictional claims in published maps and institutional affiliations.
Supplementary information
About this article
Cite this article
Greaves, J.S., Richards, A.M.S., Bains, W. et al. Phosphine gas in the cloud decks of Venus. Nat Astron 5, 655–664 (2021). https://doi.org/10.1038/s41550-020-1174-4
Received:

Accepted:

Published:

Issue Date:

DOI: https://doi.org/10.1038/s41550-020-1174-4