Abstract
Plants live as sessile organisms with large-scale gene duplication events and subsequent paralogue divergence during evolution. Notably, plant paralogues are expressed tissue-specifically and fine-tuned by phytohormones during various developmental processes. The coat protein complex II (COPII) is a highly conserved vesiculation machinery mediating protein transport from the endoplasmic reticulum to the Golgi apparatus in eukaryotes1. Intriguingly, Arabidopsis COPII paralogues greatly outnumber those in yeast and mammals2,3,4,5,6. However, the functional diversity and underlying mechanism of distinct COPII paralogues in regulating protein endoplasmic reticulum export and coping with various adverse environmental stresses are poorly understood. Here we characterize a novel population of COPII vesicles produced in response to abscisic acid, a key phytohormone regulating abiotic stress responses in plants. These hormone-induced giant COPII vesicles are regulated by an Arabidopsis-specific COPII paralogue and carry stress-related channels/transporters for alleviating stresses. This study thus provides a new mechanism underlying abscisic acid-induced stress responses via the giant COPII vesicles and answers a long-standing question on the evolutionary significance of gene duplications in Arabidopsis.
Access options
Access Nature and 54 other Nature Portfolio journals
Get Nature+, our best-value online-access subscription
$29.99 / 30 days
cancel any time
Subscribe to this journal
Receive 12 digital issues and online access to articles
$119.00 per year
only $9.92 per issue
Rent or buy this article
Get just this article for as long as you need it
$39.95
Prices may be subject to local taxes which are calculated during checkout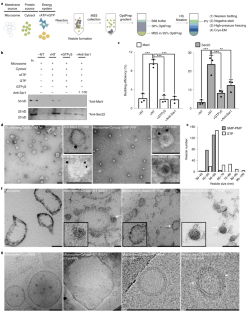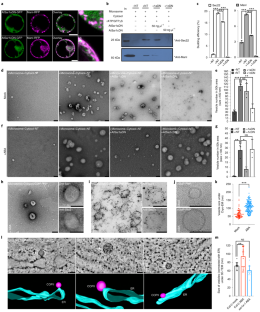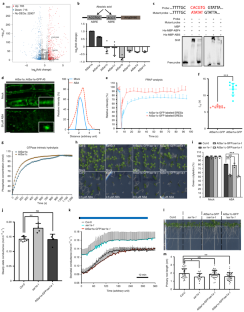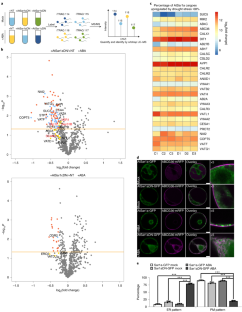 Data availability
The Arabidopsis lines and plasmids generated in this study are available from the corresponding authors upon request. Dataset GSE49418 is publicly available. Source data are provided with this paper.
References
Zanetti, G., Pahuja, K. B., Studer, S., Shim, S. & Schekman, R. COPII and the regulation of protein sorting in mammals. Nat. Cell Biol. 14, 20–28 (2011).

Chung, K. P., Zeng, Y. & Jiang, L. COPII paralogs in plants: functional redundancy or diversity? Trends Plant Sci. 21, 758–769 (2016).

Faso, C. et al. A missense mutation in the Arabidopsis COPII coat protein Sec24A induces the formation of clusters of the endoplasmic reticulum and Golgi apparatus. Plant Cell 21, 3655–3671 (2009).

Hanton, S. L. et al. Plant Sar1 isoforms with near-identical protein sequences exhibit different localisations and effects on secretion. Plant Mol. Biol. 67, 283–294 (2008).

Nakano, R. T. et al. GNOM-LIKE1/ERMO1 and SEC24a/ERMO2 are required for maintenance of endoplasmic reticulum morphology in Arabidopsis thaliana. Plant Cell 21, 3672–3685 (2009).

Zeng, Y. et al. Unique COPII component AtSar1a/AtSec23a pair is required for the distinct function of protein ER export in Arabidopsis thaliana. Proc. Natl Acad. Sci. USA 112, 14360–14365 (2015).

Bonifacino, J. S. & Glick, B. S. The mechanisms of vesicle budding and fusion. Cell 116, 153–166 (2004).

Robinson, D. G., Brandizzi, F., Hawes, C. & Nakano, A. Vesicles versus tubes: is endoplasmic reticulum–Golgi transport in plants fundamentally different from other eukaryotes? Plant Physiol. 168, 393–406 (2015).

Chinnusamy, V., Schumaker, K. & Zhu, J. K. Molecular genetic perspectives on cross-talk and specificity in abiotic stress signalling in plants. J. Exp. Bot. 55, 225–236 (2004).

Cutler, S. R., Rodriguez, P. L., Finkelstein, R. R. & Abrams, S. R. Abscisic acid: emergence of a core signaling network. Annu Rev. Plant Biol. 61, 651–679 (2010).

Eisenach, C. et al. ABA-induced stomatal closure involves ALMT4, a phosphorylation-dependent vacuolar anion channel of Arabidopsis. Plant Cell 29, 2552–2569 (2017).

Footitt, S., Clewes, R., Feeney, M., Finch-Savage, W. E. & Frigerio, L. Aquaporins influence seed dormancy and germination in response to stress. Plant Cell Environ. 42, 2325–2339 (2019).

Murata, Y., Pei, Z. M., Mori, I. C. & Schroeder, J. Abscisic acid activation of plasma membrane Ca(2+) channels in guard cells requires cytosolic NAD(P)H and is differentially disrupted upstream and downstream of reactive oxygen species production in abi1-1 and abi2-1 protein phosphatase 2C mutants. Plant Cell 13, 2513–2523 (2001).

Ooi, A., Lemtiri-Chlieh, F., Wong, A. & Gehring, C. Direct modulation of the guard cell outward-rectifying potassium channel (GORK) by abscisic acid. Mol. Plant 10, 1469–1472 (2017).

Jaldin-Fincati, J. R., Pavarotti, M., Frendo-Cumbo, S., Bilan, P. J. & Klip, A. Update on GLUT4 vesicle traffic: a cornerstone of insulin action. Trends Endocrinol. Metab. 28, 597–611 (2017).

Barlowe, C. et al. COPII: a membrane coat formed by Sec proteins that drive vesicle budding from the endoplasmic reticulum. Cell 77, 895–907 (1994).

Matsuoka, K. et al. COPII-coated vesicle formation reconstituted with purified coat proteins and chemically defined liposomes. Cell 93, 263–275 (1998).

Gorur, A. et al. COPII-coated membranes function as transport carriers of intracellular procollagen I. J. Cell Biol. 216, 1745–1759 (2017).

Mancias, J. D. & Goldberg, J. The transport signal on Sec22 for packaging into COPII-coated vesicles is a conformational epitope. Mol. Cell 26, 403–414 (2007).

Ge, L., Melville, D., Zhang, M. & Schekman, R. The ER–Golgi intermediate compartment is a key membrane source for the LC3 lipidation step of autophagosome biogenesis. Elife 2, e00947 (2013).

Yokota, E. et al. Myosin XI-dependent formation of tubular structures from endoplasmic reticulum isolated from tobacco cultured BY-2 cells. Plant Physiol. 156, 129–143 (2011).

Hudson, R. T. & Draper, R. K. Interaction of coatomer with aminoglycoside antibiotics: evidence that coatomer has at least two dilysine binding sites. Mol. Biol. Cell 8, 1901–1910 (1997).

Miao, Y., Li, K. Y., Li, H. Y., Yao, X. & Jiang, L. The vacuolar transport of aleurain-GFP and 2S albumin-GFP fusions is mediated by the same pre-vacuolar compartments in tobacco BY-2 and Arabidopsis suspension cultured cells. Plant J. 56, 824–839 (2008).

Miao, Y. & Jiang, L. Transient expression of fluorescent fusion proteins in protoplasts of suspension cultured cells. Nat. Protoc. 2, 2348–2353 (2007).

Oka, T. & Nakano, A. Inhibition of GTP hydrolysis by Sar1p causes accumulation of vesicles that are a functional intermediate of the ER-to-Golgi transport in yeast. J. Cell Biol. 124, 425–434 (1994).

Gong, Z. et al. Plant abiotic stress response and nutrient use efficiency. Sci. China Life Sci. 63, 635–674 (2020).

Antoni, R. et al. PYRABACTIN RESISTANCE1-LIKE8 plays an important role for the regulation of abscisic acid signaling in root. Plant Physiol. 161, 931–941 (2013).

Rubio, S. et al. Triple loss of function of protein phosphatases type 2C leads to partial constitutive response to endogenous abscisic acid. Plant Physiol. 150, 1345–1355 (2009).

Matsushima, R. et al. The ER body, a novel endoplasmic reticulum-derived structure in Arabidopsis. Plant Cell Physiol. 44, 661–666 (2003).

Li, H. et al. The plant ESCRT component FREE1 shuttles to the nucleus to attenuate abscisic acid signalling. Nat. Plants 5, 512–524 (2019).

Zanetti, G. et al. The structure of the COPII transport-vesicle coat assembled on membranes. Elife 2, e00951 (2013).

Winter, D. et al. An "Electronic Fluorescent Pictograph" browser for exploring and analyzing large-scale biological data sets. PLoS ONE 2, e718 (2007).

Papanatsiou, M. et al. Optogenetic manipulation of stomatal kinetics improves carbon assimilation, water use, and growth. Science 363, 1456–1459 (2019).

Papanatsiou, M., Amtmann, A. & Blatt, M. R. Stomatal spacing safeguards stomatal dynamics by facilitating guard cell ion transport independent of the epidermal solute reservoir. Plant Physiol. 172, 254–263 (2016).

Ceciliato, P. H. O. et al. Intact leaf gas exchange provides a robust method for measuring the kinetics of stomatal conductance responses to abscisic acid and other small molecules in Arabidopsis and grasses. Plant Methods 15, 38 (2019).

Adolf, F. et al. Proteomic profiling of mammalian COPII and COPI vesicles. Cell Rep. 26, 250–265.e5 (2019).

Wang, Z. Y. et al. The Arabidopsis Vacuolar Sorting Receptor1 is required for osmotic stress-induced abscisic acid biosynthesis. Plant Physiol. 167, 137–152 (2015).

Stein, M. et al. Arabidopsis PEN3/PDR8, an ATP binding cassette transporter, contributes to nonhost resistance to inappropriate pathogens that enter by direct penetration. Plant Cell 18, 731–746 (2006).

Pommerrenig, B. et al. SUCROSE TRANSPORTER 5 supplies Arabidopsis embryos with biotin and affects triacylglycerol accumulation. Plant J. 73, 392–404 (2013).

Eisenach, C., Papanatsiou, M., Hillert, E. K. & Blatt, M. R. Clustering of the K+ channel GORK of Arabidopsis parallels its gating by extracellular K+. Plant J. 78, 203–214 (2014).

Meyer, S. et al. AtALMT12 represents an R-type anion channel required for stomatal movement in Arabidopsis guard cells. Plant J. 63, 1054–1062 (2010).

Tian, L. et al. Small GTPase Sar1 is crucial for proglutelin and alpha-globulin export from the endoplasmic reticulum in rice endosperm. J. Exp. Bot. 64, 2831–2845 (2013).

Wang, Y. et al. GOLGI TRANSPORT 1B regulates protein export from the endoplasmic reticulum in rice endosperm cells. Plant Cell 28, 2850–2865 (2016).

Aboulela, M., Nakagawa, T., Oshima, A., Nishimura, K. & Tanaka, Y. The Arabidopsis COPII components, AtSEC23A and AtSEC23D, are essential for pollen wall development and exine patterning. J. Exp. Bot. 69, 1615–1633 (2018).

Tanaka, Y., Nishimura, K., Kawamukai, M., Oshima, A. & Nakagawa, T. Redundant function of two Arabidopsis COPII components, AtSec24B and AtSec24C, is essential for male and female gametogenesis. Planta 238, 561–575 (2013).

Clough, S. J. & Bent, A. F. Floral dip: a simplified method for Agrobacterium-mediated transformation of Arabidopsis thaliana. Plant J. 16, 735–743 (1998).

Verslues, P. E., Agarwal, M., Katiyar-Agarwal, S., Zhu, J. & Zhu, J. K. Methods and concepts in quantifying resistance to drought, salt and freezing, abiotic stresses that affect plant water status. Plant J. 45, 523–539 (2006).

Yoo, S. D., Cho, Y. H. & Sheen, J. Arabidopsis mesophyll protoplasts: a versatile cell system for transient gene expression analysis. Nat. Protoc. 2, 1565–1572 (2007).

Cui, Y. et al. A whole-cell electron tomography model of vacuole biogenesis in Arabidopsis root cells. Nat. Plants 5, 95–105 (2019).

Ding, Z. J. et al. Transcription factor WRKY46 regulates osmotic stress responses and stomatal movement independently in Arabidopsis. Plant J. 79, 13–27 (2014).
Acknowledgements
We thank R. Schekman and D. G. Robinson for critical suggestions; D. Inzé for the PSBD suspension cultures; C. Gao for sharing ABF4 and ABI5 constructs; P. Rodriguez for sharing the Arabidopsis pyr/pyl112458 and hab1-1abi1-2abi2-2 mutants; the Hong Kong Polytechnic University Research Facility in Chemical and Environmental Analysis (UCEA) for the MS platform; and L. Lo for the MS technical assistance. This work was supported by grants from the National Natural Science Foundation of China (31670179 and 91854201), the Research Grants Council of Hong Kong (CUHK14130716, 14102417, 14100818, 14101219, C4012-16E, C4033-19E, C4002-17G, C4002-20W, R4005-18 and AoE/M-05/12) and the CUHK Research Committee to L.J.; Y.G. was supported by Hong Kong Research Grants Council Grants (26100315, 16101116, 16102218, AoE/M-05/12 and C4002-17G) and by the National Natural Science Foundation of China (31871421). Z.Y. was supported by the Research Grants Council Collaborative Research Fund (C5031-14E). W.C.Y.L. was supported by the Research Grants Council General Research Fund (14105517), CUHK Seed Fund Research Support and CUHK Direct Grant for Research (4053182).
Ethics declarations
Competing interests
The authors declare no competing interests.
Additional information
Peer review information Nature Plants thanks the anonymous reviewers for their contribution to the peer review of this work.
Publisher's note Springer Nature remains neutral with regard to jurisdictional claims in published maps and institutional affiliations.
Supplementary information
Rights and permissions
Springer Nature or its licensor (e.g. a society or other partner) holds exclusive rights to this article under a publishing agreement with the author(s) or other rightsholder(s); author self-archiving of the accepted manuscript version of this article is solely governed by the terms of such publishing agreement and applicable law.
About this article
Cite this article
Li, B., Zeng, Y., Cao, W. et al. A distinct giant coat protein complex II vesicle population in Arabidopsis thaliana. Nat. Plants 7, 1335–1346 (2021). https://doi.org/10.1038/s41477-021-00997-9
Received:

Accepted:

Published:

Issue Date:

DOI: https://doi.org/10.1038/s41477-021-00997-9
This article is cited by
Baiying Li
Yonglun Zeng
Liwen Jiang

Nature Protocols (2023)

Xiuhao Bao
Yongfei Wang
Jianmin Wan

Plant Molecular Biology (2023)