Abstract
Organ size and shape are precisely regulated to ensure proper function. The four sepals in each Arabidopsis thaliana flower must maintain the same size throughout their growth to continuously enclose and protect the developing bud. Here we show that DEVELOPMENT RELATED MYB-LIKE 1 (DRMY1) is required for both timing of organ initiation and proper growth, leading to robust sepal size in Arabidopsis. Within each drmy1 flower, the initiation of some sepals is variably delayed. Late-initiating sepals in drmy1 mutants remain smaller throughout development, resulting in variability in sepal size. DRMY1 focuses the spatiotemporal signalling patterns of the plant hormones auxin and cytokinin, which jointly control the timing of sepal initiation. Our findings demonstrate that timing of organ initiation, together with growth and maturation, contribute to robust organ size.
Access options
Subscribe to Journal
Get full journal access for 1 year
$59.00
only $4.92 per issue
All prices are NET prices.
VAT will be added later in the checkout.
Tax calculation will be finalised during checkout.
Rent or Buy article
Get time limited or full article access on ReadCube.
from$8.99
All prices are NET prices.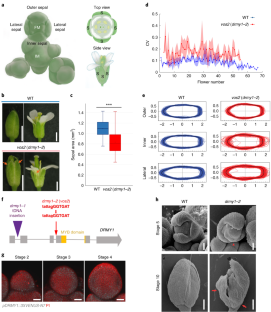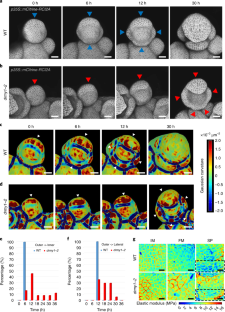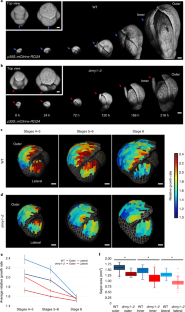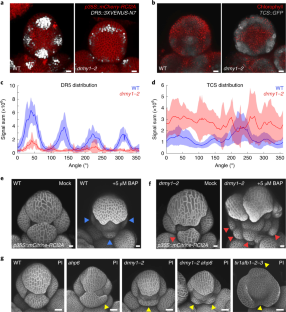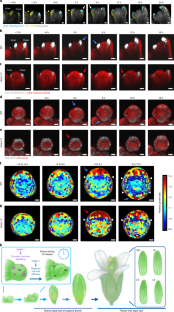 Data availability
All other data are available in the main text, the Extended Data figures, the Supplementary Data or the Source Data.
RNA-seq data are available at NCBI BioProject PRJNA564625. Individual RNA-seq read sets are archived in SRA under the following accession numbers: WT replicate 1, SRX6821462; WT replicate 2, SRX6821463; WT replicate 3, SRX6821464; drmy1-2 replicate 1, SRX6821465; drmy1-2 replicate 2, SRX6821466; and drmy1-2 replicate 3, SRX6821467. Gene information is available under the following accession numbers: DRMY1, AT1G58220; AHP6, AT1G80100; TIR1, AT3G62980; AFB1, AT4G03190; AFB2, AT3G26810; AFB3, AT1G12820; WOL, AT2G01830; and PIN1, AT1G73590. Source Data for Figs. 1–4 and Extended Data Figs. 1–7 are provided with the paper.
References
1.

Williams, R. W. Mapping genes that modulate mouse brain development: a quantitative genetic approach. Mouse Brain Dev. 30, 21–49 (2000).

2.

Mizukami, Y. A matter of size: developmental control of organ size in plants. Curr. Opin. Plant Biol. 4, 533–539 (2001).

3.

Gomez, M., Gomez, V. & Hergovich, A. The Hippo pathway in disease and therapy: cancer and beyond. Clin. Transl. Med. 3, 22 (2014).

4.

Zygulska, A. L., Krzemieniecki, K. & Pierzchalski, P. Hippo pathway – brief overview of its relevance in cancer. J. Physiol. Pharmacol. 68, 311–335 (2017).

5.

Nicodème Fassinou Hotegni, V., Lommen, W. J. M., Agbossou, E. K. & Struik, P. C. Heterogeneity in pineapple fruit quality results from plant heterogeneity at flower induction. Front. Plant Sci. 5, 670 (2014).

6.

Félix, M. A. & Wagner, A. Robustness and evolution: concepts, insights and challenges from a developmental model system. Heredity 100, 132–140 (2008).

7.

Waddington, C. H. Canalization of development and the inheritance of acquired characters. Nature 150, 563–565 (1942).

8.

Vogel, G. How do organs know when they have reached the right size? Science 340, 1156–1157 (2013).

9.

Garelli, A., Gontijo, A. M., Miguela, V., Caparros, E. & Dominguez, M. Imaginal discs secrete insulin-like peptide 8 to mediate plasticity of growth and maturation. Science 336, 579–582 (2012).

10.

Colombani, J., Andersen, D. S. & Léopol, P. Secreted peptide dilp8 coordinates Drosophila tissue growth with developmental timing. Science 336, 582–585 (2012).

11.

Roeder, A. H. Sepals in Encyclopedia of Life Sciences (John Wiley & Sons, 2010).

12.

Wolpert, L. Arms and the man: the problem of symmetric growth. PLoS Biol. 8, e1000477 (2010).

13.

Katsanos, D. et al. Stochastic loss and gain of symmetric divisions in the C. elegans epidermis perturbs robustness of stem cell number. PLoS Biol. 15, e2002429 (2017).

14.

Hong, L. et al. Variable cell growth yields reproducible organ development through spatiotemporal averaging. Dev. Cell 38, 15–32 (2016).

15.

Wu, P. et al. DRMY1, a Myb-Like protein, regulates cell expansion and seed production in Arabidopsis thaliana. Plant Cell Physiol. 60, 285–302 (2019).

16.

Dubos, C. et al. MYB transcription factors in Arabidopsis. Trends Plant Sci. 15, 573–581 (2010).

17.

Peaucelle, A. et al. Arabidopsis phyllotaxis Is controlled by the methyl-esterification status of cell wall pectins. Curr. Biol. 18, 1943–1948 (2008).

18.

Peaucelle, A. et al. Pectin-induced changes in cell wall mechanics underlie organ initiation in Arabidopsis. Curr. Biol. 21, 1720–1726 (2011).

19.

Arsuffi, G. & Braybrook, S. A. Acid growth: an ongoing trip. J. Exp. Bot. 69, 137–146 (2018).

20.

Heisler, M. G. et al. Patterns of auxin transport and gene expression during primordium development revealed by live imaging of the Arabidopsis inflorescence meristem. Curr. Biol. 15, 1899–1911 (2005).

21.

Jönsson, H., Heisler, M. G., Shapiro, B. E., Meyerowitz, E. M. & Mjolsness, E. An auxin-driven polarized transport model for phyllotaxis. Proc. Natl Acad. Sci. USA 103, 1633–1638 (2006).

22.

Smith, R. S. et al. A plausible model of phyllotaxis. Proc. Natl Acad. Sci. USA 103, 1301–1306 (2006).

23.

Reinhardt, D. et al. Regulation of phyllotaxis by polar auxin transport. Nature 426, 255–260 (2003).

24.

Chandler, J. W., Jacobs, B., Cole, M., Comelli, P. & Werr, W. DORNRÖSCHEN-LIKE expression marks Arabidopsis floral organ founder cells and precedes auxin response maxima. Plant Mol. Biol. 76, 171–185 (2011).

25.

Cheng, Y., Dai, X. & Zhao, Y. Auxin biosynthesis by the YUCCA flavin monooxygenases controls the formation of floral organs and vascular tissues in Arabidopsis. Genes Dev. 20, 1790–1799 (2006).

26.

Billou, I. et al. The PIN auxin efflux facilitator network controls growth and patterning in Arabidopsis roots. Nature 433, 39–44 (2005).

27.

Goh, T., Kasahara, H., Mimura, T., Kamiya, Y. & Fukaki, H. Multiple AUX/IAA-ARF modules regulate lateral root formation: the role of Arabidopsis SHY2/IAA3-mediated auxin signalling. Philos. Trans. R. Soc. B 367, 1461–1468 (2012).

28.

Besnard, F. et al. Cytokinin signalling inhibitory fields provide robustness to phyllotaxis. Nature 505, 417–421 (2014).

29.

Besnard, F., Rozier, F. & Vernoux, T. The AHP6 cytokinin signaling inhibitor mediates an auxin–cytokinin crosstalk that regulates the timing of organ initiation at the shoot apical meristem. Plant Signal. Behav. 9, e28788 (2014).

30.

Müller, B. & Sheen, J. Cytokinin and auxin interaction in root stem-cell specification during early embryogenesis. Nature 453, 1094–1097 (2008).

31.

Gordon, S. P., Chickarmane, V. S., Ohno, C. & Meyerowitz, E. M. Multiple feedback loops through cytokinin signaling control stem cell number within the Arabidopsis shoot meristem. Proc. Natl Acad. Sci. USA 106, 16529–16534 (2009).

32.

Bartrina, I., Otto, E., Strnad, M., Werner, T. & Schmülling, T. Cytokinin regulates the activity of reproductive meristems, flower organ size, ovule formation, and thus seed yield in Arabidopsis thaliana. Plant Cell 23, 69–80 (2011).

33.

Dharmasiri, N., Dharmasiri, S. & Estelle, M. The F-box protein TIR1 is an auxin receptor. Nature 435, 441–445 (2005).

34.

Weijers, D., Nemhauser, J. & Yang, Z. Auxin: small molecule, big impact. J. Exp. Bot. 69, 133–136 (2018).

35.

Wybouw, B. & De Rybel, B. Cytokinin – a developing story. Trends Plant Sci. 24, 177–185 (2019).

36.

Kwiatkowska, D. Flower primordium formation at the Arabidopsis shoot apex: quantitative analysis of surface geometry and growth. J. Exp. Bot. 57, 571–580 (2006).

37.

Kwiatkowska, D. Flowering and apical meristem growth dynamics. J. Exp. Bot. 59, 187–201 (2008).

38.

Bhatia, N. et al. Auxin acts through MONOPTEROS to regulate plant cell polarity and pattern phyllotaxis. Curr. Biol. 26, 3202–3208 (2016).

39.

Braybrook, S. A. & Peaucelle, A. Mechano-chemical aspects of organ formation in Arabidopsis thaliana: The relationship between auxin and pectin. PLoS ONE 8, e57813 (2013).

40.

Spartz, A. K. et al. SAUR inhibition of PP2C-D phosphatases activates plasma membrane H+-ATPases to promote cell expansion in Arabidopsis. Plant Cell 26, 2129–2142 (2014).

41.

Ebisuya, M. & Briscoe, J. What does time mean in development? Development 145, dev164368 (2018).

42.

Mara, A. & Holley, S. A. Oscillators and the emergence of tissue organization during zebrafish somitogenesis. Trends Cell Biol. 17, 593–599 (2007).

43.

Lukowitz, W., Gillmor, C. S. & Scheible, W. R. Positional cloning in Arabidopsis. Why it feels good to have a genome initiative working for you. Plant Physiol. 123, 795–805 (2000).

44.

Neff, M. M., Turk, E. & Kalishman, M. Web-based primer design for single nucleotide polymorphism analysis. Trends Genet. 18, 613–615 (2002).

45.

Smyth, D. R., Bowman, J. L. & Meyerowitz, E. M. Early flower development in Arabidopsis. Plant Cell 2, 755–767 (1990).

46.

Hamant, O., Das, P. & Burian, A. Time-lapse imaging of developing shoot meristems using a confocal laser scanning microscope. Methods Mol. Biol. 1992, 257–268 (2019).

47.

Roeder, A. H. K. et al. Variability in the control of cell division underlies sepal epidermal patterning in Arabidopsis thaliana. PLoS Biol. 8, e1000367 (2010).

48.

Robinson, D. O. et al. Ploidy and size at multiple scales in the Arabidopsis sepal. Plant Cell 30, 2308–2329 (2018).

49.

Müller, B. & Sheen, J. Cytokinin and auxin interaction in root stem-cell specification during early embryogenesis. Nature 453, 1094–1097 (2008).

50.

Barbier de Reuille, P. et al. MorphoGraphX: a platform for quantifying morphogenesis in 4D. eLife 4, e05864 (2015).
Acknowledgements
We thank F. Besnard, A. Bretscher, J. Cammarata, K. Harline, J. McGory and B. V. L. Vadde for comments on the manuscript. We thank X. Zhu for drawing the anatomical diagrams by hand. We thank E. Meyerowitz and A. Garda for sharing the seeds for DR5::3XVENUS-N7/PIN1::GFP (Ler). We thank T. Vernoux and G. Brunoud for sharing the seeds for pTCS::GFP (Col), pPIN1::PIN1-GFP (Col) and TCS DR5 (Col). We thank F. Kateryna and F. Zhao for teaching the protocol for PIN1 immunolocalization. We thank F. Besnard for assisting with phyllotaxy measurement. Research reported in this publication was supported by the National Institute of General Medical Sciences of the National Institutes of Health (NIH) under award no. R01GM134037 (A.H.K.R), Human Frontier Science Program grant no. RGP0008/2013 (A.B., O.H., A.H.K.R., C.-B.L. and R.S.S.), Weill Institute startup funding (E.M.S. and A.H.K.R.) and Cornell Graduate School travel grant program (M.Z.). We thank Cornell University Biotechnology Resource Center for their sequencing service (supported by NIH grant no. 1S10OD010693-01). This work made use of the Cornell Center for Materials Research-shared SEM facilities, which are supported through the NSF MRSEC programme (no. DMR-1719875). We thank the PLATIM facility of SFR Biosciences (UMS3444/CNRS, US8/Inserm, ENS de Lyon, UCBL) for the use of microscopes. The content is solely the responsibility of the authors and does not necessarily represent the official views of the NIH or other funding agencies.
Ethics declarations
Competing interests
The authors declare no competing interests.
Additional information
Peer review information Nature Plants thanks Michalis Barkoulas and the other, anonymous, reviewer(s) for their contribution to the peer review of this work.
Publisher's note Springer Nature remains neutral with regard to jurisdictional claims in published maps and institutional affiliations.
Supplementary information
About this article
Cite this article
Zhu, M., Chen, W., Mirabet, V. et al. Robust organ size requires robust timing of initiation orchestrated by focused auxin and cytokinin signalling. Nat. Plants 6, 686–698 (2020). https://doi.org/10.1038/s41477-020-0666-7
Received:

Accepted:

Published:

Issue Date: