Immune monitoring and treatment in immune-mediated inflammatory diseases
Nature Communications volume 13, Article number: 3245 (2022)
25k Accesses

71 Altmetric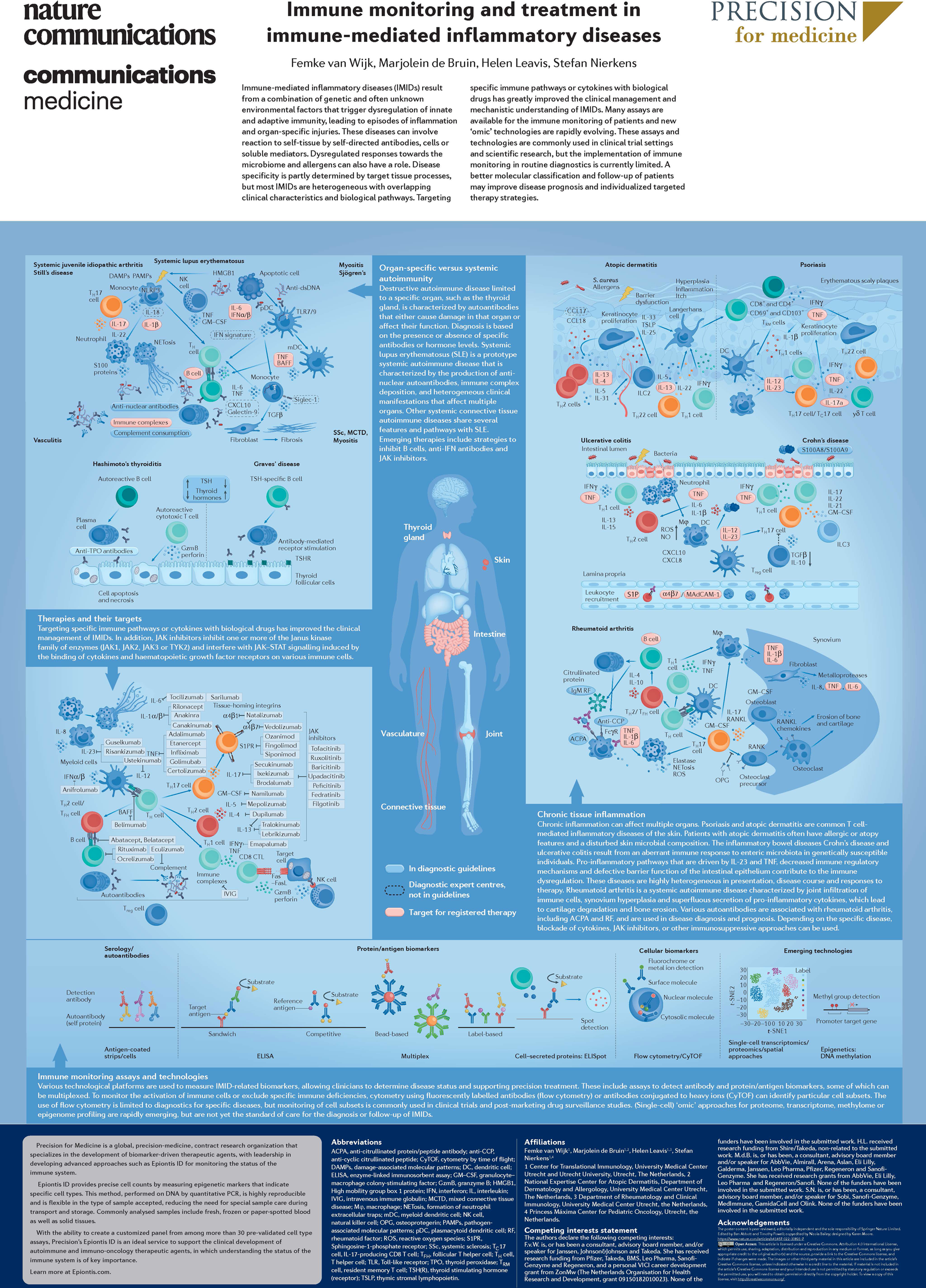 Immune-mediated inflammatory diseases (IMIDs) can occur in a number of organ systems as a result of aberrant innate and adaptive immune responses to genetic and environmental triggers. Immune-monitoring technologies are used to detect disease-relevant immune biomarkers, either to enable diagnosis or monitor response to therapy. Immune monitoring is predominantly used in the research setting at present but routine clinical use is increasing. This poster explores the mechanisms underlying a number of common IMIDs, biomarkers relevant to the diagnosis or monitoring of IMIDs, and therapies used to treat these diseases.
This poster is freely available online thanks to support from Precision for Medicine.
The poster has been peer reviewed and, as always, Springer Nature retains sole responsibility for all editorial content.
Rights and permissions
Open Access This article is licensed under a Creative Commons Attribution 4.0 International License, which permits use, sharing, adaptation, distribution and reproduction in any medium or format, as long as you give appropriate credit to the original author(s) and the source, provide a link to the Creative Commons license, and indicate if changes were made. The images or other third party material in this article are included in the article's Creative Commons license, unless indicated otherwise in a credit line to the material. If material is not included in the article's Creative Commons license and your intended use is not permitted by statutory regulation or exceeds the permitted use, you will need to obtain permission directly from the copyright holder. To view a copy of this license, visit http://creativecommons.org/licenses/by/4.0/.
About this article
Cite this article
van Wijk, F., de Bruin, M., Leavis, H. et al. Immune monitoring and treatment in immune-mediated inflammatory diseases. Nat Commun 13, 3245 (2022). https://doi.org/10.1038/s41467-022-30891-7
Published:

DOI: https://doi.org/10.1038/s41467-022-30891-7