Abstract
We investigated the associations between daily stress, sexual desire and intimacy in gay men in long-term relationships. A daily diary method of data collection was used. Twenty-two adult participants completed brief questionnaires ten times per day during seven consecutive days. Multilevel regression analyses revealed significant negative associations of daily stress with sexual desire (p = 0.003); higher stress came with lower levels of sexual desire, and vice versa. The hypothesized moderation effect of the associations of stress with sexual desire by intimacy was found significant (p = 0.003). However, the effect was not as predicted: at higher levels of intimacy the negative effect of stress on sexual desire was shown to be stronger than at lower levels. Most temporal associations of stress and intimacy with sexual desire were not significant. Nevertheless, the present findings implicate that daily stress and intimacy are important factors in sexual functioning of gay men in long-term relationships.
Access options
Subscribe to this journal
Receive 8 print issues and online access
$259.00 per year
only $32.38 per issue
Rent or buy this article
Get just this article for as long as you need it
$39.95
Prices may be subject to local taxes which are calculated during checkout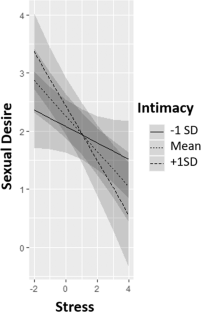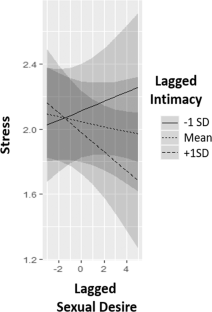 References
Buczak-Stec E, König H-H, Hajek A. The link between sexual satisfaction and subjective well-being: A longitudinal perspective based on the german ageing survey. Qual Life Res. 2019;28:3025–35.

Stephenson KR, Meston CM. The conditional importance of sex: Exploring the association between sexual well-being and life satisfaction. J Sex Marital Ther. 2015;41:25–38.

Gil S. Body-image, well-being and sexual satisfaction: A comparison between heterosexual and gay men. Sex Relat Ther. 2007;22:237–44.

Holmberg D, Blair KL, Phillips M. Women's sexual satisfaction as a predictor of well-being in same-sex versus mixed-sex relationships. J Sex Res. 2010;47:1–11.

Park Y, MacDonald G. Single and partnered individuals' sexual satisfaction as a function of sexual desire and activities: Results using a sexual satisfaction scale demonstrating measurement invariance across partnership status. Arch Sex Behav. 2022;51:547–64.

Peixoto MM. Sexual satisfaction, solitary, and dyadic sexual desire in men according to sexual orientation. J Homosex. 2019;66:769–79.

Critcher CR, Siegel M. Cross-sectional analyses can evaluate the plausibility of, but not validate, causal accounts. Am J Prev Med. 2022;62:e141–e3.

McDonagh LK, Bishop C, Brockman M, Morrison TG. A systematic review of sexual dysfunction measures for gay men: How do current measures measure up? J Homosex. 2014;61:781–816.

Mitchell KR, Wellings KA, Graham C. How do men and women define sexual desire and sexual arousal? J Sex Marital Ther. 2014;40:17–32.

Bancroft J. The endocrinology of sexual arousal. J Endocrinol. 2005;186:411–27.

Janssen E. Sexual arousal in men: A review and conceptual analysis. Horm Behav. 2011;59:708–16.

Folkman S, Lazarus RS, Dunkel-Schetter C, DeLongis A, Gruen RJ. Dynamics of a stressful encounter: Cognitive appraisal, coping, and encounter outcomes. J Pers Soc Psychol. 1986;50:992–1003.

Wheaton B. Stress, personal coping resources, and psychiatric symptoms: An investigation of interactive models. J Health Soc Behav. 1983;24:208–29.

Randall AK, Bodenmann G. The role of stress on close relationships and marital satisfaction. Clin Psychol Rev. 2009;29:105–15.

Bodenmann G, Ledermann T, Bradbury TN. Stress, sex, and satisfaction in marriage. Pers Relatsh. 2007;14:551–69.

Ledermann T, Bodenmann G, Rudaz M, Bradbury TN. Stress, communication, and marital quality in couples. Fam Relat. 2010;59:195–206.

Bodenmann G, Randall AK, Falconier MK. Coping in couples: The systemic transactional model (STM). In: Falconier MK, Randall AK, Bodenmann G, editors. Couples coping with stress: A cross-cultural perspective. New York, NY: Routledge/Taylor & Francis Group; 2016. p. 5–22.

Bodenmann G, Falconier MK, Randall AK. Dyadic coping. Front Psychol. 2019;10:1498.

Bodenmann G. Dyadic coping: A systemic-transactional view of stress and coping among couples: Theory and empirical findings. Eur Rev Appl Psychol. 1997;47:137–41.

Bodenmann G. Dyadic coping and its significance for marital functioning. In: Revenson TA, Kayser K, Bodenmann G, editors. Couples coping with stress: Emerging perspectives on dyadic coping. Decade of behavior. Washington, DC: American Psychological Association; 2005. p. 33–49.

Cohan CL, Bradbury TN. Negative life events, marital interaction, and the longitudinal course of newlywed marriage. J Pers Soc Psychol. 1997;73:114–28.

Dohrenwend BS, Dohrenwend BP. Stressful life events: Their nature and effects. Oxford: John Wiley & Sons; 1974.

Garcia MA, Umberson D. Marital strain and psychological distress in same‐sex and different‐sex couples. J Marriage Fam. 2019;81:1253–68.

Lewis RJ, Derlega VJ, Griffin JL, Krowinski AC. Stressors for gay men and lesbians: Life stress, gay-related stress, stigma consciousness, and depressive symptoms. J Soc Clin Psychol. 2003;22:716–29.

Lattanner MR, Pachankis JE, Hatzenbuehler ML. Mechanisms linking distal minority stress and depressive symptoms in a longitudinal, population-based study of gay and bisexual men: A test and extension of the psychological mediation framework. J Consult Clin Psychol. 2022;90:638–46.

Bodenmann G, Ledermann T, Blattner D, Galluzzo C. Associations among everyday stress, critical life events, and sexual problems. J Nerv Ment Dis. 2006;194:494–501.

Ein-Dor T, Hirschberger G. Sexual healing: Daily diary evidence that sex relieves stress for men and women in satisfying relationships. J Soc Pers Relat. 2012;29:126–39.

Hamilton LD, Julian AM. The relationship between daily hassles and sexual function in men and women. J Sex Marital Ther. 2014;40:379–95.

Bodenmann G, Atkins DC, Schar M, Poffet V. The association between daily stress and sexual activity. J Fam Psychol. 2010;24:271–9.

Bancroft J. The medicalization of female sexual dysfunction: The need for caution. Arch Sex Behav. 2002;31:451–5.

Bancroft J, Janssen E, Strong D, Carnes L, Vukadinovic Z, Long JS. The relation between mood and sexuality in heterosexual men. Arch Sex Behav. 2003;32:217–30.

Bancroft J, Janssen E, Strong D, Vukadinovic Z. The relation between mood and sexuality in gay men. Arch Sex Behav. 2003;32:231–42.

Abedi P, Afrazeh M, Javadifar N, Saki A. The relation between stress and sexual function and satisfaction in reproductive-age women in iran: A cross-sectional study. J Sex Marital Ther. 2015;41:384–90.

Morokoff PJ, Gillilland R. Stress, sexual functioning, and marital satisfaction. J Sex Res. 1993;30:43–53.

Donnelly R, Umberson D, Kroeger RA. Childhood adversity, daily stress, and marital strain in same-sex and different-sex marriages. J Fam Issues. 2018;39:2085–106.

Reczek C, Umberson D. Gender, health behavior, and intimate relationships: Lesbian, gay, and straight contexts. Soc Sci Med. 2012;74:1783–90.

Impett EA, Gable SL, Peplau LA. Giving up and giving in: The costs and benefits of daily sacrifice in intimate relationships. J Pers Soc Psychol. 2005;89:327–44.

Rubin H, Campbell L. Day-to-day changes in intimacy predict heightened relationship passion, sexual occurrence, and sexual satisfaction: A dyadic diary analysis. Soc Psychol Pers Sci. 2012;3:224–31.

Coleman E. Masturbation as a means of achieving sexual health. J Psychol Hum Sex. 2002;14:5–16.

Birnbaum GE, Cohen O, Wertheimer V. Is it all about intimacy? Age, menopausal status, and women's sexuality. Pers Relatsh. 2007;14:167–85.

Baumeister RF, Bratslavsky E. Passion, intimacy, and time: Passionate love as a function of change in intimacy. Pers Soc Psychol Rev. 1999;3:49–67.

Harper JM, Schaalje BG, Sandberg JG. Daily hassles, intimacy, and marital quality in later life marriages. Am J Fam Ther. 2000;28:1–18.

Totenhagen CJ, Butler EA, Ridley CA. Daily stress, closeness, and satisfaction in gay and lesbian couples. Pers Relatsh. 2012;19:219–33.

Yoo H, Bartle-Haring S, Day RD, Gangamma R. Couple communication, emotional and sexual intimacy, and relationship satisfaction. J Sex Marital Ther. 2014;40:275–93.

van Tuijl P, Verboon P, van Lankveld JJ. Associations between fluctuating shame, self-esteem, and sexual desire: Comparing frequent porn users and a general population sample. Sexes. 2021;3:1–19.

van Lankveld J, Jacobs N, Thewissen V, Dewitte M, Verboon P. The associations of intimacy and sexuality in daily life: Temporal dynamics and gender effects within romantic relationships. J Soc Pers Relat. 2018;35:557–76.

Sternberg RJ. A triangular theory of love. Psychol Rev. 1986;93:119–35.

Myin-Germeys I, Oorschot M, Collip D, Lataster J, Delespaul P, van Os J. Experience sampling research in psychopathology: Opening the black box of daily life. Psychol Med. 2009;39:1533–47.

Hektner JM, Schmidt JA, Csikszentmihalyi M. Experience sampling method: Measuring the quality of everyday life. Thousand Oaks: Sage; 2007.

Jacobs N, Nicolson NA, Derom C, Delespaul P, van Os J, Myin-Germeys I. Electronic monitoring of salivary cortisol sampling compliance in daily life. Life Sci. 2005;76:2431–43.

Bolger N, Davis A, Rafaeli E. Diary methods: Capturing life as it is lived. Annu Rev Psychol. 2003;54:579–616.

Thewissen V, Bentall RP, Oorschot M, A Campo J, van Lierop T, van Os J, et al. Emotions, self-esteem, and paranoid episodes: An experience sampling study. Br J Clin Psychol. 2011;50:178–95.

Delespaul PAEG. Assessing schizophrenia in daily life: The experience sampling method. Maastricht, The Netherlands: Universitaire Pers Maastricht; 1995.

Myin-Germeys I, van Os J, Schwartz JE, Stone AA, Delespaul PA. Emotional reactivity to daily life stress in psychosis. Arch Gen Psychiatry. 2001;58:1137–44.

Schneider M, Vaessen T, van Duin ED, Kasanova Z, Viechtbauer W, Reininghaus U, et al. Affective and psychotic reactivity to daily-life stress in adults with 22q11ds: A study using the experience sampling method. J Neurodev Disord. 2020;12:1–11.

McDonald RP. Test theory: A unified approach. Mahwah, NJ: Lawrence Erlbaum; 1999.

Spector IP, Carey MP, Steinberg L. The sexual desire inventory: Development, factor structure, and evidence of reliability. J Sex Marital Ther. 1996;22:175–90.

Basson R. Women's sexual desire - disordered or misunderstood? J Sex Marital Ther. 2002;28:17–28.

Rosseel Y. Lavaan: An r package for structural equation modeling. J Stat Softw. 2012;48:1–36.

R_Core_Team. R: A language and environment for statistical computing. Vienna, Austria: R Foundation for Statistical Computing; 2022.

Hox JJ. Multilevel analysis: Techniques and applications, 2nd ed. New York, NY: Routledge/Taylor & Francis Group; 2010.

Enders CK, Tofighi D. Centering predictor variables in cross-sectional multilevel models: A new look at an old issue. Psychol Methods. 2007;12:121–38.

Lafit G, Adolf JK, Dejonckheere E, Myin-Germeys I, Viechtbauer W, Ceulemans E. Selection of the number of participants in intensive longitudinal studies: A user-friendly shiny app and tutorial for performing power analysis in multilevel regression models that account for temporal dependencies. Adv Methods Pract Psychol Sci. 2021;4:1–24.

van Lankveld J, van den Hout MA. Increasing neutral distraction inhibits genital but not subjective sexual arousal of sexually functional and dysfunctional men. Arch Sex Behav. 2004;33:549–58.

Cao H, Zhou N, Fine M, Liang Y, Li J, Mills‐Koonce WR. Sexual minority stress and same‐sex relationship well‐being: A meta‐analysis of research prior to the us nationwide legalization of same‐sex marriage. J Marriage Fam. 2017;79:1258–77.

Basson R. Using a different model for female sexual response to address women's problematic low sexual desire. J Sex Marital Ther. 2001;27:395–403.

Giraldi A, Kristensen E, Sand M. Endorsement of models describing sexual response of men and women with a sexual partner: An online survey in a population sample of danish adults ages 20–65 years. J Sex Med. 2015;12:116–28.

Myin-Germeys I, Delespaul P, van Os J. The experience sampling method in psychosis research. Curr Opin Psychiatry. 2003;16:S33–S8.

Wiederman MW. Volunteer bias in sexuality research using college student participants. J Sex Res. 1999;36:59–66.

Meyer IH. Prejudice, social stress, and mental health in lesbian, gay, and bisexual populations: Conceptual issues and research evidence. Psychol Bull. 2003;129:674–97.

Leertouwer I, Cramer AOJ, Vermunt JK, Schuurman NK. A review of explicit and implicit assumptions when providing personalized feedback based on self-report ema data. Front Psychol. 2021;12:764526.
Ethics declarations
Competing interests
The authors declare no competing interests.
Additional information
Publisher's note Springer Nature remains neutral with regard to jurisdictional claims in published maps and institutional affiliations.
Rights and permissions
Springer Nature or its licensor (e.g. a society or other partner) holds exclusive rights to this article under a publishing agreement with the author(s) or other rightsholder(s); author self-archiving of the accepted manuscript version of this article is solely governed by the terms of such publishing agreement and applicable law.
About this article
Cite this article
Hiemstra, J., van Tuijl, P. & van Lankveld, J. The associations of sexual desire, daily stress, and intimacy in gay men in long-term relationships. Int J Impot Res (2023). https://doi.org/10.1038/s41443-023-00664-x
Received:

Revised:

Accepted:

Published:

DOI: https://doi.org/10.1038/s41443-023-00664-x