Abstract
The phosphodiesterase-5 inhibitors (PDE5Is) are the first-line treatment option for men with erectile dysfunction (ED), with alprostadil considered a second-line choice. Consideration has to be given to patients who fail these treatments and what their options are. This review evaluates the data on the combination of a PDE5I with alprostadil in patients who have previously failed therapy with either drug. A PubMed search was conducted and identified nine publications relating to combination treatment with alprostadil as intracavernosal, intraurethral or topical application. The results indicate that with all three formulations the combination therapy resulted in an improved outcome compared with either of the drugs as monotherapy. This was demonstrated by the increased total International Index of Erectile Function (IIEF) scores as well as IIEF erectile function domain scores. This finding was also valid for patients with post-prostatectomy ED. The associated side effects of the combined treatment did not result in treatment discontinuation. These findings suggest that combination therapy with a PDE5I and alprostadil might be considered a treatment option in patients who have previously had a poor response to either drug.
Access options
Subscribe to Journal
Get full journal access for 1 year
$119.00
only $14.88 per issue
All prices are NET prices.
VAT will be added later in the checkout.
Tax calculation will be finalised during checkout.
Rent or Buy article
Get time limited or full article access on ReadCube.
from$8.99
All prices are NET prices.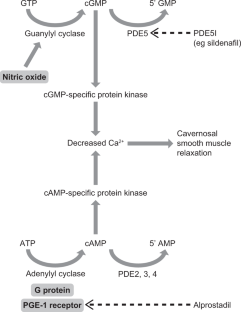 References
1.

McCabe MP, Sharlip ID, Lewis R, Atalla E, Balon R, Fisher AD, et al. Incidence and prevalence of sexual dysfunction in women and men: A consensus statement from the fourth international consultation on sexual medicine 2015. J Sex Med. 2016;13:144–52.

2.

Hatzimouratidis K, Giuliano F, Moncada I, Muneer A, Salonia A, Verze P et al. European Association of Urology Guidelines on Male Sexual Dysfunction https://uroweb.org/guideline/male-sexual-dysfunction. Accessed November 2017, 18–21

3.

Lue TF. Erectile dysfunction. N Engl J Med. 2000;342:1802–13.

4.

Hanchanale V, Eadley I. Alprostadil for the treatment of impotence. Expert Opin Pharmacother. 2014;15:421–8.

5.

McMahon C, Samali R, Johnson H. Treatment of intracorporeal injection nonresponse with sildenafil alone or in combination with triple agent intracorporeal injection therapy. J Urol. 1999;162:1992–8.

6.

Nandipati K, Raina R, Agarwal A, Zippe CD. Early combination therapy: intracavernosal injections and sildenafil following radical prostatectomy increases sexual activity and the return of natural erections. Int J Impot Res. 2006;18:446–51.

7.

Gutierrez P, Hernandez P, Mas M. Combining programmed intracavernous PGE1 injections and sildenafil on demand to salvage sildenafil nonresponders. Int J Impot Res. 2005;17:354–8.

8.

Mydlo JH, Viterbo R, Crispen P. Use of combined intracorporal injection and a phosphodiesterase-5 inhibitor therapy for men with a suboptimal response to sildenafil and/or vardenafil monotherapy after radical retropubic prostatectomy. BJU Int. 2005;95:843–6.

9.

Mydlo JH, Volpe MA, Macchia RJ. Initial results utilizing combination therapy for patients with a suboptimal response to either alprostadil or sildenafil monotherapy. Eur Urol. 2000;38:30–4.

10.

Raina R, Nandipati KC, Agarwal A, Mansour D, Kaelber DC, Zippe CD, et al. Combination therapy: medicated urethral system for erection enhances sexual satisfaction in sildenafil citrate failure following nerve-sparing radical prostatectomy. J Androl. 2005;26:757–60.

11.

Labairu-Huerta L, Padilla-Fernández B, Arrondo-Arrondo JL, Valverde-Martínez LS, Martín-Rodríguez A, Silva-Abuín JM, et al. PDE-5 inhibitors in monotherapy versus combination therapy in a sample of 1200 patients with erectile dysfunction. Arch Ital Urol Androl. 2015;87:204–9.

12.

Nehra A, Blute ML, Barrett DM, Moreland RB. Rationale for combination therapy of intraurethral prostaglandin E(1) and sildenafil in the salvage of erectile dysfunction patients desiring noninvasive therapy. Int J Impot Res. 2002;14(Suppl 1):S38–42.

13.

Goldstein I, Mulhall JP, Bushmakin AG, Cappelleri JC, Hvidsten K, Symonds T. The erection hardness score and its relationship to successful sexual intercourse. J Sex Med. 2008;5:2374–80.

14.

Huang ST, Jiann BP. Assessing satisfaction in men and their female partners after treatment with phosphodiesterase type 5 inhibitors for erectile dysfunction. Int J Impot Res. 2013;25:178–82.

15.

Virag R. Intracavernous injection of papaverine for erectile failure. Lancet 1982;2:938.

16.

Padma-Nathan H, Hellstrom WJ, Kaiser FE, Labasky RF, Lue TF, Nolten WE, et al. Treatment of men with erectile dysfunction with transurethral alprostadil. Medicated Urethral System for Erection (MUSE) Study Group. N Engl J Med. 1997;336:1–7.

17.

Moncada I, Cuzin B. Clinical efficacy and safety of Vitaros©/Virirec© (Alprstadil cream) for the treatment of erectile dysfunction. Urologia. 2015;82:84–92.

18.

Wolka AM, Rytting JH, Reed BL, Finnin BC. The interaction of the penetration enhancer DDAIP with a phospholipid model membrane. Int J Pharm. 2004;271:5–10.

19.

Padma-Nathan H, Steidle C, Salem S, Tayse N, Yeager J, Harning R. The efficacy and safety of a topical alprostadil cream, Alprox-TD, for the treatment of erectile dysfunction: two phase 2 studies in mild-to-moderate and severe ED. Int J Impot Res. 2003;15:10–7.

20.

Steers WD. Viability and safety of combination drug therapies for erectile dysfunction. J Urol. 2003;170(2 Pt 2):S20–23.

21.

McMahon CG. Priapism associated with concurrent use of phosphodiesterase inhibitor drugs and intracavernous injection therapy. Int J Impot Res. 2003;15:383–4.

22.

Chew K-K, Stuckey BGA, Earle CM, Dhaliwal, Keogh EJ. Penile fibrosis in intracavernosal prostaglandin E1 injection therapy for erectile dysfunction. Int J Impot Res. 1997;9:225–9.

23.

Barthelmes L, Chezhian C, Aihaku EK. Deep venous thrombosis and venous thrombophlebitis associated with alprostadil treatment for erectile dysfunction. Int J Impot Res. 2002;14:199–200.

24.

Yeager J, Beihn RM. Retention and migration of alprostadil cream applied topically to the glans meatus for erectile dysfunction. Int J Impot Res. 2005;17:91–5.
Acknowledgements
Editorial support provided by Medscimedia Ltd and funded by Casen Recordati.
Ethics declarations
Conflict of interest
IM has taken part in Advisory Board meetings and also acted as a speaker for Casen Recordati and Ferring. The remaining authors declare that they have no conflict of interest.
About this article
Cite this article
Moncada, I., Martinez-Salamanca, J., Ruiz-Castañe, E. et al. Combination therapy for erectile dysfunction involving a PDE5 inhibitor and alprostadil. Int J Impot Res 30, 203–208 (2018). https://doi.org/10.1038/s41443-018-0046-2
Received:

Revised:

Accepted:

Published:

Issue Date:
Further reading
Pablo Garrido-Abad

,

Isabel Senra-Bravo

,

Celeste Manfredi

,

Esaú Fernández-Pascual

,

Estefanía Linares-Espinós

,

Manuel Fernández-Arjona

,

David Varillas-Delgado

&

Juan Ignacio Martínez-Salamanca

International Journal of Impotence Research (2021)

Haoran Wang

,

Keqin Zhang

,

Zheng Ruan

,

Dingqi Sun

,

Hui Zhang

,

Guiting Lin

,

Liangliang Hu

,

Shengtian Zhao

&

Qiang Fu

Stem Cell Research & Therapy (2020)