Abstract
Purpose
Growth differentiation factor 11 (GDF11) is a key signaling protein required for proper development of many organ systems. Only one prior study has associated an inherited GDF11 variant with a dominant human disease in a family with variable craniofacial and vertebral abnormalities. Here, we expand the phenotypic spectrum associated with GDF11 variants and document the nature of the variants.
Methods
We present a cohort of six probands with de novo and inherited nonsense/frameshift (4/6 patients) and missense (2/6) variants in GDF11. We generated gdf11 mutant zebrafish to model loss of gdf11 phenotypes and used an overexpression screen in Drosophila to test variant functionality.
Results
Patients with variants in GDF11 presented with craniofacial (5/6), vertebral (5/6), neurological (6/6), visual (4/6), cardiac (3/6), auditory (3/6), and connective tissue abnormalities (3/6). gdf11 mutant zebrafish show craniofacial abnormalities and body segmentation defects that match some patient phenotypes. Expression of the patients' variants in the fly showed that one nonsense variant in GDF11 is a severe loss-of-function (LOF) allele whereas the missense variants in our cohort are partial LOF variants.
Conclusion
GDF11 is needed for human development, particularly neuronal development, and LOF GDF11 alleles can affect the development of numerous organs and tissues.
Access options
Subscribe to Journal
Get full journal access for 1 year
$399.00
only $33.25 per issue
All prices are NET prices.
VAT will be added later in the checkout.
Tax calculation will be finalised during checkout.
Rent or Buy article
Get time limited or full article access on ReadCube.
from$8.99
All prices are NET prices.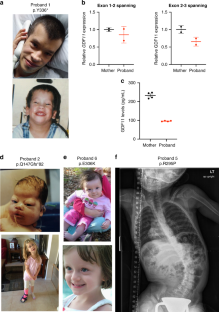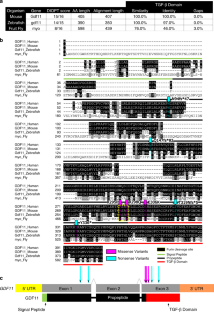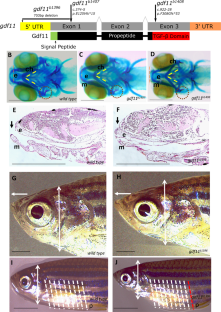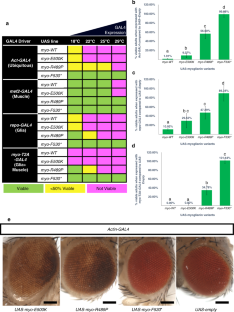 Data and code availability
The paper includes all data sets/code generated or analyzed during this study.
References
1.

Lee, S. J. Identification of a novel member (GDF-1) of the transforming growth factor-β superfamily. Mol. Endocrinol. 4, 1034–1040 (1990).

2.

Akhurst, R. J. & Hata, A. Targeting the TGFβ signalling pathway in disease. Nat. Rev. Drug Discov. 11, 790–811 (2012).

3.

Frikha, R. Klippel-Feil syndrome: a review of the literature. Clin. Dysmorphol. 29, 35–37 (2020).

4.

Naikmasur, V. G., Sattur, A. P., Kirty, R. N. & Thakur, A. R. Type III Klippel-Feil syndrome: case report and review of associated craniofacial anomalies. Odontology 99, 197–202 (2011).

5.

Asai-Coakwell, M. et al. Incomplete penetrance and phenotypic variability characterize Gdf6-attributable oculo-skeletal phenotypes. Hum. Mol. Genet. 18, 1110–1121 (2009).

6.

Otsuka, F., McTavish, K. J. & Shimasaki, S. Integral role of GDF-9 and BMP-15 in ovarian function. Mol. Reprod. Dev. 78, 9–21 (2011).

7.

McPherron, A. C., Huynh, T. V. & Lee, S. J. Redundancy of myostatin and growth/differentiation factor 11 function. BMC Dev. Biol. 9, 24 (2009).

8.

Bandyopadhyay, A. et al. Genetic analysis of the roles of BMP2, BMP4, and BMP7 in limb patterning and skeletogenesis. PLoS Genet. 2, 2116–2130 (2006).

9.

Zhao, R., Lawler, A. M. & Lee, S. J. Characterization of GDF-10 expression patterns and null mice. Dev. Biol. 212, 68–79 (1999).

10.

McPherron, A. C., Lawler, A. M. & Lee, S. J. Regulation of anterior/posterior patterning of the axial skeleton by growth/differentiation factor 11. Nat. Genet. 22, 260–264 (1999).

11.

Walker, R. G. et al. Biochemistry and biology of GDF11 and myostatin: similarities, differences and questions for future investigation HHS Public Access. Circ Res 118, 1125–1142 (2016).

12.

Paul, Oh,S. et al. Activin type IIA and IIB receptors mediate Gdf11 signaling in axial vertebral patterning. Genes Dev. 16, 2749–2754 (2002).

13.

Rebbapragada, A., Benchabane, H., Wrana, J. L., Celeste, A. J. & Attisano, L. Myostatin signals through a transforming growth factor β-like signaling pathway to block adipogenesis. Mol. Cell. Biol. 23, 7230–7242 (2003).

14.

Andersson, O., Reissmann, E., Jörnvall, H. & Ibáñez, C. F. Synergistic interaction between Gdf1 and Nodal during anterior axis development. Dev. Biol. 293, 370–381 (2006).

15.

Bajikar, S. S. et al. Tumor-suppressor inactivation of GDF11 occurs by precursor sequestration in triple-negative breast cancer. Dev. Cell 43, 418–435.e13 (2017).

16.

C. McPherron, A. Metabolic functions of myostatin and GDF11. Immunol. Endocr. Metab. Agents Med. Chem. 10, 217–231 (2012).

17.

Gamer, L. W. et al. A novel BMP expressed in developing mouse limb, spinal cord, and tail bud is a potent mesoderm inducer in Xenopus embryos. Dev. Biol. 208, 222–232 (1999).

18.

Nakashima, M., Toyono, T., Akamine, A. & Joyner, A. Expression of growth/differentiation factor 11, a new member of the BMP/TGFβ superfamily during mouse embryogenesis. Mech. Dev. 80, 185–189 (1999).

19.

Zhang, Y. et al. Growth differentiation factor 11 is a protective factor for osteoblastogenesis by targeting PPARgamma. Gene. 557, 209–214 (2015).

20.

Loffredo, F. S. et al. Growth differentiation factor 11 is a circulating factor that reverses age-related cardiac hypertrophy. Cell. 153, 828–839 (2013).

21.

Jeanplong, F. et al. Growth and differentiation factor-11 is developmentally regulated in skeletal muscle and inhibits myoblast differentiation. Open J. Mol. Integr. Physiol. 2, 127–138 (2012).

22.

Cox, T. C. et al. Mutations in GDF11 and the extracellular antagonist, Follistatin, as a likely cause of Mendelian forms of orofacial clefting in humans. Hum. Mutat. 40, 1813–1825 (2019).

23.

Wu, H. H. et al. Autoregulation of neurogenesis by GDF11. Neuron. 37, 197–207 (2003).

24.

Suh, J. et al. GDF11 promotes osteogenesis as opposed to MSTN, and follistatin, a MSTN/GDF11 inhibitor, increases muscle mass but weakens bone. Proc. Natl. Acad. Sci. U. S. A. 117, 4910–4920 (2020).

25.

Liu, J. P. The function of growth/differentiation factor 11 (Gdf11) in rostrocaudal patterning of the developing spinal cord. Development. 133, 2865–2874 (2006).

26.

Kim, J. et al. Developmental biology: GDF11 controls the timing of progenitor cell competence in developing retina. Science (80-.). 308, 1927–1930 (2005).

27.

Murata, Y. et al. Allometric growth of the trunk leads to the rostral shift of the pelvic fin in teleost fishes. Dev. Biol. 347, 236–245 (2010).

28.

Goldstein, J. M., et al. Variation in zygotic CRISPR/Cas9 gene editing outcomes generates novel reporter and deletion alleles at the Gdf11 locus. Sci. Rep. 9, 18613 (2019).

29.

Shi, Y. & Liu, J. P. Gdf11 facilitates temporal progression of neurogenesis in the developing spinal cord. J. Neurosci. 31, 883–893 (2011).

30.

Rodríguez-Marí, A. et al. Characterization and expression pattern of zebrafish anti-Müllerian hormone (amh) relative to sox9a, sox9b, and cyp19a1a, during gonad development. Gene Expr. Patterns 5, 655–667 (2005).

31.

Farnsworth, D. R., Saunders, L. M. & Miller, A. C. A single-cell transcriptome atlas for zebrafish development. Dev. Biol. 459, 100–108 (2020).

32.

Walker, M. B. & Kimmel, C. B. A two-color acid-free cartilage and bone stain for zebrafish larvae. Biotech. Histochem. 82, 23–28 (2007).

33.

Awasaki, T., Huang, Y., O'Connor, M. B. & Lee, T. Glia instruct developmental neuronal remodeling through TGF-Î 2 signaling. Nat. Neurosci. 14, 821–823 (2011).

34.

Hu, Y. et al. An integrative approach to ortholog prediction for disease-focused and other functional studies. BMC Bioinformatics. 12, 357 (2011).

35.

Wang, J. et al. MARRVEL: integration of human and model organism genetic resources to facilitate functional annotation of the human genome. Am. J. Hum. Genet. 100, 843–853 (2017).

36.

Chung, Hlok et al. Loss- or gain-of-function mutations in ACOX1 cause axonal loss via different mechanisms. Neuron 106, 589–606.e6 (2020).

37.

Kanca, O., et al. An efficient CRISPR-based strategy to insert small and large fragments of DNA using short homology arms. Elife. 8, e51539 (2019).

38.

Karczewski, K. J. et al. The mutational constraint spectrum quantified from variation in 141,456 humans. Nature. 581, 434–443 (2020).

39.

Rentzsch, P., Witten, D., Cooper, G. M., Shendure, J. & Kircher, M. CADD: predicting the deleteriousness of variants throughout the human genome. Nucleic Acids Res. 47, D886–D894 (2019).

40.

Yang, H. & Wang, K. Genomic variant annotation and prioritization with ANNOVAR and wANNOVAR. Nat. Protoc. 10, 1556–1566 (2015).

41.

Adzhubei, I. A. et al. A method and server for predicting damaging missense mutations. Nat. Methods. 7, 248–249 (2010).

42.

Crow, Y. J. et al. Mutations in ADAR1, IFIH1, and RNASEH2B presenting as spastic paraplegia. Neuropediatrics. 45, 386–391 (2014).

43.

Livingston, J. H. et al. A type I interferon signature identifies bilateral striatal necrosis due to mutations in ADAR1. J. Med. Genet. 51, 76–82 (2014).

44.

Rice, G. I. et al. Mutations in ADAR1 cause Aicardi-Goutières syndrome associated with a type i interferon signature. Nat. Genet. 44, 1243–1248 (2012).

45.

Firth, H. V. et al. DECIPHER: Database of Chromosomal Imbalance and Phenotype in Humans Using Ensembl Resources. Am. J. Hum. Genet. 84, 524–533 (2009).

46.

Farooq, M. et al. Histone deacetylase 3 (hdac3) is specifically required for liver development in zebrafish. Dev. Biol. 317, 336–353 (2008).

47.

El-Brolosy, M. A. et al. Genetic compensation triggered by mutant mRNA degradation. Nature. 568, 193–197 (2019).

48.

Huycke, T. R., Frank Eames, B. & Kimmel, C. B. Hedgehog-dependent proliferation drives modular growth during morphogenesis of a dermal bone. Development. 139, 2371–2380 (2012).

49.

Tarasco, M., Laizé, V., Cardeira, J., Cancela, M. L. & Gavaia, P. J. The zebrafish operculum: a powerful system to assess osteogenic bioactivities of molecules with pharmacological and toxicological relevance. Comp. Biochem. Physiol. C Toxicol. Pharmacol. 197, 45–52 (2017).

50.

Bellen, H. J., Wangler, M. F. & Yamamoto, S. The fruit fly at the interface of diagnosis and pathogenic mechanisms of rare and common human diseases. Hum. Mol. Genet. 28, R207–R214 (2019).

51.

Lo, P. C. H. & Frasch, M. Sequence and expression of myoglianin, a novel Drosophila gene of the TGF-β superfamily. Mech. Dev. 86, 171–175 (1999).

52.

Groth, A. C., Fish, M., Nusse, R. & Calos, M. P. Construction of transgenic Drosophila by using the site-specific integrase from phage φC31. Genetics 166, 1775–1782 (2004).

53.

Venken, K. J. T., He, Y., Hoskins, R. A. & Bellen, H. J. P[acman]: a BAC transgenic platform for targeted insertion of large DNA fragments in D. melanogaster. Science (80-.). 314, 1747–1751 (2006).

54.

Lee, P. T. et al. A gene-specific T2a-GAL4 library for drosophila. Elife. 7, e35574 (2018).

55.

Kawauchi, S. et al. Foxg1 promotes olfactory neurogenesis by antagonizing Gdf11. Development. 136, 1453–1464 (2009).

56.

Gokoffski, K. K. et al. Activin and GDF11 collaborate in feedback control of neuroepithelial stem cell proliferation and fate. Development. 138, 4131–4142 (2011).

57.

Schafer, M. J. et al. Quantification of GDF11 and myostatin in human aging and cardiovascular disease. Cell Metab. 23, 1207–1215 (2016).

58.

Smith, S. C. et al. GDF11 does not rescue aging-related pathological hypertrophy. Circ. Res. 117, 926–932 (2015).

59.

Olson, K. A. et al. Association of growth differentiation factor 11/8, putative anti-ageing factor, with cardiovascular outcomes and overall mortality in humans: analysis of the Heart and Soul and HUNT3 cohorts. Eur. Heart J. 36, 3426–3434 (2015).

60.

Garbern, J. et al. Analysis of Cre-mediated genetic deletion of Gdf11 in cardiomyocytes of young mice. Am. J. Physiol. Heart Circ. Physiol. 317, H201–H212. (2019).

61.

Loeys, B. L. et al. A syndrome of altered cardiovascular, craniofacial, neurocognitive and skeletal development caused by mutations in TGFBR1 or TGFBR2. Nat. Genet. 37, 275–281 (2005).

62.

Kosaki, R. et al. Left-right axis malformations associated with mutations in ACVR2B, the gene for human activin receptor type IIB. Am. J. Med. Genet. 82, 70–76 (1999).

63.

Egerman, M. A. et al. GDF11 increases with age and inhibits skeletal muscle regeneration. Cell Metab. 22, 164–174 (2015).

64.

Tito, A. et al. The growth differentiation factor 11 is involved in skin fibroblast ageing and is induced by a preparation of peptides and sugars derived from plant cell cultures. Mol. Biotechnol. 61, 209–220 (2019).
Acknowledgements
We thank the patients and their families who participated in this study. The research reported in this paper was supported by the National Institutes of Health (NIH_ Common Fund, the Office of Strategic Coordination and Office of the NIH Director under award numbers U01HG007942 (BCM sequencing core), U54NS093793 (Model Organism Screening Center of the Undiagnosed Diseases Network), R24OD026591 (J.H.P and M.W), and U01HG007690 (BWH clinical site). The Care4Rare Research Consortium performed the reanalysis of the exome data for patient 5 and is funded by Genome Canada and the Ontario Genomics Institute (OGI-147), the Canadian Institutes of Health Research, Ontario Research Fund, Genome Alberta, Genome British Columbia, Genome Q8 Quebec, and Children's Hospital of Eastern Ontario Foundation. H.J.B. and S.Y. are supported by R24OD022005 from the Office of Research Infrastructure Programs (ORIP) at NIH. myo-T2A-GAL4 generation was funded as part of the genome disruption project (NIGMS GM132087). The content is solely the responsibility of the authors and does not necessarily represent the official views of the NIH. T.A.R. has been supported by The Cullen Foundation. S.S.B. is supported by F32HD100048 from the Eunice Kennedy Shriver National Institute of Child Health and Human Development (NICHD) at NIH. H.J.B. is an investigator of the Howard Hughes Medical Institute.
Ethics declarations
Ethics declaration
Written informed consent for genetic testing and publication of relevant findings and photographs was obtained from all patients or their parents. Research using patient cells is approved by the Institutional Review Board for Human Subject Research for Baylor College of Medicine and Affiliated Hospitals (BCM IRB) for translational models of neurological disease at the neurological research institute (Human Subjects Assurance Number: 00000286). The BCM IRB is organized, operates, and is registered with the United States Office for Human Research Protections according to the regulations codified in the United States Code of Federal Regulations at 45 CFR 46 and 21 CFR 56. The BCM IRB operates under the BCM Federal Wide Assurance Number 00000286, as well as those of hospitals and institutions affiliated with the College. Zebrafish were raised and all experiments were conducted according to standard protocols approved by the University of Oregon Institutional Animal Care and Use Committee (IACUC).
Competing interests
The Department of Molecular and Human Genetics at Baylor College of Medicine receives revenue from clinical genetic testing conducted at Baylor Genetics Laboratories. The other authors declare no competing interests.
Additional information
Publisher's note Springer Nature remains neutral with regard to jurisdictional claims in published maps and institutional affiliations.
Supplementary information
About this article
Cite this article
Ravenscroft, T.A., Phillips, J.B., Fieg, E. et al. Heterozygous loss-of-function variants significantly expand the phenotypes associated with loss of GDF11. Genet Med (2021). https://doi.org/10.1038/s41436-021-01216-8
Received:

Revised:

Accepted:

Published: