Abstract
Myocardial infarction (MI), with a major process of cardiomyocyte death, remains a leading cause of morbidity and mortality worldwide. To date, it has been shown that lncRNAs play important roles in cardiovascular pathology. However, the detailed studies on lncRNAs regulating cardiomyocyte death in myocardial infarction are still limited. In this study, we found a progressively upregulated expression of Meg3 in mouse injured heart after MI. Gain-of-function and loss-of-function approaches further revealed pro-apoptotic functions of Meg3 in rodent cardiomyocytes. Moreover, Meg3 was directly upregulated by p53 in hypoxic condition, and involved in apoptotic regulation via its direct binding with RNA-binding protein FUS (fused in sarcoma). Afterwards, adult MI mice that underwent intramyocardial injection with adeno-associated virus serotype 9 (AAV9) system carrying Meg3 shRNA showed a significant improvement of cardiac function. Moreover, we also found that MEG3 was increased in clinical heart failure samples, and had conservatively pro-apoptotic function in human cardiomyocytes that were differentiated from the human embryonic stem cells. Together, these results indicate that p53-induced Meg3–FUS complex plays an important role in cardiomyocyte apoptosis post-MI, and its specific knockdown in cardiomyocytes with AAV9 system represents a promising method to treat MI for preclinical investigation.
Your institute does not have access to this article
Relevant articles
Open Access articles citing this article.
Beiyou Lin

,

Xi Chen

…

Xiaofei Jiang

Cell Death & Disease Open Access 27 October 2021

Shaoyan Chang

,

Yubo Wang

…

Jia Li

BMC Medical Genomics Open Access 06 January 2021

Jinyu Bai

,

Yingzi Zhang

…

Xiaozhong Zhou

Cell Death & Disease Open Access 16 September 2020
Access options
Subscribe to Journal
Get full journal access for 1 year
$119.00
only $9.92 per issue
All prices are NET prices.
VAT will be added later in the checkout.
Tax calculation will be finalised during checkout.
Buy article
Get time limited or full article access on ReadCube.
$32.00
All prices are NET prices.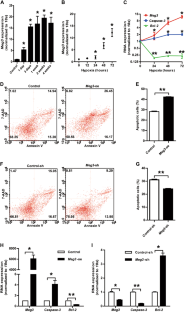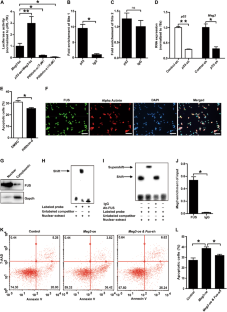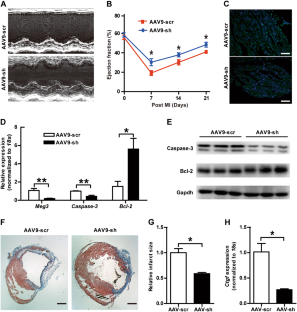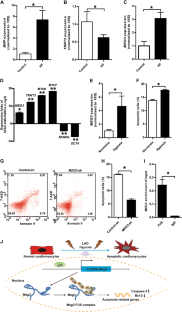 References
Geisler S, Coller J. RNA in unexpected places: long non-coding RNA functions in diverse cellular contexts. Nat Rev Mol Cell Biol. 2013;14:699–712.

Engreitz JM, Ollikainen N, Guttman M. Long non-coding RNAs: spatial amplifiers that control nuclear structure and gene expression. Nat Rev Mol Cell Biol. 2016;17:756–70.

Lee JT. Epigenetic regulation by long noncoding RNAs. Science. 2012;338:1435–9.

Bar C, Chatterjee S, Thum T. Long Noncoding RNAs in cardiovascular pathology, diagnosis, and therapy. Circulation. 2016;134:1484–99.

Kataoka M, Wang DZ. Non-Coding RNAs Including miRNAs and lncRNAs in cardiovascular biology and disease. Cells. 2014;3:883–98.

Boon RA, Jae N, Holdt L, Dimmeler S. Long noncoding RNAs: from clinical genetics to therapeutic targets? J Am Coll Cardiol. 2016;67:1214–26.

Devaux Y, Zangrando J, Schroen B, Creemers EE, Pedrazzini T, Chang CP, et al. Long noncoding RNAs in cardiac development and ageing. Nat Rev Cardiol. 2015;12:415–25.

Ounzain S, Pezzuto I, Micheletti R, Burdet F, Sheta R, Nemir M, et al. Functional importance of cardiac enhancer-associated noncoding RNAs in heart development and disease. J Mol Cell Cardiol. 2014;76:55–70.

He C, Hu H, Wilson KD, Wu H, Feng J, Xia S, et al. Systematic characterization of long noncoding RNAs reveals the contrasting coordination of cis- and trans-molecular regulation in human fetal and adult hearts. Circ Cardiovasc Genet. 2016;9:110–8.

Matkovich SJ, Edwards JR, Grossenheider TC, de Guzman Strong C, Dorn GW 2nd. Epigenetic coordination of embryonic heart transcription by dynamically regulated long noncoding RNAs. Proc Natl Acad Sci USA. 2014;111:12264–9.

Kurian L, Aguirre A, Sancho-Martinez I, Benner C, Hishida T, Nguyen TB, et al. Identification of novel long noncoding RNAs underlying vertebrate cardiovascular development. Circulation. 2015;131:1278–90.

Fiedler J, Breckwoldt K, Remmele CW, Hartmann D, Dittrich M, Pfanne A, et al. Development of long noncoding RNA-based strategies to modulate tissue vascularization. J Am Coll Cardiol. 2015;66:2005–15.

Ounzain S, Micheletti R, Beckmann T, Schroen B, Alexanian M, Pezzuto I, et al. Genome-wide profiling of the cardiac transcriptome after myocardial infarction identifies novel heart-specific long non-coding RNAs. Eur Heart J. 2015;36:353–68a.

Huang ZP, Ding Y, Chen J, Wu G, Kataoka M, Hu Y et al. Long non-coding RNAs link extracellular matrix gene expression to ischemic cardiomyopathy. Cardiovasc Res. 2016;112:543-54.

Touma M, Kang X, Zhao Y, Cass AA, Gao F, Biniwale R, et al. Decoding the long noncoding RNA during cardiac maturation: a roadmap for functional discovery. Circ Cardiovasc Genet. 2016;9:395–407.

Klattenhoff CA, Scheuermann JC, Surface LE, Bradley RK, Fields PA, Steinhauser ML, et al. Braveheart, a long noncoding RNA required for cardiovascular lineage commitment. Cell. 2013;152:570–83.

Ounzain S, Micheletti R, Arnan C, Plaisance I, Cecchi D, Schroen B, et al. CARMEN, a human super enhancer-associated long noncoding RNA controlling cardiac specification, differentiation and homeostasis. J Mol Cell Cardiol. 2015;89(Pt A):98–112.

Boulberdaa M, Scott E, Ballantyne M, Garcia R, Descamps B, Angelini GD, et al. A Role for the long noncoding RNA SENCR in commitment and function of endothelial cells. Mol Ther: J Am Soc Gene Ther. 2016;24:978–90.

Michalik KM, You X, Manavski Y, Doddaballapur A, Zornig M, Braun T, et al. Long noncoding RNA MALAT1 regulates endothelial cell function and vessel growth. Circ Res. 2014;114:1389–97.

Boon RA, Hofmann P, Michalik KM, Lozano-Vidal N, Berghauser D, Fischer A, et al. Long noncoding RNA Meg3 controls endothelial cell aging and function: implications for regenerative angiogenesis. J Am Coll Cardiol. 2016;68:2589–91.

Han P, Li W, Lin CH, Yang J, Shang C, Nurnberg ST, et al. A long noncoding RNA protects the heart from pathological hypertrophy. Nature. 2014;514:102–6.

Wang Z, Zhang XJ, Ji YX, Zhang P, Deng KQ, Gong J, et al. The long noncoding RNA Chaer defines an epigenetic checkpoint in cardiac hypertrophy. Nat Med. 2016;22:1131–9.

Viereck J, Kumarswamy R, Foinquinos A, Xiao K, Avramopoulos P, Kunz M, et al. Long noncoding RNA Chast promotes cardiac remodeling. Sci Transl Med. 2016;8:326ra22.

Wang K, Liu F, Zhou LY, Long B, Yuan SM, Wang Y, et al. The long noncoding RNA CHRF regulates cardiac hypertrophy by targeting miR-489. Circ Res. 2014;114:1377–88.

Vausort M, Wagner DR, Devaux Y. Long noncoding RNAs in patients with acute myocardial infarction. Circ Res. 2014;115:668–77.

Kumarswamy R, Bauters C, Volkmann I, Maury F, Fetisch J, Holzmann A, et al. Circulating long noncoding RNA, LIPCAR, predicts survival in patients with heart failure. Circ Res. 2014;114:1569–75.

Yan Y, Zhang B, Liu N, Qi C, Xiao Y, Tian X, et al. Circulating long noncoding RNA UCA1 as a novel biomarker of acute myocardial infarction. Biomed Res Int. 2016;2016:8079372.

Mondal T, Subhash S, Vaid R, Enroth S, Uday S, Reinius B, et al. MEG3 long noncoding RNA regulates the TGF-beta pathway genes through formation of RNA-DNA triplex structures. Nat Commun. 2015;6:7743.

Ding J, Lin ZQ, Jiang JM, Seidman CE, Seidman JG, Pu WT et al. Preparation of rAAV9 to overexpress or knockdown genes in mouse hearts. Journal of visualized experiments: JoVE 2016;118:54787.

Piccoli MT, Gupta S, Viereck J, Foinquinos A, Samolovac S, Kramer F et al. Inhibition of the cardiac fibroblast-enriched lncRNA Meg3 prevents cardiac fibrosis and diastolic dysfunction. Circ Res. 2017;121:575-83.

Burridge PW, Matsa E, Shukla P, Lin ZC, Churko JM, Ebert AD, et al. Chemically defined generation of human cardiomyocytes. Nat Methods. 2014;11:855–60.

Vousden KH, Prives C. Blinded by the light: the growing complexity of p53. Cell. 2009;137:413–31.

Rinn JL, Chang HY. Genome regulation by long noncoding RNAs. Annu Rev Biochem. 2012;81:145–66.

Brooke GN, Culley RL, Dart DA, Mann DJ, Gaughan L, McCracken SR, et al. FUS/TLS is a novel mediator of androgen-dependent cell-cycle progression and prostate cancer growth. Cancer Res. 2011;71:914–24.

Hulot JS, Ishikawa K, Hajjar RJ. Gene therapy for the treatment of heart failure: promise postponed. Eur Heart J. 2016;37:1651–8.
Acknowledgements
This study was supported by National Key R&D Program of China [2017YFA0103700], National Natural Science Foundation of China (NSFC) [91739106, 81500277, 81770257, 81600218], Natural Science Foundation of Jiangsu Province [BK20150320, BK20170002, BK20150321, BK20150345], Suzhou Municipal Science and Technology Foundation [SYS201675, SYS201540], Natural Science Foundation for Colleges and Universities in Jiangsu Province [17KJA310006, 15KJB180017], National Clinical Key Specialty of cardiovascular surgery, Jiangsu Clinical Research Center for Cardiovascular Surgery and Jiangsu Province's Key Discipline / Laboratory of Medicine [XK201118], and National Center for International Research [2017B01012].
Ethics declarations
Conflict of interest
The authors declare that they have no conflict of interest.
Electronic supplementary material
About this article
Cite this article
Wu, H., Zhao, ZA., Liu, J. et al. Long noncoding RNA Meg3 regulates cardiomyocyte apoptosis in myocardial infarction. Gene Ther 25, 511–523 (2018). https://doi.org/10.1038/s41434-018-0045-4
Received:

Revised:

Accepted:

Published:

Issue Date:

DOI: https://doi.org/10.1038/s41434-018-0045-4