Abstract
Purpose
To determine if the presence or absence of retinal and choroidal folds on SD-OCT imaging can distinguish between mild papilloedema and pseudopapilledema.
Design
Cross-sectional cohort study
Methods
Subjects with optic disc elevation (Frisen grades 1 and 2 only) were eligible to be enrolled prospectively. Pseudopapilledema was defined as a lack of change in optic disc appearance between two visits <6 months apart, and papilloedema was defined as change in optic disc appearance between two visits <6 months apart determined by review of fundus photographs by a masked neuro-ophthalmologist. Three masked neuro-ophthalmologists independently reviewed en face and axial optical coherence tomography (OCT) images of the optic nerve of the study subjects for the presence or absence of retinal and choroidal folds. Concordance was determined when there was agreement between at least 2 of the 3 observers.
Results
Forty-five subjects (78 eyes) met inclusion criteria. There were 32 eyes with papilloedema and 46 eyes with pseudopapilledema. Choroidal and/or retinal folds were detected in 38% of eyes (12/32) with papilloedema and 19.6% of eyes (9/46) with pseudopapilledema. Post-hoc analyses eliminated six questionable cases of pseudopapilledema that had ancillary testing suggestive of elevated intracranial pressure and resulted in one remaining eye (2%) with more certain pseudopapilledema that was found to have folds. En face OCT imaging was more sensitive (71%) in detection of folds than axial OCT imaging (57%).
Conclusions
Choroidal and/or retinal folds on OCT are commonly observed in patients with mild papilloedema and are uncommon in those with pseudopapilledema. The presence of folds on OCT in patients presenting with disc elevation suggests papilloedema.
Your institute does not have access to this article
Relevant articles
Open Access articles citing this article.
Leonardo E. Ariello

,

Luiz Guilherme Marchesi Mello

…

Mário L. R. Monteiro

International Journal of Retina and Vitreous Open Access 22 July 2022
Access options
Subscribe to Journal
Get full journal access for 1 year
$119.00
only $9.92 per issue
All prices are NET prices.
VAT will be added later in the checkout.
Tax calculation will be finalised during checkout.
Buy article
Get time limited or full article access on ReadCube.
$32.00
All prices are NET prices.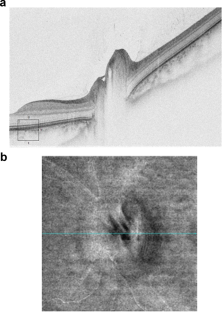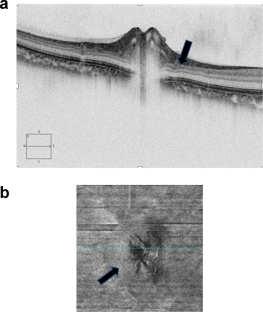 References
Sibony PA, Kupersmith MJ, Feldon SE, Wang JK, Garvin M. Retinal and choroidal folds in papilledema. Investig Ophthalmol Vis Sci. 2015;56(Sep):5670–80.

Griebel SR, Kosmorsky GS. Choroidal folds associated with increased intracranial pressure. Am J Ophthalmol. 2000;129(Apr):513–6.

Jacobson DM. Intracranial Hypertension and the Syndrome of Acquired Hyperopia with Choroidal Folds. J Neuroophthalmol. 1995;15(Sep):178–85.

Sibony PA, Kupersmith MJ. Patons folds revisited: raster and en face OCT of peripapillary wrinkles, folds, and creases. Ophthalmol. 2016;123:1397–9.

Smith SV, Friedman DI. (2017). The Idiopathic Intracranial Hypertension Treatment Trial: a Review of the Outcomes. Headache. 2017;57(Sep):1303–10.

Carta A, Favilla S, Prato M, Bianchi-Marzoli S, Sadun AA, Mora P. Accuracy of Funduscopy to identify true Edema versus Pseudoedema of the optic disc. Investig Ophthalmol Vis Sci. 2012;53(Jan):1–6.

Kohli, AA, Pistilli, M, Cruz, CA, Ross AG, Jivraj I, Bagchi S et al. The role of ocular ultrasonography to distinguish papilledema from pseudopapilledema. J Neuroophthalmol. 2020. https://doi.org/10.1097/WNO.0000000000000984. Online ahead of print.

Wall M, McDermott MP, Kieburtz KD, Corbet JJ, Feldon SE, Friedman DI, et al. Effect of acetazolamide on visual function in patients with idiopathic intracranial hypertension and mild visual loss: the idiopathic intracranial hypertension treatment trial. JAMA. 2014;31(Apr):1641–51.

Zeger SL, Liang K-Y. Longitudinal Data Analysis for Discrete and Continuous Outcomes. Biometrics. 1986;42(Mar):121–30.

Nettleship E. Peculiar lines in the choroid in a case of postpapillitic atrophy. Trans Ophthalmol Soc U K. 1884;4:167–71.

Bird AC, Sanders MD. Choroidal folds in association with papilloedema. Br J Ophthalmol.1973;57(Feb):89–97.

Bullock JD, Egbert PR. The origin of choroidal folds a clinical, histopathological, and experimental study. Doc Ophthalmol. 1974;37(Nov):261–93.

Friberg TR. The etiology of choroidal folds - A biomechanical explanation. Graefes Arch Clinl Expl Ophthalmol. 1989;227:459–64.

Mader TH, Gibson CR, Pass AF, Kramer LA, Lee AG, Fogarty J, et al. Optic disc edema, globe flattening, choroidal folds, and hyperopic shifts observed in astronauts after long-duration space flight. Ophthalmol. 2011;118(Oct):2058–69.

Paton L. Papilledema and optic neuritis. Can Med Assoc J. 1936;34(May):555–63.

Abazari A and Sibony PA. The etiology of retinal and choroidal folds in optic disc drusen (ODD). Ophthalmol. 2020. https://doi.org/10.1016/j.ophtha.2020.05.022. Online ahead of print.

Kupersmith MJ, Sibony PA, Feldon SE, Wang JK, Garvin M, Kardon R. The effect of treatment of idiopathic intracranial hypertension on prevalence of retinal and choroidal folds. Am J Ophthalmol. 2017;176:77–86.

Bassi S, Mohana K. Optical coherence tomography in papilledema and pseudopapilledema with and without optic nerve head drusen. Indian J Ophthalmol. 2014;62(Dec):1146–51.

Fard MA, Fakhree S, Abdi P, Hassanpoor N, Subramanian PS. Quantification of peripapillary total retinal volume in pseudopapilledema and mild papilledema using spectral-domain optical coherence tomography. Am J Ophthalmol. 2014;158(Jul):136–43.

Kardon R. Optical coherence tomography in papilledema: what am i missing? J Neuroophthalmol. 2014;34(Sep):S10–7. Suppl

Karam EZ, Hedges TR. Optical coherence tomography of the retinal nerve fibre layer in mild papilloedema and pseudopapilloedema. Br J Ophthalmol. 2005;89(Mar):94–8.
Ethics declarations
Conflict of interest
Author RHK receives an unrestricted grant for OCT research funded by Heidelberg Engineering, although this was not utilized in his involvement of this manuscript. No other authors have any conflicts of interest related to this study.
Additional information
Publisher's note Springer Nature remains neutral with regard to jurisdictional claims in published maps and institutional affiliations.
About this article
Cite this article
Reggie, S.N., Avery, R.A., Bavinger, J.C. et al. The sensitivity and specificity of retinal and choroidal folds to distinguish between mild papilloedema and pseudopapilledema. Eye 35, 3131–3136 (2021). https://doi.org/10.1038/s41433-020-01368-y
Received:

Revised:

Accepted:

Published:

Issue Date:

DOI: https://doi.org/10.1038/s41433-020-01368-y
Further reading
Leonardo E. Ariello
Luiz Guilherme Marchesi Mello
Mário L. R. Monteiro

International Journal of Retina and Vitreous (2022)