Abstract
Introduction The number of systematic reviews (SRs) in dentistry published each year has grown considerably, and they have been essential in clinical decision-making and health policy.
Objective The objective is to critically appraise SRs of intervention in dentistry using the 'A Measurement Tool to Assess Systematic Reviews 2' (AMSTAR 2) tool published within one year.
Methods A search in the Medline/PubMed database was performed. The SRs were identified in two phases. The first phase identified SRs of interventions in dentistry by title and abstract. In the second phase, the full text was read, applying the eligibility criteria. Three calibrated reviewers methodologically assessed all SRs identified using the AMSTAR 2 tool. Data were analysed descriptively, and SRs were grouped according to methodological quality as moderate/high and low/critically low. A logistic regression model was applied to explore the associations between methodological quality and the study's characteristics.
Results Two hundred and twenty-two SRs were included. The methodological quality of the SRs included in this study were: critically low (56.8%), low (27.9%), moderate (14.4%) and high (0.9%), according to AMSTAR 2. There were no statistical differences between moderate/high and low/critically low methodological quality and publication year, continent, journal Impact Factor and dental speciality.
Conclusion Less than 1% of recently published SRs in dentistry were classified with high methodological quality. We hope that this study will alert researchers about the need to improve the methodological quality of SRs.
Access options
Subscribe to Journal
Get full journal access for 1 year
$119.00
only $29.75 per issue
All prices are NET prices.
VAT will be added later in the checkout.
Tax calculation will be finalised during checkout.
Buy article
Get time limited or full article access on ReadCube.
$32.00
All prices are NET prices.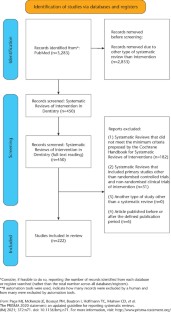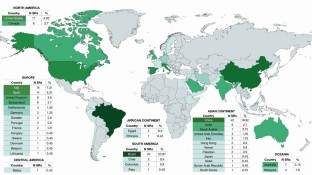 References
Sackett D L, Rosenberg W M C, Grey J A M, Haynes R B, Richardson W S. Evidence based medicine: what it is and what it isn't. BMJ 1996; 312: 71-72.

Sackett D L, Straus S E, Richardson W S, Rosenberg W H R. Evidence-based medicine: How to practice and teach EBM. 2nd ed. New York: Churchill Livingstone, 2000.

Bhargava K, Bhargava D. Evidence Based Health Care A scientific approach to health care. Sultan Qaboos Univ Med J 2007; 7: 105-107.

Cook D J, Mulrow C D, Haynes R B. Systematic reviews: synthesis of best evidence for clinical decisions. Ann Intern Med 1997; 126: 376-380.

Gopalakrishnan S, Ganeshkumar P. Systematic reviews and meta-analysis: understanding the best evidence in primary healthcare. J Fam Med Prim Care 2013; 2: 9.

Page M J, McKenzie J E, Bossuyt P M et al. The PRISMA 2020 statement: An updated guideline for reporting systematic reviews. BMJ 2021; DOI: 10.1136/bmj.n71.

Campbell M, Mckenzie J E, Sowden A et al. Synthesis without meta-analysis (SWiM) in systematic reviews: reporting guideline. BMJ 2020; DOI: 10.1136/bmj.l6890.

Shea B J, Reeves B C, Wells G et al. AMSTAR 2: a critical appraisal tool for systematic reviews that include randomised or non-randomised studies of healthcare interventions, or both. BMJ 2017; DOI: 10.1136/bmj.j4008.

Bassani R, Pereira G K R, Page M J, Tricco A C, Moher D, Sarkis-Onofre R. Systematic reviews in dentistry: Current status, epidemiological and reporting characteristics. J Dent 2019; 82: 71-84.

Saltaji H, Cummings G G, Armijo-Olivo S et al. A descriptive analysis of oral health systematic reviews published 1991-2012: cross sectional study. PLoS One 2013; DOI: 10.1371/journal.pone.0074545.

Chugh A, Kumar A, Kumar P, Kumar V, Khera D. Journal of Oral Biology and Craniofacial Research Critical analysis of methodological quality of systematic reviews and meta-analysis of antibiotics in third molar surgeries using AMSTAR 2. J Oral Biol Craniofac Res 2020; 10: 441-449.

Meza M J, Miranda T S, Almeida M L, Silva H D, Figueiredo L C, Duarte P M. An umbrella review on the effects of diabetes on implant failure and peri-implant diseases. Braz Oral Res 2019; DOI: 10.1590/1807-3107bor-2019.vol33.0070.

Souto-Maior J R, Pellizzer E P, de Luna Gomes J M et al. Influence of diabetes on the survival rate and marginal bone loss of dental implants: an overview of systematic reviews. J Oral Implantol 2019; 45: 334-340.

Higgins J, Thomas J, Chandler J et al. Cochrane Handbook for Systematic Reviews of Interventions. 2020. Available at https://training.cochrane.org/handbook/current (accessed October 2021).

American Dental Association. American Dental Association - Dental Specialties. 2020. Available at https://www.ada.org/en/ncrdscb/dental-specialties/speciality-definitions (accessed October 2021).

Saltaji H, Ospina M B, Armijo-Olivo S et al. Evaluation of risk of bias assessment of trials in systematic reviews of oral health interventions, 1991-2014: A methodology study. J Am Dent Assoc 2016; DOI: 10.1016/j.adaj.2016.03.017.

Schardt C, Adams M B, Owens T, Keitz S, Fontelo P. Utilization of the PICO framework to improve searching PubMed for clinical questions. BMC Med Inf Decis Mak 2007; 7: 16.

Richardson W S, Wilson M C, Nishikawa J, Hayward R S. The well-built clinical question: a key to evidence-based decisions. ACP J Club 1995; 123: A12-A13.

Booth A, O'Rourke A J, Ford N J. Structuring the pre-search reference interview: a useful technique for handling clinical questions. Bull Med Libr Assoc 2000; 88: 239.

Booth A, Clarke M, Ghersi D, Moher D, Petticrew M, Stewart L. An international registry of systematic-review protocols. Lancet 2011; 377: 108-109.

Silagy C A, Middleton P, Hopewell S. Publishing protocols of systematic reviews: comparing what was done to what was planned. JAMA 2002; 287: 2831-2834.

Mahood Q, Van Eerd D, Irvin E. Searching for grey literature for systematic reviews: challenges and benefits. Res Synth Methods 2014; 5: 221-234.

Hopewell S, McDonald S, Clarke M J, Egger M. Grey literature in meta-analyses of randomized trials of health care interventions. Cochrane Database Syst Rev 2007; DOI: 10.1002/14651858.MR000010.pub3.

McAuley L, Tugwell P, Moher D. Does the inclusion of grey literature influence estimates of intervention effectiveness reported in meta-analyses? Lancet 2000; 356: 1228-1231.

Bellefontaine S P, Lee C M. Between black and white: Examining grey literature in meta-analyses of psychological research. J Child Fam Stud 2014; 23: 1378-1388.

Greenhalgh T, Peacock R. Effectiveness and efficiency of search methods in systematic reviews of complex evidence: audit of primary sources. BMJ 2005; 331: 1064-1065.

Muka T, Glisic M, Milic J, Verhoog S, Bohlius J, Bramer W. A 24-step guide on how to design, conduct, and successfully publish a systematic review and meta - analysis in medical research. Eur J Epidemiol 2020; 35: 49-60.

Tawfik G M, Agus K, Dila S, Yousif M, Mohamed F. A step by step guide for conducting a systematic review and meta-analysis with simulation data. Trop Med Health 2019; DOI: 10.1186/s41182-019-0165-6.

Higgins J P T, Altman D G, Gøtzsche P C, Jüni P, Moher D, Oxman A D. The Cochrane Collaboration's tool for assessing risk of bias in randomised trials. BMJ 2011; DOI: 10.1136/bmj.d5928.

Higgins J P T, Thompson S G, Deeks J J, Altman D G. Measuring inconsistency in meta-analyses. BMJ 2003; 327: 557-560.

Patsopoulos N. Reasons or excuses for avoiding meta-analysis in forest plots. BMJ 2008; 336: 1413-1415.

Ayorinde A A, Williams I, Mannion R et al. Assessment of publication bias and outcome reporting bias in systematic reviews of health services and delivery research: A meta-epidemiological study. PLoS One 2020; DOI: 10.1371/journal.pone.0227580.

Lexchin J, Bero L A, Djulbegovic B, Clark O. Pharmaceutical industry sponsorship and research outcome and quality: systematic review. BMJ 2003; 326: 1167-1170.

Moustafa K. The Disaster of the Impact Factor. Sci Eng Ethics 2015; 21: 139-142.

Soares R C, da Rosa S V, Moysés S T et al. Methods for prevention of early childhood caries: Overview of systematic reviews. Int J Paediatr Dent 2021; 31: 394-421.

Bucci R, Montanaro D, Rongo R, Valletta R, Michelotti A, D'Antò V. Effects of maxillary expansion on the upper airways: Evidence from systematic reviews and meta-analyses. J Oral Rehabil 2019; 46: 377-387.

Taylor H L, Rahurkar S, Treat T J, Thyvalikakath T P, Schleyer T K. Does Nonsurgical Periodontal Treatment Improve Systemic Health? J Dent Res 2021; 100: 253-260.
Funding
This research did not receive any specific grant from funding agencies in the public, commercial, or not-for-profit sectors. Patrícia Pauletto, Helena Polmann and Júlia Meller Dias de Oliveira are supported by CAPES (Coordination for the Improvement of Higher Education Personnel), Ministry of Education, Brazil.
Ethics declarations
The authors have no conflict of interest to report. The protocol of this study was registered in the Open Science Frameworks under identifier: DOI 10.17605/OSF.IO/GPKST.
About this article
Cite this article
Pauletto, P., Polmann, H., Réus, J. et al. Critical appraisal of systematic reviews of intervention in dentistry published between 2019-2020 using the AMSTAR 2 tool. Evid Based Dent (2022). https://doi.org/10.1038/s41432-022-0802-5
Received:

Accepted:

Published:

DOI: https://doi.org/10.1038/s41432-022-0802-5
This article is cited by
British Dental Journal (2022)