Abstract
Interventions to assist family communication about inherited cancer risk have the potential to improve family cancer outcomes. This review aimed to evaluate the efficacy of proband-mediated interventions employed within genetics clinics to increase disclosure of genetic risk to at-risk relatives. MEDLINE, Embase, CINAHL, PubMed and PsycINFO were searched for publications between 1990–2020. The quality of studies was assessed. From 5605 records reviewed, 9 studies (4 randomised control trials and 5 cohort studies) were included involving families with BRCA1, BRCA2 and Lynch syndrome. Intervention delivery modes included genetic counselling with additional telephone or in-person follow-up, letters, videos, and decision aids. The percentages of at-risk relatives informed by the proband about their risk ranged from 54.0% to 95.5% in the intervention or family-mediated comparison group. Of those who were informed, 24.4–60.0% contacted a genetics clinic and 22.8–76.2% had genetic testing after they were counselled at a genetics clinic. Significant differences between intervention and control group were reported on all three outcomes by one study, and with relatives contacting a genetics clinic by another study. The studies suggest but do not conclusively show, that tailored genetic counselling with additional follow-up can increase both the proportion of informed relatives and relatives who contact the genetics clinic. With the increase in germline testing, interventions are required to consider the family communication process and address post-disclosure variables (e.g., relative's perceptions, emotional reactions) through engagement with probands and relatives to maximise the public health benefit of identifying inherited cancer risk in families.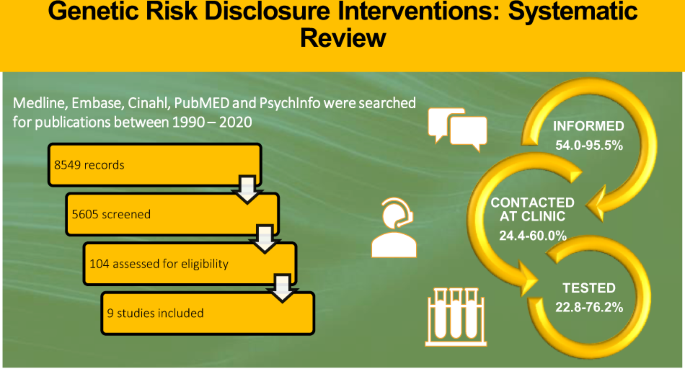 Data availability
Data sharing is not applicable to this article as no new data were created or analysed in this study.
Code availability
The data generated or analysed during this study can be found within the published article and its supplementary files, along with requests from the authors.
References
Mucci LA, Hjelmborg JB, Harris JR, Czene K, Havelick DJ, Scheike T, et al. Familial risk and heritability of cancer among twins in Nordic countries. JAMA. 2016;315:68–76. https://doi.org/10.1001/jama.2015.17703

Garcia C, Sullivan MW, Lothamer H, Harrison KM, Chatfield L, Thomas MH, et al. Mechanisms to increase cascade testing in hereditary breast and ovarian cancer: Impact of introducing standardized communication aids into genetic counseling. J Obstet Gynaecol Res. 2020;46:1835–41.

Young AL, Butow PN, Rhodes P, Tucker KM, Williams R, Healey E, et al. Talking across generations: family communication about BRCA1 and BRCA2 genetic cancer risk. J Genet Couns. 2019;28:516–32. https://doi.org/10.1002/jgc4.1055

McGarragle KM, Hare C, Holter S, Facey DA, McShane K, Gallinger S, et al. Examining intrafamilial communication of colorectal cancer risk status to family members and kin responses to colonoscopy: a qualitative study. Hered Cancer Clin Pract. 2019;17:16 https://doi.org/10.1186/s13053-019-0114-8

Healey E, Taylor N, Greening S, Wakefield CE, Warwick L, Williams R, et al. Quantifying family dissemination and identifying barriers to communication of risk information in Australian BRCA families. Genet Med. 2017;19:1323–31. https://doi.org/10.1038/gim.2017.52

Cheung EL, Olson AD, Yu TM, Han PZ, Beattie MS. Communication of BRCA results and family testing in 1103 high-risk women. Cancer Epidemiol Biomark Prev. 2010;19:2211–9. https://doi.org/10.1158/1055-9965.EPI-10-0325

Aktan-Collan KI, Kääriäinen HA, Kolttola EM, Pylvänäinen K, Järvinen HJ, Haukkala AH, et al. Sharing genetic risk with next generation: mutation-positive parents' communication with their offspring in Lynch Syndrome. Fam Cancer. 2011;10:43–50. https://doi.org/10.1007/s10689-010-9386-x

Pentz RD, Peterson SK, Watts B, Vernon SW, Lynch PM, Koehly LM, et al. Hereditary nonpolyposis colorectal cancer family members' perceptions about the duty to inform and health professionals' role in disseminating genetic information. Gen Test. 2005;9:261–8.

Ishii N, Arai M, Koyama Y, Ueno M, Yamaguchi T, Kazuma K, et al. Factors affecting encouragement of relatives among families with Lynch syndrome to seek medical assessment. Fam Cancer. 2011;10:649–54.

Ricker CN, Koff RB, Qu C, Culver J, Sturgeon D, Kingham KE, et al. Patient communication of cancer genetic test results in a diverse population. Transl Behav Med. 2018;8:85–94. https://doi.org/10.1093/tbm/ibx010

Finlay E, Stopfer JE, Burlingame E, Evans KG, Nathanson KL, Weber BL, et al. Factors determining dissemination of results and uptake of genetic testing in families with known BRCA1/2 mutations. Gen Test. 2008;12:81–91. https://doi.org/10.1089/gte.2007.0037

Menko FH, ter Stege JA, van der Kolk LE, Jeanson KN, Schats W, Moha DA, et al. The uptake of presymptomatic genetic testing in hereditary breast-ovarian cancer and Lynch syndrome: A systematic review of the literature and implications for clinical practice. Fam Cancer. 2018;18:127–35. https://doi.org/10.1007/s10689-018-0089-z

Young AL, Butow PN, Tucker KM, Wakefield CE, Healey E, Williams R. When to break the news and whose responsibility is it? A cross-sectional qualitative study of health professionals' views regarding disclosure of BRCA genetic cancer risk. BMJ Open. 2020;10:e033127 https://doi.org/10.1136/bmjopen-2019-033127

Dheensa S, Fenwick A, Shkedi-Rafid S, Crawford G, Lucassen A. Health-care professionals' responsibility to patients' relatives in genetic medicine: a systematic review and synthesis of empirical research. Genet Med. 2016;18:290–301.

Page MJ, McKenzie JE, Bossuyt PM, Boutron I, Hoffmann TC, Mulrow CD, et al. The PRISMA 2020 statement: an updated guideline for reporting systematic reviews. BMJ. 2021;372:n71.

Downs SH, Black N. The feasibility of creating a checklist for the assessment of the methodological quality both of randomised and non-randomised studies of health care interventions. J Epidemiol Community Health. 1998;52:377–84. https://doi.org/10.1136/jech.52.6.377

Eijzenga W, de Geus E, Aalfs CM, Menko FH, Sijmons RH, de Haes HCJM, et al. How to support cancer genetics counselees in informing at-risk relatives? Lessons from a randomized controlled trial. Patient Educ Couns. 2018;101:1611–9. https://doi.org/10.1016/j.pec.2018.05.009

Hodgson J, Metcalfe S, Gaff C, Donath S, Delatycki MB, Winship I, et al. Outcomes of a randomised controlled trial of a complex genetic counselling intervention to improve family communication. Eur J Hum Genet. 2016;24:356–60. https://doi.org/10.1038/ejhg.2015.122

Montgomery SV, Barsevick AM, Egleston BL, Bingler R, Ruth K, Miller SM, et al. Preparing individuals to communicate genetic test results to their relatives: report of a randomized control trial. Fam Cancer. 2013;12:537–46. https://doi.org/10.1007/s10689-013-9609-z

Roshanai AH, Rosenquist R, Lampic C, Nordin K. Does enhanced information at cancer genetic counseling improve counselees' knowledge, risk perception, satisfaction and negotiation of information to at-risk relatives? A randomized study. Acta Oncol. 2009;48:999–1009. https://doi.org/10.1080/02841860903104137

Aktan-Collan K, Haukkala A, Pylvänäinen K, Järvinen HJ, Aaltonen LA, Peltomäki P, et al. Direct contact in inviting high-risk members of hereditary colon cancer families to genetic counselling and DNA testing. J Med Genet. 2007;44:732–8. https://doi.org/10.1136/jmg.2007.051581

Sermijn E, Delesie L, Deschepper E, Pauwels I, Bonduelle M, Teugels E, et al. The impact of an interventional counselling procedure in families with a BRCA1/2 gene mutation: efficacy and safety. Fam Cancer. 2016;15:155–62. https://doi.org/10.1007/s10689-015-9854-4

Buckman R. How to break bad news. Toronto: University of Toronto Press; 2017.

Forrest LE, Burke J, Bacic S, Amor DJ. Increased genetic counseling support improves communication of genetic information in families. Genet Med. 2008;10:167–72. https://doi.org/10.1097/GIM.0b013e318164540b

Kardashian A, Fehniger J, Creasman J, Cheung E, Beattie MS. A pilot study of the sharing risk information tool (ShaRIT) for families with hereditary breast and ovarian cancer syndrome. Hered Cancer Clin Pract. 2012;10:4 https://doi.org/10.1186/1897-4287-10-4

Patch C, Middleton A. Point of view: an evolution from genetic counselling to genomic counselling. Eur J Med Genet. 2019;62:288–9. https://doi.org/10.1016/j.ejmg.2019.04.010

Lafrenière D, Bouchard K, Godard B, Simard J, Dorval M. Family communication following BRCA1/2 genetic testing: a close look at the process. J Genet Couns. 2013;22:323–35. https://doi.org/10.1007/s10897-012-9559-x
Acknowledgements
Thank you to the authors who provided a re-analysis of their data: Jan Hodgson, Jo Burke, and David Amor.
Funding
No financial assistance was received in support of the study. Open Access funding enabled and organized by CAUL and its Member Institutions.
Ethics declarations
Competing interests
The authors declare no competing financial interests in relation to the work described. Only one author has a conflict of interest to disclosure, Rachel Williams has presented to Patient Advocacy groups for AstraZeneca, with no promotion of their products.
Ethics approval
Ethical approval was not required for conducting the systematic review.
Additional information
Publisher's note Springer Nature remains neutral with regard to jurisdictional claims in published maps and institutional affiliations.
Supplementary information
Rights and permissions
Open Access This article is licensed under a Creative Commons Attribution 4.0 International License, which permits use, sharing, adaptation, distribution and reproduction in any medium or format, as long as you give appropriate credit to the original author(s) and the source, provide a link to the Creative Commons license, and indicate if changes were made. The images or other third party material in this article are included in the article's Creative Commons license, unless indicated otherwise in a credit line to the material. If material is not included in the article's Creative Commons license and your intended use is not permitted by statutory regulation or exceeds the permitted use, you will need to obtain permission directly from the copyright holder. To view a copy of this license, visit http://creativecommons.org/licenses/by/4.0/.
About this article
Cite this article
Young, A.L., Imran, A., Spoelma, M.J. et al. Proband-mediated interventions to increase disclosure of genetic risk in families with a BRCA or Lynch syndrome condition: a systematic review. Eur J Hum Genet 31, 18–34 (2023). https://doi.org/10.1038/s41431-022-01200-z
Received:

Revised:

Accepted:

Published:

Issue Date:

DOI: https://doi.org/10.1038/s41431-022-01200-z
This article is cited by
European Journal of Human Genetics (2023)