Abstract
To comprehensively estimate the association of gestational diabetes mellitus (GDM) risk with maternal red blood cell (RBC) folate, plasma/serum folate, dose and duration of folic acid supplement (FAS) intake and vitamin B12 separately. PubMed, Web of science, CNKI, and Wanfang Databases were searched through March 26, 2021. We synthesized data using random-effects model meta-analysis in Stata 12.0. Sensitivity, subgroup and dose-response analyses were also performed. The certainty of evidence was evaluated using the Grading of Recommendations, Assessment, Development and Evaluations (GRADE). Twenty six datasets from thirteen eligible observational studies were included in the study. We found a significant increase of GDM risk with the highest versus lowest category of RBC folate (OR = 1.96, 95% CI: 1.48–2.61, I2 = 0.0%, moderate-certainty evidence) and plasma/serum folate (OR = 1.23, 1.02–1.48, I2 = 57.8%, low-certainty evidence). The dose-response analysis revealed that each 200 ng/ml increase in RBC folate was significantly associated with 8% higher GDM risk. No significant association between dose of FAS intake and GDM risk was found with very low cetainty. Meanwhile, longer duration (≥3 months) of FAS conferred 56% significant higher GDM risk (OR = 1.56, 1.02–2.39, very low certainty evidence). No significant association of GDM risk with highest plasma/serum B12 was observed compared to lowest B12 (OR = 0.77, 0.58–1.02, very low-certainty evidence). Moderate-certainty evidence suggests that higher RBC folate appears to significantly increase GDM risk. Higher plasma/serum folate may increase GDM risk but with low certainty. Further well-designed trials or prospective studies are needed.
Relevant articles
Open Access articles citing this article.
Jin He

,

Dongmei Jiang

…

Chenbo Ji

BMC Pregnancy and Childbirth Open Access 23 July 2022
Access options
Subscribe to Journal
Get full journal access for 1 year
$119.00
only $9.92 per issue
All prices are NET prices.
VAT will be added later in the checkout.
Tax calculation will be finalised during checkout.
Buy article
Get time limited or full article access on ReadCube.
$32.00
All prices are NET prices.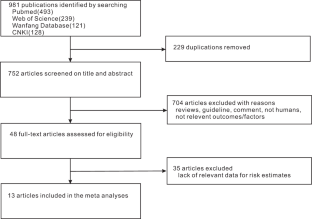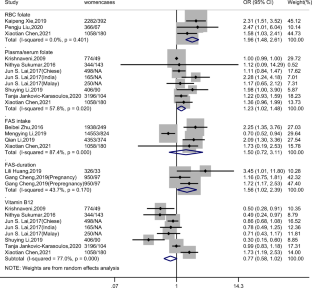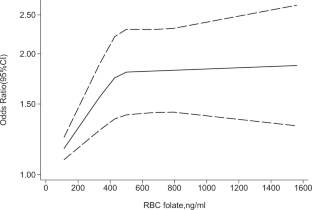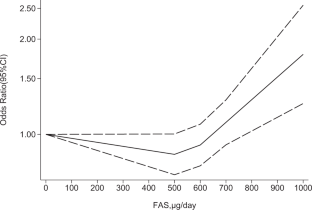 References
Johns EC, Denison FC, Norman JE, Reynolds RM. Gestational diabetes mellitus: mechanisms, treatment, and complications. Trends Endocrinol Metab. 2018;29:743–54.

Ferrara A. Increasing Prevalence of Gestational Diabetes Mellitus: a public health perspective. Diabetes Care. 2007;30:S141–6.

Guariguata L, Linnenkamp U, Beagley J, Whiting DR, Cho NH. Global estimates of the prevalence of hyperglycaemia in pregnancy. Diabetes Res Clin Pr. 2014;103:176–85.

Catalano PM. Trying to understand gestational diabetes. Diabet Med. 2014;31:273–81.

Bellamy L, Casas JP, Hingorani AD, Williams D. Type 2 diabetes mellitus after gestational diabetes: a systematic review and meta-analysis. Lancet. 2009;373:1773–9.

Li Z, Cheng Y, Wang D, Chen H, Chen H, Ming W, et al. Incidence rate of type 2 diabetes mellitus after gestational diabetes mellitus: a systematic review and meta-analysis of 170,139 women. J Diabetes Res. 2020;2020:1–12.

Kramer CK, Campbell S, Retnakaran R. Gestational diabetes and the risk of cardiovascular disease in women: a systematic review and meta-analysis. Diabetologia. 2019;62:905–14.

Lavery JA, Friedman AM, Keyes KM, Wright JD, Ananth CV. Gestational diabetes in the United States: temporal changes in prevalence rates between 1979 and 2010. BJOG.2017;124:804–13.

Crider KS, Yang TP, Berry RJ, Bailey LB. Folate and DNA methylation: a review of molecular mechanisms and the evidence for folate's role. Adv Nutr. 2012;3:21–38.

Paul L, Selhub J. Interaction between excess folate and low vitamin B12 status. Mol Asp Med. 2017;53:43–7.

Wang S, Wang H, Song Y, Ji Y. The role of vitamin b12 in the pathogenesis of gestational diabetes. Acta Microsc. 2020;29:838–45.

Bibbins-Domingo K, Grossman DC, Curry SJ, Davidson KW, Epling JW, García FAR, et al. Folic acid supplementation for the prevention of neural tube defects: US preventive services task force recommendation statement. JAMA: J Am Med Assoc. 2017;317:183–9.

Best K, Green TJ. Adequate maternal pre-conceptional folate status may reduce the risk of gestational diabetes mellitus. Evid Based Nurs. 2020;2019:103157.

Gadgil M, Joshi K, Pandit A, Otiv S, Joshi R, Brenna JT, et al. Imbalance of folic acid and vitamin B12 is associated with birth outcome: an Indian pregnant women study. Eur J Clin Nutr. 2014;68:726–9.

Chen X, Zhang Y, Chen H, Jiang Y, Wang Y, Wang D, et al. Association of maternal folate and vitamin b12 in early pregnancy with gestational diabetes mellitus: a prospective cohort study. Diabetes Care. 2021;44:217–23.

Xie K, Xu P, Fu Z, Gu X, Li H, Cui X, et al. Association of maternal folate status in the second trimester of pregnancy with the risk of gestational diabetes mellitus. Food Sci Nutr. 2019;7:3759–65.

Liu PJ, Liu Y, Ma L, Yao AM, Chen XY, Hou YX, et al. Associations between gestational diabetes mellitus risk and folate status in early pregnancy and MTHFR C677T polymorphisms in chinese women. Diabetes Metab Syndr Obes. 2020;13:1499–507.

Zhu B, Ge X, Huang K, Mao L, Yan S, Xu Y, et al. Folic acid supplement intake in early pregnancy increases risk of gestational diabetes mellitus: evidence from a prospective cohort study. Diabetes Care. 2016;39:e36–7.

Li M, Li S, Chavarro JE, Gaskins AJ, Ley SH, Hinkle SN, et al. Prepregnancy habitual intakes of total, supplemental, and food folate and risk of gestational diabetes mellitus: a prospective cohort study. Diabetes Care. 2019;42:1034–41.

Li Q, Zhang Y, Huang L, Zhong C, Chen R, Zhou X, et al. High-Dose folic acid supplement use from prepregnancy through midpregnancy is associated with increased risk of gestational diabetes mellitus: a prospective cohort study. Diabetes Care. 2019;42:e113–5.

Cheng G, Sha T, Gao X, He Q, Wu X, Tian Q, et al. The associations between the duration of folic acid supplementation, gestational diabetes mellitus, and adverse birth outcomes based on a birth cohort. Int J Env Res Pub He. 2019;16:4511.

Huang L, Yu X, Li L, Chen Y, Yang Y, Yang Y. Duration of periconceptional folic acid supplementation and risk of gestational diabetes mellitus. Asia Pac J Clin Nutr. 2019;28:321–329.

Lai JS, Pang WW, Cai S, Lee YS, Chan J, Shek L, et al. High folate and low vitamin B12 status during pregnancy is associated with gestational diabetes mellitus. Clin Nutr. 2018;37:940–7.

Kouroglou E, Anagnostis P, Daponte A, Bargiota A. Vitamin B12 insufficiency is associated with increased risk of gestational diabetes mellitus: a systematic review and meta-analysis. Endocrine. 2019;66:149–56.

Li S, Hou Y, Yan X, Wang Y, Shi C, Wu X, et al. Joint effects of folate and vitamin B12 imbalance with maternal characteristics on gestational diabetes mellitus. J Diabetes. 2019;11:744–51.

Jankovic-Karasoulos T, Furness DL, Leemaqz SY, Dekker GA, Grzeskowiak LE, Grieger JA, et al. Maternal folate, one-carbon metabolism and pregnancy outcomes. Matern Child Nutr. 2021;17:e13064.

Arya S, Kaji AH, Boermeester MA. PRISMA reporting guidelines for meta-analyses and systematic reviews. Jama Surg. 2021;156:789–90.

Stang A. Critical evaluation of the Newcastle-Ottawa scale for the assessment of the quality of nonrandomized studies in meta-analyses. Eur J Epidemiol. 2010;25:603–05.

Chou R, Baker WL, Bañez LL, Iyer S, Myers ER, Newberry S, et al. Agency for Healthcare Research and Quality Evidence-based Practice Center methods provide guidance on prioritization and selection of harms in systematic reviews. J Clin Epidemiol. 2018;98:98–104.

Guyatt GH, Oxman AD, Vist GE, Kunz R, Falck-Ytter Y, Alonso-Coello P, et al. GRADE: an emerging consensus on rating quality of evidence and strength of recommendations. BMJ.2008;336:924–6.

Dersimonian R, Laird N. Meta-analysis in clinical trials. Control Clin Trials. 1986;7:177–88.

Cornell JE, Liao JM, Stack CB, Mulrow CD. Annals understanding clinical research: evaluating the meaning of a summary estimate in a meta-analysis. Ann Intern Med. 2017;167:275–7.

Muka T, Glisic M, Milic J, Verhoog S, Bohlius J, Bramer W, et al. A 24-step guide on how to design, conduct, and successfully publish a systematic review and meta-analysis in medical research. Eur J Epidemiol. 2020;35:49–60.

Sander G, Longnecker MP. Methods for trend estimation from summarized Dose-Response data, with applications to Meta-Analysis. Am J Epidemiol. 1992;135:1301–9.

Qiang Y, Li Q, Xin Y, Fang X, Tian Y, Ma J, et al. Intake of dietary One-Carbon Metabolism-Related b vitamins and the risk of esophageal cancer: a dose-response meta-analysis. Nutrients.2018;10:835.

Harrell FJ, Lee KL, Pollock BG. Regression models in clinical studies: determining relationships between predictors and response. J Natl Cancer Inst. 1988;80:1198–202.

Fellow JPHS, Altman DG. Assessing risk of bias in included studies[M]. Cochrane Handbook for Systematic Reviews of Interventions: Cochrane Book Series, 2011.

Nichol CharlesA. Folates and pterins, vol. 3; Nutritional, pharmacological and physiological aspects. Neurochem Int. 1987;11:479.

Chen M, Rose CE, Qi YP, Williams JL, Yeung LF, Berry RJ, et al. Defining the plasma folate concentration associated with the red blood cell folate concentration threshold for optimal neural tube defects prevention: a population-based, randomized trial of folic acid supplementation. Am J Clin Nutr. 2019;109:1452–61.

Murphy M, Muldoon KA, Sheyholislami H, Behan N, Lamers Y, Rybak N, et al. Impact of high-dose folic acid supplementation in pregnancy on biomarkers of folate status and 1-carbon metabolism: an ancillary study of the Folic Acid Clinical Trial (FACT). Am J Clin Nutr. 2021;113:1361–71.

Samson KLI, Loh SP, Lee SS, Sulistyoningrum DC, Khor GL, Shariff ZBM, et al. Weekly iron–folic acid supplements containing 2.8 mg folic acid are associated with a lower risk of neural tube defects than the current practice of 0.4 mg: a randomised controlled trial in Malaysia. BMJ Glob Health. 2020;5:e3897.

Crider KS, Qi Y, Devine O, Tinker SC, Berry RJ. Modeling the impact of folic acid fortification and supplementation on red blood cell folate concentrations and predicted neural tube defect risk in the United States: Have we reached optimal prevention? Am J Clin Nutr. 2018;107:1027–34.

Li Q, Xu S, Chen X, Zhang X, Li X, Lin L, et al. Folic acid supplement use and increased risk of gestational hypertension. Hypertension.2020;76:150–6.

Oken E, Ning Y, Rifas-Shiman SL, Rich-Edwards JW, Olsen SF, Gillman MW. Diet during pregnancy and risk of preeclampsia or gestational hypertension. Ann Epidemiol. 2007;17:663–8.

Mcstay C, Prescott S, Bower C, Palmer D. Maternal folic acid supplementation during pregnancy and childhood allergic disease outcomes: a question of timing? Nutrients. 2017;9:123.

Raghavan R, Riley AW, Volk H, Caruso D, Hironaka L, Sices L, et al. Maternal multivitamin intake, plasma folate and vitamin b12 levels and autism spectrum disorder risk in offspring. Paediatr Perinat Ep. 2018;32:100–11.

Looman M, Geelen A, Samlal R, Heijligenberg R, Klein GJ, Balvers M, et al. Changes in micronutrient intake and status, diet quality and glucose tolerance from preconception to the second trimester of pregnancy. Nutrients. 2019;11:460.

Solomon LR. Disorders of cobalamin (Vitamin B12) metabolism: emerging concepts in pathophysiology, diagnosis and treatment. Blood Rev. 2007;21:113–30.

Palmer AM, Kamynina E, Field MS, Stover PJ. Folate rescues vitamin B12 depletion-induced inhibition of nuclear thymidylate biosynthesis and genome instability. Proc Natl Acad Sci. 2017;114:E4095–102.

Selhub J, Morris MS, Jacques PF. In vitamin B12 deficiency, higher serum folate is associated with increased total homocysteine and methylmalonic acid concentrations. Proc Natl Acad Sci USA. 2007;104:19995–20000.

Adaikalakoteswari A, Vatish M, Alam MT, Ott S, Kumar S, Saravanan P. Low vitamin b12 in pregnancy is associated with Adipose-Derived circulating miRs targeting PPARγ and insulin resistance. J Clin Endocrinol Metab. 2017;102:4200–09.

Troen AM, Mitchell B, Sorensen B, Wener MH, Johnston A, Wood B, et al. Unmetabolized folic acid in plasma is associated with reduced natural killer cell cytotoxicity among postmenopausal women. J Nutr. 2006;136:189–94.

Sawaengsri H, Wang J, Reginaldo C, Steluti J, Wu D, Meydani SN, et al. High folic acid intake reduces natural killer cell cytotoxicity in aged mice. J Nutr Biochem. 2016;30:102–7.
Acknowledgements
Many thanks to Professor Ling Wang and Dr. Songyuan Deng for the valuable suggestions on the revision of the article.
Ethics declarations
Competing interests
The authors declare no competing interests.
Additional information
Publisher's note Springer Nature remains neutral with regard to jurisdictional claims in published maps and institutional affiliations.
Supplementary information
About this article
Cite this article
Li, N., Jiang, J. & Guo, L. Effects of maternal folate and vitamin B12 on gestational diabetes mellitus: a dose-response meta-analysis of observational studies. Eur J Clin Nutr (2022). https://doi.org/10.1038/s41430-022-01076-8
Received:

Revised:

Accepted:

Published:

DOI: https://doi.org/10.1038/s41430-022-01076-8
This article is cited by
Jin He
Dongmei Jiang
Chenbo Ji

BMC Pregnancy and Childbirth (2022)