Access options
Subscribe to Journal
Get full journal access for 1 year
$259.00
only $21.58 per issue
All prices are NET prices.
VAT will be added later in the checkout.
Rent or Buy article
Get time limited or full article access on ReadCube.
from$8.99
All prices are NET prices.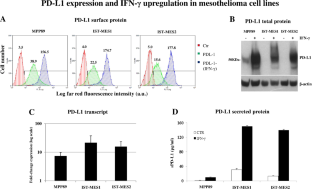 References
1.

Li, X., Song, W., Shao, C., Shi, Y. & Han, W. Emerging predictors of the response to the blockade of immune checkpoints in cancer therapy. Cell. Mol. Immunol. 16, 28–39 (2019).

2.

Lantuejoul, S., Le Stang, N., Damiola, F., Scherpereel, A. & Galateau-Sallé, F. PD-L1 testing for immune checkpoint inhibitors in mesothelioma: for want of anything better? J. Thorac. Oncol. 12, 778–781 (2017).

3.

Mimura, K. et al. PD-L1 expression is mainly regulated by interferon gamma associated with JAK-STAT pathway in gastric cancer. Cancer Sci. 109, 43–53 (2018).

4.

Kao, S. C. et al. Tumor suppressor microRNAs contribute to the regulation of PD-L1 expression in malignant pleural mesothelioma. J. Thorac. Oncol. 12, 1421–1433 (2017).

5.

Calabrò, L. et al. CTLA4 blockade in mesothelioma: finally a competing strategy over cytotoxic/target therapy? Cancer Immunol. Immunother. 64, 105–112 (2015).

6.

Frigola, X. et al. Identification of a soluble form of B7-H1 that retains immunosuppressive activity and is associated with aggressive renal cell carcinoma. Clin. Cancer Res. 17, 1915–1923 (2011).

7.

Gong, B. et al. Secreted PD-L1 variants mediate resistance to PD-L1 blockade therapy in non-small cell lung cancer. J. Exp. Med. 216, 982–1000 (2019).

8.

Khanna, S. et al. Malignant mesothelioma effusions are infiltrated by CD3+T cells highly expressing PD-L1 and the PD-L1+tumor cells within these effusions are susceptible to ADCC by the anti-PD-L1 antibody avelumab. J. Thorac. Oncol. 11, 1993–2005 (2016).
Acknowledgements
This work was supported by grants from the Italian Ministry of Health (5x1000 funds 2014 and 2015; Ricerca Corrente 2017).
Ethics declarations
Competing interests
The authors declare no competing interests.
About this article
Cite this article
Pistillo, M.P., Carosio, R., Banelli, B. et al. IFN-γ upregulates membranous and soluble PD-L1 in mesothelioma cells: potential implications for the clinical response to PD-1/PD-L1 blockade. Cell Mol Immunol 17, 410–411 (2020). https://doi.org/10.1038/s41423-019-0245-x
Received:

Accepted:

Published:

Issue Date:
Further reading
Journal of Receptors and Signal Transduction (2020)

Bin Hu

,

Ming Sun

,

Zijin Wang

,

Yanping Zheng

,

Weifeng Cai

,

Helen Hsiao-Hsing Shi

,

Yanzhen Zhuang

&

Qin Lin

Clinical Chemistry (2020)