Access options
Subscribe to Journal
Get full journal access for 1 year
We are sorry, but there is no personal subscription option available for your country.
Rent or Buy article
Get time limited or full article access on ReadCube.
from$8.99
All prices are NET prices.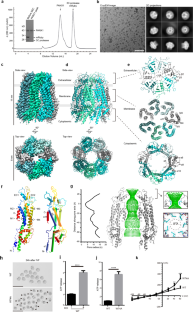 References
1.

Panchin, Y. et al. Curr. Biol. 10, R473–R474 (2000).

2.

Bruzzone, R., Hormuzdi, S. G., Barbe, M. T., Herb, A. & Monyer, H. Proc. Natl. Acad. Sci. USA 100, 13644–13649 (2003).

3.

Penuela, S., Harland, L., Simek, J. & Laird, D. W. Biochem. J. 461, 371–381 (2014).

4.

Sang, Q. et al. Sci. Transl. Med. 11, eaav8731 (2019).

5.

Boassa, D. et al. J. Biol. Chem. 282, 31733–31743 (2007).

6.

Chekeni, F. B. et al. Nature 467, 863–867 (2010).

7.

Dahl, G. Philos. Trans. R. Soc. Lond. B. Biol. Sci. 370, 20140191 (2015).

8.

Isakson, B. E. & Thompson, R. J. Channels 8, 118–123 (2014).

9.

Wang, J. & Dahl, G. Am. J. Physiol. Cell Physiol. 315, C290–C299 (2018).

10.

Chiu, Y. H. et al. Nat. Commun. 8, 14324 (2017).

11.

Bunse, S. et al. J. Membr. Biol. 244, 21–33 (2011).

12.

Sandilos, J. K. et al. J. Biol. Chem. 287, 11303–11311 (2012).
Acknowledgements
We are grateful to Dr Qingxia Wang (Cryo-Electron Microscopy Research Center at Shanghai Institute of Materia Medica) and Dr Yu Kong (EM facility at the Institute of Neuroscience) for facility support, to Dr Xiang Zhang and Hong Wu (Shanghai YueXin Life-science Tech) for computational support, to Dr Shanshuang Chen (Shanghai Jiao Tong University) for data analysis, and to Dr Qing Sang (Fudan University) for mouse oocyte microinjection. This work was financially supported by the National Key R&D Program of China (2017YFA0505700, 2016YFC1000600, 2017YFC1001500, 2018YFC1003800), the National Natural Science Foundation of China (31771115, 81725006, 81822019, 81771581, 81571501, 81971450, 81971382), the Strategic Priority Research Program of the Chinese Academy of Science (XDB32020000, XDA12010317), the Shanghai Municipal Science and Technology Major Project (2018SHZDZX05, 2017SHZDZX01), the CAS Key Laboratory of Receptor Research (SIMM1804YKF-03), the Thousand Young Talents Program, the 100 Talents Program of the Chinese Academy of Sciences, the Natural Science Foundation of Shanghai (18ZR1447700), and Shanghai Rising-Star Program (grant 17QA1404800).
Ethics declarations
Competing interests
The authors declare no competing interests.
Supplementary information
About this article
Cite this article
Qu, R., Dong, L., Zhang, J. et al. Cryo-EM structure of human heptameric Pannexin 1 channel. Cell Res 30, 446–448 (2020). https://doi.org/10.1038/s41422-020-0298-5
Received:

Accepted:

Published:

Issue Date: