Abstract
Inflammatory bowel disease (IBD) is a chronic inflammatory disorder of the gastrointestinal tract, which has been shown to increase the incidence of colorectal cancer. Recent studies have highlighted the role of ubiquitination, a post-translational modification, in the occurrence and development of colonic inflammation. Ovarian tumor deubiquitinase 6 A (OTUD6A) is a deubiquitinating enzyme, which regulates cell proliferation and tumorigenesis. In this study, we investigated the expression and role of OTUD6A in IBD. Wide-type or Otud6a−/− mice were used to develop dextran sodium sulfate (DSS)- or 2,6,4-trinitrobenzene sulfonic acid (TNBS)-induced colitis model, as well as azoxymethane (AOM)/DSS-induced colitis-associated cancer model. Bone marrow-derived macrophages (BMDMs) were isolated from wild-type and Otud6a−/− mice to dissect molecular mechanisms. Our data show that OTUD6A deficiency attenuated DSS or TNBS-induced colitis, as well as AOM/DSS-induced colitis-related colon cancer in vivo. Bone marrow transplantation experiments further revealed that OTUD6A in myeloid cells was responsible for exacerbation of DSS-induced colitis. Mechanistically, OTUD6A directly bound to NACHT domain of NLRP3 inflammasome and selectively cleaved K48-linked polyubiquitin chains from NLRP3 at K430 and K689 to enhance the stability of NLRP3, leading to increased IL-1β level and inflammation. Taken together, our research identifies a new function of OTUD6A in the pathogenesis of colitis by promoting NLRP3 inflammasome activation, suggesting that OTUD6A could be a potential target for the treatment of IBD.

Access options
Subscribe to this journal
Receive 12 print issues and online access
$259.00 per year
only $21.58 per issue
Rent or buy this article
Get just this article for as long as you need it
$39.95
Prices may be subject to local taxes which are calculated during checkout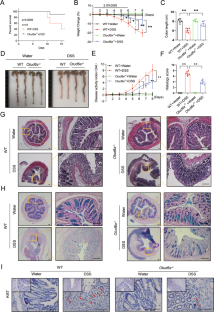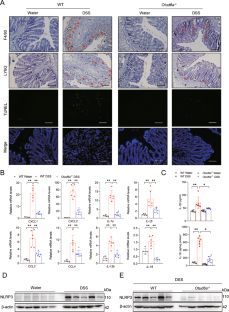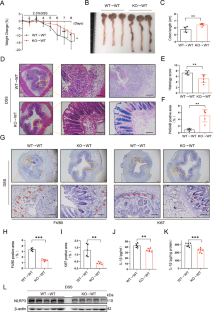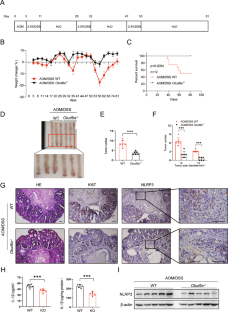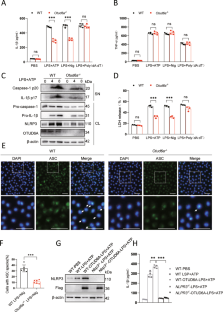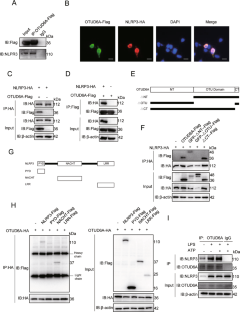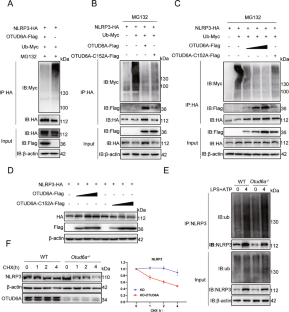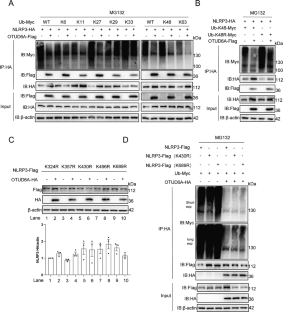 Data availability
All data needed to evaluate the conclusions in this study are presented in this manuscript or the supplementary information. The materials described in this study are either commercially available or available upon reasonable request from the corresponding authors.
References
Na YR, Stakenborg M, Seok SH, Matteoli G. Macrophages in intestinal inflammation and resolution: a potential therapeutic target in IBD. Nat Rev Gastroenterol Hepatol. 2019;16:531–43.

Wallace KL, Zheng LB, Kanazawa Y, Shih DQ. Immunopathology of inflammatory bowel disease. World J Gastroenterol. 2014;20:6–21.

Roda G, Ng SC, Kotze PG, Argollo M, Panaccione R, Spinelli A, et al. Crohn's disease. Nat Rev Dis Primers 2020;6:22.

Kobayashi T, Siegmund B, Le Berre C, Wei SC, Ferrante M, Shen B, et al. Ulcerative colitis. Nat Rev Dis Primers 2020;6:74.

Sung H, Ferlay J, Siegel RL, Laversanne M, Soerjomataram I, Jemal A, et al. Global cancer statistics 2020: GLOBOCAN estimates of incidence and mortality worldwide for 36 cancers in 185 countries. CA Cancer J Clin. 2021;71:209–49.

Siegel RL, Miller KD, Sauer AG, Fedewa SA, Butterly LF, Anderson JC, et al. Colorectal cancer statistics, 2020. CA Cancer J Clin. 2020;70:145–64.

Faye AS, Holmer AK, Axelrad JE. Cancer in inflammatory bowel disease. Gastroenterol Clin North Am. 2022;51:649–66.

Song Y, Yuan M, Xu Y, Xu H. Tackling inflammatory bowel diseases: targeting proinflammatory cytokines and lymphocyte homing. Pharmaceuticals 2022;15:1080.

Ruan J, Schluter D, Naumann M, Waisman A, Wang X. Ubiquitin-modifying enzymes as regulators of colitis. Trends Mol Med. 2022;28:304–18.

Popovic D, Vucic D, Dikic I. Ubiquitination in disease pathogenesis and treatment. Nat Med. 2014;20:1242–53.

Clague MJ, Barsukov I, Coulson JM, Liu H, Rigden DJ, Urbe S. Deubiquitylases from genes to organism. Physiol Rev. 2013;93:1289–315.

Bednash JS, Mallampalli RK. Regulation of inflammasomes by ubiquitination. Cell Mol Immunol. 2016;13:722–8.

Lei H, Yang L, Xu HZ, Wang ZT, Li XY, Liu M, et al. Ubiquitin-specific protease 47 regulates intestinal inflammation through deubiquitination of TRAF6 in epithelial cells. Sci China-Life Sci. 2022;65:1624–35.

Wu B, Qiang LH, Zhang Y, Fu YS, Zhao MY, Lei ZH, et al. The deubiquitinase OTUD1 inhibits colonic inflammation by suppressing RIPK1-mediated NE-kappa B signaling. Cell Mol Immunol. 2022;19:276–89.

Shi L, Liu J, Peng YH, Zhang JF, Dai XP, Zhang SX, et al. Deubiquitinase OTUD6A promotes proliferation of cancer cells via regulating Drp1 stability and mitochondrial fission. Mol Oncol. 2020;14:3169–83.

Peng YH, Liu J, Wang Z, Cui CP, Zhang TT, Zhang SX, et al. Prostate-specific oncogene OTUD6A promotes prostatic tumorigenesis via deubiquitinating and stabilizing c-Myc. Cell Death Differ. 2022;29:1730–43.

Zhao Y, Huang XP, Zhu D, Wei M, Luo JC, Yu SY, et al. Deubiquitinase OTUD6A promotes breast cancer progression by increasing TopBP1 stability and rendering tumor cells resistant to DNA-damaging therapy. Cell Death Differ. 2022;29:2531–44.

Yao D, Dong M, Dai C, Wu S. Inflammation and inflammatory cytokine contribute to the initiation and development of ulcerative colitis and its associated cancer. Inflamm Bowel Dis. 2019;25:1595–602.

Zhen Y, Zhang H. NLRP3 Inflammasome and inflammatory bowel disease. Front Immunol. 2019;10:276.

Zhou LL, Liu T, Huang B, Luo M, Chen ZH, Zhao ZY, et al. Excessive deubiquitination of NLRP3-R779C variant contributes to very-early-onset inflammatory bowel disease development. J Allergy Clin Immunol. 2021;147:267–79.

Py BF, Kim MS, Vakifahmetoglu-Norberg H, Yuan JY. Deubiquitination of NLRP3 by BRCC3 Critically Regulates Inflammasome Activity. Mol Cell. 2013;49:331–8.

Ren GM, Zhang XY, Xiao Y, Zhang W, Wang Y, Ma WB, et al. ABRO1 promotes NLRP3 inflammasome activation through regulation of NLRP3 deubiquitination. Embo J. 2019;38:e100376.

Palazon-Riquelme P, Worboys JD, Green J, Valera A, Martin-Sanchez F, Pellegrini C, et al. USP7 and USP47 deubiquitinases regulate NLRP3 inflammasome activation. Embo Rep. 2018;19:e44766.

Liu T, Wang LQ, Liang PP, Wang XJ, Liu YK, Cai J, et al. USP19 suppresses inflammation and promotes M2-like macrophage polarization by manipulating NLRP3 function via autophagy. Cell Mol Immunol. 2021;18:2431–42.

Wang D, Zhang YN, Xu XM, Wu JF, Peng Y, Li J, et al. YAP promotes the activation of NLRP3 inflammasome via blocking K27-linked polyubiquitination of NLRP3. Nat Commun. 2021;12:2674.

Song H, Liu BY, Huai WW, Yu ZX, Wang WW, Zhao J, et al. The E3 ubiquitin ligase TRIM31 attenuates NLRP3 inflammasome activation by promoting proteasomal degradation of NLRP3. Nat Commun. 2016;7:13727.

Yan CY, Ouyang SH, Wang X, Wu YP, Sun WY, Duan WJ, et al. Celastrol ameliorates Propionibacterium acnes/LPS-induced liver damage and MSU-induced gouty arthritis via inhibiting K63 deubiquitination of NLRP3. Phytomedicine. 2021;80:153398.

Pu T, Liu WZ, Wu YJ, Zhao Y. A20 functions as a negative regulator in macrophage for DSS-induced colitis. Int Immunopharmacol. 2021;97:107804.

Zhou MX, He J, Shi YY, Liu XM, Luo SJ, Cheng C, et al. ABIN3 negatively regulates necroptosis-induced intestinal inflammation through recruiting A20 and restricting the ubiquitination of RIPK3 in inflammatory bowel disease. J Crohns Colitis. 2021;15:99–114.

Leszczynska K, Jakubczyk D, Gorska S. The NLRP3 inflammasome as a new target in respiratory disorders treatment. Front Immunol. 2022;13:1006654.

Zheng Y, Xu L, Dong N, Li F. NLRP3 inflammasome: The rising star in cardiovascular diseases. Front Cardiovasc Med. 2022;9:927061.

Khot M, Sood A, Tryphena KP, Khan S, Srivastava S, Singh SB, et al. NLRP3 inflammasomes: a potential target to improve mitochondrial biogenesis in Parkinson's disease. Eur J Pharmacol. 2022;934:175300.

Cui S, Wang CH, Bai WZ, Li J, Pan Y, Huang XY, et al. CD1d1 intrinsic signaling in macrophages controls NLRP3 inflammasome expression during inflammation. Sci Adv. 2020;6:eaaz7290.

Song Y, Zhao Y, Ma Y, Wang Z, Rong L, Wang B, et al. Biological functions of NLRP3 inflammasome: A therapeutic target in inflammatory bowel disease. Cytokine Growth factor Rev. 2021;60:61–75.

Bauer C, Duewell P, Mayer C, Lehr HA, Fitzgerald KA, Dauer M, et al. Colitis induced in mice with dextran sulfate sodium (DSS) is mediated by the NLRP3 inflammasome. Gut. 2010;59:1192–9.

Li H, Guan Y, Liang B, Ding P, Hou X, Wei W, et al. Therapeutic potential of MCC950, a specific inhibitor of NLRP3 inflammasome. Eur J Pharmacol. 2022;928:175091.

Juliana C, Fernandes-Alnemri T, Kang S, Farias A, Qin F, Alnemri ES. Non-transcriptional priming and deubiquitination regulate NLRP3 inflammasome activation. J Biol Chem. 2012;287:36617–22.

Yu P, Zhang X, Liu N, Tang L, Peng C, Chen X. Pyroptosis: mechanisms and diseases. Signal Transduct Target Ther. 2021;6:128.

Xu T, Yu WW, Fang H, Wang Z, Chi ZX, Guo XC, et al. Ubiquitination of NLRP3 by gp78/Insig-1 restrains NLRP3 inflammasome activation. Cell Death Differ. 2022;29:1582–95.

Song H, Zhao CY, Yu ZX, Li QZ, Yan RZ, Qin Y, et al. UAF1 deubiquitinase complexes facilitate NLRP3 inflammasome activation by promoting NLRP3 expression. Nat Commun. 2020;11:6042.

Tang J, Tu S, Lin GX, Guo H, Yan CK, Liu QJ, et al. Sequential ubiquitination of NLRP3 by RNF125 and Cbl-b limits inflammasome activation and endotoxemia. J Exp Med. 2020;217:e20182091.

Liu X, Luo W, Chen J, Hu C, Mutsinze RN, Wang X, et al. USP25 deficiency exacerbates acute pancreatitis via up-regulating TBK1-NF-kappaB signaling in macrophages. Cell Mol Gastroenterol Hepatol. 2022;14:1103–22.

Wirtz S, Neufert C, Weigmann B, Neurath MF. Chemically induced mouse models of intestinal inflammation. Nat Protoc. 2007;2:541–6.
Acknowledgements
We graciously thank Fuping You (Peking University, Beijing, China) for sharing Otud6a−/− mice. This study was supported by the National Natural Science Foundation of China (81970338 and 82170373 to YW), Medical and Health Research Project of Zhejiang Province (2023XY164 to LH), and Key Scientific Project of Wenzhou City (ZY2021021 to YW).
Ethics declarations
Competing interests
The authors declare no competing interests.
Ethics approval
The study about the human colonic biopsy samples was approved by the Human Ethical Committee of the Quzhou People's Hospital (Approval document #2022–0037). All animal studies were approved by the Institutional Animal Policy and Welfare Committee of Wenzhou Medical University (Approval document #wydw2022-0202).
Additional information
Publisher's note Springer Nature remains neutral with regard to jurisdictional claims in published maps and institutional affiliations.
Supplementary information
Rights and permissions
Springer Nature or its licensor (e.g. a society or other partner) holds exclusive rights to this article under a publishing agreement with the author(s) or other rightsholder(s); author self-archiving of the accepted manuscript version of this article is solely governed by the terms of such publishing agreement and applicable law.
About this article
Cite this article
Liu, X., Fang, Y., Lv, X. et al. Deubiquitinase OTUD6A in macrophages promotes intestinal inflammation and colitis via deubiquitination of NLRP3. Cell Death Differ (2023). https://doi.org/10.1038/s41418-023-01148-7
Received:

Revised:

Accepted:

Published:

DOI: https://doi.org/10.1038/s41418-023-01148-7