Abstract
Small nucleolar RNAs (snoRNAs) have been shown to play critical regulatory roles in cancer development. SNORD88C, which located at the intronic region of C19orf48 in chromosome 19q.33 with a 97-nt length was screened through database and snoRNA-sequencing. We firstly verified this snoRNA was up-regulated in tissue and plasma and served as a non-invasive diagnostic biomarker; then confirmed that SNORD88C promoted proliferation and metastasis of NSCLC in vitro and in vivo. Mechanistically, SNORD88C promoted 2′-O-methylation modification at the C3680 site on 28S rRNA and in turn enhanced downstream SCD1 translation, a central lipogenic enzyme for the synthesis of MUFA that can inhibit autophagy by regulating lipid peroxidation and mTOR, providing the novel insight into the regulation of SNORD88C in NSCLC.
Access options
Subscribe to Journal
Get full journal access for 1 year
$119.00
only $9.92 per issue
All prices are NET prices.
VAT will be added later in the checkout.
Tax calculation will be finalised during checkout.
Buy article
Get time limited or full article access on ReadCube.
$32.00
All prices are NET prices.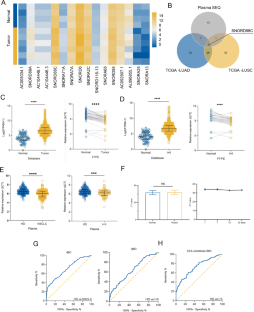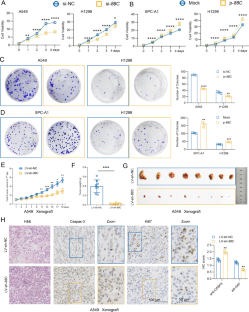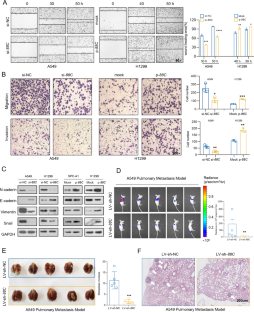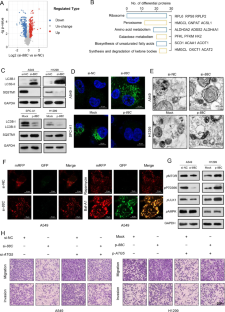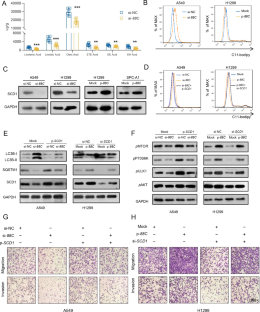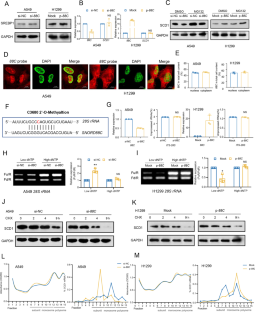 Data availability
All relevant data are available from the corresponding author upon reasonable request. In addtion, raw data from snoRNA sequencing and protein mass spectrometry were uploaded to the GAS-Human (HRA003325) and OMIX (OMIX002173) databases of CNCB-NGDC (China National Center for Bioinformation-National Genomics Data Center).
References
Bray F, Ferlay J, Soerjomataram I, Siegel RL, Torre LA, Jemal A. Global cancer statistics 2018: GLOBOCAN estimates of incidence and mortality worldwide for 36 cancers in 185 countries. CA Cancer J Clin. 2018;68:394–424.

Herbst RS, Morgensztern D, Boshoff C. The biology and management of non-small cell lung cancer. Nature 2018;553:446–54.

Mannoor K, Liao J, Jiang F. Small nucleolar RNAs in cancer. Biochim Biophys Acta. 2012;1826:121–8.

Liang J, Wen J, Huang Z, Chen XP, Zhang BX, Chu L. Small nucleolar RNAs: Insight into their function in cancer. Front Oncol. 2019;9:587.

Williams GT, Farzaneh F. Are snoRNAs and snoRNA host genes new players in cancer? Nat Rev Cancer. 2012;12:84–8.

Erales J, Marchand V, Panthu B, Gillot S, Belin S, Ghayad SE, et al. Evidence for rRNA 2′-O-methylation plasticity: Control of intrinsic translational capabilities of human ribosomes. Proc Natl Acad Sci USA. 2017;114:12934–9.

Pelletier J, Thomas G, Volarevic S. Ribosome biogenesis in cancer: new players and therapeutic avenues. Nat Rev Cancer. 2018;18:51–63.

Wu H, Qin W, Lu S, Wang X, Zhang J, Sun T, et al. Long noncoding RNA ZFAS1 promoting small nucleolar RNA-mediated 2′-O-methylation via NOP58 recruitment in colorectal cancer. Mol Cancer. 2020;19:95.

Liu Z, Pang Y, Jia Y, Qin Q, Wang R, Li W, et al. SNORA23 inhibits HCC tumorigenesis by impairing the 2′-O-ribose methylation level of 28S rRNA. Cancer Biol Med. 2021;19:104–19.

Okugawa Y, Toiyama Y, Toden S, Mitoma H, Nagasaka T, Tanaka K, et al. Clinical significance of SNORA42 as an oncogene and a prognostic biomarker in colorectal cancer. Gut 2017;66:107–17.

Tian B, Liu J, Zhang N, Song Y, Xu Y, Xie M, et al. Oncogenic SNORD12B activates the AKT-mTOR-4EBP1 signaling in esophageal squamous cell carcinoma via nucleus partitioning of PP-1alpha. Oncogene 2021;40:3734–47.

Liao J, Yu L, Mei Y, Guarnera M, Shen J, Li R, et al. Small nucleolar RNA signatures as biomarkers for non-small-cell lung cancer. Mol Cancer. 2010;9:198.

Zhao Y, Yan Y, Ma R, Lv X, Zhang L, Wang J, et al. Expression signature of six-snoRNA serves as novel non-invasive biomarker for diagnosis and prognosis prediction of renal clear cell carcinoma. J Cell Mol Med. 2020;24:2215–28.

Shang X, Song X, Wang K, Yu M, Ding S, Dong X, et al. SNORD63 and SNORD96A as the non-invasive diagnostic biomarkers for clear cell renal cell carcinoma. Cancer Cell Int. 2021;21:56.

Klionsky DJ, Abdel-Aziz AK, Abdelfatah S, Abdellatif M, Abdoli A, Abel S, et al. Guidelines for the use and interpretation of assays for monitoring autophagy (4th edition)(1). Autophagy 2021;17:1–382.

Yi J, Zhu J, Wu J, Thompson CB, Jiang X. Oncogenic activation of PI3K-AKT-mTOR signaling suppresses ferroptosis via SREBP-mediated lipogenesis. Proc Natl Acad Sci USA. 2020;117:31189–97.

Martinez-Miguel VE, Lujan C, Espie-Caullet T, Martinez-Martinez D, Moore S, Backes C, et al. Increased fidelity of protein synthesis extends lifespan. Cell Metab. 2021;33:2288–300.e12.

Andrade JM, Dos Santos RF, Chelysheva I, Ignatova Z, Arraiano CM. The RNA-binding protein Hfq is important for ribosome biogenesis and affects translation fidelity. EMBO J. 2018;37:e97631.

Bustelo XR, Dosil M. Ribosome biogenesis and cancer: basic and translational challenges. Curr Opin Genet Dev. 2018;48:22–9.

Chaillou T. Ribosome specialization and its potential role in the control of protein translation and skeletal muscle size. J Appl Physiol (1985). 2019;127:599–607.

Thorenoor N, Slaby O. Small nucleolar RNAs functioning and potential roles in cancer. Tumour Biol. 2015;36:41–53.

Zhou F, Liu Y, Rohde C, Pauli C, Gerloff D, Kohn M, et al. AML1-ETO requires enhanced C/D box snoRNA/RNP formation to induce self-renewal and leukaemia. Nat Cell Biol. 2017;19:844–55.

Wang H, Klein MG, Zou H, Lane W, Snell G, Levin I, et al. Crystal structure of human stearoyl-coenzyme A desaturase in complex with substrate. Nat Struct Mol Biol. 2015;22:581–5.

Caputa G, Schaffer JE. RNA regulation of lipotoxicity and metabolic stress. Diabetes 2016;65:1816–23.

Ascenzi F, De Vitis C, Maugeri-Sacca M, Napoli C, Ciliberto G, Mancini R. SCD1, autophagy and cancer: implications for therapy. J Exp Clin Cancer Res. 2021;40:265.

Kimmelman AC, White E. Autophagy and tumor metabolism. Cell Metab. 2017;25:1037–43.

Boya P, Reggiori F, Codogno P. Emerging regulation and functions of autophagy. Nat Cell Biol. 2013;15:713–20.

Ogasawara Y, Itakura E, Kono N, Mizushima N, Arai H, Nara A, et al. Stearoyl-CoA desaturase 1 activity is required for autophagosome formation. J Biol Chem. 2014;289:23938–50.

Ono A, Sano O, Kazetani KI, Muraki T, Imamura K, Sumi H, et al. Feedback activation of AMPK-mediated autophagy acceleration is a key resistance mechanism against SCD1 inhibitor-induced cell growth inhibition. PLoS One. 2017;12:e0181243.

Zhou X, Zhu X, Li C, Li Y, Ye Z, Shapiro VS, et al. Stearoyl-CoA desaturase-mediated monounsaturated fatty acid availability supports humoral immunity. Cell Rep. 2021;34:108601.

Chen HT, Liu H, Mao MJ, Tan Y, Mo XQ, Meng XJ, et al. Crosstalk between autophagy and epithelial-mesenchymal transition and its application in cancer therapy. Mol Cancer. 2019;18:101.

Li J, Yang B, Zhou Q, Wu Y, Shang D, Guo Y, et al. Autophagy promotes hepatocellular carcinoma cell invasion through activation of epithelial-mesenchymal transition. Carcinogenesis 2013;34:1343–51.

Marsh T, Debnath J. Autophagy suppresses breast cancer metastasis by degrading NBR1. Autophagy 2020;16:1164–5.

Ferraresi A, Girone C, Esposito A, Vidoni C, Vallino L, Secomandi E, et al. How autophagy shapes the tumor microenvironment in ovarian cancer. Front Oncol. 2020;10:599915.

Garcia-Prat L, Munoz-Canoves P, Martinez-Vicente M. Monitoring autophagy in muscle stem cells. Methods Mol Biol. 2017;1556:255–80.

Lv Q, Wang W, Xue J, Hua F, Mu R, Lin H, et al. DEDD interacts with PI3KC3 to activate autophagy and attenuate epithelial-mesenchymal transition in human breast cancer. Cancer Res. 2012;72:3238–50.

Cheong H, Lu C, Lindsten T, Thompson CB. Therapeutic targets in cancer cell metabolism and autophagy. Nat Biotechnol. 2012;30:671–8.

Bullard JH, Purdom E, Hansen KD, Dudoit S. Evaluation of statistical methods for normalization and differential expression in mRNA-Seq experiments. BMC Bioinforma. 2010;11:94.

Dong ZW, Shao P, Diao LT, Zhou H, Yu CH, Qu LH. RTL-P: a sensitive approach for detecting sites of 2′-O-methylation in RNA molecules. Nucleic Acids Res. 2012;40:e157.
Acknowledgements
We thank Hualei Yu for technical assistance of polysome profiling experiment and Xiujie Cui for the animal care.
Funding
This work was supported by the National Natural Science Foundation of China (81972014), the Shandong Provincial Natural Science Foundation (ZR2019MH004 and ZR2019LZL016) and Shandong Provincial Key Research and Development Program (Major Science & Technology Innovation Project) (2021SFGC0501).
Ethics declarations
Ethics statement
The studies involving human participants (201806004) and animals (201911025) were reviewed and approved by Ethics Committee of Shandong Cancer Hospital and Institute.
Competing interests
The authors declare no competing interests.
Additional information
Publisher's note Springer Nature remains neutral with regard to jurisdictional claims in published maps and institutional affiliations.
Edited by E. Baehrecke
Supplementary information
Rights and permissions
Springer Nature or its licensor (e.g. a society or other partner) holds exclusive rights to this article under a publishing agreement with the author(s) or other rightsholder(s); author self-archiving of the accepted manuscript version of this article is solely governed by the terms of such publishing agreement and applicable law.
About this article
Cite this article
Wang, K., Wang, S., Zhang, Y. et al. SNORD88C guided 2′-O-methylation of 28S rRNA regulates SCD1 translation to inhibit autophagy and promote growth and metastasis in non-small cell lung cancer. Cell Death Differ (2022). https://doi.org/10.1038/s41418-022-01087-9
Received:

Revised:

Accepted:

Published:

DOI: https://doi.org/10.1038/s41418-022-01087-9