Abstract
Background
Proton pump inhibitors (PPIs) are commonly used concomitant to cancer treatment and they induce gut microbiota changes. It is increasingly apparent that gut dysbiosis can reduce the effectiveness of immune checkpoint inhibitors (ICI). However, little is known about PPI effects on outcomes with ICIs, particularly in combination, ICI approaches.
Methods
Post hoc, Cox proportional hazard analysis of phase III trial, IMpower150 was conducted to assess the association between PPI use and overall survival (OS) and progression-free survival (PFS) in chemotherapy-naive, metastatic non-squamous non-small cell lung cancer participants randomised atezolizumab plus carboplatin plus paclitaxel (ACP), bevacizumab plus carboplatin plus paclitaxel (BCP), or atezolizumab plus BCP (ABCP). PPI use was defined as any PPI administration between 30 days prior and 30 days after treatment initiation.
Results
Of 1202 participants, 441 (37%) received a PPI. PPI use was independently associated with worse OS (n = 748; hazard ratio (HR) [95% confidence interval (CI)] = 1.53 [1.21–1.95], P < 0.001) and PFS (1.34 [1.12–1.61], P = 0.002) in the pooled atezolizumab arms (ACP plus ABCP). This association was not apparent for BCP (n = 368; OS 1.01 [0.73–1.39], P = 0.969; PFS 0.97 [0.76–1.25], P = 0.827). The observed OS treatment effect (HR 95% CI) of the atezolizumab (ACP plus ABCP) arms vs BCP was 1.03 (0.77–1.36) for PPI users compared to 0.68 (0.54–0.86) for non-users (P [interaction] = 0.028). A similar association was noted for ABCP vs BCP (PPI users 0.96 [0.68–1.35]; PPI non-users 0.66 [0.50–0.87]; P [interaction] = 0.095).
Conclusions
PPI use was a negative prognostic marker in patients treated with ACP or ABCP, but not BCP. The analysis suggests that PPIs negatively influence the magnitude of ICI efficacy.
This is a preview of subscription content
Access options
Subscribe to Journal
Get full journal access for 1 year
$119.00
only $4.96 per issue
All prices are NET prices.
VAT will be added later in the checkout.
Tax calculation will be finalised during checkout.
Rent or Buy article
Get time limited or full article access on ReadCube.
from$8.99
All prices are NET prices.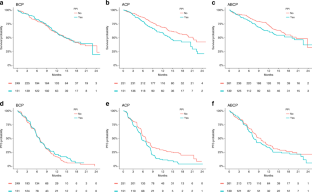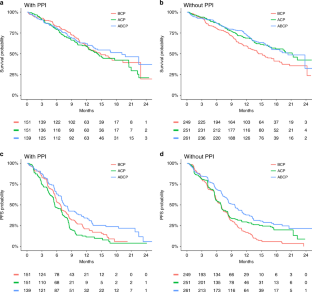 Data availability
Data were accessed according to Roche's policy and process for clinical study data sharing and are available upon request at vivli.org.
Code availability
Available upon request to the corresponding author.
Funding
RAM, AR and MJS are supported by Beat Cancer Research Fellowships from Cancer Council South Australia. AMH is supported by a Postdoctoral Fellowship from the National Breast Cancer Foundation, Australia (PF-17-007). Data access and salary of AYA was supported by funding from an Australian, Tour de Cure Early Career Research Grant (RSP-155-18/19). The funders had no role in the design and conduct of the study; collection, management, analysis, and interpretation of the data; preparation, review, or approval of the manuscript; and decision to submit. This publication is based on research using data from Roche that has been made available through Vivli, Inc. Vivli has not contributed to or approved, and is not in any way responsible for the contents of this publication.
Ethics declarations
Competing interests
RAM, AR and MJS report investigator-initiated project grants from Pfizer, outside the submitted work. CSK reports advisory board roles with AstraZeneca, Merck Sharp & Dohme, Bristol-Myers Squibb and Roche, outside the submitted work. GK, AYA, AMH, SB and JML declare no competing interests.
Ethics approval and consent to participate
Secondary analysis of anonymized clinical trial data was confirmed negligible risk research by the Southern Adelaide Local Health Network, Office for Research and Ethics and was exempt from review.
Additional information
Publisher's note Springer Nature remains neutral with regard to jurisdictional claims in published maps and institutional affiliations.
Supplementary information
About this article
Cite this article
Hopkins, A.M., Kichenadasse, G., McKinnon, R.A. et al. Efficacy of first-line atezolizumab combination therapy in patients with non-small cell lung cancer receiving proton pump inhibitors: post hoc analysis of IMpower150. Br J Cancer (2021). https://doi.org/10.1038/s41416-021-01606-4
Received:

Revised:

Accepted:

Published: