Abstract
Antiepileptic drug zonisamide has been shown to be curative for Parkinson's disease (PD) through increasing HMG-CoA reductase degradation protein 1 (Hrd1) level and mitigating endoplasmic reticulum (ER) stress. Hrd1 is an ER-transmembrane E3 ubiquitin ligase, which is involved in cardiac dysfunction and cardiac hypertrophy in a mouse model of pressure overload. In this study, we investigated whether zonisamide alleviated cardiac hypertrophy in rats by increasing Hrd1 expression and inhibiting ER stress. The beneficial effects of zonisamide were assessed in two experimental models of cardiac hypertrophy: in rats subjected to abdominal aorta constriction (AAC) and treated with zonisamide (14, 28, 56 mg · kg−1 · d−1, i.g.) for 6 weeks as well as in neonatal rat cardiomyocytes (NRCMs) co-treated with Ang II (10 μM) and zonisamide (0.3 μM). Echocardiography analysis revealed that zonsiamide treatment significantly improved cardiac function in AAC rats. We found that zonsiamide treatment significantly attenuated cardiac hypertrophy and fibrosis, and suppressed apoptosis and ER stress in the hearts of AAC rats and in Ang II-treated NRCMs. Importantly, zonisamide markedly increased the expression of Hrd1 in the hearts of AAC rats and in Ang II-treated NRCMs. Furthermore, we demonstrated that zonisamide accelerated ER-associated protein degradation (ERAD) in Ang II-treated NRCMs; knockdown of Hrd1 abrogated the inhibitory effects of zonisamide on ER stress and cardiac hypertrophy. Taken together, our results demonstrate that zonisamide is effective in preserving heart structure and function in the experimental models of pathological cardiac hypertrophy. Zonisamide increases Hrd1 expression, thus preventing cardiac hypertrophy and improving the cardiac function of AAC rats.
This is a preview of subscription content
Access options
Subscribe to Journal
Get full journal access for 1 year
$119.00
only $9.92 per issue
All prices are NET prices.
VAT will be added later in the checkout.
Tax calculation will be finalised during checkout.
Rent or Buy article
Get time limited or full article access on ReadCube.
from$8.99
All prices are NET prices.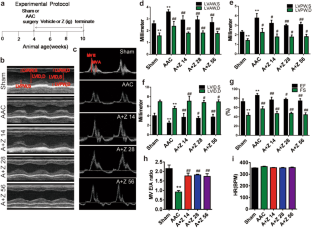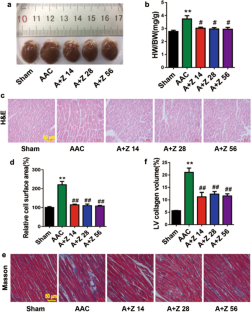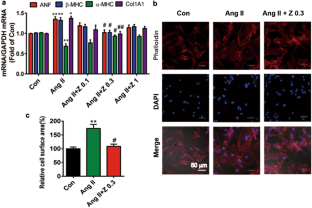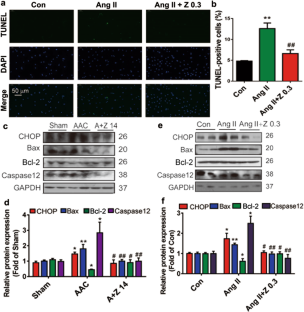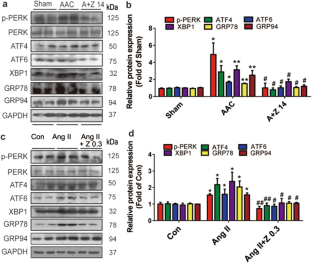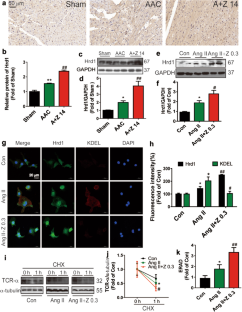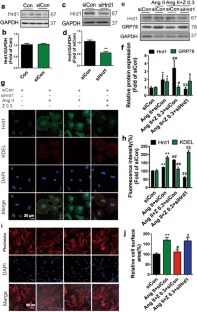 References
1.

Frey N, Katus HA, Olson EN, Hill JA. Hypertrophy of the heart: a new therapeutic target? Circulation. 2004;109:1580–9.

2.

van Berlo JH, Maillet M, Molkentin JD. Signaling effectors underlying pathologic growth and remodeling of the heart. J Clin Invest. 2013;123:37–45.

3.

Shiojima I, Walsh K. Regulation of cardiac growth and coronary angiogenesis by the Akt/PKB signaling pathway. Genes Dev. 2006;20:3347–65.

4.

Balch WE, Morimoto RI, Dillin A, Kelly JW. Adapting proteostasis for disease intervention. Science. 2008;319:916–9.

5.

Tsai B, Ye Y, Rapoport TA. Retro-translocation of proteins from the endoplasmic reticulum into the cytosol. Nat Rev Mol Cell Biol. 2002;3:246–55.

6.

Carvalho P, Goder V, Rapoport TA. Distinct ubiquitin–ligase complexes define convergent pathways for the degradation of ER proteins. Cell. 2006;126:361–73.

7.

Olzmann JA, Kopito RR, Christianson JC. The mammalian endoplasmic reticulum-associated degradation system. Cold Spring Harbor Perspect Biol 2013;5:a013185. https://doi.org/10.1101/cshperspect.a013185.

8.

Dickhout JG, Carlisle RE, Austin RC. Interrelationship between cardiac hypertrophy, heart failure, and chronic kidney disease endoplasmic reticulum stress as a mediator of pathogenesis. Circ Res. 2011;108:629–42.

9.

Minamino T, Komuro I, Kitakaze M. Endoplasmic reticulum stress as a therapeutic target in cardiovascular disease. Circ Res. 2010;107:1071–82.

10.

Doroudgar S, Glembotski CC. New concepts of endoplasmic reticulum function in the heart: programmed to conserve. J Mol Cell Cardiol. 2013;55:85–91.

11.

Millott R, Dudek E, Michalak M. The endoplasmic reticulum in cardiovascular health and disease. Can J Physiol Pharmacol. 2012;90:1209–17.

12.

Glembotski CC. Roles for ATF6 and the sarco/endoplasmic reticulum protein quality control system in the heart. J Mol Cell Cardiol. 2014;71:11–5.

13.

Doroudgar S, Volkers M, Thuerauf DJ, Khan M, Mohsin S, Respress JL, et al. Hrd1 and ER-associated protein degradation, ERAD, are critical elements of the adaptive ER stress response in cardiac myocytes. Circ Res. 2015;117:536–46.

14.

Hampton RY, Gardner RG, Rine J. Role of 26S proteasome and HRD genes in the degradation of 3-hydroxy-3-methylglutaryl-CoA reductase, an integral endoplasmic reticulum membrane protein. Mol Biol Cell. 1996;7:2029–44.

15.

Murata M, Horiuchi E, Kanazawa I. Zonisamide has beneficial effects on Parkinson's disease patients. Neurosci Res. 2001;41:397–9.

16.

Omura T, Asari M, Yamamoto J, Kamiyama N, Oka K, Hoshina C, et al. HRD1 levels increased by zonisamide prevented cell death and caspase-3 activation caused by endoplasmic reticulum stress in SH-SY5Y cells. J Mol Neurosci. 2012;46:527–35.

17.

Tian JH, Wu Q, He YX, Shen QY, Rekep M, Zhang GP, et al. Zonisamide, an antiepileptic drug, alleviates diabetic cardiomyopathy by inhibiting endoplasmic reticulum stress. Acta Pharmacol Sin 2020. https://doi.org/10.1038/s41401-020-0461-z. [online ahead of print].

18.

Barton CH, Ni Z, Vaziri ND. Enhanced nitric oxide inactivation in aortic coarctation-induced hypertension. Kidney Int. 2001;60:1083–7.

19.

Kobayashi S, Yano M, Kohno M, Obayashi M, Hisamatsu Y, Ryoke T, et al. Influence of aortic impedance on the development of pressure-overload left ventricular hypertrophy in rats. Circulation. 1996;94:3362–8.

20.

Hou N, Cai B, Ou CW, Zhang ZH, Liu XW, Yuan M, et al. Puerarin-7-O-glucuronide, a water-soluble puerarin metabolite, prevents angiotensin II-induced cardiomyocyte hypertrophy by reducing oxidative stress. Naunyn Schmiedebergs Arch Pharmacol. 2017;390:535–45.

21.

Yang K, Zhang TP, Tian C, Jia LX, Du J, Li HH. Carboxyl terminus of heat shock protein 70-interacting protein inhibits angiotensin II-induced cardiac remodeling. Am J Hypertens. 2012;25:994–1001.

22.

Samuel SM, Thirunavukkarasu M, Penumathsa SV, Koneru S, Zhan L, Maulik G, et al. Thioredoxin-1 gene therapy enhances angiogenic signaling and reduces ventricular remodeling in infarcted myocardium of diabetic rats. Circulation. 2010;121:1244–55.

23.

Schumacher-Bass SM, Vesely ED, Zhang L, Ryland KE, McEwen DP, Chan PJ, et al. Role for myosin-V motor proteins in the selective delivery of Kv channel isoforms to the membrane surface of cardiac myocytes. Circ Res. 2014;114:982–92.

24.

Assayag P, Carre F, Chevalier B, Delcayre C, Mansier P, Swynghedauw B. Compensated cardiac hypertrophy: arrhythmogenicity and the new myocardial phenotype. I. Fibrosis. Cardiovasc Res. 1997;34:439–44.

25.

Walter L, Hajnoczky G. Mitochondria and endoplasmic reticulum: the lethal interorganelle cross-talk. J Bioenerg Biomembr. 2005;37:191–206.

26.

Yu H, Kaung G, Kobayashi S, Kopito RR. Cytosolic degradation of T-cell receptor alpha chains by the proteasome. J Biol Chem. 1997;272:20800–4.

27.

Ojemann LM, Shastri RA, Wilensky AJ, Friel PN, Levy RH, McLean JR, et al. Comparative pharmacokinetics of zonisamide (CI-912) in epileptic patients on carbamazepine or phenytoin monotherapy. Ther Drug Monit. 1986;8:293–6.

28.

Uno H, Kurokawa M, Masuda Y, Nishimura H. Studies on 3-substituted 1,2-benzisoxazole derivatives. 6. Syntheses of 3-(sulfamoylmethyl)-1,2-benzisoxazole derivatives and their anticonvulsant activities. J Med Chem. 1979;22:180–3.

29.

Shinoda M, Akita M, Hasegawa M, Hasegawa T, Nabeshima T. The necessity of adjusting the dosage of zonisamide when coadministered with other anti-epileptic drugs. Biol Pharm Bull. 1996;19:1090–2.

30.

Murata M. Novel therapeutic effects of the anti-convulsant, zonisamide, on Parkinson's disease. Curr Pharm Des. 2004;10:687–93.

31.

Murata M, Hasegawa K, Kanazawa I. Japan Zonisamide on PDSG. Zonisamide improves motor function in Parkinson disease: a randomized, double-blind study. Neurology. 2007;68:45–50.

32.

Lowes BD, Minobe W, Abraham WT, Rizeq MN, Bohlmeyer TJ, Quaife RA, et al. Changes in gene expression in the intact human heart. Downregulation of alpha-myosin heavy chain in hypertrophied, failing ventricular myocardium. J Clin Invest. 1997;100:2315–24.

33.

Chien KR, Knowlton KU, Zhu H, Chien S. Regulation of cardiac gene expression during myocardial growth and hypertrophy: molecular studies of an adaptive physiologic response. FASEB J. 1991;5:3037–46.

34.

Chatterjee A, Mir SA, Dutta D, Mitra A, Pathak K, Sarkar S. Analysis of p53 and NF-kappaB signaling in modulating the cardiomyocyte fate during hypertrophy. J Cell Physiol. 2011;226:2543–54.

35.

Mitra A, Basak T, Datta K, Naskar S, Sengupta S, Sarkar S. Role of alpha-crystallin B as a regulatory switch in modulating cardiomyocyte apoptosis by mitochondria or endoplasmic reticulum during cardiac hypertrophy and myocardial infarction. Cell Death Dis. 2013;4:e582.

36.

Wu QQ, Xu M, Yuan Y, Li FF, Yang Z, Liu Y, et al. Cathepsin B deficiency attenuates cardiac remodeling in response to pressure overload via TNF-alpha/ASK1/JNK pathway. Am J Physiol Heart Circ Physiol. 2015;308:H1143–54.

37.

Czabotar PE, Lessene G, Strasser A, Adams JM. Control of apoptosis by the BCL-2 protein family: implications for physiology and therapy. Nat Rev Mol Cell Biol. 2014;15:49–63.

38.

Chipuk JE, Moldoveanu T, Llambi F, Parsons MJ, Green DR. The BCL-2 family reunion. Mol Cell. 2010;37:299–310.

39.

McCullough KD, Martindale JL, Klotz LO, Aw TY, Holbrook NJ. Gadd153 sensitizes cells to endoplasmic reticulum stress by down-regulating Bcl-2 and perturbing the cellular redox state. Mol Cell Biol. 2001;21:1249–59.

40.

Bertolotti A, Zhang Y, Hendershot LM, Harding HP, Ron D. Dynamic interaction of BiP and ER stress transducers in the unfolded-protein response. Nat Cell Biol. 2000;2:326–32.

41.

Shen J, Chen X, Hendershot L, Prywes R. ER stress regulation of ATF6 localization by dissociation of BiP/GRP78 binding and unmasking of Golgi localization signals. Dev Cell. 2002;3:99–111.

42.

Kim I, Xu W, Reed JC. Cell death and endoplasmic reticulum stress: disease relevance and therapeutic opportunities. Nat Rev Drug Discov. 2008;7:1013–30.

43.

Ron D, Walter P. Signal integration in the endoplasmic reticulum unfolded protein response. Nat Rev Mol Cell Biol. 2007;8:519–29.

44.

Okada K, Minamino T, Tsukamoto Y, Liao Y, Tsukamoto O, Takashima S, et al. Prolonged endoplasmic reticulum stress in hypertrophic and failing heart after aortic constriction: possible contribution of endoplasmic reticulum stress to cardiac myocyte apoptosis. Circulation. 2004;110:705–12.

45.

Yamamoto K, Fujii R, Toyofuku Y, Saito T, Koseki H, Hsu VW, et al. The KDEL receptor mediates a retrieval mechanism that contributes to quality control at the endoplasmic reticulum. EMBO J. 2001;20:3082–91.
Acknowledgements
This work was supported by Natural Science Foundation of Guangdong Province (2014A030313485), Scientific and Technological Planning Program of Guangzhou (2017071010458), Municipal Education Bureau Program of Guangzhou (1201610286), Natural Science Foundation of Guangdong Province (2018A030313719). We are thankful to Dr. Xiao-yan Dai for her help in the figures' rearrangement and language editing.
Ethics declarations
Conflict of interest
The authors declare that they have no conflict of interest.
About this article
Cite this article
Wu, Q., Tian, Jh., He, Yx. et al. Zonisamide alleviates cardiac hypertrophy in rats by increasing Hrd1 expression and inhibiting endoplasmic reticulum stress. Acta Pharmacol Sin 42, 1587–1597 (2021). https://doi.org/10.1038/s41401-020-00585-1
Received:

Accepted:

Published:

Issue Date:
Keywords
zonisamide

cardiac hypertrophy

endoplasmic reticulum stress

Hrd1

pressure overload

neonatal rat cardiomyocytes (NRCMs)