Abstract
Introduction
Subependymomas are slow growing WHO grade 1 tumours, typically attached to the ventricular wall of the fourth or lateral ventricles. Spinal subependymomas are rarer still and experience of their biological characteristics remains limited.
Case presentation
A 29-year-old lady presented with chronic attacks of itchy dysaesthesia involving the left hand, neck and trunk, and associated with ipsilateral leg spasms. Recent symptomatic change involved occasional limping and left sided facial numbness but no pain. MRI showed an intradural mass surrounding most of the cervical spinal cord, which appeared scalloped extrinsically, rather than diffusely expanded, by a seemingly extramedullary lesion. At operation, the cord appeared expanded, with no clear margin or distinction between tumour and cord tissue; and the tumour was found to be intramedullary with an exophytic component, rather than extramedullary. Moderate reduction of the left abductor pollicis brevis evoked potential led to a pause in surgery. There was transient hand weakness postoperatively with full recovery, and no radiological change in the tumour morphology for a further 6 years.
Discussion
An intramedullary tumour such as a spinal cord subependymoma can be mistaken radiologically for an extramedullary tumour, such as an epidermoid. If a subependymoma is suspected, given its indolent course and long-term survival, caution in the extent of surgical resection is advisable in order to avoid surgical morbidity.
Your institute does not have access to this article
Access options
Subscribe to Journal
Get full journal access for 1 year
We are sorry, but there is no personal subscription option available for your country.
Buy article
Get time limited or full article access on ReadCube.
$32.00
All prices are NET prices.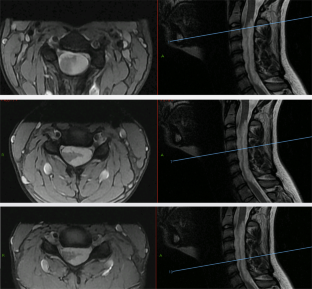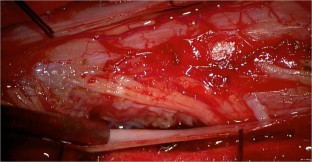 References
Soleiman HA, Ironside J, Kealey S, Demetriades AK. Spinal subependymoma surgery: do no harm. Little may be more! Neurosurg Rev 2020;43:1047–53. Epub 2019 Jun 18. PMID: 31214945

Scheiker JM. Subependymoma: Newly recognized tumour of subependymal derivation. J Neurosurg. 1945;49:232–40.

Boykin FC, Cowen D, Iannucci CA, Wolf A. Subependymal glomerate astrocytomas. J Neuropathol Exp Neurol 1954;13:30–49. PMID: 13118373

Barakos JA, D'Amour PG, Dillon WP, Newton TH. Trigeminal sensory neuropathy caused by cervical disk herniation. AJNR Am J Neuroradiol 1990;11:609. PMID: 2112329

Sellin JN, Al-Hafez B, Duckworth EA. Microvascular decompression of a C-2 segmental-type vertebral artery producing trigeminal hypesthesia. J Neurosurg 2014;121:919–23. Epub 2014 Jun 27. PMID: 24972125

Wu L, Yang T, Deng X, Yang C, Zhao L, Fang J, et al. Surgical outcomes in spinal cord subependymomas: an institutional experience. J Neurooncol 2014;116:99–106. Epub 2013 Sep 24. PMID: 24062139

Westphal M, Mende KC, Eicker SO. Refining the treatment of spinal cord lesions: experience from 500 cases. Neurosurg Focus. 2021;50(May):E22. PMID: 33932931

Scibilia A, Terranova C, Rizzo V, Raffa G, Morelli A, Esposito F, et al. Intraoperative neurophysiological mapping and monitoring in spinal tumor surgery: sirens or indispensable tools? Neurosurg Focus. 2016;41(Aug):E18. PMID: 27476842

Ghadirpour R, Nasi D, Iaccarino C, Romano A, Motti L, Sabadini R, et al. Intraoperative neurophysiological monitoring for intradural extramedullary spinal tumors: predictive value and relevance of D-wave amplitude on surgical outcome during a 10-year experience. J Neurosurg Spine. 2018;30(Nov):259–67. PMID: 30497134

Ghadirpour R, Nasi D, Iaccarino C, Giraldi D, Sabadini R, Motti L, et al. Intraoperative neurophysiological monitoring for intradural extramedullary tumors: why not? Clin Neurol Neurosurg 2015;130:140–9. Epub 2015 Jan 12. PMID: 25618840
Acknowledgements
The input of Professor James Ironside, Consultant Neuropathologist, is gratefully acknowledged.
Ethics declarations
Competing interests
The authors declare no competing interests.
Additional information
Publisher's note Springer Nature remains neutral with regard to jurisdictional claims in published maps and institutional affiliations.
About this article
Cite this article
Demetriades, A.K., Soleiman, H.A. & Kealey, S. A case of chronic dysaesthesia in the torso and upper limbs: lessons from a cervical spinal cord subependymoma. Spinal Cord Ser Cases 7, 52 (2021). https://doi.org/10.1038/s41394-021-00416-3
Received:

Revised:

Accepted:

Published:

DOI: https://doi.org/10.1038/s41394-021-00416-3