Abstract
Study design
Retrospective statistical analysis of database.
Objectives
Prediction of the Spinal Cord Independence Measure version III Total Score (SCIM-TS) at 6 months after injury based on physical findings at 1 month after injury is an important index for rehabilitation approach in the recovery phase.
Setting
Spinal Injuries Center, Fukuoka, Japan.
Methods
The study participants were selected from patients with traumatic spinal cord injuries who were registered in the Japan Single Center Study for Spinal Cord Injury Data Base (JSSCI-DB) of the Japan Spinal Injuries Center specializing in spine and spinal cord injuries. Of the 534 participants registered with the JSSCI-DB between January 2012 and October 2018, we retrospectively extracted 137 participants for 6 months after injury, and these participants were included in this study.
Results
According to multiple regression analysis, SCIM-TS at 6 months after injury could be predicted based on only six variables, i.e., age at injury, three key muscles (C6 wrist extensors, C8 finger flexors, and L3 knee extensors), and two mobility assessments (WISCI and SCIM−item13) (Adjusted R-Squared: 0.83). These six independent variables were significant factors reflecting SCIM-TS at 6 months.
Conclusions
In rehabilitation after traumatic spinal cord injuries, a simple and reliable prognostic model can help accurately predict the achievable activity of daily living competency to set a goal. In addition, if the procedure is simple, evaluation can be completed in a short period of time, and the physical burden on both treating staff and patients can be reduced.
Access options
Subscribe to Journal
Get full journal access for 1 year
$361.00
only $30.08 per issue
All prices are NET prices.
VAT will be added later in the checkout.
Rent or Buy article
Get time limited or full article access on ReadCube.
from$8.99
All prices are NET prices.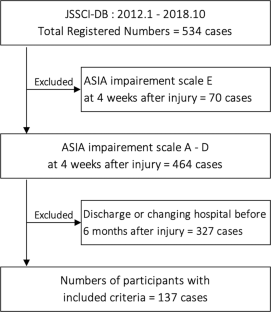 Data availability
Japan Single Center Study for Spinal Cord Injury Data Base was generated during and analyzed during the current study are not publicly available due viewpoint of personal information protection but are available from the corresponding author on reasonable request.
References
1.

Hayashi T, Kawano O, Sakai H, Ideta R, Ueta T, Maeda T, et al. The potential for functional recovery of upper extremity function following cervical spinal cord injury without major bone injury. Spinal Cord. 2013;51:819–22.

2.

Leduc BE, Lepage Y. Health-related quality of life after spinal cord injury. Disabil Rehabil. 2002;24:196–202.

3.

Kirshblum SC, Priebe MM, Ho CH, Scelza WM, Chiodo AE, Wuermser LA. Spinal cord injury medicine. 3. Rehabilitation phase after acute spinal cord injury. Arch Phys Med Rehabil. 2007;88:S62–70.

4.

Gündoğdu İ, Akyüz M, Öztürk EA, Cakcı FA. Can spinal cord injury patients show a worsening in ASIA impairment scale classification despite actually having neurological improvement? The limitation of ASIA impairment scale classification. Spinal Cord. 2014;52:667–70.

5.

Grassner L, Wutte C, Klein B, Mach O, Riesner S, Panzer S, et al. Early decompression (<8h) after traumatic cervical spinal cord injury improves functional outcome as assessed by spinal cord independence measure after one year. J Neurotrauma. 2016;33:1658–66.

6.

Geisler FH, Coleman WP, Grieco G, Poonian D. Sygen Study Group. The Sygen multicenter acute spinal cord injury study. Spine 2001;26:S87–98.

7.

Sunshine JE, Dagal A, Burns SP, Bransford RJ, Zhang F, Newman SF, et al. Methylprednisolone therapy in acute traumatic spinal cord injury: analysis of a regional spinal cord model systems database. Anesth Analg. 2017;124:1200–5.

8.

Bracken MB, Holford TR. Neurological and functional status 1 year after acute spinal cord injury: estimates of functional recovery in National Acute Spinal Cord Injury Study II from results modeled in National Acute Spinal Cord Injury Study III. J Neurosurg. 2002;96:259–66.

9.

van Middendrop JJ, Hosman AJ, Donders AR, Pouw MH, Ditunno JF Jr, Curt A, et al. A clinical prediction rule for ambulation outcomes after traumatic spinal cord injury: a longitudinal cohort study. Lancet. 2011;377:1004–10.

10.

Hicks KE, Zhao Y, Fallah N, Rivers CS, Noonan VK, Plashkes T, et al. A simplified clinical prediction rule for prognosticating independent walking after spinal cord injury: a prospective study from a Canadian multicenter spinal cord injury registry. Spine J. 2017;17:1383–92.

11.

Kirshblum SC, Burns SP, Biering-Sorensen F, Donovan W, Graves DE, Jha A, et al. International standards for neurological classification of spinal cord injury (revised 2011). J Spinal Cord Med. 2011;34:535–46.

12.

Dittuno PL, Dittuno JF Jr. Walking index for spinal cord injury (WISCI II): scale revision. Spinal Cord. 2001; 39: 654–6.

13.

Steeves JD, Lammertse D, Curt A, Fawcett JW, Tuszynski MH, Ditunno JF, et al. Guidelines for the conduct of clinical trials for spinal cord injury (SCI) as developed by the ICCP panel: clinical trial outcome measures. Spinal Cord 2007;45:206–21.

14.

Furlan JC, Fehlings MG. The impact of age on mortality, impairment, and disability among adults with acute traumatic spinal cord injury. J Neurotrauma 2009;26:1707–17.

15.

Weingarden SI, Martin C. Independent dressing after spinal cord injury: a functional time evaluation. Arch Phys Med Rehabil. 1989;70:518–9.

16.

Mulcahey MJ, Betz RR, Smith BT, Weiss AA. A prospective evaluation of upper extremity tendon transfers in children with cervical spinal cord injury. J Pediatr Orthop. 1999;19:319–28.

17.

Ditunno JF Jr, Ditunno PL, Graziani V, Scivoletto G, Bernardi M, Castellano V, et al. Walking index for spinal cord injury (WISCI): An international multicenter validity and reliability study. Spinal Cord 2000;38:234–43.
Ethics declarations
Conflict of interest
The authors declare that they have no conflict of interest.
Ethics
The study protocol was approved by the Institutional Review Board of the Spinal Injuries Center, and all participants provided written informed consent before participating in this study.
Additional information
Publisher's note Springer Nature remains neutral with regard to jurisdictional claims in published maps and institutional affiliations.
About this article
Cite this article
Ariji, Y., Hayashi, T., Ideta, R. et al. A prediction model of functional outcome at 6 months using clinical findings of a person with traumatic spinal cord injury at 1 month after injury. Spinal Cord (2020). https://doi.org/10.1038/s41393-020-0488-5
Received:

Revised:

Accepted:

Published: