Abstract
Study design
Qualitative descriptive study with inductive thematic content analysis.
Objectives
To explore how individuals living with paraplegia in South Africa experience sex and intimacy and how they perceive the related health services and support they received whilst adapting to life post injury.
Setting
Community based in Cape Town, South Africa.
Methods
Purposive and snowball sampling were combined to enrol ten individuals with paraplegia who were all users of the public health system and had been injured for more than 1 year. Semi-structured interviews were conducted, and data analysed using inductive thematic content analysis.
Results
Four categories were derived and captured by the overarching theme of 'a journey to reclaiming sexuality', as depicted by each participant. Psychological consequences of the injury led to challenges with sex and intimacy including a strong emphasis on partner satisfaction. A perceived lack of support mechanisms particularly in relation to poor timing of health services and insufficient peer support led to a lack of understanding and difficulties adjusting to changes in sexual function. Meaningful relationships including elements of sex and/or intimacy were rediscovered following a re-adjustment period although participants often felt disabled by society as socio-cultural norms, such as gender concepts, influenced each individual journey.
Conclusions
Complex interactions between intrinsic psychological factors, such as low sexual self-esteem and external factors such as socio-cultural norms, affect sex and intimacy in individuals with paraplegia in this novel context. South Africa's health system should be strengthened to support optimal sexual outcomes of persons with a spinal cord injury.
Access options
Subscribe to Journal
Get full journal access for 1 year
$299.00
only $24.92 per issue
All prices are NET prices.
VAT will be added later in the checkout.
Rent or Buy article
Get time limited or full article access on ReadCube.
from$8.99
All prices are NET prices.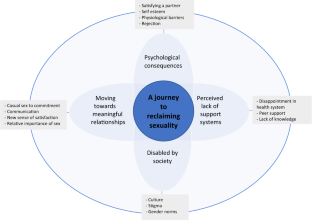 Data availability
Data generated and analysed for this study is available from authors on request. However, some limitations may apply in order to protect the identity of participants in this small study.
References
1.

World Health Organisation. Defining sexual health: report of a technical consultation on sexual health 28–31 January 2002. Geneva: World Health Organisation; 2006.

2.

Bowling J, Blekfeld-Sztraky D, Simmons M, Dodge B, Sundarraman V, Lakshmi B, et al. Definitions of sex and intimacy among gender and sexual minoritised groups in urban India. Cult, Health Sexuality. 2019;22:520–34.

3.

American Occupational Therapy Association. Occupational therapy practice framework: domain and process (2nd ed.). Am J Occup Ther. 2008;62:625–83.

4.

World Health Organisation. Promoting sexual and reproductive health for persons with disabilities: WHO/UNFPA guidance note. Geneva: World Health Organisation; 2009.

5.

Goddard RL. Sexuality and spinal cord injury. J Neurosci Nurs. 1988;20:240–4.

6.

Aikman K, Oliffe JL, Kelly MT, McCraig F. Sexual health in men with traumatic spinal cord injuries: a review and recommendations for primary health-care providers. Am J Men's Health. 2018;12:2044–54.

7.

Thrussell H, Coggrave M, Graham A, Gall A, Donald M, Kulshrestha R, et al. Women's experiences of sexuality after spinal cord injury: a UK perspective. Spinal Cord. 2018;56:1084–94.

8.

Fisher TL, Laud PW, Byfield MG, Brown TT, Hayat MJ, Fiedler IG. Sexual health after spinal cord injury: a longitudinal study. Arch Phys Med Rehabil. 2002;83:1043–51.

9.

Sharma CS, Singh SR, Dogra SR, Gupta SS. Assessment of sexual functions after spinal cord injury in Indian patients. Int J Rehabil Res. 2006;29:17–25.

10.

Kruk ME, Gage AD, Arsenault C, Jordan K, Leslie HH, Roder-Dewan S, et al. High-quality health systems in the Sustainable Development Goals era: time for a revolution. Lancet Glob Health. 2018;6:e1196–252.

11.

Anderson KD. Targeting recovery: priorities of the spinal cord-injured population. J Neurotrauma. 2004;21:1371.

12.

Verschuren JEA, Enzlin P, Dijkstra PU, Geertzen JHB, Dekker R. Chronic disease and sexuality: a generic conceptual framework. J Sex Res. 2010;47:153–70.

13.

Joseph C, Delcarme A, Vlok I, Wahman K, Phillips J, Wikmar LN. Incidence and aetiology of traumatic spinal cord injury in Cape Town, South Africa: a prospective, population-based study. Spinal Cord. 2015;53:692–6.

14.

Lee BB, Cripps RA, Fitzharris M, Wing PC. The global map for traumatic spinal cord injury epidemiology: update 2011, global incidence rate. Spinal Cord. 2014;52:110–6.

15.

Naidoo S. The South African national health insurance: a revolution in health-care delivery! J Public Health. 2012;34:149–50.

16.

Babikir A, Satty A, Mwambi H. Determinants of out-of-pocket health expenditure and their welfare implications in a South African context. J Econ Financ Sci. 2018;11:e1–7.

17.

Sandelowski M. Focus on research methods: whatever happened to qualitative description? Res Nurs Health. 2000;23:334–40.

18.

Roberts TT, Leonard GR, Cepela DJ. Classifications in brief: American Spinal Injury Association (ASIA) impairment scale. Clin Orthop Relat Res. 2017;475:1499–504.

19.

Malterud K, Siersma VD, Guassora AD. Sample size in qualitative interview studies: guided by information power. Qual Health Res. 2016;26:1753–60.

20.

Lincoln YS, Guba EG. Naturalistic inquiry. Beverly Hills, California: Sage Publications; 1985.

21.

Green J, Thorogood N. Qualitative methods for health research. 3rd ed. Los Angeles: Los Angeles; SAGE; 2014.

22.

Gomes CM, Miranda EP, de Bessa J, Bellucci CHS, Battistella LR, Abdo CHN, et al. Erectile function predicts sexual satisfaction in men with spinal cord injury. Sex Med. 2017;5:e148–55.

23.

Robinson J, Forrest A, Pope-Ellis C, Hargreaves A. A pilot study on sexuality in rehabilitation of the spinal cord injured: exploring the woman's perspective. South Afr J Occup Ther. 2011;41:13–7.

24.

Marimwe C, Dowse R. Development of an item bank of health literacy questions appropriate for limited literacy public sector patients in South Africa. J Commun Healthc. 2017;10:273–84.

25.

Das S, Soni BM, Sharma SD, Gazvani R, Lewis-Jones DI. A case of rapid deterioration in sperm quality following spinal cord injury. Spinal Cord. 2006;44:56–8.

26.

Karsenty G, Bernuz B, Metzler-Guillemain C, Grillo J-M, Saias-Magnan J, Rigot J-M, et al. Should sperm be cryopreserved after spinal cord injury? Basic Clin Androl. 2013;23:6.

27.

Bradshaw DSK. Poverty and chronic diseases in South Africa. Technical report 2001. 2001. http://www.samrc.ac.za/sites/default/files/files/2017-07-03/povertyfinal.pdf.

28.

Saxton M. Reclaiming sexual self-esteem-peer counseling for disabled women. West J Med. 1991;154:630.

29.

Braaf S, Lennox A, Nunn A, Gabbe B. Social activity and relationship changes experienced by people with bowel and bladder dysfunction following spinal cord injury. Spinal Cord. 2017;55:679–86.

30.

Ostrander N. Sexual pursuits of pleasure among men and women with spinal cord injuries. Sex Disabil. 2009;27:11–9.

31.

Ragnarsson A, Townsend L, Ekström AM, Chopra M, Thorson A. The contrsuction of an idealised urban masculinity among men with concurrent sexual partners in a South African township. Glob Health Action. 2010;3:5092.

32.

Sakellariou D. If not the disability, then what? Barriers to reclaiming sexuality following spinal cord injury. Sex Disabil. 2006;24:101–11.

33.

New PW, Seddon M, Redpath C, Currie KE, Warren N. Recommendations for spinal rehabilitation professionals regarding sexual education needs and preferences of people with spinal cord dysfunction: a mixed-methods study. Spinal Cord. 2016;54:1203–9.

34.

Joseph C, Wahman K, Phillips J, Nilsson, Wikmar L. Client perspectives on reclaiming participation after a traumatic spinal cord injury in South Africa. Phys Ther. 2016;96:1372–80.

35.

Chaffey L, Bigby C. 'I feel free': the experience of a peer education program with fijians with spinal cord injury. J Dev Phys Disabil. 2018;30:175–88.
Acknowledgements
We would like to thank all participants who took part in this study, as well as research assistants (Tarryn Jeftha and Sherwin Gerwell) who assisted with logistical arrangements, translation and contextual understanding.
Ethics declarations
Conflict of interest
The authors declare that they have no conflict of interest.
Ethics
We certify that all applicable institutional and governmental regulations concerning the ethical use of patient identifiable data were followed during the course of this research. Ethical approval was granted by the Western Cape Senate Research Ethics Committee (BM19/1/16). Written (nine) or verbal (one, telephone interview) informed consent was obtained prior to each interview.
Additional information
Publisher's note Springer Nature remains neutral with regard to jurisdictional claims in published maps and institutional affiliations.
About this article
Cite this article
Thurston, C., Blom, L., Conradsson, D.M. et al. Sex, support and society: a journey to reclaiming sexuality for individuals living with paraplegia in Cape Town, South Africa. Spinal Cord (2020). https://doi.org/10.1038/s41393-020-00558-5
Received:

Revised:

Accepted:

Published: