Abstract
Colorectal cancer causes >900,000 deaths every year and a deeper understanding of the molecular mechanisms underlying this disease will contribute to improve its clinical management and survival. Myosin Vb (MYO5B) regulates intracellular vesicle trafficking, and inactivation of this myosin disrupts the polarization and differentiation of intestinal epithelial cells causing microvillous inclusion disease (MVID), a rare congenital disorder characterized by intractable life-threatening diarrhea. Here, we show that the loss Myosin Vb interfered with the differentiation/polarization of colorectal cancer cells. Although modulation of Myosin Vb expression did not affect the proliferation of colon cancer cells, MYO5B inactivation increased their migration, invasion, and metastatic potential. Moreover, Myo5b inactivation in an intestine-specific knockout mouse model caused a >15-fold increase in the number of azoxymethane-initiated small intestinal tumors. Consistently, reduced expression of Myosin Vb in a cohort of 155 primary colorectal tumors was associated with shorter patient survival. In conclusion, we show here that loss of Myosin Vb reduces polarization/differentiation of colon cancer cells while enhancing their metastatic potential, demonstrating a tumor suppressor function for this myosin. Moreover, reduced expression of Myosin Vb in primary tumors identifies a subset of poor prognosis colorectal cancer patients that could benefit from more aggressive therapeutic regimens.
Access options
Subscribe to this journal
Receive 50 print issues and online access
$259.00 per year
only $5.18 per issue
Rent or buy this article
Get just this article for as long as you need it
$39.95
Prices may be subject to local taxes which are calculated during checkout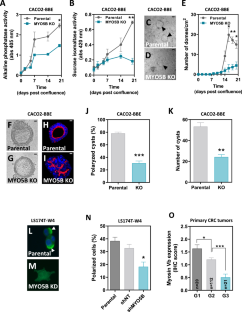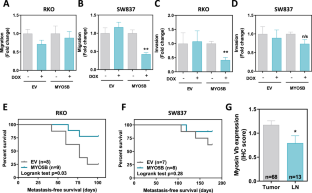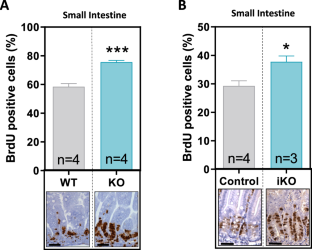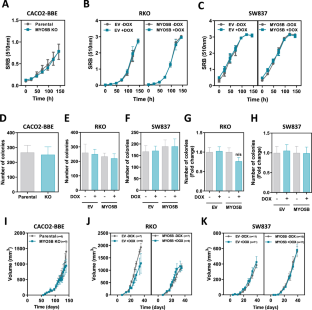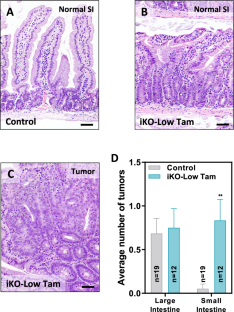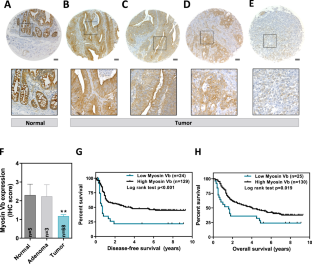 References
Sung H, Ferlay J, Siegel RL, Laversanne M, Soerjomataram I, Jemal A, et al. Global Cancer Statistics 2020: GLOBOCAN estimates of incidence and mortality worldwide for 36 cancers in 185 countries. CA Cancer J Clin. 2021;71:209–49.

Sellers JR. Myosins: a diverse superfamily. Biochim Biophys Acta. 2000;1496:3–22.

Roland JT, Bryant DM, Datta A, Itzen A, Mostov KE, Goldenring JR. Rab GTPase-Myo5B complexes control membrane recycling and epithelial polarization. Proc Natl Acad Sci USA. 2011;108:2789–94.

Dhekne HS, Hsiao N-H, Roelofs P, Kumari M, Slim CL, Rings EHHM, et al. Myosin Vb and Rab11a regulate phosphorylation of ezrin in enterocytes. J Cell Sci. 2014;127:1007–17.

Weis VG, Knowles BC, Choi E, Goldstein AE, Williams JA, Manning EH, et al. Loss of MYO5B in mice recapitulates Microvillus Inclusion Disease and reveals an apical trafficking pathway distinct to neonatal duodenum. Cell Mol Gastroenterol Hepatol. 2016 ;2:131–57.

Ruemmele FM, Müller T, Schiefermeier N, Ebner HL, Lechner S, Pfaller K, et al. Loss-of-function of MYO5B is the main cause of microvillus inclusion disease: 15 novel mutations and a CaCo-2 RNAi cell model. Hum Mutat. 2010;31:544–51.

Thoeni CE, Vogel GF, Tancevski I, Geley S, Lechner S, Pfaller K, et al. Microvillus inclusion disease: loss of Myosin vb disrupts intracellular traffic and cell polarity. Traffic. 2014;15:22–42.

Compton CC. Colorectal carcinoma: diagnostic, prognostic, and molecular features. Mod Pathol. 2003;16:376–88.

Wodarz A, Näthke I. Cell polarity in development and cancer. Nat Cell Biol. 2007;9:1016–24.

Mazzolini R, Dopeso H, Mateo-Lozano S, Chang W, Rodrigues P, Bazzocco S, et al. Brush border myosin Ia has tumor suppressor activity in the intestine. Proc Natl Acad Sci USA. 2012;109:1530–5.

Martínez-López E, Abad A, Font A, Monzó M, Ojanguren I, Pifarré A, et al. Allelic loss on chromosome 18q as a prognostic marker in stage II colorectal cancer. Gastroenterology. 1998;114:1180–7.

Müller T, Hess MW, Schiefermeier N, Pfaller K, Ebner HL, Heinz-Erian P, et al. MYO5B mutations cause microvillus inclusion disease and disrupt epithelial cell polarity. Nat Genet. 2008;40:1163–5.

Leng C, Overeem AW, Cartón-Garcia F, Li Q, Klappe K, Kuipers J, et al. Loss of MYO5B expression deregulates late endosome size which hinders mitotic spindle orientation. PLoS Biol. 2019;17:e3000531.

Baas AF, Kuipers J, van der Wel NN, Batlle E, Koerten HK, Peters PJ, et al. Complete polarization of single intestinal epithelial cells upon activation of LKB1 by STRAD. Cell. 2004;116:457–66.

Royer C, Lu X. Epithelial cell polarity: a major gatekeeper against cancer? Cell Death Differ. 2011;18:1470–7.

Groisman GM, Sabo E, Meir A, Polak-Charcon S. Enterocyte apoptosis and proliferation are increased in microvillous inclusion disease (familial microvillous atrophy). Hum Pathol. 2000;31:1404–10.

Cartón-García F, Overeem AW, Nieto R, Bazzocco S, Dopeso H, Macaya I, et al. Myo5b knockout mice as a model of microvillus inclusion disease. Sci Rep. 2015;5:12312.

Madison BB, Dunbar L, Qiao XT, Braunstein K, Braunstein E, Gumucio DL. Cis elements of the villin gene control expression in restricted domains of the vertical (crypt) and horizontal (duodenum, cecum) axes of the intestine. J Biol Chem. 2002;277:33275–83.

Bazzocco S, Dopeso H, Carton-Garcia F, Macaya I, Andretta E, Chionh F, et al. Highly expressed genes in rapidly proliferating tumor cells as new targets for colorectal cancer treatment. Clin Cancer Res. 2015;21:3695–704.

Moser AR, Pitot HC, Dove WF. A dominant mutation that predisposes to multiple intestinal neoplasia in the mouse. Science. 1990;247:322–4.

Letellier E, Schmitz M, Ginolhac A, Rodriguez F, Ullmann P, Qureshi-Baig K, et al. Loss of Myosin Vb in colorectal cancer is a strong prognostic factor for disease recurrence. Br J Cancer. 2017;117:1689–701.

Zhang B, Wang J, Wang X, Zhu J, Liu Q, Shi Z, et al. Proteogenomic characterization of human colon and rectal cancer. Nature. 2014;513:382–7.

Fogh J, Fogh JM, Orfeo T. One hundred and twenty-seven cultured human tumor cell lines producing tumors in nude mice. J Natl Cancer Inst. 1977;59:221–6.

Peterson MD, Mooseker MS. Characterization of the enterocyte-like brush border cytoskeleton of the C2BBe clones of the human intestinal cell line, Caco-2. J Cell Sci. 1992;102:581–600.

Hidalgo IJ, Raub TJ, Borchardt RT. Characterization of the human colon carcinoma cell line (Caco-2) as a model system for intestinal epithelial permeability. Gastroenterology. 1989;96:736–49.

Mariadason JM, Arango D, Corner GA, Arañes MJ, Hotchkiss KA, Yang W, et al. A gene expression profile that defines colon cell maturation in vitro. Cancer Res. 2002;62:4791–804.

Kravtsov D, Mashukova A, Forteza R, Rodriguez MM, Ameen NA, Salas PJ. Myosin 5b loss of function leads to defects in polarized signaling: implication for microvillus inclusion disease pathogenesis and treatment. Am J Physiol Gastrointest Liver Physiol. 2014;307:G992–1001.

Martin-Belmonte F, Perez-Moreno M. Epithelial cell polarity, stem cells and cancer. Nat Rev Cancer. 2011;12:23–38.

Goldenring JR. A central role for vesicle trafficking in epithelial neoplasia: intracellular highways to carcinogenesis. Nat Rev Cancer. 2013;13:813–20.

Stenmark H. Rab GTPases as coordinators of vesicle traffic. Nat Rev Mol Cell Biol. 2009;10:513–25.

Sato T, Mushiake S, Kato Y, Sato K, Sato M, Takeda N, et al. The Rab8 GTPase regulates apical protein localization in intestinal cells. Nature. 2007;448:366–9.

Sobajima T, Yoshimura S-I, Iwano T, Kunii M, Watanabe M, Atik N, et al. Rab11a is required for apical protein localisation in the intestine. Biol Open. 2014;4:86–94.

Schimanski CC, Schmitz G, Kashyap A, Bosserhoff AK, Bataille F, Schäfer SC, et al. Reduced expression of Hugl-1, the human homologue of Drosophila tumour suppressor gene lgl, contributes to progression of colorectal cancer. Oncogene. 2005;24:3100–9.

Nakagawa S, Yano T, Nakagawa K, Takizawa S, Suzuki Y, Yasugi T, et al. Analysis of the expression and localisation of a LAP protein, human scribble, in the normal and neoplastic epithelium of uterine cervix. Br J Cancer. 2004;90:194–9.

Kuphal S, Wallner S, Schimanski CC, Bataille F, Hofer P, Strand S, et al. Expression of Hugl-1 is strongly reduced in malignant melanoma. Oncogene. 2006;25:103–10.

Wodarz A. Tumor suppressors: linking cell polarity and growth control. Curr Biol. 2000;10:R624–6.

Partanen JI, Nieminen AI, Klefstrom J. 3D view to tumor suppression: Lkb1, polarity and the arrest of oncogenic c-Myc. Cell Cycle. 2009;8:716–24.

Melendez J, Liu M, Sampson L, Akunuru S, Han X, Vallance J, et al. Cdc42 coordinates proliferation, polarity, migration, and differentiation of small intestinal epithelial cells in mice. Gastroenterology. 2013;145:808–19.

Kravtsov DV, Ahsan MK, Kumari V, van Ijzendoorn SCD, Reyes-Mugica M, Kumar A, et al. Identification of intestinal ion transport defects in microvillus inclusion disease. Am J Physiol Gastrointest Liver Physiol. 2016;311:G142–55.

Gandalovičová A, Vomastek T, Rosel D, Brábek J. Cell polarity signaling in the plasticity of cancer cell invasiveness. Oncotarget. 2016;7:25022–49.

Williams KC, Coppolino MG. Phosphorylation of membrane type 1-matrix metalloproteinase (MT1-MMP) and its vesicle-associated membrane protein 7 (VAMP7)-dependent trafficking facilitate cell invasion and migration. J Biol Chem. 2011;286:43405–16.

Rainero E, Caswell PT, Muller PAJ, Grindlay J, McCaffrey MW, Zhang Q, et al. Diacylglycerol kinase α controls RCP-dependent integrin trafficking to promote invasive migration. J Cell Biol. 2012;196:277–95.

Dong W, Chen X, Chen P, Yue D, Zhu L, Fan Q. Inactivation of MYO5B promotes invasion and motility in gastric cancer cells. Dig Dis Sci. 2012;57:1247–52.

Schneeberger K, Vogel GF, Teunissen H, van Ommen DD, Begthel H, El Bouazzaoui L, et al. An inducible mouse model for microvillus inclusion disease reveals a role for myosin Vb in apical and basolateral trafficking. Proc Natl Acad Sci USA. 2015;112:12408–13.

Goldenring JR, Nam KT. Rab25 as a tumour suppressor in colon carcinogenesis. Br J Cancer. 2011;104:33–6.

Nam KT, Lee H-J, Smith JJ, Lapierre LA, Kamath VP, Chen X, et al. Loss of Rab25 promotes the development of intestinal neoplasia in mice and is associated with human colorectal adenocarcinomas. J Clin Investig. 2010;120:840–9.

D'Agostino L, Nie Y, Goswami S, Tong K, Yu S, Bandyopadhyay S, et al. Recycling endosomes in mature epithelia restrain tumorigenic signaling. Cancer Res. 2019;79:4099–112.

Cancer Genome Atlas Network. Comprehensive molecular characterization of human colon and rectal cancer. Nature. 2012;487:330–7.

Rowlatt C, Franks LM, Sheriff MU, Chesterman FC. Naturally occurring tumours and other lesions of the digestive tract in untreated C57BL mice. J Pathol. 1970;100:Pxii.

Rodrigues P, Macaya I, Bazzocco S, Mazzolini R, Andretta E, Dopeso H, et al. RHOA inactivation enhances Wnt signalling and promotes colorectal cancer. Nat Commun. 2014;5:5458.

Kranz A, Fu J, Duerschke K, Weidlich S, Naumann R, Stewart AF, et al. An improved Flp deleter mouse in C57Bl/6 based on Flpo recombinase. Genesis 2010;48:512–20.

el Marjou F, Janssen K-P, Chang BH-J, Li M, Hindie V, Chan L, et al. Tissue-specific and inducible Cre-mediated recombination in the gut epithelium. Genesis. 2004;39:186–93.

Arango D, Laiho P, Kokko A, Alhopuro P, Sammalkorpi H, Salovaara R, et al. Gene-expression profiling predicts recurrence in Dukes' C colorectal cancer. Gastroenterology. 2005;129:874–84.
Funding
This study was partially funded by grants of World Cancer Research (AICR13-0245), Instituto de Salud Carlos III (PI16/00540, PI19/00993, PI22/00773), the European Regional Development Fund (AC15/00066, AC19/00095, AC20/00022) and the Spanish Association Against Cancer (AECC GCA15152966ARAN) to DA. BB is supported by "Ajuts per a la Iniciació de la Recerca" fellowship from Diputació de Lleida- Biomedical Research Institute of Lleida.
Ethics declarations
Competing interests
The authors declare no competing interests.
Additional information
Publisher's note Springer Nature remains neutral with regard to jurisdictional claims in published maps and institutional affiliations.
Supplementary information
Rights and permissions
Springer Nature or its licensor (e.g. a society or other partner) holds exclusive rights to this article under a publishing agreement with the author(s) or other rightsholder(s); author self-archiving of the accepted manuscript version of this article is solely governed by the terms of such publishing agreement and applicable law.
About this article
Cite this article
Cartón-García, F., Brotons, B., Anguita, E. et al. Myosin Vb as a tumor suppressor gene in intestinal cancer. Oncogene 41, 5279–5288 (2022). https://doi.org/10.1038/s41388-022-02508-2
Received:

Revised:

Accepted:

Published:

Issue Date:

DOI: https://doi.org/10.1038/s41388-022-02508-2