Abstract
Dysregulation of hippocampus glutamatergic neurotransmission and reductions in hippocampal volume have been associated with psychiatric disorders. The endocannabinoid system modulates glutamate neurotransmission and brain development, including hippocampal remodeling. In humans, elevated levels of anandamide and lower activity of its catabolic enzyme fatty acid amide hydrolase (FAAH) are associated with schizophrenia diagnosis and psychotic symptom severity, respectively (Neuropsychopharmacol, 29(11), 2108–2114; Biol. Psychiatry 88 (9), 727–735). Although preclinical studies provide strong evidence linking anandamide and FAAH to hippocampus neurotransmission and structure, these relationships remain poorly understood in humans. We recruited young adults with and without psychotic disorders and measured FAAH activity, hippocampal glutamate and glutamine (Glx), and hippocampal volume using [11C]CURB positron emission tomography (PET), proton magnetic resonance spectroscopy (1H-MRS) and T1-weighted structural MRI, respectively. We hypothesized that higher FAAH activity would be associated with greater hippocampus Glx and lower hippocampus volume, and that these effects would differ in patients with psychotic disorders relative to healthy control participants. After attrition and quality control, a total of 37 participants (62% male) completed [11C]CURB PET and 1H-MRS of the left hippocampus, and 45 (69% male) completed [11C]CURB PET and hippocampal volumetry. Higher FAAH activity was associated with greater concentration of hippocampal Glx (F1,36.36 = 9.17, p = 0.0045; Cohen's f = 0.30, medium effect size) and smaller hippocampal volume (F1,44.70 = 5.94, p = 0.019, Cohen's f = 0.26, medium effect size). These effects did not differ between psychosis and healthy control groups (no group interaction). This multimodal imaging study provides the first in vivo evidence linking hippocampal Glx and hippocampus volume with endocannabinoid metabolism in the human brain.
Access options
Subscribe to Journal
Get full journal access for 1 year
$119.00
only $9.15 per issue
All prices are NET prices.
VAT will be added later in the checkout.
Tax calculation will be finalised during checkout.
Buy article
Get time limited or full article access on ReadCube.
$32.00
All prices are NET prices.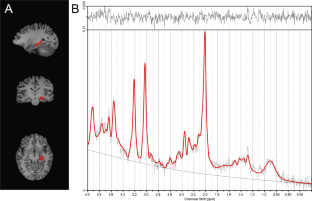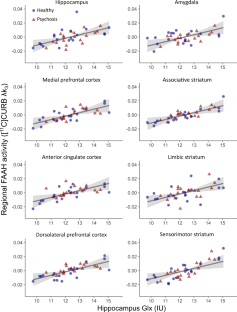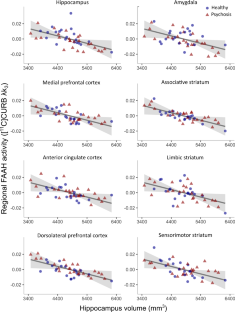 References
Lieberman J, Girgis R, Brucato G, Moore H, Provenzano F, Kegeles L, et al. Hippocampal dysfunction in the pathophysiology of schizophrenia: a selective review and hypothesis for early detection and intervention. Mol Psychiatry. 2018;23:1764–72.

Aguado T, Monory K, Palazuelos J, Stella N, Cravatt B, Lutz B, et al. The endocannabinoid system drives neural progenitor proliferation. FASEB J. 2005;19:1704–6. https://doi.org/10.1096/fj.05-3995fje.

Berghuis P, Dobszay MB, Wang X, Spano S, Ledda F, Sousa KM, et al. Endocannabinoids regulate interneuron migration and morphogenesis by transactivating the TrkB receptor. Proc Natl Acad Sci. 2005;102:19115–20.

Harkany T, Guzmán M, Galve-Roperh I, Berghuis P, Devi LA, Mackie K. The emerging functions of endocannabinoid signaling during CNS development. Trends Pharmacol Sci. 2007;28:83–92. https://doi.org/10.1016/j.tips.2006.12.004

Gao Y, Vasilyev DV, Goncalves MB, Howell FV, Hobbs C, Reisenberg M, et al. Loss of retrograde endocannabinoid signaling and reduced adult neurogenesis in diacylglycerol lipase knock-out mice. J Neurosci. 2010;30:2017–24.

Jenniches I, Ternes S, Albayram O, Otte DM, Bach K, Bindila L, et al. Anxiety, Stress, and Fear Response in Mice With Reduced Endocannabinoid Levels. Biol Psychiatry. 2016;79:858–68. https://doi.org/10.1016/j.biopsych.2015.03.033.

Katona I, Freund TF. Endocannabinoid signaling as a synaptic circuit breaker in neurological disease. Nat Med. 2008;14:923–30.

Curran HV, Freeman TP, Mokrysz C, Lewis DA, Morgan CJA, Parsons LH. Keep off the grass? Cannabis, cognition and addiction. Nat Rev Neurosci. 2016;17:293–306. https://doi.org/10.1038/nrn.2016.28.

Galve-Roperh I, Aguado T, Palazuelos J, Guzmán M. Mechanisms of control of neuron survival by the endocannabinoid system. Curr Pharm Des. 2008;14:2279–88.

Kano M, Ohno-Shosaku T, Hashimotodani Y, Uchigashima M, Watanabe M. Endocannabinoid-mediated control of synaptic transmission. Physiol. Rev. 2009; 309–80.

Chávez AE, Chiu CQ, Castillo PE. TRPV1 activation by endogenous anandamide triggers postsynaptic long-term depression in dentate gyrus. Nat Neurosci. 2010;13:1511.

Di Marzo V. Anandamide serves two masters in the brain. Nat Neurosci. 2010;13:1446–8.

Minichino A, Senior M, Brondino N, Zhang SH, Godwlewska BR, Burnet PW, et al. Measuring disturbance of the endocannabinoid system in psychosis: a systematic review and meta-analysis. JAMA Psychiatry. 2019;76:914–23.

Garani R, Watts JJ, Mizrahi R. Endocannabinoid system in psychotic and mood disorders, a review of human studies. Prog Neuropsychopharmacol Biol Psychiatry. 2021;106:110096. https://doi.org/10.1016/j.pnpbp.2020.110096.

Muguruza C, Lehtonen M, Aaltonen N, Morentin B, Meana JJ, Callado LF. Quantification of endocannabinoids in postmortem brain of schizophrenic subjects. Schizophr Res. 2013;148:145–50. https://doi.org/10.1016/j.schres.2013.06.013.

Cravatt BF, Demarest K, Patricelli MP, Bracey MH, Giang DK, Martin BR, et al. Supersensitivity to anandamide and enhanced endogenous cannabinoid signaling in mice lacking fatty acid amide hydrolase. Proc Natl Acad Sci USA 2001;98:9371–6. https://doi.org/10.1073/pnas.161191698.

Watts JJ, Jacobson MR, Lalang N, Boileau I, Tyndale RF, Kiang M, et al. Imaging brain fatty acid amide hydrolase in untreated patients with psychosis. Biol Psychiatry. 2020;88:727–35. https://doi.org/10.1016/j.biopsych.2020.03.003.

Zimmermann T, Bartsch JC, Beer A, Lomazzo E, Guggenhuber S, Lange MD, et al. Impaired anandamide/palmitoylethanolamide signaling in hippocampal glutamatergic neurons alters synaptic plasticity, learning, and emotional responses. Neuropsychopharmacology. 2019;44:1377–88. https://doi.org/10.1038/s41386-018-0274-7.

Hakimizadeh E, Oryan S. Endocannabinoid system and TRPV1 receptors in the dorsal hippocampus of the rats modulate anxiety-like behaviors. Iran J basic Med Sci. 2012;15:795.

Huang GZ, Woolley CS. Estradiol acutely suppresses inhibition in the hippocampus through a sex-specific endocannabinoid and mGluR-dependent mechanism. Neuron. 2012;74:801–8.

Wang M, Hill MN, Zhang L, Gorzalka BB, Hillard CJ, Alger BE. Acute restraint stress enhances hippocampal endocannabinoid function via glucocorticoid receptor activation. J Psychopharmacol. 2012;26:56–70.

Aguilar DD, Giuffrida A, Lodge DJ. THC and endocannabinoids differentially regulate neuronal activity in the prefrontal cortex and hippocampus in the subchronic PCP model of schizophrenia. J Psychopharmacol. 2015;30:169–81. https://doi.org/10.1177/0269881115612239.

Jiang HX, Liu J, Ma G, Hai K-r, Gong D-y, Ke BW. et al. Inhibition of fatty acid amide hydrolase improves depressive-like behaviors independent of its peripheral antinociceptive effects in a rat model of neuropathic pain. Anesthesia Analgesia. 2019;129:587–97. https://doi.org/10.1213/ane.0000000000003563.

Carnevali L, Statello R, Vacondio F, Ferlenghi F, Spadoni G, Rivara S, et al. Antidepressant-like effects of pharmacological inhibition of FAAH activity in socially isolated female rats. Eur Neuropsychopharmacol. 2020;32:77–87. https://doi.org/10.1016/j.euroneuro.2019.12.119.

Tejeda-Martínez AR, Viveros-Paredes JM, Hidalgo-Franco GV, Pardo-González E, Chaparro-Huerta V, González-Castañeda RE, et al. Chronic inhibition of FAAH reduces depressive-like behavior and improves dentate gyrus proliferation after chronic unpredictable stress exposure. Behavioural Neurol. 2021;2021:6651492 https://doi.org/10.1155/2021/6651492.

Boileau I, Tyndale RF, Williams B, Mansouri E, Westwood DJ, Le Foll B, et al. The fatty acid amide hydrolase C385A variant affects brain binding of the positron emission tomography tracer [(11)C]CURB. J Cereb Blood Flow Metab. 2015;35:1237–40. https://doi.org/10.1038/jcbfm.2015.119.

Gee DG, Fetcho RN, Jing D, Li A, Glatt CE, Drysdale AT, et al. Individual differences in frontolimbic circuitry and anxiety emerge with adolescent changes in endocannabinoid signaling across species. Proc Natl Acad Sci. 2016;113:4500–5. https://doi.org/10.1073/pnas.1600013113.

Dincheva I, Drysdale AT, Hartley CA, Johnson DC, Jing D, King EC, et al. FAAH genetic variation enhances fronto-amygdala function in mouse and human. Nat Commun. 2015;6:6395 https://doi.org/10.1038/ncomms7395.

Zabik NL, Iadipaolo AS, Marusak HA, Peters C, Burghardt K, Rabinak CA. A common genetic variant in fatty acid amide hydrolase is linked to alterations in fear extinction neural circuitry in a racially diverse, nonclinical sample of adults. J Neurosci Res. 2021. https://doi.org/10.1002/jnr.24860.

Hill MN, Titterness AK, Morrish AC, Carrier EJ, Lee TTY, Gil‐Mohapel J, et al. Endogenous cannabinoid signaling is required for voluntary exercise‐induced enhancement of progenitor cell proliferation in the hippocampus. Hippocampus. 2010;20:513–23.

Hill MN, Kambo JS, Sun JC, Gorzalka BB, Galea LAM. Endocannabinoids modulate stress-induced suppression of hippocampal cell proliferation and activation of defensive behaviours. Eur J Neurosci. 2006;24:1845–9. https://doi.org/10.1111/j.1460-9568.2006.05061.x.

Kraguljac NV, White DM, Reid MA, Lahti AC. Increased hippocampal glutamate and volumetric deficits in unmedicated patients with schizophrenia. JAMA Psychiatry. 2013;70:1294–302.

Bogerts B, Lieberman JA, Ashtari M, Bilder RM, Degreef G, Lerner G, et al. Hippocampus-amygdala volumes and psychopathology in chronic schizophrenia. Biol Psychiatry. 1993;33:236–46. https://doi.org/10.1016/0006-3223(93)90289-p.

Kay SR, Fiszbein A, Opler LA. The positive and negative syndrome scale (PANSS) for schizophrenia. Schizophrenia Bull. 1987;13:261–76.

Shakory S, Watts JJ, Hafizi S, Da Silva T, Khan S, Kiang M, et al. Hippocampal glutamate metabolites and glial activation in clinical high risk and first episode psychosis. Neuropsychopharmacology. 2018;43:2249–55.

Hafizi S, Guma E, Koppel A, Da Silva T, Kiang M, Houle S, et al. TSPO expression and brain structure in the psychosis spectrum. Brain Behav Immun. 2018;74:79–85.

Appelbaum PS, Grisso T. MacArthur competence assessment tool for clinical research (MacCAT-CR): professional resource press/professional resource exchange. 2001.

Rusjan PM, Wilson AA, Mizrahi R, Boileau I, Chavez SE, Lobaugh NJ, et al. Mapping human brain fatty acid amide hydrolase activity with PET. J Cereb Blood Flow Metab. 2013;33:407–14. doi:jcbfm2012180 [pii] 10.1038/jcbfm.2012.180.

Alexander JP, Cravatt BF. Mechanism of carbamate inactivation of FAAH: implications for the design of covalent inhibitors and in vivo functional probes for enzymes. Chem Biol. 2005;12:1179–87.

Mileni M, Kamtekar S, Wood DC, Benson TE, Cravatt BF, Stevens RC. Crystal structure of fatty acid amide hydrolase bound to the carbamate inhibitor URB597: discovery of a deacylating water molecule and insight into enzyme inactivation. J Mol Biol. 2010;400:743–54.

Wilson AA, Garcia A, Parkes J, Houle S, Tong J, Vasdev N. [11C]CURB: Evaluation of a novel radiotracer for imaging fatty acid amide hydrolase by positron emission tomography. Nucl Med Biol. 2011;38:247–53. https://doi.org/10.1016/j.nucmedbio.2010.08.001.

Rusjan P, Mamo D, Ginovart N, Hussey D, Vitcu I, Yasuno F, et al. An automated method for the extraction of regional data from PET images. Psychiatry Res Neuroimaging. 2006;147:79–89.

Provencher SW. LCModel & LCMgui user's manual. LCModel Version. 2014;6:2–3.

Avants BB, Tustison NJ, Song G, Cook PA, Klein A, Gee JC. A reproducible evaluation of ANTs similarity metric performance in brain image registration. Neuroimage. 2011;54:2033–44.

Eskildsen SF, Coupé P, Fonov V, Manjón JV, Leung KK, Guizard N, et al. BEaST: brain extraction based on nonlocal segmentation technique. NeuroImage. 2012;59:2362–73.

Chakravarty MM, Steadman P, van Eede MC, Calcott RD, Gu V, Shaw P, et al. Performing label‐fusion‐based segmentation using multiple automatically generated templates. Hum Brain Mapp. 2013;34:2635–54.

Pipitone J, Park MTM, Winterburn J, Lett TA, Lerch JP, Pruessner JC, et al. Multi-atlas segmentation of the whole hippocampus and subfields using multiple automatically generated templates. Neuroimage. 2014;101:494–512.

Winterburn JL, Pruessner JC, Chavez S, Schira MM, Lobaugh NJ, Voineskos AN, et al. A novel in vivo atlas of human hippocampal subfields using high-resolution 3 T magnetic resonance imaging. Neuroimage. 2013;74:254–65.

Collins DL, Pruessner JC. Towards accurate, automatic segmentation of the hippocampus and amygdala from MRI by augmenting ANIMAL with a template library and label fusion. Neuroimage. 2010;52:1355–66. https://doi.org/10.1016/j.neuroimage.2010.04.193.

Hädel S, Wirth C, Rapp M, Gallinat J, Schubert F. Effects of age and sex on the concentrations of glutamate and glutamine in the human brain. J Magn Reson Imaging. 2013;38:1480–7.

Roalf DR, Sydnor VJ, Woods M, Wolk DA, Scott JC, Reddy R, et al. A quantitative meta-analysis of brain glutamate metabolites in aging. Neurobiol Aging. 2020;95:240–9. https://doi.org/10.1016/j.neurobiolaging.2020.07.015.

Walhovd KB, Westlye LT, Amlien I, Espeseth T, Reinvang I, Raz N, et al. Consistent neuroanatomical age-related volume differences across multiple samples. Neurobiol Aging. 2011;32:916–32. https://doi.org/10.1016/j.neurobiolaging.2009.05.013.

Andreasen NC, Pressler M, Nopoulos P, Miller D, Ho BC. Antipsychotic dose equivalents and dose-years: a standardized method for comparing exposure to different drugs. Biol Psychiatry. 2010;67:255–62. https://doi.org/10.1016/j.biopsych.2009.08.040.

Borgan F, Veronese M, Reis Marques T, Lythgoe DJ, Howes O. Association between cannabinoid 1 receptor availability and glutamate levels in healthy controls and drug-free patients with first episode psychosis: a multi-modal PET and 1H-MRS study. Eur Archives Psychiatry Clin Neurosci. 2020. https://doi.org/10.1007/s00406-020-01191-2.

Kraguljac NV, Frolich MA, Tran S, White DM, Nichols N, Barton-McArdle A, et al. Ketamine modulates hippocampal neurochemistry and functional connectivity: a combined magnetic resonance spectroscopy and resting-state fMRI study in healthy volunteers. Mol Psychiatry. 2017;22:562–9. https://doi.org/10.1038/mp.2016.122.

Rizos E, Papathanasiou M, Michalopoulou P, Mazioti A, Douzenis A, Kastania A, et al. Association of serum BDNF levels with hippocampal volumes in first psychotic episode drug-naive schizophrenic patients. Schizophr Res. 2011;129:201–4.

Bambico FR, Gobbi G. The cannabinoid CB1 receptor and the endocannabinoid anandamide: possible antidepressant targets. Expert Opin Ther Targets. 2008;12:1347–66. https://doi.org/10.1517/14728222.12.11.1347.

Kim M, Snowden S, Suvitaival T, Ali A, Merkler DJ, Ahmad T, et al. Primary fatty amides in plasma associated with brain amyloid burden, hippocampal volume, and memory in the European Medical Information Framework for Alzheimer's Disease biomarker discovery cohort. Alzheimer's Dement. 2019;15:817–27. https://doi.org/10.1016/j.jalz.2019.03.004.

Heyman E, Gamelin F-X, Goekint M, Piscitelli F, Roelands B, Leclair E, et al. Intense exercise increases circulating endocannabinoid and BDNF levels in humans—possible implications for reward and depression. Psychoneuroendocrinology. 2012;37:844–51.

Boileau I, Rusjan PM, Williams B, Mansouri E, Mizrahi R, De Luca V, et al. Blocking of fatty acid amide hydrolase activity with PF-04457845 in human brain: a positron emission tomography study with the novel radioligand [C]CURB. J Cereb Blood Flow Metab. 2015. https://doi.org/10.1038/jcbfm.2015.133.

Snyder J, Wilman A. Field strength dependence of PRESS timings for simultaneous detection of glutamate and glutamine from 1.5 to 7T. J Magn Reson. 2010;203:66–72. https://doi.org/10.1016/j.jmr.2009.12.002.

Merritt K, Egerton A, Kempton MJ, Taylor MJ, McGuire PK. Nature of glutamate alterations in schizophrenia: a meta-analysis of proton magnetic resonance spectroscopy studies. JAMA Psychiatry. 2016;73:665–74.

Agarwal N, Renshaw P. Proton MR spectroscopy–detectable major neurotransmitters of the brain: Biology and possible clinical applications. Am J Neuroradiol. 2012;33:595–602.

Adriano F, Caltagirone C, Spalletta G. Hippocampal volume reduction in first-episode and chronic schizophrenia: a review and meta-analysis. Neuroscientist. 2012;18:180–200.

Goff DC, Zeng B, Ardekani BA, Diminich ED, Tang Y, Fan X, et al. Association of hippocampal atrophy with duration of untreated psychosis and molecular biomarkers during initial antipsychotic treatment of first-episode psychosis. JAMA Psychiatry. 2018;75:370–8.

Briend F, Nelson EA, Maximo O, Armstrong WP, Kraguljac NV, Lahti AC. Hippocampal glutamate and hippocampus subfield volumes in antipsychotic-naive first episode psychosis subjects and relationships to duration of untreated psychosis. Transl Psychiatry. 2020;10:1–11.

McHugo M, Talati P, Woodward ND, Armstrong K, Blackford JU, Heckers S. Regionally specific volume deficits along the hippocampal long axis in early and chronic psychosis. NeuroImage Clin. 2018;20:1106–14. https://doi.org/10.1016/j.nicl.2018.10.021.

Wannan CM, Cropley VL, Chakravarty MM, Van Rheenen TE, Mancuso S, Bousman C, et al. Hippocampal subfields and visuospatial associative memory across stages of schizophrenia-spectrum disorder. Psychological Med. 2019;49:2452–62.

Tabatadze N, Huang G, May RM, Jain A, Woolley CS. Sex differences in molecular signaling at inhibitory synapses in the Hippocampus. J Neurosci. 2015;35:11252–65. https://doi.org/10.1523/jneurosci.1067-15.2015.
Acknowledgements
The authors would like to thank the members of the Neuroimaging in Early Psychosis laboratory for their contributions toward data collection, the staff of the CAMH Research Imaging Centre, and Marcos Sanches for biostatistical support and advice.
Funding
This work was supported by a NARSAD Independent Investigator's Grant (21977) and grants from the National Institute of Mental Health (NIMH) to RM (R21MH103717 and R01MH113564). This research was supported, in part, by funding to RFT from the Canada Research Chairs program (Canada Research Chair in Pharmacogenomics), Canadian Institutes of Health Research (Foundation grant FDN-154294).
Ethics declarations
Competing interests
RM is part of the SAB for a particular program at BI. RFT has consulted for Apotex and Quinn Emanuel, and Ethismos on unrelated topics. All other authors declare no competing interests.
Additional information
Publisher's note Springer Nature remains neutral with regard to jurisdictional claims in published maps and institutional affiliations.
Supplementary information
About this article
Cite this article
Watts, J.J., Guma, E., Chavez, S. et al. In vivo brain endocannabinoid metabolism is related to hippocampus glutamate and structure – a multimodal imaging study with PET, 1H-MRS, and MRI. Neuropsychopharmacol. 47, 1984–1991 (2022). https://doi.org/10.1038/s41386-022-01384-4
Received:

Revised:

Accepted:

Published:

Issue Date:

DOI: https://doi.org/10.1038/s41386-022-01384-4