Abstract
Social reinforcement-based treatments are effective for many, but not all, people with addictions to drugs. We recently developed an operant rat model that mimics features of one such treatment, the community-reinforcement approach. In this model, rats uniformly choose social interaction over methamphetamine or heroin. Abstinence induced by social preference protects against the incubation of drug-seeking that would emerge during forced abstinence. Here, we determined whether these findings generalize to cocaine and whether delaying or increasing effort for social interaction could reveal possibly human-relevant individual differences in responsiveness. We trained male and female rats for social self-administration (6 days) and then for cocaine self-administration, initially for 2-h/day for 4 days, and then for 12-h/day continuously or intermittently for 8 days. We assessed relapse to cocaine seeking after 1 and 15 days. Between tests, the rats underwent either forced abstinence or social-choice-induced abstinence. After establishing stable social preference, we manipulated the delay for both rewards or for social reward alone, or the response requirements (effort) for social reward. Independent of cocaine-access conditions and sex, operant social interaction inhibited cocaine self-administration and prevented incubation of cocaine seeking. Preference for social access was decreased by the delay of both rewards or social reward alone, or by increased response requirements for social reward, with notable individual variability. This choice procedure can identify mechanisms of individual differences in an animal model of cocaine use and could thereby help screen medications for people who are relatively unresponsive to treatments based on rewarding social interaction.
Your institute does not have access to this article
Access options
Subscribe to Journal
Get full journal access for 1 year
$119.00
only $9.15 per issue
All prices are NET prices.
VAT will be added later in the checkout.
Tax calculation will be finalised during checkout.
Buy article
Get time limited or full article access on ReadCube.
$32.00
All prices are NET prices.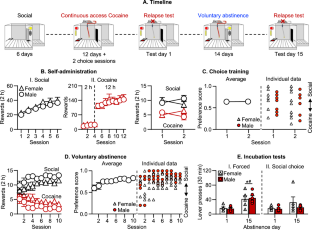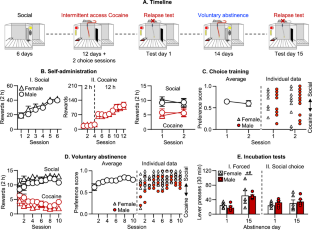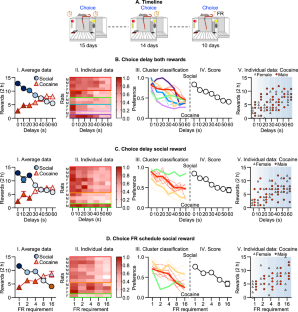 References
Granfield R, Cloud W. Social context and "natural recovery": the role of social capital in the resolution of drug-associated problems. Subst Use Misuse. 2001;36:1543–70.

Nutt DJ, King LA, Phillips LD.Independent Scientific Committee on Drugs Drug harms in the UK: a multicriteria decision analysis. Lancet. 2010;376:1558–65.

Marlatt GA, Baer JS, Donovan DM, Kivlahan DR. Addictive behaviors: etiology and treatment. Annu Rev Psychol. 1988;39:223–52.

Pickard H. Responsibility without blame for addiction. Neuroethics. 2017;10:169–80.

Heilig M, MacKillop J, Martinez D, Rehm J, Leggio L, Vanderschuren L. Addiction as a brain disease revised: why it still matters, and the need for consilience. Neuropsychopharmacology. 2021;46:1715–23.

Aklin WM, Wong CJ, Hampton J, Svikis DS, Stitzer ML, Bigelow GE, et al. A therapeutic workplace for the long-term treatment of drug addiction and unemployment: eight-year outcomes of a social business intervention. J Subst Abus Treat. 2014;47:329–38.

Hunt WA, Barnett LW, Branch LG. Relapse rates in addiction programs. J Clin Psychol. 1971;27:455–6.

Silverman K, DeFulio A, Sigurdsson SO. Maintenance of reinforcement to address the chronic nature of drug addiction. Prev Med. 2012;55:S46–53. Suppl

Banks ML, Negus SS. Insights from preclinical choice models on treating drug addiction. Trends Pharm Sci. 2017;38:181–94.

Azrin NH. Improvements in the community-reinforcement approach to alcoholism. Behav Res. Ther. 1976;14:339–48.

Azrin NH, Acierno R, Kogan ES, Donohue B, Besalel VA, McMahon PT. Follow-up results of supportive versus behavioral therapy for illicit drug use. Behav Res. Ther. 1996;34:41–6.

Stitzer ML, Jones HE, Tuten M, Wong C Community reinforcement approach and contingency management interventions for substance abuse. In: Cox WM, Klinger E, editors. Handbook of motivational counseling: goal-based approaches to assessment and intervention with addiction and other problems. Chichester, UK: John Wiley & Sons, Ltd.; 2011.

Lash SJ, Burden JL, Monteleone BR, Lehmann LP. Social reinforcement of substance abuse treatment aftercare participation: impact on outcome. Addict Behav. 2004;29:337–42.

Regier PS, Redish AD. Contingency management and deliberative decision-making processes. Front Psychiatry. 2015;6:76.

Heilig M, Epstein DH, Nader MA, Shaham Y. Time to connect: bringing social context into addiction neuroscience. Nat Rev Neurosci. 2016;17:592–9.

Havassy BE, Hall SM, Wasserman DA. Social support and relapse: commonalities among alcoholics, opiate users, and cigarette smokers. Addict Behav. 1991;16:235–46.

Venniro M, Zhang M, Caprioli D, Hoots JK, Golden SA, Heins C, et al. Volitional social interaction prevents drug addiction in rat models. Nat Neurosci. 2018;21:1520–29.

Venniro M, Russell TI, Ramsey LA, Richie CT, Lesscher HM, Giovanetti SM, et al. Abstinence-dependent dissociable central amygdala microcircuits control drug craving. Proc Natl Acad Sci USA. 2020;117:8126–34.

Ahmed SH, Koob GF. Transition from moderate to excessive drug intake: change in hedonic set point. Science. 1998;282:298–300.

Zimmer BA, Oleson EB, Roberts DC. The motivation to self-administer is increased after a history of spiking brain levels of cocaine. Neuropsychopharmacology. 2012;37:1901–10.

Deroche-Gamonet V, Belin D, Piazza PV. Evidence for addiction-like behavior in the rat. Science. 2004;305:1014–17.

Piazza PV, Deroche-Gamonet V. A multistep general theory of transition to addiction. Psychopharmacology. 2013;229:387–413.

Venniro M, Russell TI, Zhang M, Shaham Y. Operant social reward decreases incubation of heroin craving in male and female rats. Biol Psychiatry. 2019;86:848–56.

Fredriksson I, Venniro M, Reiner DJ, Chow JJ, Bossert JM, Shaham Y. Animal models of drug relapse and craving after voluntary abstinence: a review. Pharm Rev. 2021;73:1050–83.

Venniro M, Shaham Y. An operant social self-administration and choice model in rats. Nat Protoc. 2020;15:1542–59.

Grimm J, Hope B, Wise R, Shaham Y. Neuroadaptation—incubation of cocaine craving after withdrawal. Nature. 2001;412:141–42.

Ahmed SH, Koob GF. Long-lasting increase in the set point for cocaine self-administration after escalation in rats. Psychopharmacology. 1999;146:303–12.

Kawa AB, Valenta AC, Kennedy RT, Robinson TE. Incentive and dopamine sensitization produced by intermittent but not long access cocaine self-administration. Eur J Neurosci. 2019;50:2663–82.

Lenoir M, Serre F, Cantin L, Ahmed SH. Intense sweetness surpasses cocaine reward. PLoS ONE. 2007;2:e698.

Ahmed SH. Trying to make sense of rodents' drug choice behavior. Prog Neuropsychopharmacol Biol Psychiatry. 2018;87:3–10. Pt A

Caprioli D, Venniro M, Zeric T, Li X, Adhikary S, Madangopal R, et al. Effect of the novel positive allosteric modulator of metabotropic glutamate receptor 2 AZD8529 on incubation of methamphetamine craving after prolonged voluntary abstinence in a rat model. Biol Psychiatry. 2015;78:463–73.

Canchy L, Girardeau P, Durand A, Vouillac-Mendoza C, Ahmed SH. Pharmacokinetics trumps pharmacodynamics during cocaine choice: a reconciliation with the dopamine hypothesis of addiction. Neuropsychopharmacology. 2021;46:288–96.

Core TR. R: a language and environment for statistical computing. Vienna, Austria: R Foundation for Statistical Computing; 2018.

Charrad M, Ghazzali N, Boiteau V, Niknafs A. An R package for determining the relevant number of clusters in a data set. J Stat Softw. 2014;61:1–36.

Genolini C, Alacoque X, Sentenac M, Arnaud C. kml and kml3d: R packages to cluster longitudinal data. J Stat Softw. 2015;65:34.

Solinas M, Chauvet C, Thiriet N, El Rawas R, Jaber M. Reversal of cocaine addiction by environmental enrichment. Proc Natl Acad Sci USA. 2008;105:17145–50.

Zlebnik NE, Carroll ME. Prevention of the incubation of cocaine seeking by aerobic exercise in female rats. Psychopharmacology. 2015;232:3507–13.

Thiel KJ, Painter MR, Pentkowski NS, Mitroi D, Crawford CA, Neisewander JL. Environmental enrichment counters cocaine abstinence-induced stress and brain reactivity to cocaine cues but fails to prevent the incubation effect. Addict Biol. 2012;17:365–77.

Badiani A, Belin D, Epstein D, Calu D, Shaham Y. Opiate versus psychostimulant addiction: the differences do matter. Nat Rev Neurosci. 2011;12:685–700.

De Luca MT, Montanari C, Meringolo M, Contu L, Celentano M, Badiani A. Heroin versus cocaine: opposite choice as a function of context but not of drug history in the rat. Psychopharmacology. 2019;236:787–98.

De Pirro S, Galati G, Pizzamiglio L, Badiani A. The affective and neural correlates of heroin versus cocaine use in addiction are influenced by environmental setting but in opposite directions. J Neurosci. 2018;38:5182–95.

Venniro M, Zhang M, Shaham Y, Caprioli D. Incubation of methamphetamine but not heroin craving after voluntary abstinence in male and female rats. Neuropsychopharmacology. 2017;42:1126–35.

Nicolas C, Zlebnik NE, Farokhnia M, Leggio L, Ikemoto S, Shaham Y. Sex differences in opioid and psychostimulant craving and relapse: a critical review. Pharmacol Rev. 2021; Accepted pending revisions.

Nicolas C, Russell TI, Pierce AF, Maldera S, Holley A, You ZB, et al. Incubation of cocaine craving after intermittent-access self-administration: sex differences and estrous cycle. Biol Psychiatry. 2019;85:915–24.

Kerstetter KA, Aguilar VR, Parrish AB, Kippin TE. Protracted time-dependent increases in cocaine-seeking behavior during cocaine withdrawal in female relative to male rats. Psychopharmacology. 2008;198:63–75.

Campbell EJ, Jin S, Lawrence AJ. Environmental enrichment reduces the propensity to relapse following punishment-imposed abstinence of alcohol seeking. Physiol Behav. 2019;210:112638.

Chauvet C, Goldberg SR, Jaber M, Solinas M. Effects of environmental enrichment on the incubation of cocaine craving. Neuropharmacology 2012;63:635–41.

Ewing S, Ranaldi R. Environmental enrichment facilitates cocaine abstinence in an animal conflict model. Pharm Biochem Behav. 2018;166:35–41.

Mazur JE. An adjusting procedure for studying delayed reinforcement. Quantitative analysis of behavior: the effect of delay and of intervening events on reinforcement value. Hillsdale, NJ: Erlbaum; 1987. p. 55–73.

Smith MA. Peer influences on drug self-administration: social facilitation and social inhibition of cocaine intake in male rats. Psychopharmacology. 2012;224:81–90.

Smith MA, Pitts EG. Social preference and drug self-administration: a preclinical model of social choice within peer groups. Drug Alcohol Depend. 2014;135:140–5.

Ryan RM, Deci EL. On happiness and human potentials: a review of research on hedonic and eudaimonic well-being. Annu Rev Psychol. 2001;52:141–66.

Baumeister RF, Leary MR. The need to belong: desire for interpersonal attachments as a fundamental human motivation. Psychol Bull. 1995;117:497–529.

Knapp KS, Brick TR, Bunce SC, Deneke E, Cleveland HH. Daily meaningfulness among patients with opioid use disorder: examining the role of social experiences during residential treatment and links with post-treatment relapse. Addict Behav. 2021;119:106914.

van Agteren J, Bartholomaeus J, Steains E, Lo L, Gerace A. Using a technology-based meaning and purpose intervention to improve well-being: a randomised controlled study. J Happiness Stud. 2021:1–21.

Lubarsky KE, Avery JD. Dignity therapy for alcohol use disorder. Am J Psychiatry. 2016;173:90.
Funding
The authors declare that they do not have any conflicts of interest (financial or otherwise) related to the text of the paper. The research was supported by the Intramural Research Program of NIDA, a grant from NIDA [DA047976] (MV), and the NARSAD Distinguished Investigator Grant Award (YS).
Ethics declarations
Competing interests
The authors declare no competing interests.
Additional information
Publisher's note Springer Nature remains neutral with regard to jurisdictional claims in published maps and institutional affiliations.
Supplementary information
About this article
Cite this article
Venniro, M., Panlilio, L.V., Epstein, D.H. et al. The protective effect of operant social reward on cocaine self-administration, choice, and relapse is dependent on delay and effort for the social reward. Neuropsychopharmacol. 46, 2350–2357 (2021). https://doi.org/10.1038/s41386-021-01148-6
Received:

Revised:

Accepted:

Published:

Issue Date:

DOI: https://doi.org/10.1038/s41386-021-01148-6
Further reading
Jonathan J. Chow
Nicholas J. Beacher
Yavin Shaham

Psychopharmacology (2022)

Psychopharmacology (2022)

Sharona Sedighim
Lieselot LG Carrette
Olivier George

Psychopharmacology (2021)