Abstract
Poor inhibitory control and heightened feelings of stimulation after alcohol are two well-established risk factors for alcohol use disorder (AUD). Although these risk factors have traditionally been viewed as orthogonal, recent evidence suggests that the two are related and may share common neurobiological mechanisms. Here we examined the degree to which neural activity during inhibition was associated with subjective reports of stimulation following alcohol. To assess neural changes during inhibition, moderate alcohol drinkers performed a stop signal task during fMRI without drug. To assess subjective responses to alcohol they ingested alcohol (0.8 g/kg) or placebo beverages under double-blind conditions and provided subjective reports of stimulation and sedation. Feelings of stimulation following alcohol were inversely associated with activity in the supplementary motor area, insula, and middle frontal gyrus during inhibition (successful stop trials compared to go trials). Feelings of sedation did not correlate with brain activation. These results extend previous findings suggesting that poor inhibitory control is associated with more positive subjective responses to alcohol. These interrelated risk factors may contribute to susceptibility to future excessive alcohol use, and ultimately lead to neurobiological targets to prevent or treat AUD.
Access options
Subscribe to Journal
Get full journal access for 1 year
$399.00
only $30.69 per issue
All prices are NET prices.
VAT will be added later in the checkout.
Tax calculation will be finalised during checkout.
Rent or Buy article
Get time limited or full article access on ReadCube.
from$8.99
All prices are NET prices.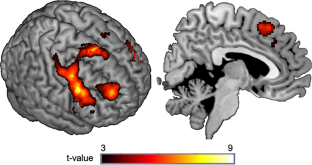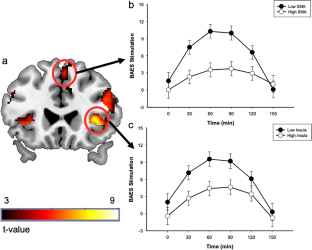 References
1.

Heitzeg MM, Cope LM, Martz ME, Hardee JE. Neuroimaging risk markers for substance abuse: recent findings on inhibitory control and reward system functioning. Curr Addict Rep. 2015;2:91–103.

2.

Rubio G, Jiménez M, Rodríguez‐Jiménez R, Martínez I, Ávila C, Ferre F, et al. The role of behavioral impulsivity in the development of alcohol dependence: a 4‐year follow‐up study. Alcohol Clin Exp Res. 2008;32:1681–7.

3.

Fernie G, Peeters M, Gullo MJ, Christiansen P, Cole JC, Sumnall H, et al. Multiple behavioural impulsivity tasks predict prospective alcohol involvement in adolescents. Addiction. 2013;108:1916–23.

4.

Whelan R, Watts R, Orr CA, Althoff RR, Artiges E, Banaschewski T, et al. Neuropsychosocial profiles of current and future adolescent alcohol misusers. Nature. 2014;512:185–9.

5.

King AC, de Wit H, McNamara PJ, Cao D. Rewarding, stimulant, and sedative alcohol responses and relationship to future binge drinking. Arch Gen Psychiatry. 2011;68:389–99.

6.

King AC, McNamara PJ, Hasin DS, Cao D. Alcohol challenge responses predict future alcohol use disorder symptoms: a 6-year prospective study. Biol Psychiatry. 2014;75:798–806.

7.

King AC, Hasin D, O'Connor SJ, McNamara PJ, Cao D. A prospective 5-year re-examination of alcohol response in heavy drinkers progressing in alcohol use disorder. Biol Psychiatry. 2016;79:489–98.

8.

King AC, Vena A, Hasin D, de Wit H, O'Connor SJ, Cao D Subjective responses to alcohol in the development and maintenance of AUD. Am J Psychiatry. In press.

9.

Chutuape MA, De Wit H. Relationship between subjective effects and drug preferences: ethanol and diazepam. Drug Alcohol Depend. 1994;34:243–51.

10.

Beckwith SW, Czachowski CL. Alcohol‐preferring P rats exhibit elevated motor impulsivity concomitant with operant responding and self‐administration of alcohol. Alcohol Clin Exp Res. 2016;40:1100–10.

11.

Bowers BJ, Wehner JM. Ethanol consumption and behavioral impulsivity are increased in protein kinase Cγ null mutant mice. J Neurosci. 2001;21:RC180.

12.

Logue SF, Swartz RJ, Wehner JM. Genetic correlation between performance on an appetitive‐signaled nosepoke task and voluntary ethanol consumption. Alcohol Clin Exp Res. 1998;22:1912–20.

13.

Wilhelm CJ, Reeves JM, Phillips TJ, Mitchell SH. Mouse lines selected for alcohol consumption differ on certain measures of impulsivity. Alcohol Clin Exp Res. 2007;31:1839–45.

14.

Weafer J, Phan KL, De Wit H. Poor inhibitory control is associated with greater stimulation and less sedation following alcohol. Psychopharmacology. 2020;237:825–32.

15.

Berey BL, Leeman RF, Pittman B, O'Malley SS. Relationships of impulsivity and subjective response to alcohol use and related problems. J Stud Alcohol Drugs. 2017;78:835–43.

16.

Berey BL, Leeman RF, Chavarria J, King AC. Relationships between generalized impulsivity and subjective stimulant and sedative responses following alcohol administration. Psychol Addict Behav. 2019;33:616.

17.

Leeman RF, Ralevski E, Limoncelli D, Pittman B, O'Malley SS, Petrakis IL. Relationships between impulsivity and subjective response in an IV ethanol paradigm. Psychopharmacology. 2014;231:2867–76.

18.

Boileau I, Assaad JM, Pihl RO, Benkelfat C, Leyton M, Diksic M, et al. Alcohol promotes dopamine release in the human nucleus accumbens. Synapse. 2003;49:226–31.

19.

Brunelle C, Assaad JM, Barrett SP, Ávila C, Conrod PJ, Tremblay RE, et al. Heightened heart rate response to alcohol intoxication is associated with a reward‐seeking personality profile. Alcohol: Clin Exp Res. 2004;28:394–401.

20.

Weafer J, de Wit H. Inattention, impulsive action, and subjective response to d-amphetamine. Drug Alcohol Depend. 2013;133:127–33.

21.

Weafer J, Gorka SM, Hedeker D, Dzemidzic M, Kareken DA, Phan KL, et al. Associations between behavioral and neural correlates of inhibitory control and amphetamine reward sensitivity. Neuropsychopharmacology 2017;42:1905–13.

22.

Aron AR, Robbins TW, Poldrack RA. Inhibition and the right inferior frontal cortex. Trends Cogn Sci. 2004;8:170–7.

23.

Bari A, Robbins TW. Inhibition and impulsivity: behavioral and neural basis of response control. Prog Neurobiol. 2013;108:44–79.

24.

Congdon E, Mumford JA, Cohen JR, Galvan A, Aron AR, Xue G, et al. Engagement of large-scale networks is related to individual differences in inhibitory control. Neuroimage. 2010;53:653–63.

25.

Boehler CN, Appelbaum LG, Krebs RM, Hopf JM, Woldorff MG. Pinning down response inhibition in the brain—conjunction analyses of the stop-signal task. Neuroimage. 2010;52:1621–32.

26.

Duann JR, Ide JS, Luo X, Li CS. Functional connectivity delineates distinct roles of the inferior frontal cortex and presupplementary motor area in stop signal inhibition. J Neurosci. 2009;29:10171–9.

27.

Ghahremani DG, Lee B, Robertson CL, Tabibnia G, Morgan AT, De Shetler N, et al. Striatal dopamine D2/D3 receptors mediate response inhibition and related activity in frontostriatal neural circuitry in humans. J Neurosci. 2012;32:7316–24.

28.

Gilman JM, Ramchandani VA, Crouss T, Hommer DW. Subjective and neural responses to intravenous alcohol in young adults with light and heavy drinking patterns. Neuropsychopharmacology. 2012;37:467–77.

29.

Gilman JM, Ramchandani VA, Davis MB, Bjork JM, Hommer DW. Why we like to drink: a functional magnetic resonance imaging study of the rewarding and anxiolytic effects of alcohol. J Neurosci. 2008;28:4583–91.

30.

Völlm BA, De Araujo IE, Cowen PJ, Rolls ET, Kringelbach ML, Smith KA, et al. Methamphetamine activates reward circuitry in drug naive human subjects. Neuropsychopharmacology. 2004;29:1715–22.

31.

Weafer J, Ross TJ, O'Connor S, Stein EA, de Wit H, Childs E. Striatal activity correlates with stimulant-like effects of alcohol in healthy volunteers. Neuropsychopharmacology. 2018;43:2532–8.

32.

Weafer J, Crane NA, Gorka SM, Phan KL, de Wit H. Neural correlates of inhibition and reward are negatively associated. Neuroimage. 2019;196:188–94.

33.

Kareken DA, Dzemidzic M, Wetherill L, Eiler W, Oberlin BG, Harezlak J, et al. Family history of alcoholism interacts with alcohol to affect brain regions involved in behavioral inhibition. Psychopharmacology. 2013;228:335–45.

34.

Rubia K, Smith AB, Brammer MJ, Taylor E. Right inferior prefrontal cortex mediates response inhibition while mesial prefrontal cortex is responsible for error detection. Neuroimage. 2003;20:351–8.

35.

Martin CS, Earleywine M, Musty RE, Perrine MW, Swift RM. Development and validation of the biphasic alcohol effects scale. Alcohol Clin Exp Res. 1993;17:140–6.

36.

Fillmore MT. Cognitive preoccupation with alcohol and binge drinking in college students: alcohol-induced priming of the motivation to drink. Psychol Addict Behav. 2001;15:325.

37.

Mulvihill LE, Skilling TA, Vogel-Sprott M. Alcohol and the ability to inhibit behavior in men and women. J Stud Alcohol. 1997;58:600–5.

38.

Weafer J, Gallo DA, de Wit H. Effect of alcohol on encoding and consolidation of memory for alcohol‐related images. Alcohol Clin Exp Res. 2016;40:1540–7.

39.

Jenkinson M, Bannister P, Brady M, Smith S. Improved optimization for the robust and accurate linear registration and motion correction of brain images. Neuroimage. 2002;17:825–41.

40.

Smith SM. Fast robust automated brain extraction. Hum brain Mapp. 2002;17:143–55.

41.

Jenkinson M, Smith S. A global optimisation method for robust affine registration of brain images. Med image Anal. 2001;5:143–56.

42.

Andersson JL, Jenkinson M, Smith S Non-linear registration, aka spatial normalisation. FMRIB Technical Report TR07JA2. FMRIB Analysis Group of the University of Oxford. 2007.

43.

Beckman I, Richard D Rutgers University-Mason Gross School of the Arts. 2014

44.

Pruim RH, Mennes M, van Rooij D, Llera A, Buitelaar JK, Beckmann CF. ICA-AROMA: A robust ICA-based strategy for removing motion artifacts from fMRI data. Neuroimage. 2015;112:267–77.

45.

Logan GD, Schachar RJ, Tannock R. Impulsivity and inhibitory control. Psychological Sci. 1997;8:60–64.

46.

Tzourio-Mazoyer N, Landeau B, Papathanassiou D, Crivello F, Etard O, Delcroix N, et al. Automated anatomical labeling of activations in SPM using a macroscopic anatomical parcellation of the MNI MRI single-subject brain. Neuroimage. 2002;15:273–89.

47.

Oswald LM, Wong DF, McCaul M, Zhou Y, Kuwabara H, Choi L, et al. Relationships among ventral striatal dopamine release, cortisol secretion, and subjective responses to amphetamine. Neuropsychopharmacology. 2005;30:821–32.

48.

Courtney KE, Ghahremani DG, Ray LA. Fronto‐striatal functional connectivity during response inhibition in alcohol dependence. Addict Biol. 2013;18:593–604.

49.

Hedeker D, Gibbons RD Longitudinal data analysis. John Wiley & Sons, Hoboken, NJ; 2006.

50.

Radoman M, Crane NA, Gorka SM, Weafer J, Langenecker SA, de Wit H, et al. Striatal activation to monetary reward is associated with alcohol reward sensitivity. Neuropsychopharmacology. 2021;46:343–50.

51.

Gu R, Huang W, Camilleri J, Xu P, Wei P, Eickhoff SB, et al. Love is analogous to money in human brain: coordinate-based and functional connectivity meta-analyses of social and monetary reward anticipation. Neurosci Biobehav Rev. 2019;100:108–28.

52.

Plichta MM, Wolf I, Hohmann S, Baumeister S, Boecker R, Schwarz AJ, et al. Simultaneous EEG and fMRI reveals a causally connected subcortical-cortical network during reward anticipation. J Neurosci. 2013;33:14526–33.

53.

Koob GF, Volkow ND. Neurobiology of addiction: a neurocircuitry analysis. Lancet Psychiat. 2016;3:760–73.

54.

Paulus MP, Stewart JL. Interoception and drug addiction. Neuropharmacology. 2014;76:342–50.

55.

Peters SK, Dunlop K, Downar J. Cortico-striatal-thalamic loop circuits of the salience network: a central pathway in psychiatric disease and treatment. Front Syst Neurosci. 2016;27:104. 10

56.

Droutman V, Read SJ, Bechara A. Revisiting the role of the insula in addiction. Trends Cogn Sci. 2015;19:414–20.

57.

Chang LJ, Yarkoni T, Khaw MW, Sanfey AG. Decoding the role of the insula in human cognition: functional parcellation and large-scale reverse inference. Cereb Cortex. 2013;23:739–49.

58.

Craig AD. Significance of the insula for the evolution of human awareness of feelings from the body. Ann NY Acad Sci. 2011;1225:72–82.

59.

Craig AD. How do you feel–now? The anterior insula and human awareness. Nat Rev Neurosci. 2009;10:59–70.

60.

Critchley HD, Wiens S, Rotshtein P, Öhman A, Dolan RJ. Neural systems supporting interoceptive awareness. Nat Neurosci. 2004;7:189–95.

61.

Naqvi NH, Bechara A. The insula and drug addiction: an interoceptive view of pleasure, urges, and decision-making. Brain Struct Funct. 2010;214:435–50.

62.

Zhu W, Volkow ND, Ma Y, Fowler JS, Wang GJ. Relationship between ethanol-induced changes in brain regional metabolism and its motor, behavioural and cognitive effects. Alcohol Alcohol. 2004;39:53–58.

63.

Smith CT, Dang LC, Cowan RL, Kessler RM, Zald DH. Variability in paralimbic dopamine signaling correlates with subjective responses to d-amphetamine. Neuropharmacology. 2016;108:394–402.

64.

Scuppa G, Tambalo S, Pfarr S, Sommer WH, Bifone A. Aberrant insular cortex connectivity in abstinent alcohol‐dependent rats is reversed by dopamine D3 receptor blockade. Addiction Biol. 2020;25:e12744.

65.

Haaranen M, Scuppa G, Tambalo S, Järvi V, Bertozzi SM, Armirotti A, et al. Anterior insula stimulation suppresses appetitive behavior while inducing forebrain activation in alcohol-preferring rats. Transl Psychiatry. 2020;10:1–11.

66.

Casey KF, Cherkasova MV, Larcher K, Evans AC, Baker GB, Dagher A, et al. Individual differences in frontal cortical thickness correlate with the d-amphetamine-induced striatal dopamine response in humans. J Neurosci. 2013;33:15285–94.

67.

Watanabe T, Hanajima R, Shirota Y, Tsutsumi R, Shimizu T, Hayashi T, et al. Effects of rTMS of pre-supplementary motor area on fronto basal ganglia network activity during stop-signal task. J Neurosci. 2015;35:4813–23.

68.

Xu B, Sandrini M, Wang WT, Smith JF, Sarlls JE, Awosika O, et al. PreSMA stimulation changes task‐free functional connectivity in the fronto‐basal‐ganglia that correlates with response inhibition efficiency. Hum Brain Mapp. 2016;37:3236–49.

69.

Schmaal L, Joos L, Koeleman M, Veltman DJ, van den Brink W, Goudriaan AE. Effects of modafinil on neural correlates of response inhibition in alcohol-dependent patients. Biol Psychiatry. 2013;73:211–8.

70.

Murray CH, Weafer J, de Wit H. Stability of acute responses to drugs in humans across repeated testing: Findings with alcohol and amphetamine. Drug Alcohol Depend. 2020;212:107989.

71.

Gan G, Guevara A, Marxen M, Neumann M, Jünger E, Kobiella A, et al. Alcohol-induced impairment of inhibitory control is linked to attenuated brain responses in right fronto-temporal cortex. Biol Psychiatry. 2014;76:698–707.
Additional information
Publisher's note Springer Nature remains neutral with regard to jurisdictional claims in published maps and institutional affiliations.
Supplementary information
About this article
Cite this article
Weafer, J., Gorka, S.M., Dzemidzic, M. et al. Neural correlates of inhibitory control are associated with stimulant-like effects of alcohol. Neuropsychopharmacol. (2021). https://doi.org/10.1038/s41386-021-01014-5
Received:

Revised:

Accepted:

Published: