Abstract
Dorsal striatal manipulations including stimulation of dopamine release and activation of medium spiny neurons (MSNs) are sufficient to drive reinforcement-based learning. Glutamatergic innervation of the striatum by the cortex and thalamus is a critical determinant of MSN activity and local regulation of dopamine release. However, the relationship between striatal glutamatergic afferents and behavioral reinforcement is not well understood. We evaluated the reinforcing properties of optogenetic stimulation of thalamostriatal terminals, which are associated with vesicular glutamate transporter 2 (Vglut2) expression, in the dorsomedial striatum (DMS), a region implicated in goal-directed behaviors. In mice expressing channelrhodopsin-2 (ChR2) under control of the Vglut2 promoter, optical stimulation of the DMS reinforced operant lever-pressing behavior. Mice also acquired operant self-stimulation of thalamostriatal terminals when ChR2 expression was virally targeted to the intralaminar thalamus. Stimulation trains that supported operant responding evoked dopamine release in the DMS and excitatory postsynaptic currents in DMS MSNs. Our previous work demonstrated that the presynaptic G protein-coupled receptor metabotropic glutamate receptor 2 (mGlu2) robustly inhibits glutamate and dopamine release induced by activation of thalamostriatal afferents. Thus, we examined the regulation of thalamostriatal self-stimulation by mGlu2. Administration of an mGlu2/3 agonist or an mGlu2-selective positive allosteric modulator reduced self-stimulation. Conversely, blockade of these receptors increased thalamostriatal self-stimulation, suggesting that endogenous activation of these receptors negatively modulates the reinforcing properties of thalamostriatal activity. These findings demonstrate that stimulation of thalamic terminals in the DMS is sufficient to reinforce a self-initiated action, and that thalamostriatal reinforcement is constrained by mGlu2 activation.
Access options
Subscribe to Journal
Get full journal access for 1 year
$568.00
only $43.69 per issue
All prices are NET prices.
VAT will be added later in the checkout.
Rent or Buy article
Get time limited or full article access on ReadCube.
from$8.99
All prices are NET prices.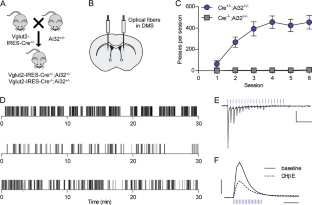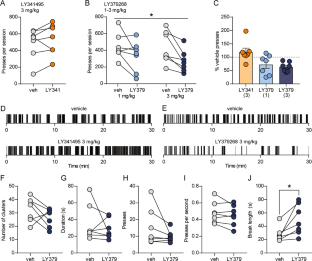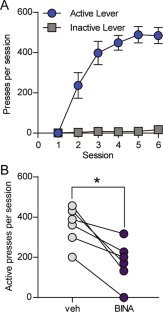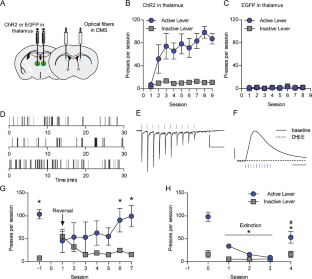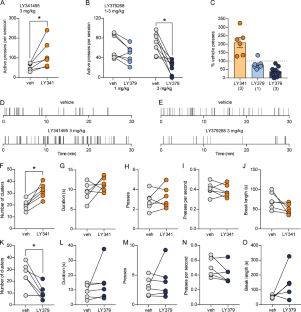 References
1.

Graybiel AM, Grafton ST. The striatum: where skills and habits meet. Cold Spring Harb Perspect Biol. 2015;7:a021691.

2.

Phillips AG, Carter DA, Fibiger HC. Dopaminergic substrates of intracranial self-stimulation in the caudate-putamen. Brain Res. 1976;104:221–32.

3.

Prado-Alcala R, Wise RA. Brain stimulation reward and dopamine terminal fields. I. Caudate-putamen, nucleus accumbens and amygdala. Brain Res. 1984;297:265–73.

4.

Rossi MA, Sukharnikova T, Hayrapetyan VY, Yang L, Yin HH. Operant self-stimulation of dopamine neurons in the substantia nigra. PLoS ONE. 2013;8:e65799

5.

Ilango A, Kesner AJ, Keller KL, Stuber GD, Bonci A, Ikemoto S. Similar roles of substantia nigra and ventral tegmental dopamine neurons in reward and aversion. J Neurosci. 2014;34:817–22.

6.

Kravitz AV, Tye LD, Kreitzer AC. Distinct roles for direct and indirect pathway striatal neurons in reinforcement. Nat Neurosci. 2012;15:816–8.

7.

Vicente AM, Galvao-Ferreira P, Tecuapetla F, Costa RM. Direct and indirect dorsolateral striatum pathways reinforce different action strategies. Curr Biol. 2016;26:R267–269.

8.

Lalive AL, Lien AD, Roseberry TK, Donahue CH, Kreitzer AC. Motor thalamus supports striatum-driven reinforcement. Elife. 2018;7:e34032

9.

Smith Y, Galvan A, Ellender TJ, Doig N, Villalba RM, Huerta-Ocampo I, et al. The thalamostriatal system in normal and diseased states. Front Syst Neurosci. 2014;8:5.

10.

Hunnicutt BJ, Jongbloets BC, Birdsong WT, Gertz KJ, Zhong H, Mao T. A comprehensive excitatory input map of the striatum reveals novel functional organization. Elife. 2016;5:e19103

11.

Hintiryan H, Foster NN, Bowman I, Bay M, Song MY, Gou L. et al. The mouse cortico-striatal projectome. Nat Neurosci. 2016;19:1100–14.

12.

Balleine BW, O'Doherty JP. Human and rodent homologies in action control: corticostriatal determinants of goal-directed and habitual action. Neuropsychopharmacology 2010;35:48–69.

13.

Bradfield LA, Hart G, Balleine BW. The role of the anterior, mediodorsal, and parafascicular thalamus in instrumental conditioning. Front Syst Neurosci. 2013;7:51.

14.

Lacey CJ, Bolam JP, Magill PJ. Novel and distinct operational principles of intralaminar thalamic neurons and their striatal projections. J Neurosci. 2007;27:4374–84.

15.

Ellender TJ, Harwood J, Kosillo P, Capogna M, Bolam JP. Heterogeneous properties of central lateral and parafascicular thalamic synapses in the striatum. J Physiol. 2013;591:257–72.

16.

Huerta-Ocampo I, Mena-Segovia J, Bolam JP. Convergence of cortical and thalamic input to direct and indirect pathway medium spiny neurons in the striatum. Brain Struct Funct. 2014;219:1787–1800.

17.

Doig NM, Moss J, Bolam JP. Cortical and thalamic innervation of direct and indirect pathway medium-sized spiny neurons in mouse striatum. J Neurosci 2010;30:14610–8.

18.

Threlfell S, Lalic T, Platt NJ, Jennings KA, Deisseroth K, Cragg SJ. Striatal dopamine release is triggered by synchronized activity in cholinergic interneurons. Neuron 2012;75:58–64.

19.

Cover KK, Gyawali U, Kerkhoff WG, Patton MH, Mu C, White MG, et al. Activation of the rostral intralaminar thalamus drives reinforcement through striatal dopamine release. Cell Rep. 2019;26:1389–98 e1383.

20.

Clavier RM, Gerfen CR. Intracranial self-stimulation in the thalamus of the rat. Brain Res Bull. 1982;8:353–8.

21.

Johnson KA, Lovinger DM. Presynaptic G protein-coupled receptors: gatekeepers of addiction? Front Cell Neurosci. 2016;10:264.

22.

Atwood BK, Lovinger DM, Mathur BN. Presynaptic long-term depression mediated by Gi/o-coupled receptors. Trends Neurosci. 2014;37:663–73.

23.

Johnson KA, Mateo Y, Lovinger DM. Metabotropic glutamate receptor 2 inhibits thalamically-driven glutamate and dopamine release in the dorsal striatum. Neuropharmacology. 2017;117:114–23.

24.

Kupferschmidt DA, Lovinger DM. Inhibition of presynaptic calcium transients in cortical inputs to the dorsolateral striatum by metabotropic GABA(B) and mGlu2/3 receptors. J Physiol. 2015;593:2295–310.

25.

Lovinger DM, McCool BA. Metabotropic glutamate receptor-mediated presynaptic depression at corticostriatal synapses involves mGLuR2 or 3. J Neurophysiol. 1995;73:1076–83.

26.

Kahn L, Alonso G, Robbe D, Bockaert J, Manzoni OJ. Group 2 metabotropic glutamate receptors induced long term depression in mouse striatal slices. Neurosci Lett. 2001;316:178–82.

27.

Martella G, Platania P, Vita D, Sciamanna G, Cuomo D, Tassone A. et al. Enhanced sensitivity to group II mGlu receptor activation at corticostriatal synapses in mice lacking the familial parkinsonism-linked genes PINK1 or Parkin. Exp Neurol. 2009;215:388–96.

28.

Hu G, Duffy P, Swanson C, Ghasemzadeh MB, Kalivas PW. The regulation of dopamine transmission by metabotropic glutamate receptors. J Pharm Exp Ther. 1999;289:412–6.

29.

Kim JH, Austin JD, Tanabe L, Creekmore E, Vezina P. Activation of group II mGlu receptors blocks the enhanced drug taking induced by previous exposure to amphetamine. Eur J Neurosci. 2005;21:295–300.

30.

D'Souza MS, Liechti ME, Ramirez-Nino AM, Kuczenski R, Markou A. The metabotropic glutamate 2/3 receptor agonist LY379268 blocked nicotine-induced increases in nucleus accumbens shell dopamine only in the presence of a nicotine-associated context in rats. Neuropsychopharmacology. 2011;36:2111–24.

31.

Pehrson AL, Moghaddam B. Impact of metabotropic glutamate 2/3 receptor stimulation on activated dopamine release and locomotion. Psychopharmacology. 2010;211:443–55.

32.

Bauzo RM, Kimmel HL, Howell LL. Interactions between the mGluR2/3 agonist, LY379268, and cocaine on in vivo neurochemistry and behavior in squirrel monkeys. Pharm Biochem Behav. 2009;94:204–10.

33.

Vong L, Ye C, Yang Z, Choi B, Chua S,Jr., Lowell BB. Leptin action on GABAergic neurons prevents obesity and reduces inhibitory tone to POMC neurons. Neuron. 2011;71:142–54.

34.

Madisen L, Mao T, Koch H, Zhuo JM, Berenyi A, Fujisawa S. et al. A toolbox of Cre-dependent optogenetic transgenic mice for light-induced activation and silencing. Nat Neurosci. 2012;15:793–802.

35.

Fremeau RT,Jr., Voglmaier S, Seal RP, Edwards RH. VGLUTs define subsets of excitatory neurons and suggest novel roles for glutamate. Trends Neurosci. 2004;27:98–103.

36.

Kufahl PR, Martin-Fardon R, Weiss F. Enhanced sensitivity to attenuation of conditioned reinstatement by the mGluR 2/3 agonist LY379268 and increased functional activity of mGluR 2/3 in rats with a history of ethanol dependence. Neuropsychopharmacology. 2011;36:2762–73.

37.

Justinova Z, Le Foll B, Redhi GH, Markou A, Goldberg SR. Differential effects of the metabotropic glutamate 2/3 receptor agonist LY379268 on nicotine versus cocaine self-administration and relapse in squirrel monkeys. Psychopharmacology. 2016;233:1791–1800.

38.

Poulin JF, Caronia G, Hofer C, Cui Q, Helm B, Ramakrishnan C. et al. Mapping projections of molecularly defined dopamine neuron subtypes using intersectional genetic approaches. Nat Neurosci. 2018;21:1260–71.

39.

Trudeau LE, Hnasko TS, Wallen-Mackenzie A, Morales M, Rayport S, Sulzer D. The multilingual nature of dopamine neurons. Prog Brain Res. 2014;211:141–64.

40.

Assous M, Dautan D, Tepper JM, Mena-Segovia J. Pedunculopontine glutamatergic neurons provide a novel source of feedforward inhibition in the striatum by selectively targeting interneurons. J Neurosci. 2019;39:4727–37.

41.

Li X, Witonsky KR, Lofaro OM, Surjono F, Zhang J, Bossert JM. et al. Role of anterior intralaminar nuclei of thalamus projections to dorsomedial striatum in incubation of methamphetamine craving. J Neurosci. 2018;38:2270–82.

42.

Kato S, Fukabori R, Nishizawa K, Okada K, Yoshioka N, Sugawara M, et al. Action selection and flexible switching controlled by the intralaminar thalamic neurons. Cell Rep. 2018;22:2370–82.

43.

Testa CM, Friberg IK, Weiss SW, Standaert DG. Immunohistochemical localization of metabotropic glutamate receptors mGluR1a and mGluR2/3 in the rat basal ganglia. J Comp Neurol. 1998;390:5–19.

44.

Liechti ME, Lhuillier L, Kaupmann K, Markou A. Metabotropic glutamate 2/3 receptors in the ventral tegmental area and the nucleus accumbens shell are involved in behaviors relating to nicotine dependence. J Neurosci. 2007;27:9077–85.

45.

Sidhpura N, Weiss F, Martin-Fardon R. Effects of the mGlu2/3 agonist LY379268 and the mGlu5 antagonist MTEP on ethanol seeking and reinforcement are differentially altered in rats with a history of ethanol dependence. Biol Psychiatry. 2010;67:804–11.

46.

Augier E, Dulman RS, Rauffenbart C, Augier G, Cross AJ, Heilig M. The mGluR2 positive allosteric modulator, AZD8529, and cue-induced relapse to alcohol seeking in rats. Neuropsychopharmacology. 2016;41:2932–40.

47.

Dhanya RP, Sheffler DJ, Dahl R, Davis M, Lee PS, Yang L, et al. Design and synthesis of systemically active metabotropic glutamate subtype-2 and -3 (mGlu2/3) receptor positive allosteric modulators (PAMs): pharmacological characterization and assessment in a rat model of cocaine dependence. J Med Chem. 2014;57:4154–72.

48.

Dhanya RP, Sidique S, Sheffler DJ, Nickols HH, Herath A, Yang L, et al. Design and synthesis of an orally active metabotropic glutamate receptor subtype-2 (mGluR2) positive allosteric modulator (PAM) that decreases cocaine self-administration in rats. J Med Chem. 2011;54:342–53.

49.

Jin X, Semenova S, Yang L, Ardecky R, Sheffler DJ, Dahl R. et al. The mGluR2 positive allosteric modulator BINA decreases cocaine self-administration and cue-induced cocaine-seeking and counteracts cocaine-induced enhancement of brain reward function in rats. Neuropsychopharmacology. 2010;35:2021–36.

50.

Li X, D'Souza MS, Nino AM, Doherty J, Cross A, Markou A. Attenuation of nicotine-taking and nicotine-seeking behavior by the mGlu2 receptor positive allosteric modulators AZD8418 and AZD8529 in rats. Psychopharmacology. 2016;233:1801–14.

51.

Crawford JT, Roberts DC, Beveridge TJ. The group II metabotropic glutamate receptor agonist, LY379268, decreases methamphetamine self-administration in rats. Drug Alcohol Depend. 2013;132:414–9.

52.

Justinova Z, Panlilio LV, Secci ME, Redhi GH, Schindler CW, Cross AJ. et al. The novel metabotropic glutamate receptor 2 positive allosteric modulator, AZD8529, decreases nicotine self-administration and relapse in squirrel monkeys. Biol Psychiatry. 2015;78:452–62.

53.

Zhou Z, Karlsson C, Liang T, Xiong W, Kimura M, Tapocik JD, et al. Loss of metabotropic glutamate receptor 2 escalates alcohol consumption. Proc Natl Acad Sci USA. 2013;110:16963–8.

54.

Morishima Y, Miyakawa T, Furuyashiki T, Tanaka Y, Mizuma H, Nakanishi S. Enhanced cocaine responsiveness and impaired motor coordination in metabotropic glutamate receptor subtype 2 knockout mice. Proc Natl Acad Sci USA. 2005;102:4170–5.

55.

Yang HJ, Zhang HY, Bi GH, He Y, Gao JT, Xi ZX. Deletion of type 2 metabotropic glutamate receptor decreases sensitivity to cocaine reward in rats. Cell Rep. 2017;20:319–32.

56.

Gao JT, Jordan CJ, Bi GH, He Y, Yang HJ, Gardner EL. et al. Deletion of the type 2 metabotropic glutamate receptor increases heroin abuse vulnerability in transgenic rats. Neuropsychopharmacology. 2018;43:2615–26.
Acknowledgements
We thank all members of the Lovinger laboratory for helpful discussions and Guoxiang Luo for assistance with genotyping. We thank Dr. David Kupferschmidt for technical advice and comments on the manuscript.
Additional information
Publisher's note Springer Nature remains neutral with regard to jurisdictional claims in published maps and institutional affiliations.
Supplementary information
About this article
Cite this article
Johnson, K.A., Voyvodic, L., Loewinger, G.C. et al. Operant self-stimulation of thalamic terminals in the dorsomedial striatum is constrained by metabotropic glutamate receptor 2. Neuropsychopharmacol. 45, 1454–1462 (2020). https://doi.org/10.1038/s41386-020-0626-y
Received:

Revised:

Accepted:

Published:

Issue Date: