Abstract
Environmental microbial triggers shape the development and functionality of the immune system. Alveolar macrophages (AMs), tissue-resident macrophages of the lungs, are in constant and direct contact with inhaled particles and microbes. Such exposures likely impact AM reactivity to subsequent challenges by immunological imprinting mechanisms referred to as trained immunity. Here, we investigated whether a ubiquitous microbial compound has the potential to induce AM training in vivo. We discovered that intranasal exposure to ambient amounts of lipopolysaccharide (LPS) induced a pronounced AM memory response, characterized by enhanced reactivity upon pneumococcal challenge. Exploring the mechanistic basis of AM training, we identified a critical role of type 1 interferon signaling and found that inhibition of fatty acid oxidation and glutaminolysis significantly attenuated the training effect. Notably, adoptive transfer of trained AMs resulted in increased bacterial loads and tissue damage upon subsequent pneumococcal infection. In contrast, intranasal pre-exposure to LPS promoted bacterial clearance, highlighting the complexity of stimulus-induced immune responses, which likely involve multiple cell types and may depend on the local immunological and metabolic environment. Collectively, our findings demonstrate the profound impact of ambient microbial exposure on pulmonary immune memory and reveal tissue-specific features of trained immunity.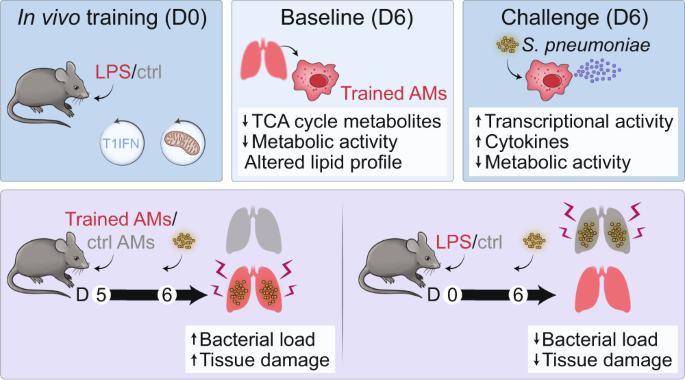 Data availability
Raw and processed sequencing data (RNA-seq and ATAC-seq) are available in the NCBI Gene Expression Omnibus database (accession number GSE184684). Raw and processed LC-MS/MS data are available in the MetaboLights database (accession number MTBLS3151).
References
Netea, M. G., Quintin, J. & van der Meer, J. W. Trained immunity: a memory for innate host defense. Cell Host Microbe 9, 355–361 (2011).

Kar, U. K. & Joosten, L. A. B. Training the trainable cells of the immune system and beyond. Nat. Immunol. 21, 115–119 (2020).

Netea, M. G. et al. Defining trained immunity and its role in health and disease. Nat. Rev. Immunol. 20, 375–388 (2020).

Bals, R. Lipopolysaccharide and the lung: a story of love and hate. Eur. Respir. J. 25, 776–777 (2005).

Vernooy, J. H., Dentener, M. A., van Suylen, R. J., Buurman, W. A. & Wouters, E. F. Long-term intratracheal lipopolysaccharide exposure in mice results in chronic lung inflammation and persistent pathology. Am. J. Respir. Cell Mol. Biol. 26, 152–159 (2002).

Mazgaeen, L. & Gurung, P. Recent advances in lipopolysaccharide recognition systems. Int. J Mol. Sci. 21 (2020).

Rolph, C. A. et al. Sources of airborne endotoxins in ambient air and exposure of nearby communities—a review. Atmosphere 9, 375 (2018).

Basinas, I. et al. A comprehensive review of levels and determinants of personal exposure to dust and endotoxin in livestock farming. J. Expo. Sci. Environ. Epidemiol. 25, 123–137 (2015).

Hallett, S., Toro, F. & Ashurst, J. V. Physiology, Tidal Volume. StatPearls: Treasure Island (FL) (2021).

Pivniouk, V., Gimenes Junior, J. A., Honeker, L. K. & Vercelli, D. The role of innate immunity in asthma development and protection: Lessons from the environment. Clin. Exp. Allergy. 50, 282–290 (2020).

Rubins, J. B. Alveolar macrophages: wielding the double-edged sword of inflammation. Am. J. Respir. Crit. Care Med. 167, 103–104 (2003).

Bain, C. C. & MacDonald, A. S. The impact of the lung environment on macrophage development, activation and function: diversity in the face of adversity. Mucosal Immunol. 15, 223–234 (2022).

Kulikauskaite, J. & Wack, A. Teaching old dogs new tricks? The plasticity of lung alveolar macrophage subsets. Trends Immunol. 41, 864–877 (2020).

Woods, P. S. et al. Tissue-resident alveolar macrophages do not rely on glycolysis for lps-induced inflammation. Am. J. Respir. Cell Mol. Biol. 62, 243–255 (2020).

Byrne, A. J., Mathie, S. A., Gregory, L. G. & Lloyd, C. M. Pulmonary macrophages: key players in the innate defence of the airways. Thorax 70, 1189–1196 (2015).

Uciechowski, P. & Dempke, W. C. M. Interleukin-6: A masterplayer in the cytokine network. Oncology 98, 131–137 (2020).

Ranta, A. & Kumar, S. Recent advancements in role of TAM receptors on efferocytosis, viral infection, autoimmunity, and tissue repair. Int Rev. Cell Mol. Biol. 357, 1–19 (2020).

Ginhoux, F. & Jung, S. Monocytes and macrophages: developmental pathways and tissue homeostasis. Nat. Rev. Immunol. 14, 392–404 (2014).

Maus, U. et al. Monocytes recruited into the alveolar air space of mice show a monocytic phenotype but upregulate CD14. Am. J. Physiol. Lung Cell Mol. Physiol. 280, L58–L68 (2001).

Vadiveloo, P. K., Vairo, G., Hertzog, P., Kola, I. & Hamilton, J. A. Role of type I interferons during macrophage activation by lipopolysaccharide. Cytokine 12, 1639–1646 (2000).

Varma, T. K., Lin, C. Y., Toliver-Kinsky, T. E. & Sherwood, E. R. Endotoxin-induced gamma interferon production: contributing cell types and key regulatory factors. Clin. Diagn. Lab Immunol. 9, 530–543 (2002).

Yao, Y. et al. Induction of autonomous memory alveolar macrophages requires T cell help and is critical to trained immunity. Cell 175, 1634–1650 e1617 (2018).

Goritzka, M. et al. Alpha/beta interferon receptor signaling amplifies early proinflammatory cytokine production in the lung during respiratory syncytial virus infection. J. Virol. 88, 6128–6136 (2014).

Moorlag, S., Roring, R. J., Joosten, L. A. B. & Netea, M. G. The role of the interleukin-1 family in trained immunity. Immunol. Rev. 281, 28–39 (2018).

Gorki, A. D. et al. Murine Ex Vivo Cultured Alveolar Macrophages Provide a Novel Tool to Study Tissue-Resident Macrophage Behavior and Function. Am. J. Respir. Cell Mol. Biol. 66, 64–75 (2022).

Divangahi, M. et al. Trained immunity, tolerance, priming and differentiation: distinct immunological processes. Nat. Immunol. 22, 2–6 (2021).

Bejjani, F., Evanno, E., Zibara, K., Piechaczyk, M. & Jariel-Encontre, I. The AP-1 transcriptional complex: Local switch or remote command? Biochim Biophys. Acta Rev. Cancer 1872, 11–23 (2019).

Yan, C. & Boyd, D. D. Histone H3 acetylation and H3 K4 methylation define distinct chromatin regions permissive for transgene expression. Mol. Cell Biol. 26, 6357–6371 (2006).

Ifrim, D. C. et al. Trained immunity or tolerance: opposing functional programs induced in human monocytes after engagement of various pattern recognition receptors. Clin. Vaccin. Immunol. 21, 534–545 (2014).

Sun, Y., Jiang, X., Chen, S. & Price, B. D. Inhibition of histone acetyltransferase activity by anacardic acid sensitizes tumor cells to ionizing radiation. FEBS Lett. 580, 4353–4356 (2006).

Arts, R. J., Joosten, L. A. & Netea, M. G. Immunometabolic circuits in trained immunity. Semin Immunol. 28, 425–430 (2016).

Riksen, N. P. & Netea, M. G. Immunometabolic control of trained immunity. Mol. Aspects Med. 77, 100897 (2020).

Parkhitko, A. A., Jouandin, P., Mohr, S. E. & Perrimon, N. Methionine metabolism and methyltransferases in the regulation of aging and lifespan extension across species. Aging Cell. 18, e13034 (2019).

Yu, W. et al. One-carbon metabolism supports S-adenosylmethionine and histone methylation to drive inflammatory macrophages. Mol. Cell 75, 1147–1160 e1145 (2019).

Sunshine, H. & Iruela-Arispe, M. L. Membrane lipids and cell signaling. Curr. Opin. Lipido. 28, 408–413 (2017).

Castoldi, A. et al. Triacylglycerol synthesis enhances macrophage inflammatory function. Nat. Commun. 11, 4107 (2020).

Khaing, P. & Summer, R. Maxed out on glycolysis: alveolar macrophages rely on oxidative phosphorylation for cytokine production. Am. J. Respir. Cell Mol. Biol. 62, 139–140 (2020).

Martinez-Reyes, I. & Chandel, N. S. Mitochondrial TCA cycle metabolites control physiology and disease. Nat. Commun. 11, 102 (2020).

Hetzel, M., Ackermann, M. & Lachmann, N. Beyond "Big Eaters": The versatile role of alveolar macrophages in health and disease. Int. J. Mol. Sci. 22, 3308 (2021).

MacGillivray, D. M. & Kollmann, T. R. The role of environmental factors in modulating immune responses in early life. Front Immunol. 5, 434 (2014).

Cai, S., Batra, S., Lira, S. A., Kolls, J. K. & Jeyaseelan, S. CXCL1 regulates pulmonary host defense to Klebsiella Infection via CXCL2, CXCL5, NF-kappaB, and MAPKs. J. Immunol. 185, 6214–6225 (2010).

Fillion, I. et al. Role of chemokines and formyl peptides in pneumococcal pneumonia-induced monocyte/macrophage recruitment. J. Immunol. 166, 7353–7361 (2001).

Penaloza, H. F. et al. Interleukin-10 plays a key role in the modulation of neutrophils recruitment and lung inflammation during infection by Streptococcus pneumoniae. Immunology 146, 100–112 (2015).

Fanucchi, S., Dominguez-Andres, J., Joosten, L. A. B., Netea, M. G. & Mhlanga, M. M. The intersection of epigenetics and metabolism in trained immunity. Immunity 54, 32–43 (2021).

Kaufmann, E. et al. BCG educates hematopoietic stem cells to generate protective innate immunity against tuberculosis. Cell 172, 176–190 e119 (2018).

Quintin, J. et al. Candida albicans infection affords protection against reinfection via functional reprogramming of monocytes. Cell Host Microbe. 12, 223–232 (2012).

Aegerter, H. et al. Influenza-induced monocyte-derived alveolar macrophages confer prolonged antibacterial protection. Nat. Immunol. 21, 145–157 (2020).

Wu, C. et al. IFN-gamma primes macrophage activation by increasing phosphatase and tensin homolog via downregulation of miR-3473b. J. Immunol. 193, 3036–3044 (2014).

Mosser, D. M. & Edwards, J. P. Exploring the full spectrum of macrophage activation. Nat. Rev. Immunol. 8, 958–969 (2008).

Hayes, M. P., Freeman, S. L. & Donnelly, R. P. IFN-gamma priming of monocytes enhances LPS-induced TNF production by augmenting both transcription and MRNA stability. Cytokine 7, 427–435 (1995).

Kudva, A. et al. Influenza A inhibits Th17-mediated host defense against bacterial pneumonia in mice. J. Immunol. 186, 1666–1674 (2011).

Lee, B. et al. Influenza-induced type I interferon enhances susceptibility to gram-negative and gram-positive bacterial pneumonia in mice. Am. J. Physiol. Lung Cell Mol. Physiol. 309, L158–L167 (2015).

Navarini, A. A. et al. Increased susceptibility to bacterial superinfection as a consequence of innate antiviral responses. Proc. Natl Acad. Sci. USA 103, 15535–15539 (2006).

Arts, R. J. et al. Glutaminolysis and fumarate accumulation integrate immunometabolic and epigenetic programs in trained immunity. Cell Metab. 24, 807–819 (2016).

Baker, E. H. et al. Hyperglycemia and cystic fibrosis alter respiratory fluid glucose concentrations estimated by breath condensate analysis. J. Appl Physiol. (1985) 102, 1969–1975 (2007).

Svedberg, F. R. et al. The lung environment controls alveolar macrophage metabolism and responsiveness in type 2 inflammation. Nat. Immunol. 20, 571–580 (2019).

Arts, R. J. W. et al. BCG Vaccination Protects against Experimental Viral Infection in Humans through the Induction of Cytokines Associated with Trained Immunity. Cell Host Microbe. 23, 89–100 e105 (2018).

Ciarlo, E. et al. Trained immunity confers broad-spectrum protection against bacterial infections. J. Infect. Dis. 222, 1869–1881 (2020).

Bekkering, S., Dominguez-Andres, J., Joosten, L. A. B., Riksen, N. P. & Netea, M. G. Trained immunity: reprogramming innate immunity in health and disease. Annu Rev. Immunol. 39, 667–693 (2021).

Stein, M. M. et al. Innate immunity and asthma risk in amish and hutterite farm children. N. Engl. J. Med. 375, 411–421 (2016).

Hao, Z. & Rajewsky, K. Homeostasis of peripheral B cells in the absence of B cell influx from the bone marrow. J. Exp. Med. 194, 1151–1164 (2001).

Muller, U. et al. Functional role of type I and type II interferons in antiviral defense. Science 264, 1918–1921 (1994).

Huang, S. et al. Immune-response in mice that lack the interferon-gamma receptor. Science 259, 1742–1745 (1993).

Rijneveld, A. W. et al. TNF-alpha compensates for the impaired host defense of IL-1 type I receptor-deficient mice during pneumococcal pneumonia. J. Immunol. 167, 5240–5246 (2001).
Acknowledgements
S.K. received funding from the Austrian Science Fund (FWF) Special Research Programs F5410 and F6104, and from the FWF Doctoral Program Cell Communication in Health and Disease W 1205-B09. P.S. was funded by the European Research Council, Marie Skłodowska Curie Individual Fellowship H2020-MSCA-IF-2014 655153 and by the FWF P31113-B30. C.L. and B.S. were supported by the FWF Special Research Program F6101. M.M. acknowledges funding by the Swiss National Science Foundation P2EZP3-172158. We thank all staff members of the MUW and MPI flow cytometry core facility and animal facility for their support. We are grateful to Andreas Bergthaler and Alexander Lercher (CeMM, Vienna, Austria) for providing valuable scientific input and access to the XF-96 Extracellular Flux Analyzer at CeMM. We further thank Thomas Decker and Laura Boccuni (Max F. Perutz Laboratories, Vienna, Austria) for experimental advice.
Ethics declarations
Competing interests
The authors declare no competing interest.
Additional information
Publisher's note Springer Nature remains neutral with regard to jurisdictional claims in published maps and institutional affiliations.
Supplementary information
Rights and permissions
Open Access This article is licensed under a Creative Commons Attribution 4.0 International License, which permits use, sharing, adaptation, distribution and reproduction in any medium or format, as long as you give appropriate credit to the original author(s) and the source, provide a link to the Creative Commons license, and indicate if changes were made. The images or other third party material in this article are included in the article's Creative Commons license, unless indicated otherwise in a credit line to the material. If material is not included in the article's Creative Commons license and your intended use is not permitted by statutory regulation or exceeds the permitted use, you will need to obtain permission directly from the copyright holder. To view a copy of this license, visit http://creativecommons.org/licenses/by/4.0/.
About this article
Cite this article
Zahalka, S., Starkl, P., Watzenboeck, M.L. et al. Trained immunity of alveolar macrophages requires metabolic rewiring and type 1 interferon signaling. Mucosal Immunol 15, 896–907 (2022). https://doi.org/10.1038/s41385-022-00528-5
Received:

Revised:

Accepted:

Published:

Issue Date:

DOI: https://doi.org/10.1038/s41385-022-00528-5