Abstract
Mechanisms linking ingested pollutants to increased incidence of allergy are poorly understood. We report that mice exposed to low doses of cadmium develop higher IgE responses following oral allergen sensitization and more severe allergic symptoms upon allergen challenge. The environmentally relevant doses of this pollutant also induced oxidative/inflammatory responses in the gut of SPF, but not germ-free mice. Interestingly, the increased IgE responses correlated with stimulation of the vitamin D3-metabolizing enzymes CYP27B1 and CYP24A1 in the gut and increased luminal levels of oxidized vitamin D3 metabolites that are not ligands of the vitamin D receptor. Inhibition of CYP27B1 and CYP24A1 via oral administration of pharmacological inhibitors reduced IgE responses induced in mice orally exposed to cadmium. Our findings identify local alteration of vitamin D signaling as a new mechanism for induction of IgE responses by environmental pollutants. They also identify vitamin D3-metabolizing enzymes as therapeutic targets for the treatment of allergy.
Access options
Subscribe to Journal
Get full journal access for 1 year
We are sorry, but there is no personal subscription option available for your country.
Buy article
Get time limited or full article access on ReadCube.
$32.00
All prices are NET prices.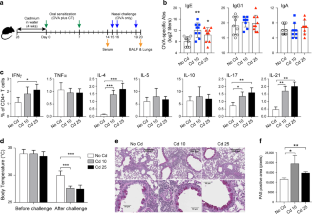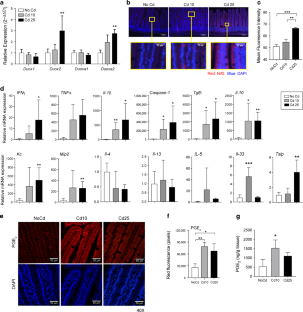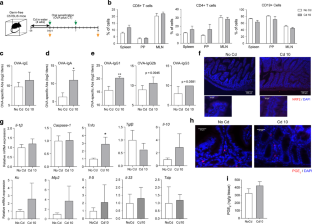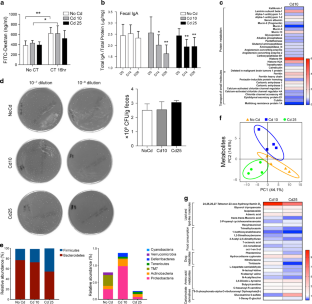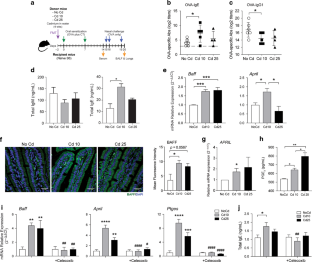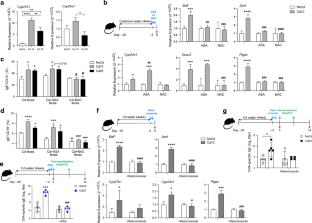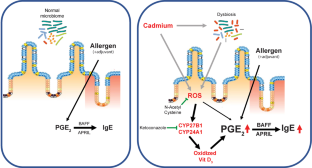 References
Hong, X., Tsai, H. J. & Wang, X. Genetics of food allergy. Curr. Opin. Pediatr. 21, 770–6 (2009).

Liu, A. H. Revisiting the hygiene hypothesis for allergy and asthma. J. Allergy Clin. Immunol. 136, 860–5 (2015).

Wesemann, D. R. & Nagler, C. R. The microbiome, timing, and barrier function in the context of allergic disease. Immunity 44, 728–38 (2016).

Park, S., Lee, E. H. & Kho, Y. The association of asthma, total IgE, and blood lead and cadmium levels. J. Allergy Clin. Immunol. 138, 1701–3 e6 (2016).

Yang, S. N., Hsieh, C. C., Kuo, H. F., Lee, M. S., Huang, M. Y. & Kuo, C. H. et al. The effects of environmental toxins on allergic inflammation. Allergy Asthma Immunol. Res. 6, 478–84 (2014).

Faroon O, Ashizawa A, Wright S, Tucker P, Jenkins K, Ingerman L, et al. Toxicological Profile for Cadmium. Atlanta (GA); 2012.

Jarup, L. & Akesson, A. Current status of cadmium as an environmental health problem. Toxicol. Appl Pharm. 238, 201–8 (2009).

Wei, B. & Yang, L. A review of heavy metal contamination in urban roads dusts and agricultural soils from China. Microchemical J. 94, 99–107 (2010).

Wang, S., Huang, D. Y., Zhu, Q. H., Zhu, H. H., Liu, S. L. & Luo, Z. C. et al. Speciation and phytoavailability of cadmium in soil treated with cadmium-contaminated rice straw. Environ. Sci. Pollut. Res. Int. 22, 2679–86 (2015).

Kundu, S., Sengupta, S., Chatterjee, S., Mitra, S. & Bhattacharyya, A. Cadmium induces lung inflammation independent of lung cell proliferation: a molecular approach. J. Inflamm. 6, 19 (2009).

Liu, Y., Li, Y., Liu, K. & Shen, J. Exposing to cadmium stress cause profound toxic effect on microbiota of the mice intestinal tract. PLoS ONE 9, e85323 (2014).

Wu, K. C., Liu, J. J. & Klaassen, C. D. Nrf2 activation prevents cadmium-induced acute liver injury. Toxicol. Appl. Pharmcol. 263, 14–20 (2012).

Hogervorst, J., Plusquin, M., Vangronsveld, J., Nawrot, T., Cuypers, A. & Van Hecke, E. et al. House dust as possible route of environmental exposure to cadmium and lead in the adult general population. Environ. Res. 103, 30–7 (2007).

Nawrot, T., Plusquin, M., Hogervorst, J., Roels, H. A., Celis, H. & Thijs, L. et al. Environmental exposure to cadmium and risk of cancer: a prospective population-based study. Lancet Oncol. 7, 119–26 (2006).

Ke, S., Cheng, X. Y., Zhang, J. Y., Jia, W. J., Li, H. & Luo, H. F. et al. Estimation of the benchmark dose of urinary cadmium as the reference level for renal dysfunction: a large sample study in five cadmium polluted areas in China. BMC Public Health 15, 656 (2015).

Hu, Y. P., Peng, Y. B., Zhang, Y. F., Wang, Y., Yu, W. R. & Yao, M. et al. Reactive oxygen species mediated prostaglandin E2 contributes to acute response of epithelial injury. Oxid. Med. Cell Longev. 2017, 4123854 (2017).

Gao, Y., Zhao, C., Wang, W., Jin, R., Li, Q. & Ge, Q. et al. Prostaglandins E2 signal mediated by receptor subtype EP2 promotes IgE production in vivo and contributes to asthma development. Sci. Rep. 6, 20505 (2016).

Kuroda, E., Ishii, K. J., Uematsu, S., Ohata, K., Coban, C. & Akira, S. et al. Silica crystals and aluminum salts regulate the production of prostaglandin in macrophages via NALP3 inflammasome-independent mechanisms. Immunity 34, 514–26 (2011).

Hapfelmeier, S., Lawson, M. A., Slack, E., Kirundi, J. K., Stoel, M. & Heikenwalder, M. et al. Reversible microbial colonization of germ-free mice reveals the dynamics of IgA immune responses. Science 328, 1705–9 (2010).

Planer, J. D., Peng, Y., Kau, A. L., Blanton, L. V., Ndao, I. M. & Tarr, P. I. et al. Development of the gut microbiota and mucosal IgA responses in twins and gnotobiotic mice. Nature 534, 263–6 (2016).

Wu, W., Sun, M., Chen, F., Cao, A. T., Liu, H. & Zhao, Y. et al. Microbiota metabolite short-chain fatty acid acetate promotes intestinal IgA response to microbiota which is mediated by GPR43. Mucosal. Immunol. 10, 946–56 (2017).

Zhang, X. Y., Liu, Z. M., Zhang, H. F., Li, Y. S., Wen, S. H. & Shen, J. T. et al. TGF-beta1 improves mucosal IgA dysfunction and dysbiosis following intestinal ischaemia-reperfusion in mice. J. Cell Mol. Med. 20, 1014–23 (2016).

Shan, M., Gentile, M., Yeiser, J. R., Walland, A. C., Bornstein, V. U. & Chen, K. et al. Mucus enhances gut homeostasis and oral tolerance by delivering immunoregulatory signals. Science 342, 447–53 (2013).

D'Mello, R. J., Caldwell, J. M., Azouz, N. P., Wen, T., Sherrill, J. D. & Hogan, S. P. et al. LRRC31 is induced by IL-13 and regulates kallikrein expression and barrier function in the esophageal epithelium. Mucosal. Immunol. 9, 744–56 (2016).

Jones, S. A., Schneider, H. & Challis, J. R. Vitamin D3 metabolites stimulate prostaglandin production by human fetal membranes and placenta in vitro. Am. J. Perinatol. 6, 138–41 (1989).

Castigli, E., Wilson, S. A., Scott, S., Dedeoglu, F., Xu, S. & Lam, K. P. et al. TACI and BAFF-R mediate isotype switching in B cells. J. Exp. Med. 201, 35–9 (2005).

Castigli, E., Scott, S., Dedeoglu, F., Bryce, P., Jabara, H. & Bhan, A. K. et al. Impaired IgA class switching in APRIL-deficient mice. Proc. Natl Acad. Sci. USA 101, 3903–8 (2004).

He, B., Santamaria, R., Xu, W., Cols, M., Chen, K. & Puga, I. et al. The transmembrane activator TACI triggers immunoglobulin class switching by activating B cells through the adaptor MyD88. Nat. Immunol. 11, 836–45 (2010).

Kim, Y. G., Udayanga, K. G., Totsuka, N., Weinberg, J. B., Nunez, G. & Shibuya, A. Gut dysbiosis promotes M2 macrophage polarization and allergic airway inflammation via fungi-induced PGE(2). Cell Host Microbe 15, 95–102 (2014).

Jacobs, E. T., Van Pelt, C., Forster, R. E., Zaidi, W., Hibler, E. A. & Galligan, M. A. et al. CYP24A1 and CYP27B1 polymorphisms modulate vitamin D metabolism in colon cancer cells. Cancer Res. 73, 2563–73 (2013).

Kundu, R., Chain, B. M., Coussens, A. K., Khoo, B. & Noursadeghi, M. Regulation of CYP27B1 and CYP24A1 hydroxylases limits cell-autonomous activation of vitamin D in dendritic cells. Eur. J. Immunol. 44, 1781–90 (2014).

Liu, X., Nelson, A., Wang, X., Farid, M., Gunji, Y. & Ikari, J. et al. Vitamin D modulates prostaglandin E2 synthesis and degradation in human lung fibroblasts. Am. J. Respir. Cell Mol. Biol. 50, 40–50 (2014).

Greer, F. R., Sicherer, S. H. & Burks, A. W. American Academy of Pediatrics Committee on N, American Academy of Pediatrics Section on A, and Immunology Effects of early nutritional interventions on the development of atopic disease in infants and children: the role of maternal dietary restriction, breastfeeding, timing of introduction of complementary foods, and hydrolyzed formulas. Pediatrics 121, 183–91 (2008).

Geha, R. S., Jabara, H. H. & Brodeur, S. R. The regulation of immunoglobulin E class-switch recombination. Nat. Rev. Immunol. 3, 721–32 (2003).

Jelovcan, S., Gutschi, A., Kleinhappl, B., Sedlmayr, P., Barth, S. & Marth, E. Effects of low concentrations of cadmium on immunoglobulin E production by human B lymphocytes in vitro. Toxicology 188, 35–48 (2003).

Hanson, M. L., Holaskova, I., Elliott, M., Brundage, K. M., Schafer, R. & Barnett, J. B. Prenatal cadmium exposure alters postnatal immune cell development and function. Toxicol. Appl. Pharmacol. 261, 196–203 (2012).

Ba Q, Li M, Chen P, Huang C, Duan X, Lu L, et al. Gender-dependent effects of cadmium exposure in early life on gut microbiota and fat accumulation in mice. Environ. Health Perspect. 2016.

Grasberger, H., Gao, J., Nagao-Kitamoto, H., Kitamoto, S., Zhang, M. & Kamada, N. et al. Increased expression of DUOX2 is an epithelial response to mucosal dysbiosis required for immune homeostasis in mouse intestine. Gastroenterology 149, 1849–59 (2015).

Sommer, F. & Backhed, F. The gut microbiota engages different signaling pathways to induce Duox2 expression in the ileum and colon epithelium. Mucosal. Immunol. 8, 372–9 (2015).

Wang, C., Guan, Y., Lv, M., Zhang, R., Guo, Z. & Wei, X. et al. Manganese increases the sensitivity of the cGAS-STING pathway for double-stranded DNA and is required for the host defense against DNA viruses. Immunity 48, 675–87 e7 (2018).

Breton, J., Massart, S., Vandamme, P., De Brandt, E., Pot, B. & Foligne, B. Ecotoxicology inside the gut: impact of heavy metals on the mouse microbiome. BMC Pharmacol. Toxicol. 14, 62 (2013).

Bolcas, P. E., Brandt, E. B., Zhang, Z., Biagini Myers, J. M., Ruff, B. P. & Khurana Hershey, G. K. Vitamin D supplementation attenuates asthma development following traffic-related particulate matter exposure. J. Allergy Clin. Immunol. 143, 386–94 e3 (2019).

Hollams, E. M., Hart, P. H., Holt, B. J., Serralha, M., Parsons, F. & de Klerk, N. H. et al. Vitamin D and atopy and asthma phenotypes in children: a longitudinal cohort study. Eur. Respir. J. 38, 1320–7 (2011).

Hufnagl, K. & Jensen-Jarolim, E. Vitamin A and D in allergy: from experimental animal models and cellular studies to human disease. Allergo J. Int. 27, 72–8 (2018).

Cantorna, M. T., Snyder, L., Lin, Y. D. & Yang, L. Vitamin D and 1,25(OH)2D regulation of T cells. Nutrients 7, 3011–21 (2015).

Ruiter, B., Patil, S. U. & Shreffler, W. G. Vitamins A and D have antagonistic effects on expression of effector cytokines and gut-homing integrin in human innate lymphoid cells. Clin. Exp. Allergy 45, 1214–25 (2015).

Chambers, E. S., Suwannasaen, D., Mann, E. H., Urry, Z., Richards, D. F. & Lertmemongkolchai, G. et al. 1alpha,25-dihydroxyvitamin D3 in combination with transforming growth factor-beta increases the frequency of Foxp3(+) regulatory T cells through preferential expansion and usage of interleukin-2. Immunology 143, 52–60 (2014).

Rosendahl, J., Pelkonen, A. S., Helve, O., Hauta-Alus, H., Holmlund-Suila, E. & Valkama, S. et al. High-dose vitamin D supplementation does not prevent allergic sensitization of infants. J. Pediatr. 209, 139–45 e1 (2019).

Lodovici, M. & Bigagli, E. Oxidative stress and air pollution exposure. J. Toxicol. 2011, 487074 (2011).

Brandt, E. B., Biagini Myers, J. M., Acciani, T. H., Ryan, P. H., Sivaprasad, U. & Ruff, B. et al. Exposure to allergen and diesel exhaust particles potentiates secondary allergen-specific memory responses, promoting asthma susceptibility. J. Allergy Clin. Immunol. 136, 295–303 e7 (2015).

De Grove, K. C., Provoost, S., Hendriks, R. W., McKenzie, A. N. J., Seys, L. J. M. & Kumar, S. et al. Dysregulation of type 2 innate lymphoid cells and TH2 cells impairs pollutant-induced allergic airway responses. J. Allergy Clin. Immunol. 139, 246–57 e4 (2017).
Acknowledgements
This work was supported by NIH grants R01AI043197, R01DK101323, and R01AI145144, and the UL1TR001070 award from the National Center for Advancing Translational Sciences. The authors thank Arpad Somogyi and Matthew Bernier of the OSU Center for Clinical and Translational Science Mass Spectrometry & Proteomics Core for assistance with metabolomics and proteomics studies. The Mass Spectrometry & Proteomics Core was supported by NIH grant P30 CA016058 and the Fusion Orbitrap instrument was supported by NIH grant S10 OD018056.
Ethics declarations
competing interests
The authors declare no competing interests.
Additional information
Publisher's note Springer Nature remains neutral with regard to jurisdictional claims in published maps and institutional affiliations.
About this article
Cite this article
Kim, E., Bonnegarde-Bernard, A., Opiyo, S.O. et al. Pollutants enhance IgE sensitization in the gut via local alteration of vitamin D-metabolizing enzymes. Mucosal Immunol 15, 143–153 (2022). https://doi.org/10.1038/s41385-021-00440-4
Received:

Revised:

Accepted:

Published:

Issue Date:

DOI: https://doi.org/10.1038/s41385-021-00440-4