Abstract
Attention Deficit Hyperactivity Disorder (ADHD) medication is increasingly being used during pregnancy. Concerns have been raised as to whether ADHD medication has long-term adverse effects on the offspring. The authors investigated whether in utero exposure to ADHD medication was associated with adverse long-term neurodevelopmental and growth outcomes in offspring. The population-based cohort study in the Danish national registers included 1,068,073 liveborn singletons from 1998 to 2015 followed until any developmental diagnosis, death, emigration, or December 31, 2018. Children of mothers who continued ADHD medication (methylphenidate, amphetamine, dexamphetamine, lisdexamphetamine, modafinil, atomoxetine, clonidine) during pregnancy and children of mothers who discontinued ADHD medication before pregnancy were compared using Cox regression. Main outcomes were neurodevelopmental psychiatric disorders, impairments in vision or hearing, epilepsy, seizures, or growth impairment during childhood or adolescence. In total, 898 children were exposed to ADHD medication during pregnancy compared to 1270 children whose mothers discontinued ADHD medication before pregnancy. After adjustment for demographic and psychiatric characteristics of the mother, no increased risk of any offspring developmental disorders was found combined (aHR 0.97, 95% CI 0.81 to 1.17) or for separate subcategories. Similarly, no increased risk was found for any sub-categories of outcomes in the negative control or sibling controlled analyses. Neurodevelopment and growth in offspring do not differ based on antenatal exposure to ADHD medication. These findings provide reassurance for women with ADHD who depend on ADHD medication for daily functioning and who consider continuing medication in pregnancy.
Access options
Subscribe to this journal
Receive 12 print issues and online access
$259.00 per year
only $21.58 per issue
Rent or buy this article
Get just this article for as long as you need it
$39.95
Prices may be subject to local taxes which are calculated during checkout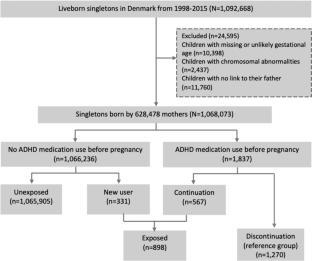 Code availability
Statistical analyses were performed in Stata 15.1 (StataCorp, College Station, TX, USA) and code to perform analyses can be made available by request.
References
Franke B, Michelini G, Asherson P, Banaschewski T, Bilbow A, Buitelaar JK, et al. Live fast, die young? A review on the developmental trajectories of ADHD across the lifespan. Eur Neuropsychopharmacol. 2018;28:1059–88.

Zetterqvist J, Asherson P, Halldner L, Långström N, Larsson H. Stimulant and non-stimulant attention deficit/hyperactivity disorder drug use: total population study of trends and discontinuation patterns 2006-2009. Acta Psychiatr Scand. 2013;128:70–7.

Anderson KN, Ailes EC, Danielson M, Lind JN, Farr SL, Broussard CS, et al. Attention-deficit/hyperactivity disorder medication prescription claims among privately insured women aged 15–44 years - United States, 2003–2015. Morb Mortal Wkly Rep. 2018;67:66–70.

Haervig KB, Mortensen LH, Hansen AV, Strandberg-Larsen K. Use of ADHD medication during pregnancy from 1999 to 2010: a Danish register-based study. Pharmacoepidemiol Drug Saf. 2014;23:526–33.

Lemelin M, Boukhris T, Zhao J-P, Sheehy O, Bérard A. Prevalence and determinants of attention-deficit/hyperactivity disorder (ADHD) medication use during pregnancy: results from the Quebec Pregnancy/Children Cohort. Pharmacol Res Perspect. 2021;9:e00781.

Louik C, Kerr S, Kelley KE, Mitchell AA. Increasing use of ADHD medications in pregnancy. Pharmacoepidemiol Drug Saf. 2015;24:218–20.

McAllister-Williams RH, Baldwin DS, Cantwell R, Easter A, Gilvarry E, Glover V, et al. British Association for Psychopharmacology consensus guidance on the use of psychotropic medication preconception, in pregnancy and postpartum 2017. J Psychopharmacol. 2017;31:519–52.

Leong C, Raymond C, Château D, Dahl M, Alessi-Severini S, Falk J, et al. Psychotropic drug use before, during, and after Pregnancy: A Population-Based Study in a Canadian Cohort (2001-2013). Can J Psychiatry Rev. 2017;62:543–50.

Shaw M, Hodgkins P, Caci H, Young S, Kahle J, Woods AG, et al. A systematic review and analysis of long-term outcomes in attention deficit hyperactivity disorder: effects of treatment and non-treatment. BMC Med. 2012;10:99.

Boland H, DiSalvo M, Fried R, Woodworth KY, Wilens T, Faraone SV, et al. A literature review and meta-analysis on the effects of ADHD medications on functional outcomes. J Psychiatr Res. 2020;123:21–30.

Damer EA, Edens MA, van der Loos MLM, van Esenkbrink J, Bunkers I, van Roon EN, et al. Fifteen years' experience with methylphenidate for attention-deficit disorder during pregnancy: Effects on birth weight, Apgar score and congenital malformation rates. Gen Hosp Psychiatry. 2021;73:9–15.

Damkier P, Broe A. First-trimester pregnancy exposure to modafinil and risk of congenital malformations. JAMA. 2020;323:374–6.

Huybrechts KF, Bröms G, Christensen LB, Einarsdóttir K, Engeland A, Furu K, et al. Association between methylphenidate and amphetamine use in pregnancy and risk of congenital malformations: a cohort study from the International Pregnancy Safety Study Consortium. JAMA Psychiatry. 2018;75:167–75.

Nörby U, Winbladh B, Källén K. Perinatal outcomes after treatment with ADHD medication during pregnancy. Pediatrics. 2017;140:e20170747.

Diav-Citrin O, Shechtman S, Arnon J, Wajnberg R, Borisch C, Beck E, et al. Methylphenidate in pregnancy: a multicenter, prospective, comparative, observational study. J Clin Psychiatry. 2016;77:1176–81.

Bro SP, Kjaersgaard MI, Parner ET, Sørensen MJ, Olsen J, Bech BH, et al. Adverse pregnancy outcomes after exposure to methylphenidate or atomoxetine during pregnancy. Clin Epidemiol. 2015;7:139–47.

Pottegård A, Hallas J, Andersen JT, Løkkegaard EC, Dideriksen D, Aagaard L, et al. First-trimester exposure to methylphenidate: a population-based cohort study. J Clin Psychiatry. 2014;75:e88–93.

Anderson KN, Dutton AC, Broussard CS, Farr SL, Lind JN, Visser SN, et al. ADHD medication use during pregnancy and risk for selected birth defects: national birth defects prevention study, 1998-2011. J Atten Disord. 2020;24:479–89.

Poulton AS, Armstrong B, Nanan RK. Perinatal outcomes of women diagnosed with attention-deficit/hyperactivity disorder: an Australian population-based cohort study. CNS Drugs. 2018;32:377–86.

Cohen JM, Hernández-Díaz S, Bateman BT, Park Y, Desai RJ, Gray KJ, et al. Placental complications associated with psychostimulant use in pregnancy. Obstet Gynecol. 2017;130:1192–201.

Ornoy A. Pharmacological treatment of attention deficit hyperactivity disorder during pregnancy and lactation. Pharm Res. 2018;35:46–46.

Kittel-Schneider S, Quednow BB, Leutritz AL, McNeill RV, Reif A. Parental ADHD in pregnancy and the postpartum period - a systematic review. Neurosci Biobehav Rev. 2021;124:63–77.

Li L, Sujan AC, Butwicka A, Chang Z, Cortese S, Quinn P, et al. Associations of prescribed ADHD medication in pregnancy with pregnancy-related and offspring outcomes: a systematic review. CNS drugs. 2020;34:731–47.

Larsson H. Transparent and complete reporting of confounding in observational research. JCPP Adv. 2022;2:e12086.

Faraone SV, Larsson H. Genetics of attention deficit hyperactivity disorder. Mol Psychiatry. 2019;24:562–75.

Thomas SA, Matsumoto AM, Palmiter RD. Noradrenaline is essential for mouse fetal development. Nature. 1995;374:643–6.

Portbury AL, Chandra R, Groelle M, McMillian MK, Elias A, Herlong JR, et al. Catecholamines act via a beta-adrenergic receptor to maintain fetal heart rate and survival. Am J Physiol Heart Circ Physiol. 2003;284:H2069–77.

Carucci S, Balia C, Gagliano A, Lampis A, Buitelaar JK, Danckaerts M, et al. Long-term methylphenidate exposure and growth in children and adolescents with ADHD. A systematic review and meta-analysis. Neurosci Biobehav Rev. 2021;120:509–25.

Bliddal M, Broe A, Pottegård A, Olsen J, Langhoff-Roos J. The Danish Medical Birth Register. Eur J Epidemiol. 2018;33:27–36.

Lynge E, Sandegaard JL, Rebolj M. The Danish National Patient Register. Scand J Public Health. 2011;39:30–3.

Kildemoes HW, Sorensen HT, Hallas J. The Danish National Prescription Registry. Scand J Public Health. 2011;39:38–41.

Mors O, Perto GP, Mortensen PB. The Danish Psychiatric Central Research Register. Scand J Public health. 2011;39:54–7.

Petersson F, Baadsgaard M, Thygesen LC. Danish registers on personal labour market affiliation. Scand J Public Health. 2011;39:95–8.

Royston P, White IR. Multiple Imputation by Chained Equations (MICE): implementation in Stata. J Stat Softw. 2011;45:1–20.

Lawlor DA, Tilling K, Davey Smith G. Triangulation in aetiological epidemiology. Int J Epidemiol. 2016;45:1866–86.

Petersen AH, Lange T. What is the causal interpretation of sibling comparison designs? Epidemiology. 2020;31:75–81.

Lemelin M, Sheehy O, Zhao JP, Bérard A. Maternal ADHD medication use during pregnancy and the risk of ADHD in children: importance of genetic predispositions and impact of using a sibling analysis. Eur Neuropsychopharmacol. 2021;44:66–78.

Bowyer JF, Peterson SL, Rountree RL, Tor-Agbidye J, Wang GJ. Neuronal degeneration in rat forebrain resulting from D-amphetamine-induced convulsions is dependent on seizure severity and age. Brain Res. 1998;809:77–90.

Hesselman S, Wikman A, Skoglund C, Kopp Kallner H, Skalkidou A, Sundström-Poromaa I, et al. Association of maternal attention deficit hyperactivity disorder and preterm birth: a cohort study. BJOG. 2020;127:1480–7.
Acknowledgements
KBM and TMO receive funding from Sygeforsikring "danmark" (Journalnr. 2021-0139). This study was also funded by the National Institute of Mental Health (NIMH) (R01MH122869). JWD reports funding from the Independent Research Fund Denmark (1133-00026B). The funding agencies had no role in the design, data collection, analysis, interpretation, writing the manuscript, or the decision to submit the manuscript for publication. The corresponding author had full access to the data and had final responsibility for data integrity and data analysis.
Ethics declarations
Competing interests
HL reports receiving grants from Shire Pharmaceuticals; personal fees from and serving as a speaker for Medice, Shire/Takeda Pharmaceuticals, and Evolan Pharma AB; and sponsorship for a conference on attention-deficit/hyperactivity disorder from Shire/Takeda Pharmaceuticals and Evolan Pharma AB, all outside the submitted work. HL is editor-in-chief of JCPP Advances. JHN reports the following disclosures (all unrelated to this work): consultant/advisory board for Adlon Therapeutics, Arbor, Corium, Lumos, Medice, Myriad, NLS, OnDosis, Rhodes, and Supernus; research support from Adlon, Otsuka, Shire, Supernus; honoraria for disease state lectures from Otsuka and Takeda, and served as a consultant for the US National Football League. PHT has received speakers fees from MEDICE and Takeda within the last 3 years. All other authors have nothing to declare.
Additional information
Publisher's note Springer Nature remains neutral with regard to jurisdictional claims in published maps and institutional affiliations.
Supplementary information
Rights and permissions
Springer Nature or its licensor (e.g. a society or other partner) holds exclusive rights to this article under a publishing agreement with the author(s) or other rightsholder(s); author self-archiving of the accepted manuscript version of this article is solely governed by the terms of such publishing agreement and applicable law.
About this article
Cite this article
Bang Madsen, K., Robakis, T.K., Liu, X. et al. In utero exposure to ADHD medication and long-term offspring outcomes. Mol Psychiatry (2023). https://doi.org/10.1038/s41380-023-01992-6
Received:

Revised:

Accepted:

Published:

DOI: https://doi.org/10.1038/s41380-023-01992-6