Abstract
Solitons are self-reinforcing localized wave packets that manifest in the major areas of nonlinear science, from optics to biology and Bose–Einstein condensates. Recently, optically driven dissipative solitons have attracted great attention for the implementation of the chip-scale frequency combs that are decisive for communications, spectroscopy, neural computing, and quantum information processing. In the current understanding, the generation of temporal solitons involves the chromatic dispersion as a key enabling physical effect, acting either globally or locally on the cavity dynamics in a decisive way. Here, we report on a novel class of solitons, both theoretically and experimentally, which builds up in spectrally confined optical cavities when dispersion is practically absent, both globally and locally. Precisely, the interplay between the Kerr nonlinearity and spectral filtering results in an infinite hierarchy of eigenfunctions which, combined with optical gain, allow for the generation of stable dispersion-less dissipative solitons in a previously unexplored regime. When the filter order tends to infinity, we find an unexpected link between dissipative and conservative solitons, in the form of Nyquist-pulse-like solitons endowed with an ultra-flat spectrum. In contrast to the conventional dispersion-enabled nonlinear Schrödinger solitons, these dispersion-less Nyquist solitons build on a fully confined spectrum and their energy scaling is not constrained by the pulse duration. Dispersion-less soliton molecules and their deterministic transitioning to single solitons are also evidenced. These findings broaden the fundamental scope of the dissipative soliton paradigm and open new avenues for generating soliton pulses and frequency combs endowed with unprecedented temporal and spectral features.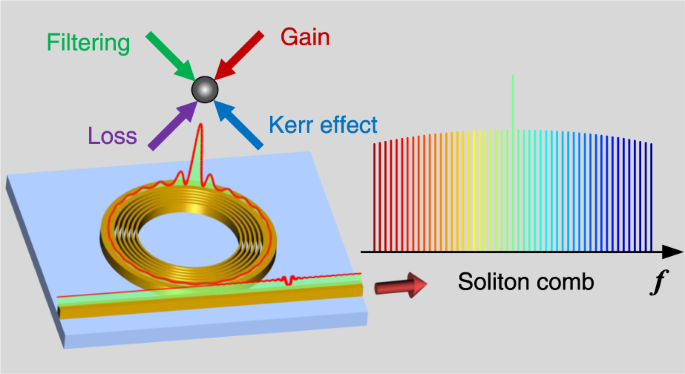 References
Russell, S. J. Report on Waves: Made to the Meetings of the British Association in 1842–1843 (Forgotten Books, 1845).

Boardman, A. D. & Sukhorukov, A. P. Soliton-Driven Photonics (Springer, 2001).

Akhmediev, N., Ankiewicz, A. & Akhmediev, N. Dissipative Solitons: From Optics to Biology and Medicine (Springer, 2008).

Haus, H. A. & Wong, W. S. Solitons in optical communications. Rev. Mod. Phys. 68, 423–444 (1996).

Grelu, P. & Akhmediev, N. Dissipative solitons for mode-locked lasers. Nat. Photonics 6, 84–92 (2012).

Kippenberg, T. J. et al. Dissipative Kerr solitons in optical microresonators. Science 361, eaan8083 (2018).

Chong, A. et al. All-normal-dispersion femtosecond fiber laser. Opt. Express 14, 10095–10100 (2006).

Huang, S. W. et al. Mode-locked ultrashort pulse generation from on-chip normal dispersion microresonators. Phys. Rev. Lett. 114, 053901 (2015).

Spiess, C. et al. Chirped dissipative solitons in driven optical resonators. Optica 8, 861–869 (2021).

Haus, H. A. et al. Stretched-pulse additive pulse mode-locking in fiber ring lasers: theory and experiment. IEEE J. Quantum Electron. 31, 591–598 (1995).

Dong, X. et al. Stretched-pulse soliton Kerr resonators. Phys. Rev. Lett. 125, 033902 (2020).

Renninger, W. H., Chong, A. & Wise, F. W. Amplifier similaritons in a dispersion-mapped fiber laser. Opt. Express 19, 22496–22501 (2011).

Parra-Rivas, P., Gomila, D. & Gelens, L. Coexistence of stable dark- and bright-soliton Kerr combs in normal-dispersion resonators. Phys. Rev. A 95, 053863 (2017).

Li, Z. D. et al. Experimental observations of bright dissipative cavity solitons and their collapsed snaking in a Kerr resonator with normal dispersion driving. Optica 7, 1195–1203 (2020).

Anderson, M. H. et al. Zero-dispersion Kerr solitons in optical microresonators. Nat. Commun. 13, 4764 (2020).

Blanco-Redondo, A. et al. Pure-quartic solitons. Nat. Commun. 7, 10427 (2016).

Runge, A. F. J. et al. The pure-quartic soliton laser. Nat. Photonics 14, 492–497 (2020).

Turitsyn, S. K. et al. Dissipative solitons in fiber lasers. Phys. Uspekhi 59, 642–668 (2016).

Grelu, P. in Handbook of Laser Technology and Applications (Laser Design & Laser Systems) 2nd edn, Vol. II (eds Guo, C. L. & Singh, S. C.) Ch. 39 (Taylor & Francis, 2021).

Haelterman, M., Trillo, S. & Wabnitz, S. Dissipative modulation instability in a nonlinear dispersive ring cavity. Opt. Commun. 91, 401–407 (1992).

Wabnitz, S. Suppression of interactions in a phase-locked soliton optical memory. Opt. Lett. 18, 601–603 (1993).

Leo, F. et al. Temporal cavity solitons in one-dimensional Kerr media as bits in an all-optical buffer. Nat. Photonics 4, 471–476 (2010).

Herr, T. et al. Temporal solitons in optical microresonators. Nat. Photonics 8, 145–152 (2014).

Nakazawa, M., Yoshida, M. & Hirooka, T. The Nyquist laser. Optica 1, 15–22 (2014).

Turitsyn, S. K., Bogdanov, S. & Redyuk, A. Soliton-sinc optical pulses. Opt. Lett. 45, 5352–5355 (2020).

Nakazawa, M. et al. Ultrahigh-speed 'orthogonal' TDM transmission with an optical Nyquist pulse train. Opt. Express 20, 1129–1140 (2012).

Marin-Palomo, P. et al. Microresonator-based solitons for massively parallel coherent optical communications. Nature 546, 274–279 (2017).

Suh, M. G. et al. Microresonator soliton dual-comb spectroscopy. Science 354, 600–603 (2016).

Riemensberger, J. et al. Massively parallel coherent laser ranging using a soliton microcomb. Nature 581, 164–170 (2020).

Feldmann, J. et al. Parallel convolutional processing using an integrated photonic tensor core. Nature 589, 52–58 (2021).

Xu, X. Y. et al. 11 TOPS photonic convolutional accelerator for optical neural networks. Nature 589, 44–51 (2021).

Wu, J. Y. et al. RF photonics: an optical microcombs' perspective. IEEE J. Sel. Top. Quantum Electron. 24, 6101020 (2018).

Weiner, A. M. Femtosecond pulse shaping using spatial light modulators. Rev. Sci. Instrum. 71, 1929–1960 (2000).

Schröder, J. et al. Dark and bright pulse passive mode-locked laser with in-cavity pulse-shaper. Opt. Express 18, 22715–22721 (2010).

Peng, J. S. & Boscolo, S. Filter-based dispersion-managed versatile ultrafast fibre laser. Sci. Rep. 6, 25995 (2016).

Englebert, N. et al. Temporal solitons in a coherently driven active resonator. Nat. Photonics 15, 536–541 (2021).

Obrzud, E., Lecomte, S. & Herr, T. Temporal solitons in microresonators driven by optical pulses. Nat. Photonics 11, 600–607 (2017).

Stratmann, M., Pagel, T. & Mitschke, F. Experimental observation of temporal soliton molecules. Phys. Rev. Lett. 95, 143902 (2005).

Application note: Dispersion trimming using the programming group delay capability of the Waveshaper family of programmable optical processors. https://ii-vi.com/dispersion-trimming (2022).

Yu, S. P. et al. Photonic-crystal-reflector nanoresonators for Kerr-frequency combs. ACS Photonics 6, 2083–2089 (2019).

Lucas, E. et al. Inverse spectral design of Kerr microcomb pulses. In Proc. SPIE 11672, Laser Resonators, Microresonators, and Beam Control XXIII 1167205 (SPIE, 2021).

Kelly, S. M. J. Characteristic sideband instability of periodically amplified average soliton. Electron. Lett. 28, 806–807 (1992).
Acknowledgements
The authors thank A. M. Weiner for discussions. This work was supported by the National Key R&D Program of China under grant no. 2018YFA0701902, the National Natural Science Foundation of China under grant no. 61690192, and Zhejiang Lab under grant no. 2020LC0AD01. P.G. acknowledges support from the EiPhi Graduate School under grant no. ANR-17-EURE-0004 and the French ISITE-BFC programs under grant no. ANR-15-IDEX-0003.
Ethics declarations
Conflict of interest
The authors declare no competing interests.
Supplementary information
Rights and permissions
Open Access This article is licensed under a Creative Commons Attribution 4.0 International License, which permits use, sharing, adaptation, distribution and reproduction in any medium or format, as long as you give appropriate credit to the original author(s) and the source, provide a link to the Creative Commons license, and indicate if changes were made. The images or other third party material in this article are included in the article's Creative Commons license, unless indicated otherwise in a credit line to the material. If material is not included in the article's Creative Commons license and your intended use is not permitted by statutory regulation or exceeds the permitted use, you will need to obtain permission directly from the copyright holder. To view a copy of this license, visit http://creativecommons.org/licenses/by/4.0/.
About this article
Cite this article
Xue, X., Grelu, P., Yang, B. et al. Dispersion-less Kerr solitons in spectrally confined optical cavities. Light Sci Appl 12, 19 (2023). https://doi.org/10.1038/s41377-022-01052-8
Received:

Revised:

Accepted:

Published:

DOI: https://doi.org/10.1038/s41377-022-01052-8