Abstract
Hypertensive disorders during pregnancy (HDP) could have significant clinical impact not only on the mother's, but also on the offspring's health. The clinical impact of HDP may be evident early in the perinatal period or during childhood and adolescence. The cardiovascular system seems to be primarily affected with higher rates of congenital heart defects reported from cohort studies in the offspring of mothers with HDP. HDP are associated with alterations in cardiac and vascular structure and higher BP during childhood. HDP may also affect brain development and could result in increased prevalence of adverse cognitive outcomes and neuropsychiatric disorders in children and adolescents. The kidney, immune, endocrine, and gastrointestinal system abnormalities could also have their origin in exposure to HDP. The aim of this narrative review is to examine the clinical impact of HDP on the offspring with a focus on the perinatal period, childhood, and adolescence.
Access options
Subscribe to Journal
Get full journal access for 1 year
$119.00
only $9.92 per issue
All prices are NET prices.
VAT will be added later in the checkout.
Tax calculation will be finalised during checkout.
Rent or Buy article
Get time limited or full article access on ReadCube.
from$8.99
All prices are NET prices.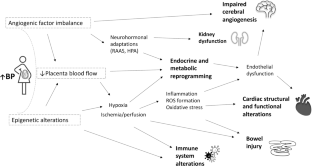 References
1.

Antza C, Cifkova R, Kotsis V. Hypertensive complications of pregnancy: a clinical overview. Metabolism. 2018;86:102–11.

2.

Say L, Chou D, Gemmill A, Tuncalp O, Moller AB, Daniels J, et al. Global causes of maternal death: a WHO systematic analysis. Lancet Glob Health. 2014;2:e323–33.

3.

Umesawa M, Kobashi G. Epidemiology of hypertensive disorders in pregnancy: prevalence, risk factors, predictors and prognosis. Hypertension Res. 2017;40:213–20.

4.

Webster K, Fishburn S, Maresh M, Findlay SC, Chappell LC. Diagnosis and management of hypertension in pregnancy: summary of updated NICE guidance. BMJ. 2019;366:l5119.

5.

Madazli R, Yuksel MA, Imamoglu M, Tuten A, Oncul M, Aydin B, et al. Comparison of clinical and perinatal outcomes in early- and late-onset preeclampsia. Arch Gynecol Obstet. 2014;290:53–7.

6.

Rezk M, Gamal A, Emara M. Maternal and fetal outcome in de novo preeclampsia in comparison to superimposed preeclampsia: a two-year observational study. Hypertens Pregnancy. 2015;34:137–44.

7.

Odegard RA, Vatten LJ, Nilsen ST, Salvesen KA, Austgulen R. Preeclampsia and fetal growth. Obstet Gynecol. 2000;96:950–5.

8.

RF. Writing narrative style literature reviews. Med Writ. 2015;24:230–5.

9.

Balli S, Kibar AE, Ece I, Oflaz MB, Yilmaz O. Assessment of fetal cardiac function in mild preeclampsia. Pediatr Cardiol. 2013;34:1674–9.

10.

Youssef L, Miranda J, Paules C, Garcia-Otero L, Vellve K, Kalapotharakos G, et al. Fetal cardiac remodeling and dysfunction is associated with both preeclampsia and fetal growth restriction. Am J Obstet Gynecol. 2020;222:79.e71–9.

11.

Akil A, Api O, Oten Can E, Ozkan S, Ercan S, Orcun A, et al. Does preeclampsia have any adverse effect on fetal heart? J Matern Fetal Neonatal Med. 2016;29:2312–5.

12.

Auger N, Fraser WD, Healy-Profitos J, Arbour L. Association between preeclampsia and congenital heart defects. Jama. 2015;314:1588–98.

13.

Brodwall K, Leirgul E, Greve G, Vollset SE, Holmstrom H, Tell GS, et al. Possible common aetiology behind maternal preeclampsia and congenital heart defects in the child: a cardiovascular diseases in Norway project study. Paediatr Perinat Epidemiol. 2016;30:76–85.

14.

Stark MJ, Clifton VL, Wright IM. Neonates born to mothers with preeclampsia exhibit sex-specific alterations in microvascular function. Pediatr Res. 2009;65:292–5.

15.

Reveret M, Boivin A, Guigonnis V, Audibert F, Nuyt AM. Preeclampsia: effect on newborn blood pressure in the 3 days following preterm birth: a cohort study. J Hum Hypertens. 2015;29:115–21.

16.

Akcakus M, Altunay L, Yikilmaz A, Yazici C, Koklu E. The relationship between abdominal aortic intima-media thickness and lipid profile in neonates born to mothers with preeclampsia. J Pediatr Endocrinol Metab. 2010;23:1143–9.

17.

Mann JR, McDermott S, Griffith MI, Hardin J, Gregg A. Uncovering the complex relationship between pre-eclampsia, preterm birth and cerebral palsy. Paediatr Perinat Epidemiol. 2011;25:100–10.

18.

Faa G, Gerosa C, Fanni D, Nemolato S, Locci A, Cabras T, et al. Marked interindividual variability in renal maturation of preterm infants: lessons from autopsy. J Matern Fetal Neonatal Med. 2010;23 Suppl 3:129–33.

19.

Kandasamy Y, Smith R, Wright IM, Lumbers ER. Extra-uterine renal growth in preterm infants: oligonephropathy and prematurity. Pediatr Nephrol. 2013;28:1791–6.

20.

Walker MW, Clark RH, Spitzer AR. Elevation in plasma creatinine and renal failure in premature neonates without major anomalies: terminology, occurrence and factors associated with increased risk. J Perinatol. 2011;31:199–205.

21.

Loewendorf AI, Nguyen TA, Yesayan MN, Kahn DA. Preeclampsia is characterized by fetal NK cell activation and a reduction in regulatory T cells. Am J Reprod Immunol. 2015;74:258–67.

22.

Hu M, Eviston D, Hsu P, Marino E, Chidgey A, Santner-Nanan B, et al. Decreased maternal serum acetate and impaired fetal thymic and regulatory T cell development in preeclampsia. Nat Commun. 2019;10:3031.

23.

Staley JR, Bradley J, Silverwood RJ, Howe LD, Tilling K, Lawlor DA, et al. Associations of blood pressure in pregnancy with offspring blood pressure trajectories during childhood and adolescence: findings from a prospective study. J Am Heart Assoc. 2015;4:e001422.

24.

Davis EF, Lazdam M, Lewandowski AJ, Worton SA, Kelly B, Kenworthy Y, et al. Cardiovascular risk factors in children and young adults born to preeclamptic pregnancies: a systematic review. Pediatrics. 2012;129:e1552–61.

25.

Timpka S, Macdonald-Wallis C, Hughes AD, Chaturvedi N, Franks PW, Lawlor DA, et al. Hypertensive disorders of pregnancy and offspring cardiac structure and function in adolescence. J Am Heart Assoc. 2016;5e003906.

26.

Lazdam M, de la Horra A, Diesch J, Kenworthy Y, Davis E, Lewandowski AJ, et al. Unique blood pressure characteristics in mother and offspring after early onset preeclampsia. Hypertension. 2012;60:1338–45.

27.

Lazdam M, de la Horra A, Pitcher A, Mannie Z, Diesch J, Trevitt C, et al. Elevated blood pressure in offspring born premature to hypertensive pregnancy: is endothelial dysfunction the underlying vascular mechanism? Hypertension. 2010;56:159–65.

28.

Jayet PY, Rimoldi SF, Stuber T, Salmon CS, Hutter D, Rexhaj E, et al. Pulmonary and systemic vascular dysfunction in young offspring of mothers with preeclampsia. Circulation. 2010;122:488–94.

29.

Whitehouse AJ, Robinson M, Newnham JP, Pennell CE. Do hypertensive diseases of pregnancy disrupt neurocognitive development in offspring? Paediatr Perinat Epidemiol. 2012;26:101–8.

30.

Ratsep MT, Hickman AF, Maser B, Pudwell J, Smith GN, Brien D, et al. Impact of preeclampsia on cognitive function in the offspring. Behav Brain Res. 2016;302:175–81.

31.

Morsing E, Marsal K. Pre-eclampsia- an additional risk factor for cognitive impairment at school age after intrauterine growth restriction and very preterm birth. Early Hum Dev. 2014;90:99–101.

32.

Heikura U, Hartikainen AL, Nordstrom T, Pouta A, Taanila A, Jarvelin MR. Maternal hypertensive disorders during pregnancy and mild cognitive limitations in the offspring. Paediatr Perinat Epidemiol. 2013;27:188–98.

33.

Grace T, Bulsara M, Pennell C, Hands B. Maternal hypertensive diseases negatively affect offspring motor development. Pregnancy Hypertens. 2014;4:209–14.

34.

Gramsbergen A. Clumsiness and disturbed cerebellar development: insights from animal experiments. Neural Plast. 2003;10:129–40.

35.

Ivry RB. Cerebellar involvement in clumsiness and other developmental disorders. Neural Plast. 2003;10:141–53.

36.

Bharadwaj SK, Vishnu Bhat B, Vickneswaran V, Adhisivam B, Bobby Z, Habeebullah S. Oxidative stress, antioxidant status and neurodevelopmental outcome in neonates born to pre-eclamptic mothers. Indian J Pediatr. 2018;85:351–7.

37.

Dachew BA, Mamun A, Maravilla JC, Alati R. Pre-eclampsia and the risk of autism-spectrum disorder in offspring: meta-analysis. Br J Psychiatry. 2018;212:142–7.

38.

Robinson M, Oddy WH, Whitehouse AJ, Pennell CE, Kendall GE, McLean NJ, et al. Hypertensive diseases of pregnancy predict parent-reported difficult temperament in infancy. J Dev Behav Pediatr. 2013;34:174–80.

39.

Nahum Sacks K, Friger M, Shoham-Vardi I, Sergienko R, Spiegel E, Landau D, et al. Long-term neuropsychiatric morbidity in children exposed prenatally to preeclampsia. Early Hum Dev. 2019;130:96–100.

40.

Wu CS, Sun Y, Vestergaard M, Christensen J, Ness RB, Haggerty CL, et al. Preeclampsia and risk for epilepsy in offspring. Pediatrics. 2008;122:1072–8.

41.

Mann JR, McDermott S. Maternal pre-eclampsia is associated with childhood epilepsy in South Carolina children insured by Medicaid. Epilepsy Behav. 2011;20:506–11.

42.

Brenner BM, Chertow GM. Congenital oligonephropathy and the etiology of adult hypertension and progressive renal injury. Am J Kidney Dis. 1994;23:171–5.

43.

Khalsa DD, Beydoun HA, Carmody JB. Prevalence of chronic kidney disease risk factors among low birth weight adolescents. Pediatr Nephrol. 2016;31:1509–16.

44.

Hirano D, Ishikura K, Uemura O, Ito S, Wada N, Hattori M, et al. Association between low birth weight and childhood-onset chronic kidney disease in Japan: a combined analysis of a nationwide survey for paediatric chronic kidney disease and the National Vital Statistics Report. Nephrol Dialysis Transplant. 2016;31:1895–900.

45.

Starzec K, Klimek M, Grudzień A, Jagła M, Kwinta P. Longitudinal assessment of renal size and function in extremely low birth weight children at 7 and 11 years of age. Pediatr Nephrol. 2016;31:2119–26.

46.

Washburn LK, Brosnihan KB, Chappell MC, Diz DI, Gwathmey TM, Nixon PA, et al. The renin-angiotensin-aldosterone system in adolescent offspring born prematurely to mothers with preeclampsia. J Renin Angiotensin Aldosterone Syst. 2015;16:529–38.

47.

Liu X, Olsen J, Agerbo E, Yuan W, Wu CS, Li J. Maternal preeclampsia and childhood asthma in the offspring. Pediatr Allergy Immunol. 2015;26:181–5.

48.

Wu CS, Nohr EA, Bech BH, Vestergaard M, Catov JM, Olsen J. Health of children born to mothers who had preeclampsia: a population-based cohort study. Am J Obstet Gynecol. 2009;201:269.e261–10.

49.

Keski-Nisula L, Heinonen S, Remes S, Pekkanen J. Pre-eclampsia, placental abruption and increased risk of atopic sensitization in male adolescent offspring. Am J Reprod Immunol. 2009;62:293–300.

50.

Byberg KK, Ogland B, Eide GE, Oymar K. Birth after preeclamptic pregnancies: association with allergic sensitization and allergic rhinoconjunctivitis in late childhood; a historically matched cohort study. BMC Pediatr. 2014;14:101.

51.

Burton GJ, Woods AW, Jauniaux E, Kingdom JC. Rheological and physiological consequences of conversion of the maternal spiral arteries for uteroplacental blood flow during human pregnancy. Placenta. 2009;30:473–82.

52.

Wang LB, Qu B, Xu P, Wu LL, Gu JS, Shah NK, et al. Preeclampsia exposed offspring have greater body mass index than non-exposed offspring during peripubertal life: a meta-analysis. Pregnancy Hypertens. 2020;19:247–52.

53.

Alsnes IV, Janszky I, Asvold BO, Okland I, Forman MR, Vatten LJ. Maternal preeclampsia and androgens in the offspring around puberty: a follow-up study. PloS ONE. 2016;11:e0167714.

54.

Ogland B, Nilsen ST, Forman MR, Vatten LJ. Pubertal development in daughters of women with pre-eclampsia. Arch Dis Child. 2011;96:740–3.

55.

Giles GG, Severi G, English DR, McCredie MR, MacInnis R, Boyle P, et al. Early growth, adult body size and prostate cancer risk. Int J Cancer. 2003;103:241–5.

56.

Pettersson A, Richiardi L, Cnattingius S, Kaijser M, Akre O. Gestational hypertension, preeclampsia, and risk of testicular cancer. Cancer Res. 2008;68:8832–6.

57.

Troisi R, Potischman N, Roberts JM, Ness R, Crombleholme W, Lykins D, et al. Maternal serum oestrogen and androgen concentrations in preeclamptic and uncomplicated pregnancies. Int J Epidemiol. 2003;32:455–60.

58.

Leybovitz-Haleluya N, Wainstock T, Sheiner E. Maternal preeclampsia and the risk of pediatric gastrointestinal diseases of the offspring: a population-based cohort study. Pregnancy Hypertens. 2019;17:144–7.

59.

Fitton CA, Fleming M, Steiner MFC, Aucott L, Pell JP, Mackay DF, et al. In utero antihypertensive medication exposure and neonatal outcomes: a data linkage cohort study. Hypertension. 2020;75:628–33.

60.

Lennestal R, Otterblad Olausson P, Kallen B. Maternal use of antihypertensive drugs in early pregnancy and delivery outcome, notably the presence of congenital heart defects in the infants. Eur J Clin Pharmacol. 2009;65:615–25.

61.

Caton AR, Bell EM, Druschel CM, Werler MM, Lin AE, Browne ML, et al. Antihypertensive medication use during pregnancy and the risk of cardiovascular malformations. Hypertension. 2009;54:63–70.

62.

Caton AR, Bell EM, Druschel CM, Werler MM, Mitchell AA, Browne ML, et al. Maternal hypertension, antihypertensive medication use, and the risk of severe hypospadias. Birth Defects Res A Clin Mol Teratol. 2008;82:34–40.

63.

Van Zutphen AR, Werler MM, Browne MM, Romitti PA, Bell EM, McNutt LA, et al. Maternal hypertension, medication use, and hypospadias in the National Birth Defects Prevention Study. Obstet Gynecol. 2014;123:309–17.
Acknowledgements
We kindly thank Zoe Rizos from the University of Toronto for extensively editing the paper.
Ethics declarations
Conflict of interest
The authors declare no competing interests.
Additional information
Publisher's note Springer Nature remains neutral with regard to jurisdictional claims in published maps and institutional affiliations.
About this article
Cite this article
Kanata, M., Liazou, E., Chainoglou, A. et al. Clinical outcomes of hypertensive disorders in pregnancy in the offspring during perinatal period, childhood, and adolescence. J Hum Hypertens (2021). https://doi.org/10.1038/s41371-021-00550-3
Received:

Revised:

Accepted:

Published: