Abstract
Background
Prevailing models of obesity posit that hedonic signals override homeostatic mechanisms to promote overeating in today's food environment. What researchers mean by "hedonic" varies considerably, but most frequently refers to an aggregate of appetitive events including incentive salience, motivation, reinforcement, and perceived pleasantness. Here we define hedonic as orosensory pleasure experienced during eating and set out to test whether there is a relationship between adiposity and the perceived pleasure of a palatable and energy-dense milkshake.
Methods
The perceived liking, wanting, and intensity of two palatable and energy-dense milkshakes were assessed using the Labeled Hedonic Scale (1), visual analog scale (VAS), and Generalized Labeled Magnitude Scale (2) in 110 individuals ranging in body mass index (BMI) from 19.3 to 52.1 kg/m2. Waist circumference, waist–hip ratio, and percent body fat were also measured. Importantly, unlike the majority of prior studies, we attempted to standardize internal state by instructing participants to arrive to the laboratory neither hungry nor full and at least 1-h fasted. Data were analyzed with general linear and linear mixed effects models (GLMs). Hunger ratings were also examined prior to hedonic measurement and included as covariates in our analyses.
Results
We identified a significant association between ratings of hunger and milkshake liking and wanting. By contrast, we found no evidence for a relationship between any measure of adiposity and ratings of milkshake liking, wanting, or intensity.
Conclusions
We conclude that adiposity is not associated with the pleasure experienced during consumption of our energy-dense and palatable milkshakes. Our results provide further evidence against the hypothesis that heightened hedonic signals drive weight gain.
Access options
Subscribe to Journal
Get full journal access for 1 year
$119.00
only $9.92 per issue
All prices are NET prices.
VAT will be added later in the checkout.
Tax calculation will be finalised during checkout.
Buy article
Get time limited or full article access on ReadCube.
$32.00
All prices are NET prices.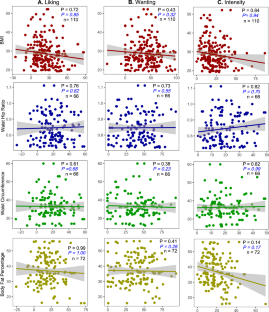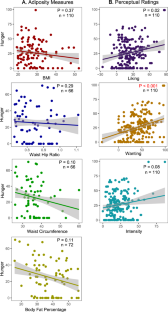 References
Lim J, Wood A, Green BG. Derivation and evaluation of a Labeled Hedonic Scale. Chem Senses. 2009;34:739–51.

Green BG, Shaffer GS, Gilmore MM. Derivation and evaluation of a semantic scale of oral sensation magnitude with apparent ratio properties. Chem Senses. 1993;18:683–702.

Berthoud H-R. Multiple neural systems controlling food intake and body weight. Neurosci Biobehav Rev. 2002;26:393–428.

Rossi MA, Stuber GD. Overlapping brain circuits for homeostatic and hedonic feeding. Cell Metab. 2018;27:42–56.

Saper CB, Chou TC, Elmquist JK. The need to feed: homeostatic and hedonic control of eating. Neuron. 2002;36:199–211.

Mela DJ. Eating for pleasure or just wanting to eat? Reconsidering sensory hedonic responses as a driver of obesity. Appetite. 2006;47:10–7.

Berridge KC. Food reward: brain substrates of wanting and liking. Neurosci Biobehav Rev. 1996;20:1–25.

Dayan P, Balleine BW. Reward, motivation, and reinforcement learning. Neuron. 2002;36:285–98.

Salamone JD, Correa M. Motivational views of reinforcement: implications for understanding the behavioral functions of nucleus accumbens dopamine. Behav Brain Res. 2002;137:3–25.

Lawless HT, Heymann H. Sensory evaluation of food: principles and practices. 2nd ed. New York: Springer-Verlag; 2010. https://www.springer.com/gp/book/9781441964878. Accessed 23 Jul 2019. Food Science Text Series.

Dalenberg JR, Gutjar S, Horst GJter, Graaf Kde, Renken RJ, Jager G. Evoked emotions predict food choice. PLoS ONE. 2014;9:e115388.

LeDoux JE, Brown R. A higher-order theory of emotional consciousness. Proc Natl Acad Sci USA. 2017;114:E2016–25.

Jansen A. A learning model of binge eating: cue reactivity and cue exposure. Behav Res Ther. 1998;36:257–72.

Small DM, Veldhuizen MG, Felsted J, Mak YE, McGlone F. Separable substrates for anticipatory and consummatory food chemosensation. Neuron. 2008;57:786–97.

Cox DN, Hendrie GA, Carty D. Sensitivity, hedonics and preferences for basic tastes and fat amongst adults and children of differing weight status: a comprehensive review. Food Qual Prefer. 2016;48:359–67.

Witherly SA, Pangborn RM, Stern JS. Gustatory responses and eating duration of obese and lean adults. Appetite. 1980;1:53–63.

Drewnowski A, Henderson SA, Cockroft JE. Genetic sensitivity to 6-n-propylthiouracil has no influence on dietary patterns, body mass indexes, or plasma lipid profiles of women. J Am Diet Assoc. 2007;107:1340–8.

Pangborn RM, Bos KEO, Stern JS. Dietary fat intake and taste responses to fat in milk by under-, normal, and overweight women. Appetite. 1985;6:25–40.

Saelens BE, Epstein LH. Reinforcing value of food in obese and non-obese women. Appetite. 1996;27:41–50.

Diehl JM. Food preferences of 10- to 14-year-old boys and girls. Schweiz Med Wochenschr. 1999;129:151–61.

Nakamura K, Shimai S, Kikuchi S, Tanaka M. Correlation between a liking for fat-rich foods and body fatness in adult Japanese: a gender difference. Appetite. 2001;36:1–7.

Salbe AD, DelParigi A, Pratley RE, Drewnowski A, Tataranni PA. Taste preferences and body weight changes in an obesity-prone population. Am J Clin Nutr. 2004;79:372–8.

Bartoshuk Linda M, Duffy Valerie B, Hayes John E, Moskowitz Howard R, Snyder Derek J. Psychophysics of sweet and fat perception in obesity: problems, solutions and new perspectives. Philos Trans R Soc B Biol Sci. 2006;361:1137–48.

Davis C, Patte K, Levitan R, Reid C, Tweed S, Curtis C. From motivation to behaviour: a model of reward sensitivity, overeating, and food preferences in the risk profile for obesity. Appetite. 2007;48:12–9.

Czyzewska M, Graham R. Implicit and explicit attitudes to high- and low-calorie food in females with different BMI status. Eat Behav. 2008;9:303–12.

Keskitalo K, Tuorila H, Spector TD, Cherkas LF, Knaapila A, Kaprio J, et al. The Three-Factor Eating Questionnaire, body mass index, and responses to sweet and salty fatty foods: a twin study of genetic and environmental associations. Am J Clin Nutr. 2008;88:263–71.

Temple JL, Legierski CM, Giacomelli AM, Salvy S-J, Epstein LH. Overweight children find food more reinforcing and consume more energy than do nonoverweight children. Am J Clin Nutr. 2008;87:1121–7.

Hill C, Wardle J, Cooke L. Adiposity is not associated with children's reported liking for selected foods. Appetite. 2009;52:603–8.

Duffy VB, Bartoshuk LM. Food acceptance and genetic variation in taste. J Am Diet Assoc. 2000;100:647–55.

Giesen JCAH, Havermans RC, Douven A, Tekelenburg M, Jansen A. Will work for snack food: the association of BMI and snack reinforcement. Obesity. 2010;18:966–70.

Ettinger L, Duizer L, Caldwell T. Body fat, sweetness sensitivity, and preference: determining the relationship. Can J Diet Pract Res. 2012;73:45–8.

Dressler H, Smith C. Food choice, eating behavior, and food liking differs between lean/normal and overweight/obese, low-income women. Appetite. 2013;65:145–52.

Deglaire A, Méjean C, Castetbon K, Kesse-Guyot E, Hercberg S, Schlich P. Associations between weight status and liking scores for sweet, salt and fat according to the gender in adults (The Nutrinet-Santé study). Eur J Clin Nutr. 2015;69:40–6.

Laureati M, Bertoli S, Bergamaschi V, Leone A, Lewandowski L, Giussani B, et al. Food neophobia and liking for fruits and vegetables are not related to Italian children's overweight. Food Qual Prefer. 2015;40:125–31.

Lampuré A, Castetbon K, Deglaire A, Schlich P, Péneau S, Hercberg S, et al. Associations between liking for fat, sweet or salt and obesity risk in French adults: a prospective cohort study. Int J Behav Nutr Phys Act. 2016;13:74.

Proserpio C, de Graaf C, Laureati M, Pagliarini E, Boesveldt S. Food odors influence behavioral and physiological parameters of human eating behavior. European Conference on Sensory and Consumer Research. Universita Degli Studi Di Milano. 2016. https://air.unimi.it/handle/2434/554605#.XTdSBfJKj0M. Accessed 23 Jul 2019.

Polk SE, Schulte EM, Furman CR, Gearhardt AN. Wanting and liking: separable components in problematic eating behavior? Appetite. 2017;115:45–53.

Rodin J, Moskowitz HR, Bray GA. Relationship between obesity, weight loss, and taste responsiveness. Physiol Behav. 1976;17:591–7.

Thompson DA, Moskowitz HR, Campbell RG. Taste and olfaction in human obesity. Physiol Behav. 1977;19:335–7.

Malcolm R, O'Neil PM, Hirsch AA, Currey HS, Moskowitz G. Taste hedonics and thresholds in obesity. Int J Obes. 1980;4:203–12.

Frijters JER, Rasmussen-Conrad EL. Sensory discrimination, intensity perception, and affective judgment of sucrose-sweetness in the overweight. J Gen Psychol. 1982;107:233–47.

Pasquet P, Frelut ML, Simmen B, Hladik CM, Monneuse M-O. Taste perception in massively obese and in non-obese adolescents. Int J Pediatr Obes. 2007;2:242–8.

Hardikar S, Höchenberger R, Villringer A, Ohla K. Higher sensitivity to sweet and salty taste in obese compared to lean individuals. Appetite. 2017;111:158–65.

Brondel L, Van Wymelbeke V, Hanus CC, Romer M, Jiang T, Rigaud D. Increase food-intake in relation to food variety in humans: is sensory-specific satiety diminished by "alimentary zapping"? In: Fundamental & clinical pharmacolgy. Montpellier. 2006. https://hal.archives-ouvertes.fr/hal-00022997. Accessed 23 Jul 2019.

Trellakis S, Tagay S, Fischer C, Rydleuskaya A, Scherag A, Bruderek K, et al. Ghrelin, leptin and adiponectin as possible predictors of the hedonic value of odors. Regul Pept. 2011;167:112–7.

Soussignan R, Schaal B, Boulanger V, Gaillet M, Jiang T. Orofacial reactivity to the sight and smell of food stimuli. Evidence for anticipatory liking related to food reward cues in overweight children. Appetite. 2012;58:508–16.

Bragulat V, Dzemidzic M, Bruno C, Cox CA, Talavage T, Considine RV, et al. Food-related odor probes of brain reward circuits during hunger: a pilot FMRI study. Obes Silver. 2010;18:1566–71.

Havermans RC, Roefs A, Nederkoorn C, Jansen A. No rapid recovery of sensory-specific satiety in obese women. Flavour. 2012;1:5.

Eiler WJA, Dzemidzic M, Case KR, Considine RV, Kareken DA. Correlation between ventromedial prefrontal cortex activation to food aromas and cue-driven eating: an fMRI study. Chemosens Percept. 2012;5:27–36.

Stafford LD, Whittle A. Obese individuals have higher preference and sensitivity to odor of chocolate. Chem Senses. 2015;40:279–84.

Jiang T, Soussignan R, Schaal B, Royet J-P. Reward for food odors: an fMRI study of liking and wanting as a function of metabolic state and BMI. Soc Cogn Affect Neurosci. 2015;10:561–8.

Sun X, Veldhuizen MG, Babbs AE, Sinha R, Small DM. Perceptual and brain response to odors is associated with body mass index and postprandial total ghrelin reactivity to a meal. Chem Senses. 2016;41:233–48.

Yeomans MR, Prescott J. Smelling the goodness: sniffing as a behavioral measure of learned odor hedonics. J Exp Psychol Anim Learn Cogn. 2016;42:391–400.

Farruggia MC, Kooten MJ van, Burke MV, Scheinost D, Constable RT, Small DM. Fingerprinting adiposity and metabolic function in the brains of overweight and obese humans. bioRxiv. 2019;540997.

Sun X, Kroemer NB, Veldhuizen MG, Babbs AE, Araujo IE, de, Gitelman DR, et al. Basolateral amygdala response to food cues in the absence of hunger is associated with weight gain susceptibility. J Neurosci. 2015;35:7964–76.

DiFeliceantonio A, Nakamura Y, Qiu M, Geha P, Small D. Body weight is related to striatal response to predicted, but not unpredicted milkshake receipt and this relationship is not influenced by baseline cerebral blood flow. In: Society for the Study of Ingestive Behavior 24th Annual Meeting. Denver, CO; 2016; p. 7–11.

Veldhuizen MG, Bender G, Constable RT, Small DM. Trying to detect taste in a tasteless solution: modulation of early gustatory cortex by attention to taste. Chem Senses. 2007;32:569–81.

Francis H, Stevenson R. Validity and test–retest reliability of a short dietary questionnaire to assess intake of saturated fat and free sugars: a preliminary study. J Hum Nutr Diet. 2013;26:234–42.

Stunkard AJ, Messick S. The three-factor eating questionnaire to measure dietary restraint, disinhibition and hunger. J Psychosom Res. 1985;29:71–83.

Keast RS. Effects of sugar and fat consumption on sweet and fat taste. Curr Opin Behav Sci. 2016;9:55–60.

Gelman A, Hill J. Data analysis using regression and multilevel/hierarchical models. Cambridge university press. 2006.

Rogers PJ, Hardman CA. Food reward. What it is and how to measure it. Appetite. 2015;90:1–15.

Conner MT, Booth DA. Preferred sweetness of a lime drink and preference for sweet over non-sweet foods, related to sex and reported age and body weight. Appetite. 1988;10:25–35.

Drewnowski A, Grinker JA, Hirsch J. Obesity and flavor perception: multidimensional scaling of soft drinks. Appetite. 1982;3:361–8.

Robinson TE, Berridge KC. The neural basis of drug craving: an incentive-sensitization theory of addiction. Brain Res Rev. 1993;18:247–91.

Lim J. Hedonic scaling: a review of methods and theory. Food Qual Prefer. 2011;22:733–47.

Peryam DR, Pilgrim FJ. Hedonic scale method of measuring food preferences. Food Technol. 1957;11:9–14.

Gay C, Mead R. A statistical appraisal of the problem of sensory measurement. J Sens Stud. 1992;7:205–28.

Villanueva NDM, Petenate AJ, Da Silva MAAP. Performance of three affective methods and diagnosis of the ANOVA model. Food Qual Prefer. 2000;11:363–70.

de Araujo IE, Schatzker M, Small DM. Rethinking food reward. Annu Rev Psychol. 2020;71:null

Appelhans BM, Woolf K, Pagoto SL, Schneider KL, Whited MC, Liebman R. Inhibiting food reward: delay discounting, food reward sensitivity, and palatable food intake in overweight and obese women. Obesity. 2011;19:2175–82.

Rollins BY, Loken E, Savage JS, Birch LL. Measurement of food reinforcement in preschool children. Associations with food intake, BMI, and reward sensitivity. Appetite. 2014;72:21–7.

Kavanagh DJ, Andrade J, May J. Imaginary relish and exquisite torture: the elaborated intrusion theory of desire. Psychol Rev. 2005;112:446–67.

Boswell RG, Kober H. Food cue reactivity and craving predict eating and weight gain: a meta-analytic review. Obes Rev. 2016;17:159–77.

Vallis M. Sustained behaviour change in healthy eating to improve obesity outcomes: It is time to abandon willpower to appreciate wanting. Clin Obes. 2019;9:e12299.

Bruce AS, Holsen LM, Chambers RJ, Martin LE, Brooks WM, Zarcone JR, et al. Obese children show hyperactivation to food pictures in brain networks linked to motivation, reward and cognitive control. Int J Obes. 2010;34:1494–500.

Dimitropoulos A, Tkach J, Ho A, Kennedy J. Greater corticolimbic activation to high-calorie food cues after eating in obese vs. normal-weight adults. Appetite. 2012;58:303–12.

Feldstein Ewing SW, Claus ED, Hudson KA, Filbey FM, Yakes Jimenez E, Lisdahl KM, et al. Overweight adolescents' brain response to sweetened beverages mirrors addiction pathways. Brain Imaging Behav. 2017;11:925–35.

Mehta S, Melhorn SJ, Smeraglio A, Tyagi V, Grabowski T, Schwartz MW, et al. Regional brain response to visual food cues is a marker of satiety that predicts food choice. Am J Clin Nutr. 2012;96:989–99.

Rothemund Y, Preuschhof C, Bohner G, Bauknecht H-C, Klingebiel R, Flor H, et al. Differential activation of the dorsal striatum by high-calorie visual food stimuli in obese individuals. NeuroImage. 2007;37:410–21.

Stice E, Yokum S, Blum K, Bohon C. Weight gain is associated with reduced striatal response to palatable food. J Neurosci. 2010;30:13105–9.

Stoeckel LE, Weller RE, Cook EW, Twieg DB, Knowlton RC, Cox JE. Widespread reward-system activation in obese women in response to pictures of high-calorie foods. NeuroImage. 2008;41:636–47.
Acknowledgements
This work was supported by the National Institutes of Health R01 grants R01 CA180080 and R01 DK085579 (DMS); and the Yale Medical School Fellowship (MCF).
Ethics declarations
Conflict of interest
The authors declare that they have no conflict of interest.
Additional information
Publisher's note Springer Nature remains neutral with regard to jurisdictional claims in published maps and institutional affiliations.
About this article
Cite this article
Wall, K.M., Farruggia, M.C., Perszyk, E.E. et al. No evidence for an association between obesity and milkshake liking. Int J Obes 44, 1668–1677 (2020). https://doi.org/10.1038/s41366-020-0583-x
Received:

Revised:

Accepted:

Published:

Issue Date:

DOI: https://doi.org/10.1038/s41366-020-0583-x