Abstract
A cohort of polycystic ovary syndrome (PCOS) women presents themselves with persistent abnormal reproductive hormone levels and has a familial representation of characteristics. In our study, we have aimed to identify genetic variants which are inherited across such PCOS families and also validate them among Indian population. Independent discovery was done by whole exome sequencing in a three-generation family (Family P01). Validation was done by targeted sequencing at 30,000x using HaloPlex panel in 9 families (P01-P09). The variants were filtered and reported according to American College of Medical Genetics and Genomics (ACMG) guidelines. Mutation burden analysis and in-silico functional analyses were performed. After careful annotation analyses, we report 24 likely pathogenic variants from 21 genes, out of which 8 are novel structural variants, 14 missense variants and 2 intronic variants. Out of these, 3 variants from the genes FSHR, SCARB1, and INSR are involved in the ovarian steroidogenesis pathway and 5 variants from genes DFFB, ACTG1, GPX4, CYC1 and ALDOA directly or indirectly trigger the apoptotic pathways. Three ovarian steroidogenesis variants, FSHR, SCARB1 and INSR were screened among Indian women using a case-control approach to validate these variant's pathogenicity in Indian PCOS women. Variants of SCARB1 and INSR were found to be pathogenic to Indian PCOS women, while FSHR variants did not show significant association to PCOS cases.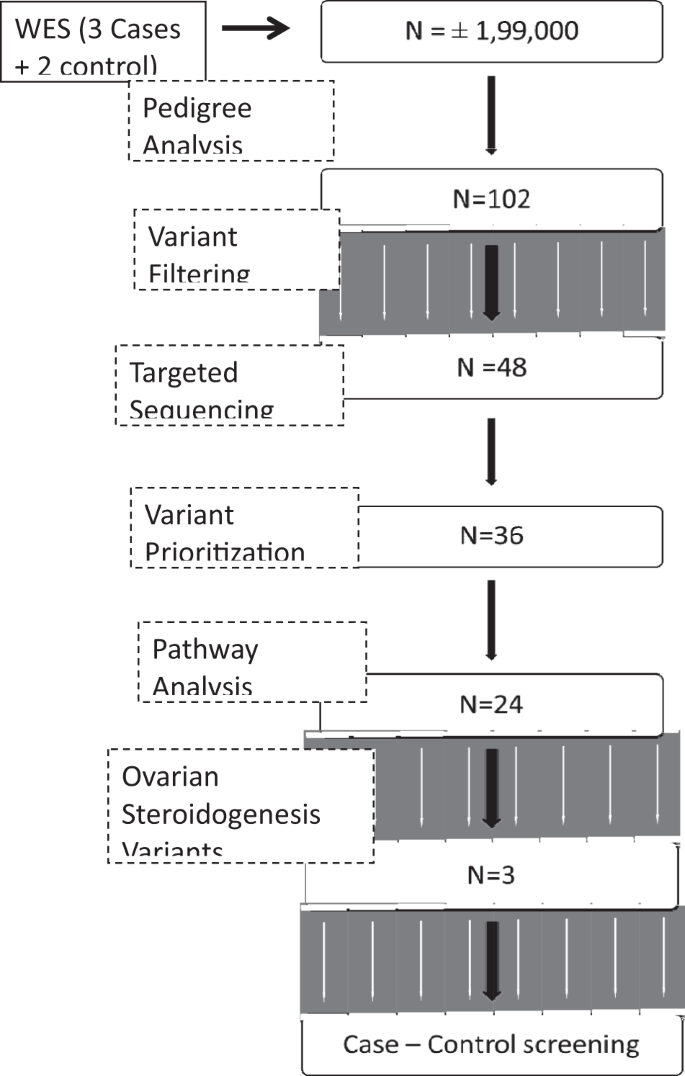 Access options
Subscribe to this journal
Receive 12 print issues and online access
$259.00 per year
only $21.58 per issue
Rent or buy this article
Get just this article for as long as you need it
$39.95
Prices may be subject to local taxes which are calculated during checkout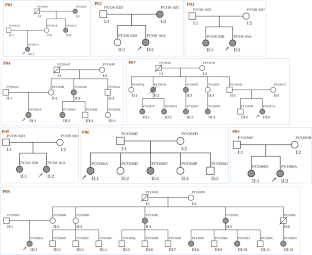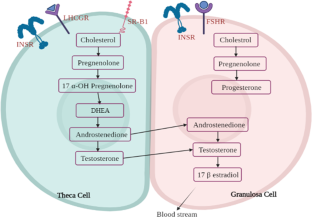 Data availability
WES sequence data for the five samples used as the discovery sample set and used for creating panel for targeted sequencing is submitted to the SRA with accession number SUB8748632. Also, novel variants from panel SNP data listed in Table 2a & 2b have been submitted to the dbSNP and dbVar and ClinVar.
References
Escobar-Morreale HF. Polycystic ovary syndrome: definition, aetiology, diagnosis and treatment. Nat Rev Endocrinol. 2018;14:270–84.

Wolf WM, Wattick RA, Kinkade ON, Olfert MD. Geographical prevalence of polycystic ovary syndrome as determined by region and race/ethnicity. Int J Environ Res Public Health. 2018;15:2589–602.

Balaji S, Amadi C, Prasad S, Kasav JB, Upadhyay V, Singh AK, et al. Urban rural comparisons of polycystic ovary syndrome burden among adolescent girls in a hospital setting in India. Biomed Res Int. 2015;2015:1–10.

Chhabra S, Venkatraman S. Menstrual dysfunction in rural young women and the presence of polycystic ovarian syndrome. J Obstet Gynaecol. 2010;30:41–45.

Nidhi R, Padmalatha V, Nagarathna R, Amritanshu R. Prevalence of polycystic ovarian syndrome in Indian adolescents. J Pediatr Adolesc Gynecol. 2011;24:223–7.

Ganie MA, Marwaha RK, Dhingra A, Nisar S, Mani K, Masoodi S, et al. Observation of phenotypic variation among Indian women with polycystic ovary syndrome (PCOS) from Delhi and Srinagar. Gynecol Endocrinol. 2016;32:566–70.

Bharathi RV, Swetha S, Neerajaa J, Madhavica V, Janani DM, Rekha SN, et al. An epidemiological survey: Effect of predisposing factors for PCOS in Indian urban and rural population. Middle East Fertil Soc J. 2017;22:313–6.

Dunaif A. Perspectives in polycystic ovary syndrome: from hair to eternity. J Clin Endocrinol Metab. 2016;101:759–68.

Leventhal ML. The Stein-Leventhal syndrome. Am J Obstet Gynecol. 1958;76:825–38.

Ajmal N, Khan SZ, Shaikh R. Polycystic ovary syndrome (PCOS) and genetic predisposition: A review article. Eur J Obstet Gynecol Reprod Biol. 2019;3:100060–6.

Bloom MS, Schisterman EF, Hediger ML. Selecting controls is not selecting "normals": design and analysis issues for studying the etiology of polycystic ovary syndrome. Fertil Steril. 2006;86:1–2.

Stryjecki C, Alyass A, Meyre D. Ethnic and population differences in the genetic predisposition to human obesity. Obes Rev. 2018;19:62–80.

Mykhalchenko K, Lizneva D, Trofimova T, Walker W, Suturina L, Diamond MP, et al. Genetics of polycystic ovary syndrome. Expert Rev Mol Diagn. 2017;17:723–33.

Barber TM, Bennett AJ, Groves CJ, Sovio U, Ruokonen A, Martikainen H, et al. Association of variants in the fat mass and obesity associated (FTO) gene with polycystic ovary syndrome. Diabetologia. 2008;51:1153–8.

Ewens KG, Jones MR, Ankener W, Stewart DR, Urbanek M, Dunaif A, et al. Type 2 diabetes susceptibility single-nucleotide polymorphisms are not associated with polycystic ovary syndrome. Fertil Steril. 2011;95:2538–41.

Claussnitzer M, Dankel SN, Kim KH, Ouon G, Meuleman W, Haugen C, et al. FTO obesity variant circuitry and adipocyte browning in humans. N. Engl J Med. 2015;373:895–907.

Freedman ML, Monteiro AN, Gayther SA, Coetzee GA, Risch A, Plass C, et al. Principles for the post-GWAS functional characterization of cancer risk loci. Nat Genet. 2011;43:513–8.

Gallagher MD, Chen-Plotkin AS. The post-GWAS era: from association to function. Am J Hum Genet. 2018;102:717–30.

Vink JM, Sadrzadeh S, Lambalk CB, Boomsma DI. Heritability of polycystic ovary syndrome in a Dutch twin-family study. J Clin Endocrinol Metab. 2006;91:2100–4.

Farwell K, Shahmirzadi L, El-Khechen D, Powis Z, Chao EC, Davis BT, et al. Enhanced utility of family-centered diagnostic exome sequencing with inheritance model–based analysis: results from 500 unselected families with undiagnosed genetic conditions. Genet Med. 2015;17:578–86.

Dakshinamoorthy J, Jain PR, Ramamoorthy T, Ayyappan R, Balasundaram U. Association of GWAS identified INSR variants (rs2059807 & rs1799817) with polycystic ovarian syndrome in Indian women. Int J Biol Macromol. 2020;144:663–70.

Stouffs K, Daelemans S, Santos-Ribeiro S, Seneca S, Gheldof A, Gürbüz AS, et al. Rare genetic variants potentially involved in ovarian hyperstimulation syndrome. J Assist Reprod Genet. 2019;36:491–7.

Yang X, Zhao Z, Fan Q, Li H, Zhao L, Liu C, et al. Cholesterol metabolism is decreased in patients with diminished ovarian reserve. Reprod Biomed Online. 2022;44:185–92.

Quiroz A, Molina P, Santander N, Gallardo D, Rigotti A, Busso D. Ovarian cholesterol efflux: ATP-binding cassette transporters and follicular fluid HDL regulate cholesterol content in mouse oocytes. Biol Reprod. 2020;102:348–61.

Mikhael S, Punjala-Patel A, Gavrilova-Jordan L. Hypothalamic-Pituitary-Ovarian Axis Disorders Impacting Female Fertility. Biomedicines. 2019;7:5–14.

Webb R, Campbell BK. Development of the dominant follicle: mechanisms of selection and maintenance of oocyte quality. Reprod Fertil Dev Title. 2007;64:141–65.

Webb R, Campbell B, Garverick H, Gong JG, Gutierrez CG, Armstrong DG. Molecular mechanisms regulating follicular recruitment and selection. J Reprod Fertil Suppl. 1999;54:33–48.

Owens LA, Kristensen SG, Lerner A, Christopoulos G, Lavery S, Hanyaloglu AC, et al. Gene expression in granulosa cells from small antral follicles from women with or without polycystic ovaries. J Clin Endocrinol Metab. 2019;104:6182–92.

Yu KL, Zhang XL, Tan XM, Ji MM, Chen Y, Liu MM et al. Distinctive Genes Involved in Steroidogenesis Associated with Follicular Abnormal Development in Polycystic Ovary Syndrome Model Reprod Dev Med. 2019;3:141–7.

Al-Omar Z, Ozbakir B, Tulay P. Differential expression of genes involved in steroidogenesis pathway in human oocytes obtained from patients with polycystic ovaries. Am J Reprod Immunol. 2020;142:103191–5.

Laven JS. Follicle stimulating hormone receptor (FSHR) polymorphisms and polycystic ovary syndrome (PCOS). Front Endocrinol. 2019;10:23–31.

McAllister JM, Legro RS, Modi BP, Strauss JF. Functional genomics of PCOS: from GWAS to molecular mechanisms. Trends Endocrinol Metab. 2015;26:118–24.

Shen WJ, Asthana S, Kraemer FB, Azhar S. Scavenger receptor B type 1: expression, molecular regulation, and cholesterol transport function. J Lipid Res. 2018;59:1114–31.

Svensson PA, Johnson MS, Ling C, Carlsson LM, Billig H, Carlsson B. Scavenger receptor class B type I in the rat ovary: possible role in high density lipoprotein cholesterol uptake and in the recognition of apoptotic granulosa cells. Endocrinology. 1999;140:2494–2500.

Carvalho LM, Dos Reis FM, Candido AL, Nunes FFC, Ferreira CN, Gomes KB. Polycystic Ovary Syndrome as a systemic disease with multiple molecular pathways: a narrative review. Endocr Regul. 2018;52:208–21.

Yu YS, Sui HS, Han ZB, Wei LI, Luo MJ, Tan JH. Apoptosis in granulosa cells during follicular atresia: relationship with steroids and insulin-like growth factors. Cell Res. 2004;14:341–6.

Mao Z, Li T, Zhao H, Qin Y, Wang X, Kang Y. Identification of epigenetic interactions between microRNA and DNA methylation associated with polycystic ovarian syndrome. J HumGenet. 2021;66:123–37.

Yazawa T, Takashi Y, Sekiguchi T, Miyamoto K, Uwada J, Khan MRI, et al. Transcriptional Regulation of Ovarian Steroidogenic Genes: Recent Findings Obtained from Stem Cell-Derived Steroidogenic Cells. BioMed Res Int. 2019:8973076.

Payne AH, Hales DB. Overview of steroidogenic enzymes in the pathway from cholesterol to active steroid hormones. Endocr Rev. 2004;25:947–70.

Shivers KY, Amador N, Abrams L, Hunter D, Jenab S, Quinones-Jenab V. Estrogen alters baseline and inflammatory-induced cytokine levels independent from hypothalamic–pituitary–adrenal axis activity. Cytokine. 2015;72:121–9.

Murat İnal M, Incebiyik A, Sanci M, Yildirim Y, Polat M, Pllanci B, et al. Ovarian cysts in tamoxifen-treated women with breast cancer. Eur J Obstet Gynecol Reprod Biol. 2005;120:104–6.

Cecconi S, Ciccarelli C, Barberi M. Macchiarelli, CanipariR. Oocyte-somatic cell interactions. Eur J Obstet Gynecol Reprod Biol. 2004;115:19–22.

Shaw JLV, Dey SK, Critchley HOD, Horne AW. Current knowledge of the aetiology of human tubal ectopic pregnancy. Hum Reprod Update. 2010;16:432–44.

Buels R, Yao E, Diesh CM, Hayes ED, Munoz-Torres M, Helt G, et al. JBrowse: a dynamic web platform for genome visualization and analysis. Genome Biol. 2016;66:1–12.

Taneja V. Cytokines pre-determined by genetic factors are involved in pathogenesis of rheumatoid arthritis. Cytokine 2015;75:216–21.

Ishihara Y, Takemoto T, Ishida A, Yamazaki T. Protective actions of 17β-estradiol and progesterone on oxidative neuronal injury induced by organometallic compounds. Oxid Med Cell Longev. 2015;2015:343706.

Wang S, He G, chen M, Zuo T, Xu W, Liu X. The role of antioxidant enzymes in the ovaries. Oxid Med Cell Longev. 2017;2017:4371714.

Sanchez-Garrido MA, Tena-Sempere M. Metabolic dysfunction in polycystic ovary syndrome: Pathogenic role of androgen excess and potential therapeutic strategies. Mol Metab 2020;35:100937.

Quirk SM, Cowan RG, Harman RM. The susceptibility of granulosa cells to apoptosis is influenced by oestradiol and the cell cycle. J Endocrinol. 2006;189:441–53.

Harris HR, Terry KL. Polycystic ovary syndrome and risk of endometrial, ovarian, and breast cancer: a systematic review. Fertil Res Pract. 2016;2:14.

Shafiee MN, Seedhouse C, Mongan N, Chapman C, Deen S, Abu J, et al. Up-regulation of genes involved in the insulin signalling pathway (IGF1, PTEN and IGFBP1) in the endometrium may link polycystic ovarian syndrome and endometrial cancer. Mol Cell Endocrinol. 2016;424:94–101.
Acknowledgements
We are very grateful to the families who participated in the study. The authors are thankful to Dr.Rajapriya Ayyappan, M.D., FRCOG (London), Om Fertility Clinic, Chennai, Tamil Nadu, India for her support in clinical confirmation of the PCOS patients. We would also like to thank Dr. Vinod Scaria, M.B.B.S, Ph.D., Senior Scientist, CSIR-IGIB, New Delhi, India for his suggestions and guidance in the methodology. The team from PCOS Foundation, India supported the authors in identifying PCOS volunteers for this study and also in database management.
Funding
The author DMJ was supported by Women Scientist Scheme – A, Department of Science and Technology, Government of India for carrying out this research work (WOS-A/LS-253/2017).
Ethics declarations
Competing interests
The authors declare no competing interests.
Additional information
Publisher's note Springer Nature remains neutral with regard to jurisdictional claims in published maps and institutional affiliations.
Supplementary information
Rights and permissions
Springer Nature or its licensor (e.g. a society or other partner) holds exclusive rights to this article under a publishing agreement with the author(s) or other rightsholder(s); author self-archiving of the accepted manuscript version of this article is solely governed by the terms of such publishing agreement and applicable law.
About this article
Cite this article
Janani, D.M., Ramasubramanyan, S., Chellappa, V. et al. Whole exome and targeted sequencing reveal novel mutations associated with inherited PCOS condition in an Indian cohort. J Hum Genet 68, 39–46 (2023). https://doi.org/10.1038/s10038-022-01093-2
Received:

Revised:

Accepted:

Published:

Issue Date:

DOI: https://doi.org/10.1038/s10038-022-01093-2