Abstract
Endometriosis is a benign gynecologic condition, acting as a precursor of certain histological subtypes of ovarian cancers. The epithelial cells of endometriotic tissues and normal uterine endometrium accumulated somatic mutations in cancer-associated genes such as phosphatidylinositol-4,5-bisphosphate 3-kinase catalytic subunit alpha (PIK3CA) and Kirsten rat sarcoma (KRAS) proto-oncogene. To determine the genomic characteristic of endometriotic epithelial cells and normal uterine endometrium and to identify the predominant mutational process acting on them, we studied the somatic mutation profiles obtained from whole exome sequencing of 14 endometriotic epithelium and 11 normal uterine endometrium tissues and classified them into mutational signatures. We observed that single base substitutions 2/13 (SBS), attributed to Apolipoprotein B mRNA Editing Enzyme Catalytic Subunit (APOBEC) induced mutagenesis, were significant in endometriotic tissues, but not in the normal uterine endometrium. Additionally, the larger number and wider allele frequency distribution of APOBEC signature mutations, compared to cancer-associated driver mutations in endometriotic epithelium suggested APOBEC mutagenesis as an important source of mutational burden and heterogeneity in endometriosis. Further, the relative risk of enriched APOBEC signature mutations was higher in endometriosis patients who were carriers of APOBEC3A/3B germline deletion, a common polymorphism in East Asians which involves the complete loss of APOBEC3B coding region. Our results illustrate the significance of APOBEC induced mutagenesis in driving the genomic heterogeneity of endometriosis.
Access options
Subscribe to this journal
Receive 12 print issues and online access
$259.00 per year
only $21.58 per issue
Rent or buy this article
Get just this article for as long as you need it
$39.95
Prices may be subject to local taxes which are calculated during checkout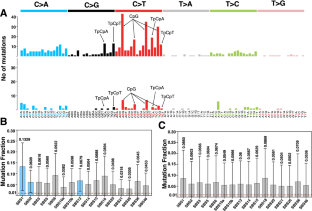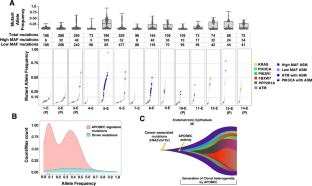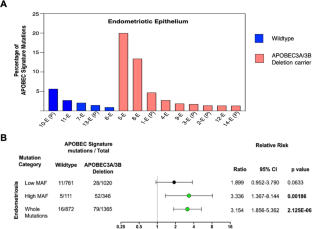 References
Vercellini P, Viganò P, Somigliana E, Fedele L. Endometriosis: pathogenesis and treatment. Nat Rev Endocrinol. 2014;10:261–75.

Dai Y, Li X, Shi J, Leng J. A review of the risk factors, genetics and treatment of endometriosis in Chinese women: a comparative update. Reprod Health. 2018;15:82.

Munksgaard PS, Blaakaer J. The association between endometriosis and ovarian cancer: a review of histological, genetic and molecular alterations. Gynecol Oncol. 2012;124:164–9.

Anglesio MS, Papadopoulos N, Ayhan A, Nazeran TM, Noë M, Horlings HM, et al. Cancer-associated mutations in endometriosis without cancer. N. Engl J Med. 2017;376:1835–48.

Suda K, Nakaoka H, Yoshihara K, Ishiguro T, Tamura R, Mori Y, et al. Clonal expansion and diversification of cancer-associated mutations in endometriosis and normal endometrium. Cell Rep. 2018;24:1777–89.

Lac V, Verhoef L, Aguirre-Hernandez R, Nazeran TM, Tessier-Cloutier B, Praetorius T, et al. Iatrogenic endometriosis harbors somatic cancer-driver mutations. Hum Reprod. 2019;34:69–78.

Suda K, Nakaoka H, Yoshihara K, Ishiguro T, Adachi S, Kase H, et al. Different mutation profiles between epithelium and stroma in endometriosis and normal endometrium. Hum Reprod. 2019;34:1899–905.

Helleday T, Eshtad S, Nik-Zainal S. Mechanisms underlying mutational signatures in human cancers. Nat Rev Genet. 2014;15:585–98.

Alexandrov LB, Nik-Zainal S, Wedge DC, Aparicio SAJR, Behjati S, Biankin AV, et al. Signatures of mutational processes in human cancer. Nature. 2013;500:415–21.

Alexandrov LB, Nik-Zainal S, Wedge DC, Campbell PJ, Stratton MR. Deciphering signatures of mutational processes operative in human cancer. Cell Rep. 2013;3:246–59.

The IC, of Whole TP, Genomes Consortium. Pan-cancer analysis of whole genomes. Nature. 2020;578:82.

Alexandrov LB, Kim J, Haradhvala NJ, Huang MN, Tian Ng AW, Wu Y, et al. The repertoire of mutational signatures in human cancer. Nature. 2020;578:94–101.

Wang YK, Bashashati A, Anglesio MS, Cochrane DR, Grewal DS, Ha G, et al. Genomic consequences of aberrant DNA repair mechanisms stratify ovarian cancer histotypes. Nat Genet. 2017;49:856–65.

Burns MB, Temiz NA, Harris RS. Evidence for APOBEC3B mutagenesis in multiple human cancers. Nat Genet. 2013;45:977–83.

Kidd JM, Newman TL, Tuzun E, Kaul R, Eichler EE. Population stratification of a common APOBEC gene deletion polymorphism. PLoS Genet. 2007;3:0584–92.

Gansmo LB, Romundstad P, Hveem K, Vatten L, Nik-Zainal S, Lønning PE, et al. APOBEC3A/B deletion polymorphism and cancer risk. Carcinogenesis. 2018;39:118–24.

Zhang T, Cai J, Chang J, Yu D, Wu C, Yan T, et al. Evidence of associations of APOBEC3B gene deletion with susceptibility to persistent HBV infection and hepatocellular carcinoma. Hum Mol Genet. 2013;22:1262–9.

Caval V, Suspène R, Shapira M, Vartanian JP, Wain-Hobson S. A prevalent cancer susceptibility APOBEC3A hybrid allele bearing APOBEC3B 3′UTR enhances chromosomal DNA damage. Nat Commun. 2014;5:5129.

Nik-Zainal S, Wedge DC, Alexandrov LB, Petljak M, Butler AP, Bolli N, et al. Association of a germline copy number polymorphism of APOBEC3A and APOBEC3B with burden of putative APOBEC-dependent mutations in breast cancer. Nat Genet. 2014;46:487–91.

Middlebrooks CD, Banday AR, Matsuda K, Udquim K-I, Onabajo OO, Paquin A, et al. Association of germline variants in the APOBEC3 region with cancer risk and enrichment with APOBEC-signature mutations in tumors. Nat Genet. 2016;48:1330–8.

Imahashi M, Izumi T, Watanabe D, Imamura J, Matsuoka K, Ode H, et al. Lack of association between intact/deletion polymorphisms of the APOBEC3B gene and HIV-1 risk. PLoS One. 2014;9:e92861.

Itaya S, Nakajima T, Kaur G, Terunuma H, Ohtani H, Mehra N, et al. No evidence of an association between the APOBEC3B deletion polymorphism and susceptibility to HIV infection and AIDS in Japanese and Indian populations. J Infect Dis. 2010;202:815–6.

Yamazaki H, Shirakawa K, Matsumoto T, Hirabayashi S, Murakawa Y, Kobayashi M, et al. Endogenous APOBEC3B overexpression constitutively generates DNA substitutions and deletions in myeloma cells. Sci Rep. 2019;9:7122.

Alexandrov LB, Stratton MR. Mutational signatures: the patterns of somatic mutations hidden in cancer genomes. Curr Opin Genet Dev. 2014;24:52–60.

Gori K, Baez-Ortega A. sigfit: flexible Bayesian inference of mutational signatures. bioRxiv. 2020. https://doi.org/10.1101/372896.

Maura F, Degasperi A, Nadeu F, Leongamornlert D, Davies H, Moore L, et al. A practical guide for mutational signature analysis in hematological malignancies. Nat Commun. 2019;10:2969.

Adachi S, Tajima A, Quan J, Haino K, Yoshihara K, Masuzaki H, et al. Meta-analysis of genome-wide association scans for genetic susceptibility to endometriosis in Japanese population. J Hum Genet. 2010;55:816–21.

Hata Y, Nakaoka H, Yoshihara K, Adachi S, Haino K, Yamaguchi M, et al. A nonsynonymous variant of IL1A is associated with endometriosis in Japanese population. J Hum Genet. 2013;58:517–20.

Nakaoka H, Gurumurthy A, Hayano T, Ahmadloo S, Omer WH, Yoshihara K, et al. Allelic imbalance in regulation of ANRIL through chromatin interaction at 9p21 endometriosis risk locus. PLoS Genet. 2016;12:e1005893.

Ngô C, Chéreau C, Nicco C, Weill B, Chapron C, Batteux F. Reactive oxygen species controls endometriosis progression. Am J Pathol. 2009;175:225–34.

Agarwal A, Gupta S, Sharma RK. Role of oxidative stress in female reproduction. Reprod Biol Endocrinol. 2005;3:1–21.

Strassmann BI. The evolution of endometrial cycles and menstruation. Q Rev Biol. 1996;71:181–220.

Swanton C, Mcgranahan N, Starrett GJ, Harris RS. APOBEC enzymes: mutagenic fuel for cancer evolution and heterogeneity. Cancer Discov. 2016;5:704–12.

Koh G, Degasperi A, Zou X, Momen S, Nik-Zainal S. Mutational signatures: emerging concepts, caveats and clinical applications. Nat Rev Cancer. 2021;27:1–9.

Anglesio MS, Bashashati A, Wang YK, Senz J, Ha G, Yang W, et al. Multifocal endometriotic lesions associated with cancer are clonal and carry a high mutation burden. J Pathol. 2015;236:201–9.

Shibuya Y, Tokunaga H, Saito S, Shimokawa K, Katsuoka F, Bin L, et al. Identification of somatic genetic alterations in ovarian clear cell carcinoma with next generation sequencing. Genes Chromosom Cancer. 2018;57:51–60.

Suda K, Diaz LA, Yoshihara K, Nakaoka H, Yachida N, Motoyama T, et al. Clonal lineage from normal endometrium to ovarian clear cell carcinoma through ovarian endometriosis. Cancer Sci. 2020;111:3000.

Kim HS, Kim TH, Chung HH, Song YS. Risk and prognosis of ovarian cancer in women with endometriosis: a meta-analysis. Br J Cancer. 2014;110:1878–90.

McGranahan N, Favero F, De Bruin EC, Birkbak NJ, Szallasi Z, Swanton C. Clonal status of actionable driver events and the timing of mutational processes in cancer evolution. Sci Transl Med. 2015;7:283ra54.

Castro-Giner F, Ratcliffe P, Tomlinson I. The mini-driver model of polygenic cancer evolution. Nat Rev Cancer. 2015;15:680–5.

Li X, Thirumalai D. Interplay of Driver, Mini-Driver, and Deleterious Passenger Mutations on Cancer Progression. bioRxiv. 2016. https://doi.org/10.1101/084392.

Caswell DR, Swanton C. The role of tumour heterogeneity and clonal cooperativity in metastasis, immune evasion and clinical outcome. BMC Med. 2017;15:1–9.

Yamaguchi K, Mandai M, Toyokuni S, Hamanishi J, Higuchi T, Takakura K, et al. Contents of endometriotic cysts, especially the high concentration of free iron, are a possible cause of carcinogenesis in the cysts through the iron-induced persistent oxidative stress. Clin Cancer Res. 2008;14:32–40.

Kajiyama H, Suzuki S, Yoshihara M, Tamauchi S, Yoshikawa N, Niimi K, et al. Endometriosis and cancer. Free Radic Biol Med. 2019;133:186–92.

Busuttil RA, Rubio M, Dollé ME, Campisi J, Vijg J. Oxygen accelerates the accumulation of mutations during the senescence and immortalization of murine cells in culture. Aging Cell. 2003;2:287–94.

Qi G, Xiong H, Zhou C. APOBEC3 deletion polymorphism is associated with epithelial ovarian cancer risk among Chinese women. Tumor Biol. 2014;35:5723–6.

Hollis RL, Thomson JP, Stanley B, Churchman M, Meynert AM, Rye T, et al. Molecular stratification of endometrioid ovarian carcinoma predicts clinical outcome. Nat Commun. 2020;11:1–0.

Revathidevi S, Manikandan M, Rao AKDM, Vinothkumar V, Arunkumar G, Rajkumar KS, et al. Analysis of APOBEC3A/3B germline deletion polymorphism in breast, cervical and oral cancers from South India and its impact on miRNA regulation. Tumor Biol. 2016;37:11983–90.
Acknowledgements
We are grateful to Junko Kajiwara, Junko Kitayama, Yumiko Sato and Anna Ishida for their technical assistances.
Ethics declarations
Competing interests
The authors declare no competing interests.
Additional information
Publisher's note Springer Nature remains neutral with regard to jurisdictional claims in published maps and institutional affiliations.
Supplementary information
About this article
Cite this article
Revathidevi, S., Nakaoka, H., Suda, K. et al. APOBEC mediated mutagenesis drives genomic heterogeneity in endometriosis. J Hum Genet 67, 323–329 (2022). https://doi.org/10.1038/s10038-021-01003-y
Received:

Revised:

Accepted:

Published:

Issue Date:

DOI: https://doi.org/10.1038/s10038-021-01003-y