Abstract
Hepatocellular carcinoma (HCC) is the most common type of liver cancer. Despite the availability of several treatment strategies, resistance to chemotherapeutic agents, which limits the effectiveness of anticancer drugs, is a major problem in cancer therapy. In this study, we used a histone deacetylases inhibitor (HDACi) to establish drug-resistant HCC cells and further analyzed the molecular mechanisms underlying the development of resistance in HCC cells. Compared with the parental cells, HDACi-resistant cells showed high metastatic and pro-survival abilities. Two-dimensional electrophoresis data showed that the cofilin-1 (CFL-1) protein was altered in HDACi-resistant cells and was highly expressed in resistant cells compared with parental cells. The molecular function of CFL-1 is actin depolymerization, and it is involved in tumor metastasis. In this study, we showed that CFL-1 inhibition decreased cell migration and increased cell apoptosis in HDACi-resistant cells. We observed that HDACi induced ROS accumulation in cells and apoptosis via promotion of the CFL-1 interaction with Bax and CFL-1 translocation to the mitochondria, resulting in cytochrome C release. Importantly, phosphorylation of CFL-1 by activated extracellular signal-regulated kinases 1 and 2 (ERK1/2) confers strong protection against HDAC inhibitor-induced cell injury. p-CFL-1 shows a loss of affinity with Bax and will not translocate to mitochondria, stably remaining in the cytoplasm. These results indicate that phosphorylation to inactivate CFL-1 decreased the chemosensitivity to HDAC inhibitors and resulting in drug resistance of HCC cells.
Access options
Subscribe to Journal
Get full journal access for 1 year
$499.00
only $9.98 per issue
All prices are NET prices.
VAT will be added later in the checkout.
Rent or Buy article
Get time limited or full article access on ReadCube.
from$8.99
All prices are NET prices.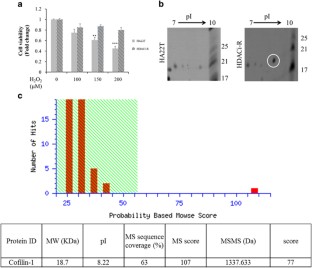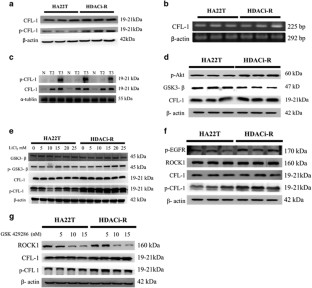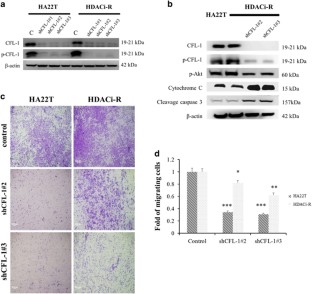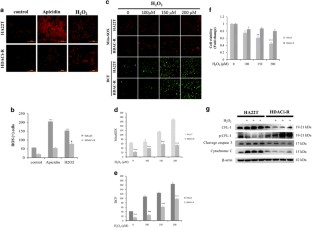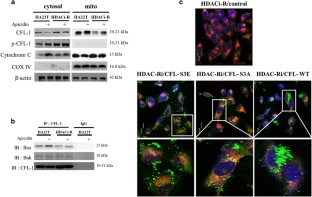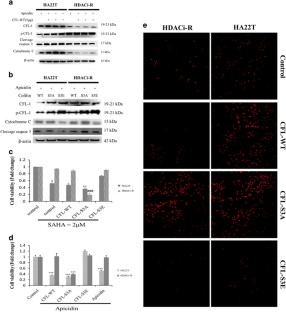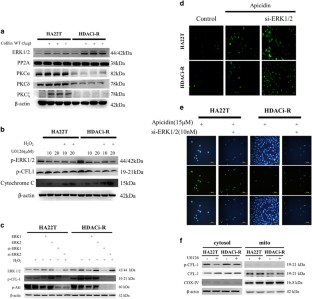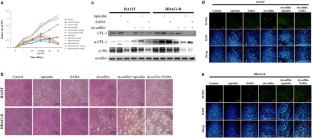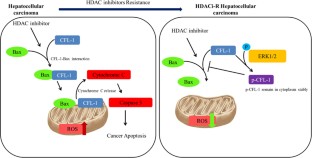 References
1

El-Serag HB, Rudolph KL . Hepatocellular carcinoma: epidemiology and molecular carcinogenesis. Gastroenterology 2007; 132: 2557–2576.

2

Starzl TE, Marchioro TL, Vonkaulla KN, Hermann G, Brittain RS, Waddell WR . Homotransplantation of the Liver in Humans. Surg Gynecol Obstet 1963; 117: 659–676.

3

Baylin SB . Resistance, epigenetics and the cancer ecosystem. Nat Med 2011; 17: 288–289.

4

Marks PA, Richon VM, Breslow R, Rifkind RA . Histone deacetylase inhibitors as new cancer drugs. Curr Opin Oncol 2001; 13: 477–483.

5

Csordas A . On the biological role of histone acetylation. Biochem J 1990; 265: 23–38.

6

Kim MS, Son MW, Kim WB, In Park Y, Moon A . Apicidin, an inhibitor of histone deacetylase, prevents H-ras-induced invasive phenotype. Cancer Lett 2000; 157: 23–30.

7

Weiller M, Weiland T, Dunstl G, Sack U, Kunstle G, Wendel A . Differential immunotoxicity of histone deacetylase inhibitors on malignant and naive hepatocytes. Exp Toxicol Pathol 2011; 63: 511–517.

8

Lai JP, Sandhu DS, Moser CD, Cazanave SC, Oseini AM, Shire AM et al. Additive effect of apicidin and doxorubicin in sulfatase 1 expressing hepatocellular carcinoma in vitro and in vivo. J Hepatol 2009; 50: 1112–1121.

9

Hsieh CH, Cheng LH, Hsu HH, Ho TJ, Tu CC, Lin YM et al. Apicidin-resistant HA22T hepatocellular carcinoma cells strongly activated the Wnt/beta-catenin signaling pathway and MMP-2 expression via the IGF-IR/PI3K/Akt signaling pathway enhancing cell metastatic effect. Biosci Biotechnol Biochem 2013; 77: 2397–2404.

10

Hsu HH, Cheng LH, Ho TJ, Kuo WW, Lin YM, Chen MC et al. Apicidin-resistant HA22T hepatocellular carcinoma cells massively promote pro-survival capability via IGF-IR/PI3K/Akt signaling pathway activation. Tumour Biol 2014; 35: 303–313.

11

Tu CC, Cheng LH, Hsu HH, Chen LM, Lin YM, Chen MC et al. Activation of snail and EMT-like signaling via the IKKalphabeta/NF-kappaB pathway in apicidin-resistant HA22T hepatocellular carcinoma cells. Chin J Physiol 2013; 56: 326–333.

12

Wang W, Goswami S, Lapidus K, Wells AL, Wyckoff JB, Sahai E et al. Identification and testing of a gene expression signature of invasive carcinoma cells within primary mammary tumors. Cancer Res 2004; 64: 8585–8594.

13

Collazo J, Zhu B, Larkin S, Martin SK, Pu H, Horbinski C et al. Cofilin drives cell-invasive and metastatic responses to TGF-beta in prostate cancer. Cancer Res 2014; 74: 2362–2373.

14

Huang X, Pan Q, Sun D, Chen W, Shen A, Huang M et al. O-GlcNAcylation of cofilin promotes breast cancer cell invasion. J Biol Chem 2013; 288: 36418–36425.

15

Tahtamouni LH, Shaw AE, Hasan MH, Yasin SR, Bamburg JR . Non-overlapping activities of ADF and cofilin-1 during the migration of metastatic breast tumor cells. BMC Cell Biol 2013; 14: 45.

16

Lu LI, Fu NI, Luo XU, Li XY, Li XP . Overexpression of cofilin 1 in prostate cancer and the corresponding clinical implications. Oncol Lett 2015; 9: 2757–2761.

17

Zhang HH, Lechuga TJ, Tith T, Wang W, Wing DA, Chen DB . S-nitrosylation of cofilin-1 mediates estradiol-17beta-stimulated endothelial cytoskeleton remodeling. Mol Endocrinol 2015; 29: 434–444.

18

Tang W, Zhang Y, Xu W, Harden TK, Sondek J, Sun L et al. A PLCbeta/PI3Kgamma-GSK3 signaling pathway regulates cofilin phosphatase slingshot2 and neutrophil polarization and chemotaxis. Dev Cell 2011; 21: 1038–1050.

19

Chua BT, Volbracht C, Tan KO, Li R, Yu VC, Li P . Mitochondrial translocation of cofilin is an early step in apoptosis induction. Nat Cell Biol 2003; 5: 1083–1089.

20

Li GB, Cheng Q, Liu L, Zhou T, Shan CY, Hu XY et al. Mitochondrial translocation of cofilin is required for allyl isothiocyanate-mediated cell death via ROCK1/PTEN/PI3K signaling pathway. Cell Commun Signal 2013; 11: 50.

21

Posadas I, Perez-Martinez FC, Guerra J, Sanchez-Verdu P, Cena V . Cofilin activation mediates Bax translocation to mitochondria during excitotoxic neuronal death. J Neurochem 2012; 120: 515–527.

22

Klamt F, Zdanov S, Levine RL, Pariser A, Zhang Y, Zhang B et al. Oxidant-induced apoptosis is mediated by oxidation of the actin-regulatory protein cofilin. Nat Cell Biol 2009; 11: 1241–1246.

23

Hsieh YC, Rao YK, Wu CC, Huang CY, Geethangili M, Hsu SL et al. Methyl antcinate A from Antrodia camphorata induces apoptosis in human liver cancer cells through oxidant-mediated cofilin- and Bax-triggered mitochondrial pathway. Chem Res Toxicol 2010; 23: 1256–1267.

24

Kotiadis VN, Leadsham JE, Bastow EL, Gheeraert A, Whybrew JM, Bard M et al. Identification of new surfaces of cofilin that link mitochondrial function to the control of multi-drug resistance. J Cell Sci 2012; 125: 2288–2299.

25

Li M, Yin J, Mao N, Pan L . Upregulation of phosphorylated cofilin 1 correlates with taxol resistance in human ovarian cancer in vitro and in vivo. Oncol Rep 2013; 29: 58–66.

26

Wang Z, Wang M, Carr BI . Involvement of receptor tyrosine phosphatase DEP-1 mediated PI3K-cofilin signaling pathway in sorafenib-induced cytoskeletal rearrangement in hepatoma cells. J Cell Physiol 2010; 224: 559–565.

27

Wang W, Wyckoff JB, Goswami S, Wang Y, Sidani M, Segall JE et al. Coordinated regulation of pathways for enhanced cell motility and chemotaxis is conserved in rat and mouse mammary tumors. Cancer Res 2007; 67: 3505–3511.

28

Ding Y, Milosavljevic T, Alahari SK . Nischarin inhibits LIM kinase to regulate cofilin phosphorylation and cell invasion. Mol Cell Biol 2008; 28: 3742–3756.

29

Yamaguchi H, Condeelis J . Regulation of the actin cytoskeleton in cancer cell migration and invasion. Biochim Biophys Acta 2007; 1773: 642–652.

30

Zhou Y, Su J, Shi L, Liao Q, Su Q . DADS downregulates the Rac1-ROCK1/PAK1-LIMK1-ADF/cofilin signaling pathway, inhibiting cell migration and invasion. Oncol Rep 2013; 29: 605–612.

31

Serezani CH, Kane S, Medeiros AI, Cornett AM, Kim SH, Marques MM et al. PTEN directly activates the actin depolymerization factor cofilin-1 during PGE2-mediated inhibition of phagocytosis of fungi. Sci Signal 2012; 5: ra12.

32

Zhou J, Wang Y, Fei J, Zhang W . Expression of cofilin 1 is positively correlated with the differentiation of human epithelial ovarian cancer. Oncol Lett 2012; 4: 1187–1190.

33

Wabnitz GH, Goursot C, Jahraus B, Kirchgessner H, Hellwig A, Klemke M et al. Mitochondrial translocation of oxidized cofilin induces caspase-independent necrotic-like programmed cell death of T cells. Cell Death Dis 2010; 1: e58.

34

Stresing V, Baltziskueta E, Rubio N, Blanco J, Arriba MC, Valls J et al. Peroxiredoxin 2 specifically regulates the oxidative and metabolic stress response of human metastatic breast cancer cells in lungs. Oncogene 2013; 32: 724–735.
Acknowledgements
This study was supported in part by the Taiwan Ministry of Health and Welfare Clinical Trial and Research Center of Excellence (MOHW105-TDU-B-212-133019).
Ethics declarations
Competing interests
The authors declare no conflict of interest.
Supplementary information
About this article
Cite this article
Liao, PH., Hsu, HH., Chen, TS. et al. Phosphorylation of cofilin-1 by ERK confers HDAC inhibitor resistance in hepatocellular carcinoma cells via decreased ROS-mediated mitochondria injury. Oncogene 36, 1978–1990 (2017). https://doi.org/10.1038/onc.2016.357
Received:

Revised:

Accepted:

Published:

Issue Date: