Abstract
Tyrosine phosphorylation is tightly regulated by protein tyrosine kinases (PTKs) and protein tyrosine phosphatases (PTPs), and has a critical role in malignant transformation and progression. Although PTKs have a well-established role in regulating breast cancer growth, contribution of PTPs remains mostly unknown. Here, we report that the tyrosine phosphatase PTPH1 stimulates breast cancer growth through regulating vitamin D receptor (VDR) expression. PTPH1 was shown to be overexpressed in 49% of primary breast cancer and levels of its protein expression positively correlate with the clinic metastasis, suggesting its oncogenic activity. Indeed, PTPH1 promotes breast cancer growth by a mechanism independent of its phosphatase activity, but dependent of its stimulatory effect on the nuclear receptor VDR protein expression and depletion of induced VDR abolishes the PTPH1 oncogenic activity. Additional analyses showed that PTPH1 binds VDR and increases its cytoplasmic accumulation, leading to their mutual stabilization and stable expression of a nuclear localization-deficient VDR abolishes the growth-inhibitory activity of the receptor independent of 1,25-dihydroxyvitamin D3. These results reveal a new paradigm in which a PTP may stimulate breast cancer growth through increasing cytoplasmic translocation of a nuclear receptor, leading to their mutual stabilization.
Relevant articles
Open Access articles citing this article.
Mariano Genera

,

Barbara Quioc-Salomon

…

Célia Caillet-Saguy

Scientific Reports Open Access 13 January 2021

Shuqin Li

,

Jian Cao

…

Hongping Xia

Scientific Reports Open Access 11 November 2016

Jason R Dobson

,

Hanna Taipaleenmäki

…

Jitesh Pratap

Cancer Cell International Open Access 02 August 2014
Access options
Subscribe to this journal
Receive 50 print issues and online access
$259.00 per year
only $5.18 per issue
Rent or buy this article
Get just this article for as long as you need it
$39.95
Prices may be subject to local taxes which are calculated during checkout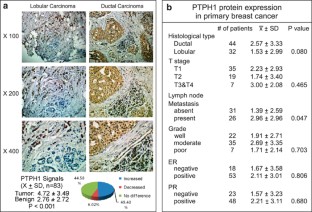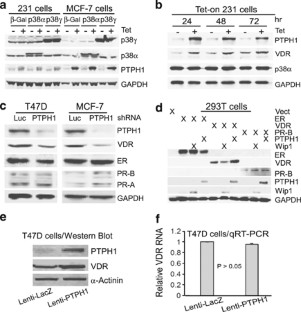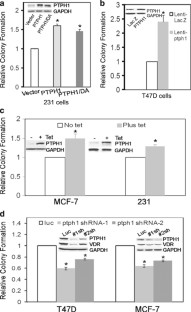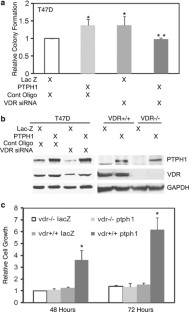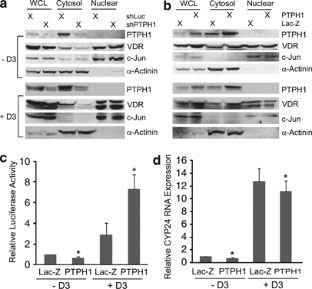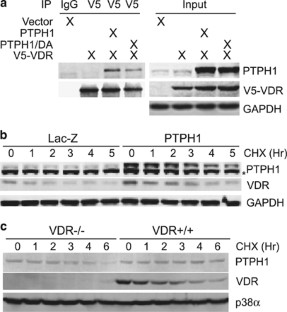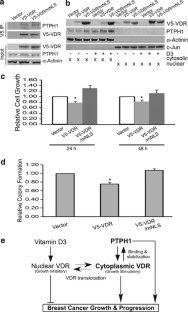 References
Ardini E, Agresti R, Tagliabue E, Creco M, Aiello P, Yang L et al. (2000). Expression of protein tyrosine phosphatase alpha (RPTPα) in human breast cancer correlates with low tumor grade, and inhibiits tumor cell growth in vitro and in vivo. Oncogene 19: 4979–4987.

Arias-Romero LE, Saha S, Villamar-Cruz O, Yip S, Ethier SP, Zhang Z et al. (2009). Activation of Src by protein tyrosine phosphatase 1B is required for ErB2 transformation of human breast epithelial cells. Cancer Res 69: 4582–4588.

Bentires-Alj M, Neel BG . (2007). Protein-tyrosine phosphatase 1B is required for HER2/Neu-induced breast cancer. Cancer Res 67: 2420–2424.

Brown-Shimer S, Johnson KA, Hill DE, Bruskin AM . (1992). Effect of protein tyrosine phosphatase 1B expression on transformation by the human neu oncogene. Cancer Res 52: 478–482.

Bulavin DV, Phillips C, Nannenga B, Timofeev O, Donehower A, Anderson CM et al. (2004). Inactivation of the Wip1 phosphatase inhibits mammary tumorigenesis through p38 MAPK-mediated activation of the p16Ink4a-p19Arf pathway. Nat Genet 36: 343–350.

Campbell M, Gombart AF, Kwok SH, Park S, Koeffler HP . (2000). The anti-proliferative effects of 1α,25(OH)2D3 on breast and prostate cancer cells are associated with induction of BRC A1 gene expression. Oncogene 19: 5091–5097.

Chen G, Waxman DJ . (1994). Role of cellular glutathione and glutathione-S-transferase in the expression of alkylating agent cytotoxicity in human breast cancer cells. Biochem Pharmacol 47: 1079–1087.

Conzen SD . (2008). Nuclear receptors and breast cancer. Mol Endocrinol 22: 2215–2228.

Garay E, Donnelly R, Wang X, Studzinski GP . (2007). Resistance to 1,25D-induced differentiation in human acute myeloid leukemia HL60-40AF cells is associated with reduced transcriptional activity and nucelar localization of the vitamin D receptor. J Cell Physiol 213: 816–825.

Hou SW, Zhi H, Pohl N, Loesch M, Qi X, Li R et al. (2010). PTPH1 dephosphorylates and cooperates with p38γ MAPK to increases Ras oncogenesis through PDZ-mediated interaction. Cancer Res 70: 2901–2910.

Kim S, Shevde NK, Pike JW . (2005). 1,25-dihydroxyvitamin D3 stimulates cyclinc vitamin D receptor/retinoid X receptor DNA-binding, co-activator recruitment, and histone acetylation in intact osteoblasts. J Bone Min Res 20: 305–317.

Korkola JE, DeVries S, Fridlyand J, Hwang ES, Estep AL, Chen YY et al. (2003). Differentiation of lobular versus ductal breast carcinomas by expression microarray analysis. Cancer Res 63: 7167–7175.

Kure S, Nosho K, Baba Y, Irahara N, Shima K, Ng K et al. (2009). Vitamin D receptor expression is associated with PIK3CA and KRAS mutations in colorectal cancer. Cancer Epidemiol Biomarkers Prev 18: 2765–2772.

Lange CR, Shen T, Horwitz KB . (2000). The phosphorylation of human progesterone receptor B at serine 294 by p42MAPK signals its degradation. Pro Natl Acad Sci USA 97: 1032–1037.

Li QP, Qi X, Pramanik R, Pohl NM, Loesch M, Chen G . (2007). Stress-induced c-Jun-dependent vitamin D receptor (VDR) activation dissects the non-classical VDR pathway from the classical VDR activity. J Biol Chem 282: 1544–1551.

Liu F, Chernoff J . (1998). Suppression oncogene-mediated transformation of rat 3Y1 fibroblasts byprotein tyrosine phosphatase 1B requires a functional SH3-ligand. Mol Cell Biol 18: 250–259.

Loesch M, Zhi H, Hou S, Qi X, Li R, Basir Z et al. (2010). p38γ MAPK cooperates with c-Jun in trans-activating matrix metalloproteinase 9. J Biol Chem 285: 15149–15158.

Lu X, Nannenga B, Donehower LA . (2005). PPM1D dephosphorylates Chk1 and p53 and abrogates cell cycle checkpoints. Genes Dev 19: 1162–1174.

Maruyama R, Aoki F, Toyota M, Sasaki Y, Akashi H, Mita H et al. (2006). Comparative genome analysis identifies the vitamin D receptor gene as a direct target of p53-mediated transcriptional activation. Cancer Res 66: 4574–4583.

Menezes RJ, Cheney RT, Husain A, Tretiakova M, Loewen G, Johnson CS et al. (2008). Vitamin D receptor expression in normal, premalignant and malignant human lung tissue. Cancer Epidemiol Biomarkers Prev 17: 1104–1110.

Mhuircheartaigh JN, Curran C, Hennessy E, Kerin MJ . (2006). Prospective matched-pair comparison of outcome after treatment for lobular and ductal breast carcinoma. Br J Surg 95: 827–833.

Obrero M, Yu DV, Shapiro DJ . (2002). Estrogen receptor-dependent and estrogen receptor-independent pathways for tamoxifen and 4-hydroxytamoxifen-induced programmed cell death. J Biol Chem 277: 45695–45703.

Ostman A, Hellberg C, Bohmer FD . (2006). Protein-tyrosine phosphatases and cancer. Nat Rev Cancer 6: 307–320.

Prufer K, Barsony J . (2002). Retinoid X receptor dominates the nuclear import and export of the unliganded vitamin D receptor. Mol Endocrinol 16: 1738–1751.

Prufer K, Racz A, Lin GC, Barsony J . (2000). Dimerization with retinoid X receptors promotes nuclear localization and subnuclear targeting of vitamin D receptors. J Biol Chem 275: 4114–41123.

Prufer K, Schroder C, Hegyi K, Barsony J . (2002). Degradation of RXRs influences sensitivity of rat osteosarcoma cells to the antiproliferative effects of calcitriol. Mol Endocrinol 16: 961–976.

Qi X, Borowicz S, Pramanik R, Schultz RM, Han J, Chen G . (2004). Estrogen receptor inhibits c-Jun-dependent stress-induced cell death by binding and modifying c-Jun activity in human breast cancer cells. J Biol Chem 279: 6769–6777.

Qi X, Pramank R, Wang J, Schultz RM, Maitra RK, Han J et al. (2002). The p38 and JNK pathways cooperate to trans-activate vitamin D receptor via AP-1 and sensitize human breast cancer cells to vitamin D3-induced growth inhibition. J Biol Chem 277: 25884–25892.

Qi X, Tang J, Loesch M, Pohl N, Alkan S, Chen G . (2006). p38γ MAPK integrates signaling cross-talk between Ras and estrogen receptor to increase breast cancer invasion. Cancer Res 66: 7540–7547.

Racz A, Barsony J . (1999). Hormone-dependent translacation of vitamin D receptors is linked to transactivation. J Biol Chem 274: 19352–19360.

Slamon D, Clark G, Wong S, Levin W, Ulirich A, McGuire W . (1987). Human breast cancer: correlation of relaps and survival with amplification of the HER-2/neu oncogene. Science 235: 177–182.

Tang J, Qi X, Mercola D, Han J, Chen G . (2005). Essential role of p38γ in K-Ras transformation independent of phosphorylation. J Biol Chem 280: 23910–23917.

Wang Z, Shen D, Parsons DW, Bardelli A, Sager J, Ptak J et al. (2004). Mutational analysis of the tyrosine phosphatome in colorectal cancers. Science 304: 1164–1166.

Ward J, McConnell MJ, Carlile GW, Pandolfi PP, Licht J, Freedman LP . (2001). The acute promylocytic leukemia-associated protein, promyelocytic leukemia zinc finger, regulates 1,25-dihydroxyvitamin D3-induced monocytic differentiation of U937 cells through a physical interaction with vitamin D3 receptor. Blood 98: 3290–3300.

Wiener JR, Kerns BJ, Harvey EI . (1994). Over-expression of the protein tyrosine phosphatase PTP1B in human breast cancer. Assoation with p185c-erbB-2 protein expression. J Natl Cancer Inst 86: 372–378.

Yang L, Yang J, Venkateswarlu S, Ko T, Brattain MG . (2001). Autocrine TGFβ signaling mediates vitamin D3 analog-induced growth inhibition in breast cells. J Cell Physiol 188: 383–393.

Yang Q, Tonks NK . (1991). Isolation of a cDNA clone encoding a human protein-tyrosine phosphatase with homology to the cytoskeletal-associated proteins band 4.1-ezrin and talin. Proc Natl Acad Sci USA 88: 5949–5953.

Yasmin R, Willliams RM, Xu M, Noy N . (2005). Nuclear import of the retinoid X receptor, the vitamin D receptor, and their mutual heterodimer. J Biol Chem 280: 40152–40160.

Yip SS, Crew AJ, Gee JM, Hui R, Blamey RW, Robertson JF et al (2000). Up-regulation of the protein tyrosine phosphatase SHP–1 in human breast cancer and correlation with GRB2 expression. Int J Cancer 88: 363–368.

Yu D, Huang MC . (2000). Overexpression of ErbB2 in cancer and ErbB2-targeting strategies. Oncogene 19: 6115–6121.

Zhang SH, Liu J, Kabayashi R, Tonks NK . (1999). Identification of the cell cycle regulator VCP (p97/CDC48) as a substrate of the band 4.1-related protein-tyrosine phosphatase PTPH1. J Biol Chem 274: 17806–17812.

Zinser GM, McEleney K, Welsh J . (2003). Characterization of mammary tumor cell lines from wild type and vitamin D3 receptor knockout mice Mol. Cell Endocrinol 200: 67–80.
Acknowledgements
This study was supported by grants from National Institutes of Health (2R01 CA91576), Department of Veterans Affairs (Merit Review), and Cancer Center of Medical College of Wisconsin (GC). We thank Drs Nicholas K Tonks, JoEllen Welsh, Jiahuai Han, Leonard Freedman, David Shapiro, Lawrence A Donehower and Carol E Lange for providing various reagents that made this work possible. We also appreciate Justin Reitsman and Dr Xiaomei Qi for the technical support and Chen's lab members for suggestions and discussions.
Ethics declarations
Competing interests
The authors declare no conflict of interest.
Supplementary information
About this article
Cite this article
Zhi, HY., Hou, SW., Li, RS. et al. PTPH1 cooperates with vitamin D receptor to stimulate breast cancer growth through their mutual stabilization. Oncogene 30, 1706–1715 (2011). https://doi.org/10.1038/onc.2010.543
Received:

Revised:

Accepted:

Published:

Issue Date:

DOI: https://doi.org/10.1038/onc.2010.543
Keywords
PTPH1

VDR

VDR cytoplasmic translocation

mutual stabilization

breast cancer