Abstract
Aquarius is a multifunctional putative RNA helicase that binds precursor-mRNA introns at a defined position. Here we report the crystal structure of human Aquarius, revealing a central RNA helicase core and several unique accessory domains, including an ARM-repeat domain. We show that Aquarius is integrated into spliceosomes as part of a pentameric intron-binding complex (IBC) that, together with the ARM domain, cross-links to U2 snRNP proteins within activated spliceosomes; this suggests that the latter aid in positioning Aquarius on the intron. Aquarius's ARM domain is essential for IBC formation, thus indicating that it has a key protein-protein–scaffolding role. Finally, we provide evidence that Aquarius is required for efficient precursor-mRNA splicing in vitro. Our findings highlight the remarkable structural adaptations of a helicase to achieve position-specific recruitment to a ribonucleoprotein complex and reveal a new building block of the human spliceosome.
Access options
Subscribe to Journal
Get full journal access for 1 year
$225.00
only $18.75 per issue
All prices are NET prices.
VAT will be added later in the checkout.
Rent or Buy article
Get time limited or full article access on ReadCube.
from$8.99
All prices are NET prices.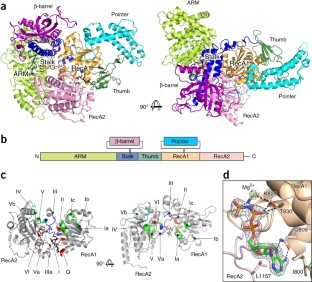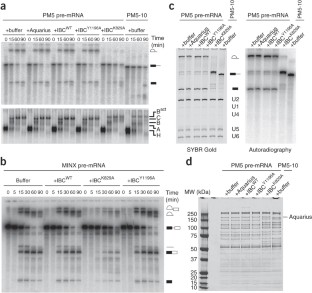 References
1

Wahl, M.C., Will, C.L. & Luhrmann, R. The spliceosome: design principles of a dynamic RNP machine. Cell 136, 701–718 (2009).

2

Staley, J.P. & Guthrie, C. Mechanical devices of the spliceosome: motors, clocks, springs, and things. Cell 92, 315–326 (1998).

3

Bessonov, S. et al. Characterization of purified human Bact spliceosomal complexes reveals compositional and morphological changes during spliceosome activation and first step catalysis. RNA 16, 2384–2403 (2010).

4

Agafonov, D.E. et al. Semiquantitative proteomic analysis of the human spliceosome via a novel two-dimensional gel electrophoresis method. Mol. Cell. Biol. 31, 2667–2682 (2011).

5

Bleichert, F. & Baserga, S.J. The long unwinding road of RNA helicases. Mol. Cell 27, 339–352 (2007).

6

Pyle, A.M. Translocation and unwinding mechanisms of RNA and DNA helicases. Annu. Rev. Biophys. 37, 317–336 (2008).

7

Chakrabarti, S. et al. Molecular mechanisms for the RNA-dependent ATPase activity of Upf1 and its regulation by Upf2. Mol. Cell 41, 693–703 (2011).

8

Semlow, D.R. & Staley, J.P. Staying on message: ensuring fidelity in pre-mRNA splicing. Trends Biochem. Sci. 37, 263–273 (2012).

9

Fabrizio, P. et al. The evolutionarily conserved core design of the catalytic activation step of the yeast spliceosome. Mol. Cell 36, 593–608 (2009).

10

Fairman-Williams, M.E., Guenther, U.P. & Jankowsky, E. SF1 and SF2 helicases: family matters. Curr. Opin. Struct. Biol. 20, 313–324 (2010).

11

Bessonov, S., Anokhina, M., Will, C.L., Urlaub, H. & Luhrmann, R. Isolation of an active step I spliceosome and composition of its RNP core. Nature 452, 846–850 (2008).

12

Gozani, O., Feld, R. & Reed, R. Evidence that sequence-independent binding of highly conserved U2 snRNP proteins upstream of the branch site is required for assembly of spliceosomal complex A. Genes Dev. 10, 233–243 (1996).

13

Hirose, T. et al. A spliceosomal intron binding protein, IBP160, links position-dependent assembly of intron-encoded box C/D snoRNP to pre-mRNA splicing. Mol. Cell 23, 673–684 (2006).

14

Ideue, T., Sasaki, Y.T., Hagiwara, M. & Hirose, T. Introns play an essential role in splicing-dependent formation of the exon junction complex. Genes Dev. 21, 1993–1998 (2007).

15

Korneta, I., Magnus, M. & Bujnicki, J.M. Structural bioinformatics of the human spliceosomal proteome. Nucleic Acids Res. 40, 7046–7065 (2012).

16

Chang, Y.F., Imam, J.S. & Wilkinson, M.F. The nonsense-mediated decay RNA surveillance pathway. Annu. Rev. Biochem. 76, 51–74 (2007).

17

Tanner, N.K., Cordin, O., Banroques, J., Doere, M. & Linder, P. The Q motif: a newly identified motif in DEAD box helicases may regulate ATP binding and hydrolysis. Mol. Cell 11, 127–138 (2003).

18

Kuraoka, I. et al. Isolation of XAB2 complex involved in pre-mRNA splicing, transcription, and transcription-coupled repair. J. Biol. Chem. 283, 940–950 (2008).

19

Andrade, M.A., Petosa, C., O'Donoghue, S.I., Muller, C.W. & Bork, P. Comparison of ARM and HEAT protein repeats. J. Mol. Biol. 309, 1–18 (2001).

20

Tewari, R., Bailes, E., Bunting, K.A. & Coates, J.C. Armadillo-repeat protein functions: questions for little creatures. Trends Cell Biol. 20, 470–481 (2010).

21

Chan, S.P., Kao, D.I., Tsai, W.Y. & Cheng, S.C. The Prp19p-associated complex in spliceosome activation. Science 302, 279–282 (2003).

22

McGrail, J.C., Krause, A. & O'Keefe, R.T. The RNA binding protein Cwc2 interacts directly with the U6 snRNA to link the nineteen complex to the spliceosome during pre-mRNA splicing. Nucleic Acids Res. 37, 4205–4217 (2009).

23

Hogg, R., McGrail, J.C. & O'Keefe, R.T. The function of the NineTeen Complex (NTC) in regulating spliceosome conformations and fidelity during pre-mRNA splicing. Biochem. Soc. Trans. 38, 1110–1115 (2010).

24

Makarova, O.V. et al. A subset of human 35S U5 proteins, including Prp19, function prior to catalytic step 1 of splicing. EMBO J. 23, 2381–2391 (2004).

25

Villa, T. & Guthrie, C. The Isy1p component of the NineTeen complex interacts with the ATPase Prp16p to regulate the fidelity of pre-mRNA splicing. Genes Dev. 19, 1894–1904 (2005).

26

Baserga, S.J., Yang, X.D. & Steitz, J.A. An intact Box C sequence in the U3 snRNA is required for binding of fibrillarin, the protein common to the major family of nucleolar snRNPs. EMBO J. 10, 2645–2651 (1991).

27

Warkocki, Z. et al. Reconstitution of both steps of Saccharomyces cerevisiae splicing with purified spliceosomal components. Nat. Struct. Mol. Biol. 16, 1237–1243 (2009).

28

Trowitzsch, S., Bieniossek, C., Nie, Y., Garzoni, F. & Berger, I. New baculovirus expression tools for recombinant protein complex production. J. Struct. Biol. 172, 45–54 (2010).

29

Kabsch, W. Xds. Acta Crystallogr. D Biol. Crystallogr. 66, 125–132 (2010).

30

Sheldrick, G.M. Experimental phasing with SHELXC/D/E: combining chain tracing with density modification. Acta Crystallogr. D Biol. Crystallogr. 66, 479–485 (2010).

31

Cowtan, K. The Buccaneer software for automated model building. 1. Tracing protein chains. Acta Crystallogr. D Biol. Crystallogr. 62, 1002–1011 (2006).

32

Emsley, P., Lohkamp, B., Scott, W.G. & Cowtan, K. Features and development of Coot. Acta Crystallogr. D Biol. Crystallogr. 66, 486–501 (2010).

33

Adams, P.D. et al. PHENIX: a comprehensive Python-based system for macromolecular structure solution. Acta Crystallogr. D Biol. Crystallogr. 66, 213–221 (2010).

34

Dignam, J.D., Lebovitz, R.M. & Roeder, R.G. Accurate transcription initiation by RNA polymerase II in a soluble extract from isolated mammalian nuclei. Nucleic Acids Res. 11, 1475–1489 (1983).

35

Fabrizio, P., Laggerbauer, B., Lauber, J., Lane, W.S. & Luhrmann, R. An evolutionarily conserved U5 snRNP-specific protein is a GTP-binding factor closely related to the ribosomal translocase EF-2. EMBO J. 16, 4092–4106 (1997).

36

Christian, H., Hofele, R.V., Urlaub, H. & Ficner, R. Insights into the activation of the helicase Prp43 by biochemical studies and structural mass spectrometry. Nucleic Acids Res. 42, 1162–1179 (2014).

37

Chen, Z.A. et al. Architecture of the RNA polymerase II-TFIIF complex revealed by cross-linking and mass spectrometry. EMBO J. 29, 717–726 (2010).

38

Leitner, A. et al. Expanding the chemical cross-linking toolbox by the use of multiple proteases and enrichment by size exclusion chromatography. Mol. Cell. Proteomics 11, M111 014126 (2012).

39

Rappsilber, J., Ishihama, Y. & Mann, M. Stop and go extraction tips for matrix-assisted laser desorption/ionization, nanoelectrospray, and LC/MS sample pretreatment in proteomics. Anal. Chem. 75, 663–670 (2003).

40

Yang, B. et al. Identification of cross-linked peptides from complex samples. Nat. Methods 9, 904–906 (2012).
Acknowledgements
We are grateful to M. Raabe for assisting with peptide sequencing; K. Gencalp for help with multiangle light scattering measurements; A. Draycheva and M. Thommen for help with fluorescence anisotropy experiments; T.R. de Moura, J. Schmitzová, B. Kastner and K. Hartmuth for advice and helpful discussions; and the teams of beamlines 14.2 (BESSY, Berlin, Germany) and PXII (SLS, Villigen, Switzerland) for support during diffraction data collection.
Ethics declarations
Competing interests
The authors declare no competing financial interests.
Integrated supplementary information
Supplementary information
About this article
Cite this article
De, I., Bessonov, S., Hofele, R. et al. The RNA helicase Aquarius exhibits structural adaptations mediating its recruitment to spliceosomes. Nat Struct Mol Biol 22, 138–144 (2015) doi:10.1038/nsmb.2951
Received

Accepted

Published

Issue Date