Abstract
This month's Genome Watch looks at the publication of four hyperthermophilic archaeal genomes, three of which belong to the Crenarchaeota phylum and one of which belongs to the newly defined Nanoarchaeota phylum.
Access options
Subscribe to Journal
Get full journal access for 1 year
$99.00
only $8.25 per issue
All prices are NET prices.
VAT will be added later in the checkout.
Tax calculation will be finalised during checkout.
Rent or Buy article
Get time limited or full article access on ReadCube.
from$8.99
All prices are NET prices.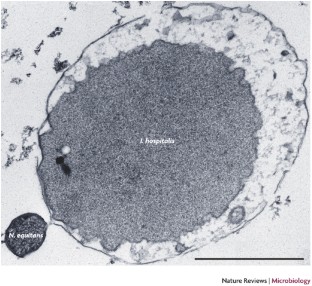 References
1

Ravin, N. V. et al. Complete genome sequence of the anaerobic, protein-degrading hyperthermophilic crenarchaeon Desulfurococcus kamchatkensis. J. Bacteriol. 191, 2371–2379 (2009).

2

Brügger, K. et al. The genome of Hyperthermus butylicus: a sulfur-reducing, peptide fermenting, neutrophilic Crenarchaeote growing up to 108 °C. Archaea 2, 127–135 (2007).

3

Podar, M. et al. A genomic analysis of the archaeal system Ignicoccus hospitalis–Nanoarchaeum equitans. Genome Biol. 9, R158 (2008).

4

Waters, E. et al. The genome of Nanoarchaeum equitans: insights into early archaeal evolution and dereived parasitism. Proc. Natl Acad. Sci. USA 100, 12984–12988 (2003).

5

Jahn, U. et al. Nanoarchaeum equitans and Ignicoccus hospitalis: new insights into a unique, intimate association of two archaea. J. Bacteriol. 190, 1743–1750 (2008).
Related links
Related links
DATABASES
Entrez Genome
About this article
Cite this article
Cerdeño-Tárraga, A. What a scorcher!. Nat Rev Microbiol 7, 408–409 (2009). https://doi.org/10.1038/nrmicro2154