Abstract
This month's Genome Watch discusses selected recent genome papers that have examined the mechanisms and implications of reductive genome evolution.
Access options
Subscribe to Journal
Get full journal access for 1 year
$99.00
only $8.25 per issue
All prices are NET prices.
VAT will be added later in the checkout.
Tax calculation will be finalised during checkout.
Rent or Buy article
Get time limited or full article access on ReadCube.
from$8.99
All prices are NET prices.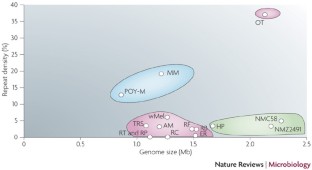 References
1

Lescot, M. et al. The genome of Borrelia recurrentis, the agent of deadly louse-borne relapsing fever, is a degraded subset of the tick-borne Borrelia duttonii. PLoS Genet. 4, e1000185 (2008).

2

Darby, A. C. et al. Intracellular pathogens go extreme: genome evolution in the Rickettsiales. Trends Genet. 23, 511–520 (2007).

3

Cho, N. H. et al. The Orientia tsutsugamushi genome reveals massive proliferation of conjugative type IV secretion system and host-cell interaction genes. Proc. Natl Acad. Sci. USA 104, 7981–7986 (2007).

4

Nakayama, K. et al. The whole-genome sequencing of the obligate intracellular bacterium Orientia tsutsugamushi revealed massive gene amplification during reductive genome evolution. DNA Res. 15, 185–199 (2008).

5

Hongoh, Y. et al. Complete genome of the uncultured Termite Group 1 bacteria in a single host protist cell. Proc. Natl Acad. Sci. USA 105, 5555–5560 (2008).

6

Gil, R. et al. Massive presence of insertion sequences in the genome of SOPE, the primary endosymbiont of the rice weevil Sitophilus oryzae. Int. Microbiol. 11, 41–48 (2008).

7

Anderson, I. et al. Genome sequence of Thermofilum pendens reveals an exceptional loss of biosynthetic pathways without genome reduction. J. Bacteriol. 190, 2957–2965 (2008).
Related links
Related links
DATABASES
Entrez Genome Project
About this article
Cite this article
Walker, A., Langridge, G. Does my genome look big in this?. Nat Rev Microbiol 6, 878–879 (2008). https://doi.org/10.1038/nrmicro2044
Further reading
Theoden Vigil-Stenman

,

Karolina Ininbergs

,

Birgitta Bergman

&

Martin Ekman

The ISME Journal (2017)

Theoden Vigil-Stenman

,

John Larsson

,

Johan A A Nylander

&

Birgitta Bergman

BMC Genomics (2015)