Abstract
Genomes from environmental, industrial and pathogenic bacteria are discussed this month, emphasizing the diversity of application of this fundamental tool of microbiology.
Access options
Subscribe to Journal
Get full journal access for 1 year
$59.00
only $4.92 per issue
All prices are NET prices.
VAT will be added later in the checkout.
Tax calculation will be finalised during checkout.
Rent or Buy article
Get time limited or full article access on ReadCube.
from$8.99
All prices are NET prices.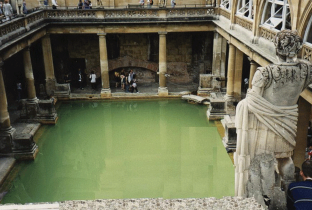 References
1

Rey, M. W. et al. Complete genome sequence of the industrial bacterium Bacillus licheniformis and comparisons with closely related Bacillus species. Genome Biol. 5, R77 (2004).

2

Ikeda, H. et al. Complete genome sequence and comparative analysis of the industrial microorganism Streptomyces avermitilis. Nature Biotechnol. 21, 526–531 (2003).

3

Ward, N. et al. Genomic insights into methanotrophy: the complete genome sequence of Methylococcus capsulatus (Bath). PLoS Biol. 2, e303 (2004).

4

Holmes, A. J., Costello, A., Lidstrom, M. E. & Murrell, J. C. Evidence that particulate methane monooxygenase and ammonia monooxygenase may be evolutionarily related. FEMS Microbiol Lett. 132, 203–208 (1995).

5

Rabus, R. et al. The genome of Desulfotalea psychrophila, a sulfate-reducing bacterium from permanently cold Arctic sediments. Environ. Microbiol. 6, 887–902 (2004).

6

Ishikawa, J. et al. The complete genomic sequence of Nocardia farcinica IFM 10152. Proc. Natl Acad. Sci. USA 101, 14925–14930 (2004).
Related links
Related links
DATABASES
Entrez
FURTHER INFORMATION
About this article
Cite this article
Bentley, S., Crossman, L., Cerdeño-Tárraga, A. et al. Genomic pot pourri. Nat Rev Microbiol 2, 928–929 (2004). https://doi.org/10.1038/nrmicro1051