New non-volatile memory devices store information using different physical mechanisms from those employed in today's memories and could achieve substantial improvements in computing performance and energy efficiency.
Relevant articles
Open Access articles citing this article.
Muhammad Ismail

,

Chandreswar Mahata

…

Sungjun Kim

Nanoscale Research Letters Open Access 24 June 2022

Xiaohan Wu

,

Yuqian Gu

…

Deji Akinwande

npj 2D Materials and Applications Open Access 09 May 2022
Access options
Subscribe to Journal
Get full journal access for 1 year
$119.00
only $9.92 per issue
All prices are NET prices.
VAT will be added later in the checkout.
Tax calculation will be finalised during checkout.
Buy article
Get time limited or full article access on ReadCube.
$32.00
All prices are NET prices.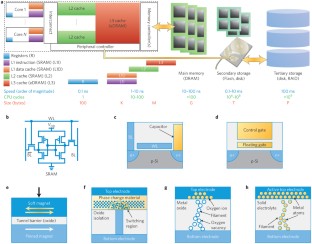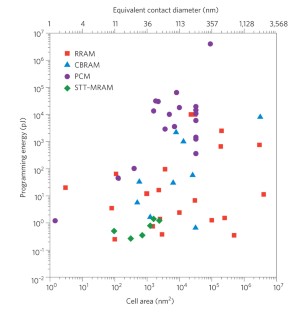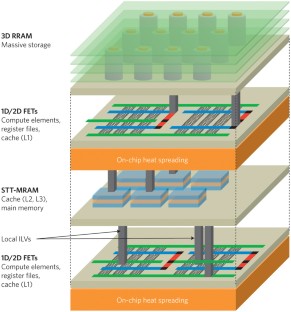 References
Shulaker, M. et al. Monolithic 3D integration: a path from concept to reality http://www.date-conference.com/conference/session/9.8 (2015).

Kogge, P. (ed.) ExaScale Computing Study: Technology Challenges in Achieving Exascale Systems (DARPA Information Processing Techniques Office, 2008); http://www.cse.nd.edu/Reports/2008/TR-2008-13.pdf

Itoh, K. VLSI Memory Chip Design (Springer, 2001).

Borkar, S. & Chien, A. W. Commun. Assoc. Comput. Machin. 54, 67–77 (2011).

Brewer, J. & Gill, M. (eds) Nonvolatile Memory Technologies with Emphasis on Flash: A Comprehensive Guide to Understanding and Using Flash Memory Devices (Wiley/IEEE, 2011).

Qureshi, M. K., Srinivasan, V. & Rivers, J. A. SIGARCH Comput. Archit. News 37, 24–33 (2009).

Parkin, S. S. P. Proc. Int. Electron Devices Meeting (IEDM) 903–906 (2004).

Freitas, R. F. & Wilcke, W. W. IBM J. Res. Dev. 52, 439–447 (2008).

Burr, G. W. et al. IBM J. Res. Dev. 52, 449–464 (2008).

Kent, A. D. & Worledge, D. Nature Nanotech. 10, 187–191 (2015).

Khvalkovskiy, A. V. et al. J. Phys. D 46, 74001 (2013).

Morris, D., Bromberg, D., Zhu, G-J. & Pileggi, L. Design and Automation Conf. (DAC), 49th ACM/EDAC/IEEE 486–491 (2012).

Datta, S., Salahuddin, S. & Behin-Aein, B. Appl. Phys. Lett. 101, 252411 (2012).

Bhowmik, D., You, L. & Salahuddin, S. Nature Nanotech. 9, 59–63 (2014).

Wong, H.-S. P. et al. Proc. IEEE 98, 2201–2227 (2010).

Yamada, N. et al. Jpn. J. Appl. Phys. 26, 61–66 (1987).

Liang, J., Jeyasingh, R. G. D., Chen, H-Y. & Wong, H.-S. P. IEEE Trans. Electron Devices 59, 1155–1163 (2012).

Takaura, N. et al. VLSI Technol Symp. T130–T131 (2013).

Waser, R. & Aono, M. Nature Mater. 6, 833–840 (2007).

Wong, H.-S. P. et al. Proc. IEEE 100, 1951–1970 (2012).

Kamiya, K. et al. Phys. Rev. B 87, 155201 (2013).

Prince, B. Vertical 3D Memory Technologies (Wiley, 2014).

Waser, R., Dittmann, R., Staikov, G. & Szot, K. Adv. Mater. 21, 2632–2663 (2009).

Zahurak, J. et al. Int. Electron Devices Meeting (IEDM) 140–144, Paper 6.2 (2014).

Lai, S. & Lowrey, T. Int. Electron Devices Meeting (IEDM) Paper 36.5 (2001).

Bette, A. et al. Digest of Technical Papers: 2003 Symp. VLSI Circuits 217–220 (IEEE, 2003).

Akerman, J. Science 308, 508–510 (2005).

Zhu, Q. et al. IEEE 23rd Int. Conf. Application-Specific Systems, Architectures Processors (ASAP) 125–132 (2012).

Shulaker, M. et al. Nature 501, 256–530 (2013).

Wang, H. et al. Int. Electron Devices Meeting (IEDM) 88–91 (2012).

Ebrahimi, M. S. et al. SOI-3D-Subthreshold Microelectronics Technology Unified Conf. (S3S) 1–2 http://dx.doi.org/10.1109/S3S.2014.7028198 (IEEE, 2014).
Acknowledgements
The authors acknowledge support from the National Science Foundation Center for Energy Efficient Electronics Science, STARnet FAME, LEAST, and SONIC Centers, IARPA, and member companies of the Stanford Non-Volatile Memory Technology Initiative (NMTRI) and the Stanford SystemX Alliance. Discussions with S. Mitra, M. Sabry, C. Kozyrakis, K. Olukotun, L. Pileggi, F. Franchetti, J. Rabaey and J. Bokor, as well as technical assistance from our students are gratefully acknowledged.
About this article
Cite this article
Wong, HS., Salahuddin, S. Memory leads the way to better computing. Nature Nanotech 10, 191–194 (2015). https://doi.org/10.1038/nnano.2015.29
Published:

Issue Date:

DOI: https://doi.org/10.1038/nnano.2015.29