Ultrafast spin currents in iron-based heterostructures generate terahertz radiation bursts whose frequency can be tailored through structural engineering.
Access options
Subscribe to Journal
Get full journal access for 1 year
$119.00
only $9.92 per issue
All prices are NET prices.
VAT will be added later in the checkout.
Tax calculation will be finalised during checkout.
Buy article
Get time limited or full article access on ReadCube.
$32.00
All prices are NET prices.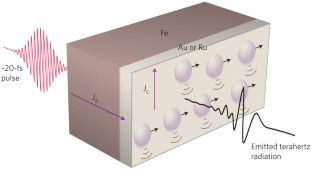 References
Bader, S. D. & Parkin, S. S. P. Annu. Rev. Condens. Matter Phys. 1, 71–88 (2010).

Žutić, I., Fabian, J. & Das Sarma, S. Rev. Mod. Phys. 76, 323–410 (2004).

Kampfrath, T. et al. Nature Nanotech. 8, 256–260 (2013).

Jepsen, P. U., Cooke, D. G. & Koch, M. Laser Photonics Rev. 5, 124–166 (2011).

Tonouchi, M. Nature Photon. 1, 97–105 (2007).

Beaurepaire, E. Appl. Phys. Lett. 84, 3465–3467 (2004).

Kirilyuk, A. K., Kimel, A. V. & Rasing, T. Rev. Mod. Phys. 82, 2731–2784 (2010).

Basov, D. N. et al. Rev. Mod. Phys. 83, 471–541 (2011).
About this article
Cite this article
Averitt, R. Getting current pulses under control. Nature Nanotech 8, 232–233 (2013). https://doi.org/10.1038/nnano.2013.51
Published:

Issue Date:

DOI: https://doi.org/10.1038/nnano.2013.51