Extremely sensitive and ultrasmall superconducting quantum interference devices can be fabricated on sharp nanoscale tips.
Access options
Subscribe to Journal
Get full journal access for 1 year
$169.00
only $14.08 per issue
All prices are NET prices.
VAT will be added later in the checkout.
Rent or Buy article
Get time limited or full article access on ReadCube.
from$8.99
All prices are NET prices.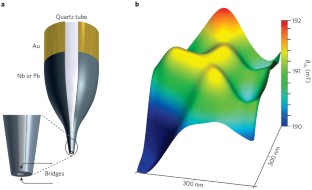 References
1

Vasyukov, D. et al. Nature Nanotech. 8, 639–644 (2013).

2

Clarke, J. & Braginski, A. I. (eds) The SQUID Handbook: Fundamentals and Technology of SQUIDs and SQUID Systems Vol. 1 (Wiley, 2004).

3

Voss, R. F., Laibowitz, R. B. Broers, A. N. Appl. Phys. Lett. 37, 656–658 (1980).

4

Special Section: Focus on NanoSQUIDs and their Applications Supercond. Sci. Technol. 22, 064001–064013 (2009).

5

Kirtley, J. et al. Appl. Phys. Lett. 66, 1138–1140 (1995).

6

Wernsdorfer, W. Adv. Chem. Phys. 118, 99–190 (2001).

7

Finkler, A. et al. Nano Lett. 10, 1046–1049 (2010).
About this article
Cite this article
Koelle, D. A tip for better sensing. Nature Nanotech 8, 617–618 (2013). https://doi.org/10.1038/nnano.2013.179