Abstract
Minimizing Joule heating remains an important goal in the design of electronic devices1,2. The prevailing model of Joule heating relies on a simple semiclassical picture in which electrons collide with the atoms of a conductor, generating heat locally and only in regions of non-zero current density, and this model has been supported by most experiments. Recently, however, it has been predicted that electric currents in graphene and carbon nanotubes can couple to the vibrational modes of a neighbouring material3,4, heating it remotely5. Here, we use in situ electron thermal microscopy to detect the remote Joule heating of a silicon nitride substrate by a single multiwalled carbon nanotube. At least 84% of the electrical power supplied to the nanotube is dissipated directly into the substrate, rather than in the nanotube itself. Although it has different physical origins, this phenomenon is reminiscent of induction heating or microwave dielectric heating. Such an ability to dissipate waste energy remotely could lead to improved thermal management in electronic devices6.
Relevant articles
Open Access articles citing this article.
Qingyan Peng

,

Wei Xiong

…

Jiri Militky

Scientific Reports Open Access 07 December 2022

Zefang Yin

,

Chaojie Cui

…

Weizhong Qian

Carbon Neutrality Open Access 01 August 2022

Zhenhai Wang

,

Lijiang Gui

…

Shengyong Xu

Nanoscale Research Letters Open Access 22 January 2019
Access options
Subscribe to Journal
Get full journal access for 1 year
$119.00
only $9.92 per issue
All prices are NET prices.
VAT will be added later in the checkout.
Tax calculation will be finalised during checkout.
Buy article
Get time limited or full article access on ReadCube.
$32.00
All prices are NET prices.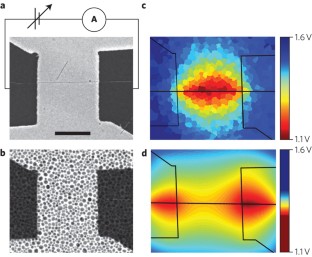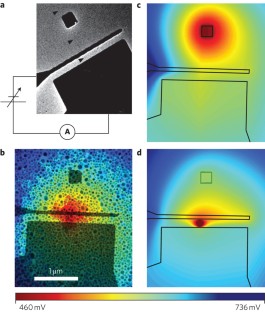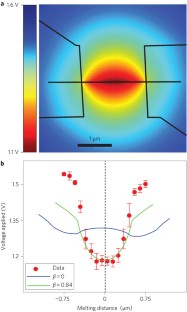 References
Pop, E., Sinha, S. & Goodson, K. E. Heat generation and transport in nanometer-scale transistors. Proc. IEEE 94, 1587–1601 (2006).

Pop, E. Energy dissipation and transport in nanoscale devices. Nano Res. 3, 147–169 (2010).

Chen, J. H., Jang, C., Xiao, S., Ishigami, M. & Fuhrer, M. S. Intrinsic and extrinsic performance limits of graphene devices on SiO2 . Nature Nanotech. 3, 206–209 (2008).

Perebeinos, V., Rotkin, S. V., Petrov, A. G. & Avouris, P. The effects of substrate phonon mode scattering on transport in carbon nanotubes. Nano Lett. 9, 312–316 (2009).

Rotkin, S. V., Perebeinos, V., Petrov, A. G. & Avouris, P. An essential mechanism of heat dissipation in carbon nanotube electronics. Nano Lett. 9, 1850–1855 (2009).

Kenny, T. et al. Advanced cooling technologies for microprocessors. Int. J. High Speed Electron. Syst. 16, 301–313 (2006).

Balandin, A. A. et al. Superior thermal conductivity of single layer graphene. Nano Lett. 8, 902–907 (2008).

Balandin, A. A. Thermal properties of graphene and nanostructured carbon materials. Nature Mater. 10, 569–581 (2011).

Kim, P., Shi, L., Majumdar, A. & McEuen, P. L. Thermal transport measurements of individual multiwalled nanotubes. Phys. Rev. Lett. 87, 215502 (2001).

Fujii, M. et al. Measuring the thermal conductivity of a single carbon nanotube. Phys. Rev. Lett. 95, 065502 (2005).

Murali, R., Yang, Y., Brenner, K., Beck, T. & Meindl, J. D. Breakdown current density of graphene nanoribbons. Appl. Phys. Lett. 94, 243114 (2009).

Yao, Z., Kane, C. L. & Dekker, C. High-field electrical transport in single-wall carbon nanotubes. Phys. Rev. Lett. 84, 2941–2944 (2000).

Wei, B. Q., Vajtai, R. & Ajayan, P. M. Reliability and current carrying capacity of carbon nanotubes. Appl. Phys. Lett. 79, 1172–1174 (2001).

Huxtable, S. T. et al. Interfacial heat flow in carbon nanotube suspensions. Nature 2, 731–734 (2003).

Prasher, R. S. et al. Turning carbon nanotubes from exceptional heat conductors into insulators. Phys. Rev. Lett. 102, 105901 (2009).

Baloch, K. H., Voskanian, N. & Cumings, J. Controlling the thermal contact resistance of a carbon nanotube heat spreader. Appl. Phys. Lett. 97, 063105 (2010).

Pettes, M. T. & Shi, L. Thermal and structural characterizations of individual single-, double-, and multi-walled carbon nanotubes. Adv. Funct. Mater. 19, 3918–3925 (2009).

Brintlinger, T., Qi, Y., Baloch, K. H., Goldhaber-Gordon, D. & Cumings, J. Electron thermal microscopy. Nano Lett. 8, 582–585 (2008).

Prasher, R. Predicting the thermal resistance of nanosized constrictions. Nano Lett. 5, 2155–2159 (2005).

Salehi-Khojin, A., Lin, K. Y., Field, C. R. & Masel, R. I. Nonthermal current-stimulated desorption of gases from carbon nanotubes. Science 329, 1327–1330 (2010).

Bachtold, A. et al. Scanned probe microscopy of electronic transport in carbon nanotubes. Phys. Rev. Lett. 84, 6082–6085 (2000).

Piyasena, P., Dussault, C., Koutchma, T., Ramaswamy, H. S. & Awuah, G. B. Radio frequency heating of foods: principles, applications and related properties—a review. Crit. Rev. Food Sci. Nutr. 43, 587–606 (2003).

Petrov, A. G. & Rotkin, S. V. Energy relaxation of hot carriers in single-wall carbon nanotubes by surface optical phonons of the substrate. J. Exp. Theor. Phys. Lett. 84, 156–160 (2006).

Park, J-Y. et al. Electron–phonon scattering in metallic single-walled carbon nanotubes. Nano Lett. 4, 517–520 (2004).

Chopra, N. G. et al. Fully collapsed carbon nanotubes. Nature 377, 135–138 (1995).

Begtrup, G. E. et al. Probing nanoscale solids at thermal extremes. Phys. Rev. Lett. 99, 155901 (2007).

Nihei, M. et al. Electrical properties of carbon nanotube bundles for future via interconnects. Jpn. J. Appl. Phys. 44, 1626–1628 (2005).

Ma, J. et al. Effects of surfactants on spinning carbon nanotube fibers by an electrophoretic method. Sci. Tech. Adv. Mater. 11, 065005 (2010).
Acknowledgements
This research was supported by the US Department of Energy, Office of Basic Energy Sciences, Division of Materials Sciences and Engineering (award no. DE-FG02-10ER46742). N.V. is supported by the US Nuclear Regulatory Commission under a Faculty Development Grant (NRC3809950).
Ethics declarations
Competing interests
The authors declare no competing financial interests.
Supplementary information
About this article
Cite this article
Baloch, K., Voskanian, N., Bronsgeest, M. et al. Remote Joule heating by a carbon nanotube. Nature Nanotech 7, 316–319 (2012). https://doi.org/10.1038/nnano.2012.39
Received:

Accepted:

Published:

Issue Date:

DOI: https://doi.org/10.1038/nnano.2012.39