Abstract
The enormous stiffness and low density of graphene make it an ideal material for nanoelectromechanical applications. Here, we demonstrate the fabrication and electrical readout of monolayer graphene resonators, and test their response to changes in mass and temperature. The devices show resonances in the megahertz range, and the strong dependence of resonant frequency on applied gate voltage can be fitted to a membrane model to yield the mass density and built-in strain of the graphene. Following the removal and addition of mass, changes in both density and strain are observed, indicating that adsorbates impart tension to the graphene. On cooling, the frequency increases, and the shift rate can be used to measure the unusual negative thermal expansion coefficient of graphene. The quality factor increases with decreasing temperature, reaching ∼1 × 104 at 5 K. By establishing many of the basic attributes of monolayer graphene resonators, the groundwork for applications of these devices, including high-sensitivity mass detectors, is put in place.
Relevant articles
Open Access articles citing this article.
Makars Šiškins

,

Samer Kurdi

…

Peter G. Steeneken

npj 2D Materials and Applications Open Access 15 June 2022

Hai Hu

,

Renwen Yu

…

Qing Dai

Nature Communications Open Access 18 March 2022

Tongyao Zhang

,

Hanwen Wang

…

Xiaoxi Li

Light: Science & Applications Open Access 01 March 2022
Access options
Subscribe to Journal
Get full journal access for 1 year
$119.00
only $9.92 per issue
All prices are NET prices.
VAT will be added later in the checkout.
Tax calculation will be finalised during checkout.
Buy article
Get time limited or full article access on ReadCube.
$32.00
All prices are NET prices.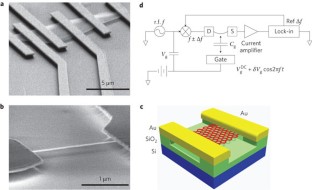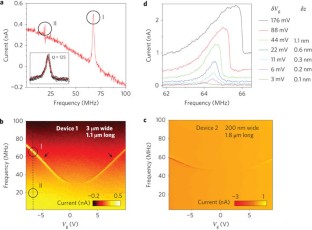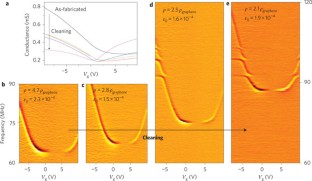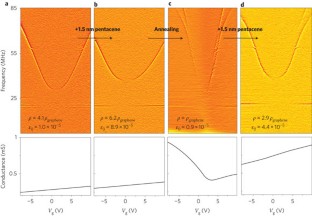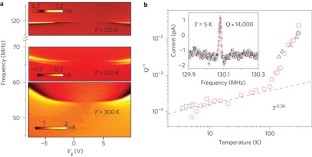 References
Novoselov, K. S. et al. Electric field effect in atomically thin carbon films. Science 306, 666–669 (2004).

Schedin, F. et al. Detection of individual gas molecules adsorbed on graphene. Nature Mater. 6, 652–655 (2007).

Mohanty, N. & Berry, V. Graphene-based single-bacterium resolution biodevice and DNA transistor: interfacing graphene derivatives with nanoscale and microscale biocomponents. Nano Lett. 8, 4469–4476 (2008).

Meric, I. et al. Current saturation in zero-bandgap, top-gated graphene field-effect transistors. Nature Nanotech. 3, 654–659 (2008).

Lee, C., Wei, X. D., Kysar, J. W. & Hone, J. Measurement of the elastic properties and intrinsic strength of monolayer graphene. Science 321, 385–388 (2008).

Mamin, H. J. & Rugar, D. Sub-attonewton force detection at millikelvin temperatures. Appl. Phys. Lett. 79, 3358–3360 (2001).

LaHaye, M. D., Buu, O., Camarota, B. & Schwab, K. C. Approaching the quantum limit of a nanomechanical resonator. Science 304, 74–77 (2004).

Yang, Y. T. et al. Zeptogram-scale nanomechanical mass sensing. Nano Lett. 6, 583–586 (2006).

Bunch, J. S. et al. Electromechanical resonators from graphene sheets. Science 315, 490–493 (2007).

Garcia-Sanchez, D. et al. Imaging mechanical vibrations in suspended graphene sheets. Nano Lett. 8, 1399–1403 (2008).

Bolotin, K. I. et al. Ultrahigh electron mobility in suspended graphene. Solid State Commun. 146, 351–355 (2008).

Stolyarova, E. et al. Observation of graphene bubbles and effective mass transport under graphene films. Nano Lett. 9, 332–337 (2009).

Witkamp, B., Poot, M. & van der Zant, H. S. J. Bending-mode vibration of a suspended nanotube resonator. Nano Lett. 6, 2904–2908 (2006).

Sazonova, V. et al. A tunable carbon nanotube electromechanical oscillator. Nature 431, 284–287 (2004).

Knobel, R. G. & Cleland, A. N. Nanometre-scale displacement sensing using a single electron transistor. Nature 424, 291–293 (2003).

Ekinci, K. L. & Roukes, M. L. Nanoelectromechanical systems. Rev. Sci. Instrum. 76, 061101 (2005).

Lassagne, B., Garcia-Sanchez, D., Aguasca, A. & Bachtold, A. Ultrasensitive mass sensing with a nanotube electromechanical resonator. Nano Lett. 8, 3735–3738 (2008).

Atalaya, J., Isacsson, A. & Kinaret, J. M. Continuum elastic modeling of graphene resonators. Nano Lett. 8, 4196–4200 (2008).

Bunch, J. S. et al. Impermeable atomic membranes from graphene sheets. Nano Lett. 8, 2458–2462 (2008).

Yakobson, B. I., Brabec, C. J. & Bernholc, J. Nanomechanics of carbon tubes: instabilities beyond linear response. Phys. Rev. Lett. 76, 2511–2514 (1996).

Moser, J., Barreiro, A. & Bachtold, A. Current-induced cleaning of graphene. Appl. Phys. Lett. 91, 163513 (2007).

Ishigami, M. et al. Atomic structure of graphene on SiO2 . Nano Lett. 7, 1643–1648 (2007).

Postma, H. W. C., Kozinsky, I., Husain, A. & Roukes, M. L. Dynamic range of nanotube- and nanowire-based electromechanical systems. Appl. Phys. Lett. 86, 223105 (2005).

Dimitrakopoulos, C. D. & Malenfant, P. R. L. Organic thin film transistors for large area electronics. Adv. Mater. 14, 99–117 (2002).

Jun, S. C. et al. Electrothermal tuning of Al-SiC nanomechanical resonators. Nanotechnology 17, 1506–1511 (2006).

Bargatin, I., Kozinsky, I. & Roukes, M. L. Efficient electrothermal actuation of multiple modes of high-frequency nanoelectromechanical resonators. Appl. Phys. Lett. 90, 093116 (2007).

Suleimanov, R. A. & Abdullaev, N. A. The nature of negative linear expansion of graphite crystals. Carbon 31, 1011–1013 (1993).

Mounet, N. & Marzari, N. First-principles determination of the structural, vibrational and thermodynamic properties of diamond, graphite and derivatives. Phys. Rev. B 71, 205214 (2005).

Bao, W. et al. Controlled ripple texturing of suspended graphene and ultrathin graphite membranes. Nature Nanotech. 4, 562–566 (2009).

Huttel, A. et al. Carbon nanotubes as ultrahigh quality factor mechanical resonators. Nano Lett. 9, 2547–2552 (2009).

Hutchinson, A. B. et al. Dissipation in nanocrystalline-diamond nanomechanical resonators. Appl. Phys. Lett. 84, 972–974 (2004).

Mohanty, P. et al. Intrinsic dissipation in high-frequency micromechanical resonators. Phys. Rev. B 66, 085416 (2002).

Evoy, S. et al. Temperature-dependent internal friction in silicon nanoelectromechanical systems. Appl. Phys. Lett. 77, 2397–2399 (2000).

Chiu, H. Y., Hung, P., Postma, H. W. C. & Bockrath, M. Atomic-scale mass sensing using carbon nanotube resonators. Nano Lett. 8, 4342–4346 (2008).

Jensen, K., Kim, K. & Zettl, A. An atomic-resolution nanomechanical mass sensor. Nature Nanotech. 3, 533–537 (2008).

Mohiuddin, T. M. G. et al. Uniaxial strain in graphene by Raman spectroscopy: G peak splitting, Gruneisen parameters and sample orientation. Phys. Rev. B 79, 205433 (2009).

Huang, M. Y. et al. Phonon softening and crystallographic orientation of strained graphene studied by Raman spectroscopy. Proc. Natl Acad. Sci. USA 106, 7304–7308 (2009).

Blake, P. et al. Making graphene visible. Appl. Phys. Lett. 91, 063124 (2007).

Ferrari, A. C. et al. Raman spectrum of graphene and graphene layers. Phys. Rev. Lett. 97, 187401 (2006).

Han, M. Y., Ozyilmaz, B., Zhang, Y. B. & Kim, P. Energy band-gap engineering of graphene nanoribbons. Phys. Rev. Lett. 98, 206805 (2007).
Acknowledgements
We thank M. Huang for useful discussions, H. Yan for Raman spectroscopy and V. Lee for evaporator setup. This work is supported by the DARPA Center on Nanoscale Science and Technology for Integrated Micro/Nano-Electromechanical Transducers (iMINT, grant no. HR0011-06-1-0048, D.L. Polla, Program Manager), the National Science Foundation (grant no. CHE-0117752), the W. M. Keck Foundation and Microsoft Project Q.
Supplementary information
About this article
Cite this article
Chen, C., Rosenblatt, S., Bolotin, K. et al. Performance of monolayer graphene nanomechanical resonators with electrical readout. Nature Nanotech 4, 861–867 (2009). https://doi.org/10.1038/nnano.2009.267
Received:

Accepted:

Published:

Issue Date:

DOI: https://doi.org/10.1038/nnano.2009.267