Abstract
Central to the concept of attention is the fact that identical stimuli can be processed in different ways. In olfaction, attention may designate the identical flow of air through the nose as either respiration or olfactory exploration. Here we have used functional magnetic resonance imaging (fMRI) to probe this attentional mechanism in primary olfactory cortex (POC). We report a dissociation in POC that revealed attention-dependent and attention-independent subregions. Whereas a temporal subregion comprising temporal piriform cortex (PirT) responded equally across conditions, a frontal subregion comprising frontal piriform cortex (PirF) and the olfactory tubercle responded preferentially to attended sniffs as opposed to unattended sniffs. In addition, a task-specific anticipatory response occurred in the attention-dependent region only. This dissociation was consistent across two experimental designs: one focusing on sniffs of clean air, the other focusing on odor-laden sniffs. Our findings highlight the role of attention at the earliest cortical levels of olfactory processing.
Access options
Subscribe to Journal
Get full journal access for 1 year
$225.00
only $18.75 per issue
All prices are NET prices.
VAT will be added later in the checkout.
Rent or Buy article
Get time limited or full article access on ReadCube.
from$8.99
All prices are NET prices.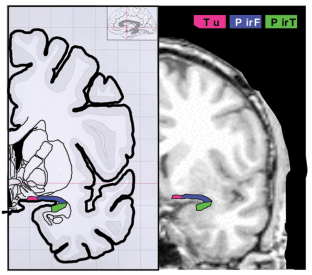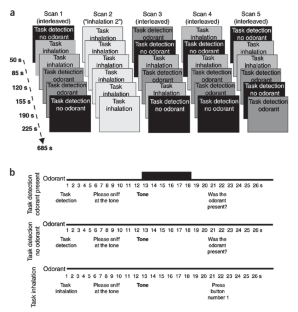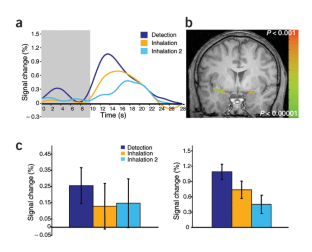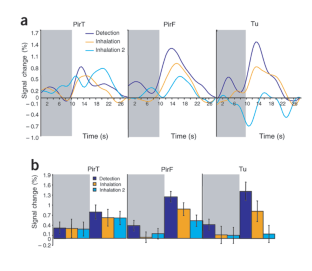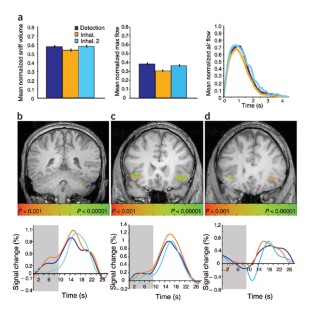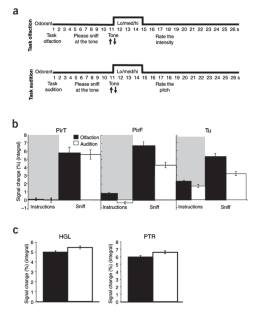 References
1

Price, J.L. Olfactory system. in The Human Nervous System (ed. Paxinos, G.) 979–1001 (Academic, San Diego, 1990).

2

Carmichael, S.T., Clugnet, M.C. & Price, J.L. Central olfactory connections in the macaque monkey. J. Comp. Neurol. 346, 403–434 (1994).

3

Adrian, E.D. Olfactory reactions in the brain of the hedgehog. J. Physiol. (Lond.) 100, 459–473 (1942).

4

Macrides, F. & Chorover, S.L. Olfactory bulb units: activity correlated with inhalation cycles and odor quality. Science 175, 84–87 (1972).

5

Fontanini, A., Spano, P. & Bower, J.M. Ketamine-xylazine-induced slow (<1.5 Hz) oscillations in the rat piriform (olfactory) cortex are functionally correlated with respiration. J. Neurosci. 23, 7993–8001 (2003).

6

Sobel, N. et al. Sniffing and smelling: separate subsystems in the human olfactory cortex. Nature 392, 282–286 (1998).

7

Haberly, L.B. Parallel-distributed processing in olfactory cortex: new insights from morphological and physiological analysis of neuronal circuitry. Chem. Senses 26, 551–576 (2001).

8

Gottfried, J.A., Deichmann, R., Winston, J.S. & Dolan, R.J. Functional heterogeneity in human olfactory cortex: an event-related functional magnetic resonance imaging study. J. Neurosci. 22, 10819–10828 (2002).

9

Litaudon, P., Amat, C., Bertrand, B., Vigouroux, M. & Buonviso, N. Piriform cortex functional heterogeneity revealed by cellular responses to odours. Eur. J. Neurosci. 17, 2457–2461 (2003).

10

Mai, J., Assheuer, J. & Paxinos, G. Atlas of the Human Brain (Academic, London, 1997).

11

Savic, I. Imaging of brain activation by odorants in humans. Curr. Opin. Neurobiol. 12, 455–461 (2002).

12

Courchesne, E. & Allen, G. Prediction and preparation, fundamental functions of the cerebellum. Learn Mem. 4, 1–35 (1997).

13

Spence, C., McGlone, F.P., Kettenmann, B. & Kobal, G. Attention to olfaction. A psychophysical investigation. Exp. Brain Res. 138, 432–437 (2001).

14

Spence, C., Kettenmann, B., Kobal, G. & McGlone, F.P. Selective attention to the chemosensory modality. Percept. Psychophys. 62, 1265–1271 (2000).

15

Geisler, M.W. & Murphy, C. Event-related brain potentials to attended and ignored olfactory and trigeminal stimuli. Int. J. Psychophysiol. 37, 309–315 (2000).

16

Krauel, K., Pause, B.M., Sojka, B., Schott, P. & Ferstl, R. Attentional modulation of central odor processing. Chem. Senses 23, 423–432 (1998).

17

O'Doherty, J. et al. Sensory-specific satiety-related olfactory activation of the human orbitofrontal cortex. NeuroReport 11, 893–897 (2000).

18

Gottfried, J.A., O'Doherty, J. & Dolan, R.J. Encoding predictive reward value in human amygdala and orbitofrontal cortex. Science 301, 1104–1107 (2003).

19

Tootell, R.B. et al. The retinotopy of visual spatial attention. Neuron 21, 1409–1422 (1998).

20

Gandhi, S.P., Heeger, D.J. & Boynton, G.M. Spatial attention affects brain activity in human primary visual cortex. Proc. Natl. Acad. Sci. USA 96, 3314–3319 (1999).

21

Kanwisher, N. & Wojciulik, E. Visual attention: insights from brain imaging. Nat. Rev. Neurosci. 1, 91–100 (2000).

22

Pugh, K.R. et al. Auditory selective attention: an fMRI investigation. NeuroImage 4, 159–173 (1996).

23

Petkov, C.I. et al. Attentional modulation of human auditory cortex. Nat. Neurosci. 7, 658–663 (2004).

24

Carlsson, K., Petrovic, P., Skare, S., Petersson, K.M. & Ingvar, M. Tickling expectations: neural processing in anticipation of a sensory stimulus. J. Cogn. Neurosci. 12, 691–703 (2000).

25

Schoenbaum, G. & Eichenbaum, H. Information coding in the rodent prefrontal cortex. I. Single-neuron activity in orbitofrontal cortex compared with that in pyriform cortex. J. Neurophysiol. 74, 733–750 (1995).

26

Zinyuk, L.E., Datiche, F. & Cattarelli, M. Cell activity in the anterior piriform cortex during an olfactory learning in the rat. Behav. Brain Res. 124, 29–32 (2001).

27

Kay, L.M. & Freeman, W.J. Bidirectional processing in the olfactory-limbic axis during olfactory behavior. Behav. Neurosci. 112, 541–553 (1998).

28

Gray, C.M. & Skinner, J.E. Centrifugal regulation of neuronal activity in the olfactory bulb of the waking rabbit as revealed by reversible cryogenic blockade. Exp. Brain Res. 69, 378–386 (1988).

29

O'Connor, D.H., Fukui, M.M., Pinsk, M.A. & Kastner, S. Attention modulates responses in the human lateral geniculate nucleus. Nat. Neurosci. 5, 1203–1209 (2002).

30

Yu, Y.Q., Xiong, Y., Chan, Y.S. & He, J. Corticofugal gating of auditory information in the thalamus: an in vivo intracellular recording study. J. Neurosci. 24, 3060–3069 (2004).

31

Logothetis, N.K., Pauls, J., Augath, M., Trinath, T. & Oeltermann, A. Neurophysiological investigation of the basis of the fMRI signal. Nature 412, 150–157 (2001).

32

Kay, L.M. & Laurent, G. Odor- and context-dependent modulation of mitral cell activity in behaving rats. Nat. Neurosci. 2, 1003–1009 (1999).

33

Bressler, S.L. Relation of olfactory bulb and cortex. II. Model for driving of cortex by bulb. Brain Res. 409, 294–301 (1987).

34

Sobel, N. et al. Time course of odorant-induced activation in the human primary olfactory cortex. J. Neurophysiol. 83, 537–551 (2000).

35

Kareken, D.A. et al. Olfactory system activation from sniffing: effects in piriform and orbitofrontal cortex. NeuroImage 22, 456–465 (2004).

36

Wilson, D.A. Rapid, experience-induced enhancement in odorant discrimination by anterior piriform cortex neurons. J. Neurophysiol. 90, 65–72 (2003).

37

Johnson, B.N., Mainland, J.D. & Sobel, N. Rapid olfactory processing implicates subcortical control of an olfactomotor system. J. Neurophysiol. 90, 1084–1094 (2003).

38

Wilson, J.L., Jenkinson, M. & Jezzard, P. Optimization of static field homogeneity in human brain using diamagnetic passive shims. Magn. Reson. Med. 48, 906–914 (2002).

39

Engel, S.A. et al. fMRI of human visual cortex. Nature 369, 525 (1994).

40

Boynton, G.M., Engel, S.A., Glover, G.H. & Heeger, D.J. Linear systems analysis of functional magnetic resonance imaging in human V1. J. Neurosci. 16, 4207–4221 (1996).

41

Polonsky, A., Blake, R., Braun, J. & Heeger, D.J. Neuronal activity in human primary visual cortex correlates with perception during binocular rivalry. Nat. Neurosci. 3, 1153–1159 (2000).

42

Wandell, B.A. & Wade, A.R. Functional imaging of the visual pathways. Neurol. Clin. 21, 417–443 (2003).

43

Efron, B. & Tibshirani, R. An Introduction to the Bootstrap (Chapman and Hall, London, 1993).

44

Bullmore, E. et al. How good is good enough in path analysis of fMRI data? NeuroImage 11, 289–301 (2000).
Acknowledgements
We thank Arak Elite. This work was supported by a grant from the National Institute of Deafness and Communication Disorders (R01 DC005958). C.Z. is supported by a predoctoral fellowship from the National Science Foundation.
Ethics declarations
Competing interests
The authors declare no competing financial interests.
Supplementary information
About this article
Cite this article
Zelano, C., Bensafi, M., Porter, J. et al. Attentional modulation in human primary olfactory cortex. Nat Neurosci 8, 114–120 (2005) doi:10.1038/nn1368
Received

Accepted

Published

Issue Date