Abstract
To interpret complex and ambiguous input, the human visual system uses prior knowledge or assumptions about the world. We show that the 'light-from-above' prior, used to extract information about shape from shading is modified in response to active experience with the scene. The resultant adaptation is not specific to the learned scene but generalizes to a different task, demonstrating that priors are constantly adapted by interactive experience with the environment.
This is a preview of subscription content
Access options
Subscribe to Journal
Get full journal access for 1 year
$59.00
only $4.92 per issue
All prices are NET prices.
VAT will be added later in the checkout.
Tax calculation will be finalised during checkout.
Buy article
Get time limited or full article access on ReadCube.
$32.00
All prices are NET prices.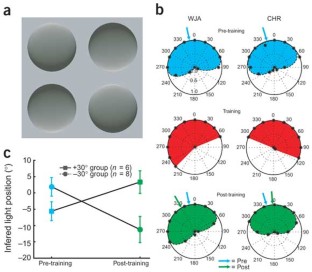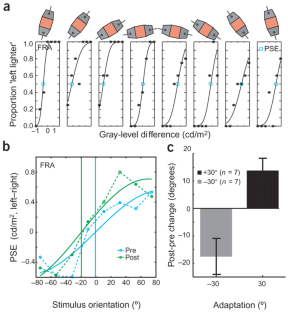 References
Brewster, D. Edinburgh J. Sci. 4, 99–108 (1826).

Sun, J. & Perona, P. Nat. Neurosci. 1, 183–184 (1998).

Langer, M.S. & Bulthoff, H.H. Perception 30, 403–410 (2001).

Wiess, Y., Simoncelli, E.P. & Adelson, E.H. Nat. Neurosci. 5, 598–604 (2002).

Van Ee, R, Adams, W.J. & Mamassian, P. J. Opt. Soc. Am. A 20, 1398–1406 (2003).

Kersten, D., Mamassian, P. & Yuille, A. Annu. Rev. Psychol. 55, 271–304 (2004).

Adelson, E.H. Science 262, 2042–2044 (1993)

Hershberger, W. J. Comp. Physiol. Psych. 73, 407–411 (1970).

Karni, A. & Sagi, D. Nature 365, 250–252 (1993).

Ernst, M.O. & Banks, M.S. Nature 415, 429–433 (2002).
Acknowledgements
Supported by the Wellcome Trust (GR069717MA), US National Science Foundation (0107383) and the 5th Framework Program of the European Union (IST-2001-38040, TOUCH-HapSys). We thank M.S. Banks for helpful feedback.
Ethics declarations
Competing interests
The authors declare no competing financial interests.
About this article
Cite this article
Adams, W., Graf, E. & Ernst, M. Experience can change the 'light-from-above' prior. Nat Neurosci 7, 1057–1058 (2004). https://doi.org/10.1038/nn1312
Received:

Accepted:

Published:

Issue Date:

DOI: https://doi.org/10.1038/nn1312