Abstract
Adult second-language (L2) learning is often claimed to be slow and laborious compared to native language (L1) acquisition, but little is known about the rate of L2 word learning. Here we report that adult second-language learners' brain activity, as measured by event-related potentials (ERPs), discriminated between L2 words and L2 'pseudowords' (word-like letter strings) after just 14 h of classroom instruction. This occurred even while the learners performed at chance levels when making overt L2 word-nonword judgments, indicating that the early acquisition of some aspects of a new language may be overlooked by current behavioral assessments.
Access options
Subscribe to Journal
Get full journal access for 1 year
$209.00
only $17.42 per issue
All prices are NET prices.
VAT will be added later in the checkout.
Rent or Buy article
Get time limited or full article access on ReadCube.
from$8.99
All prices are NET prices.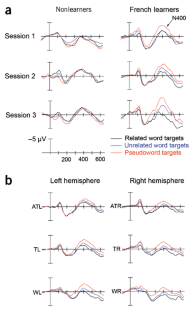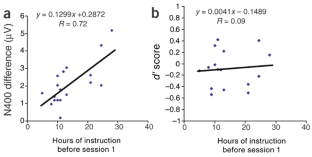 References
1

Osterhout, L., McLaughlin, J. & Bersick, M. Trends Cogn. Sci. 1, 203–209 (1997).

2

Kutas, M. & Van Petten, C. in Handbook of Psycholinguistics (ed. Gernsbacher, M.) 83–143 (Academic, New York, 1994).

3

Bentin, S. Brain Lang. 31, 308–327 (1987).

4

Kutas, M. & Hillyard, S.A. Science 207, 203–205 (1980).

5

Chwilla, D.J., Brown, C.M. & Hagoort, P. Psychophysiology 32, 274–285 (1995).

6

Green, R.M. & Swets, J. Signal Detection Theory and Psychophysics (Krieger, Huntington, New York, 1974).

7

Saffran, J.R., Aslin, R.N. & Newport, E.L. Science 274, 1926–1928 (1996).

8

Miller, J. Percept. Psychophys. 58, 65–72 (1996).
Acknowledgements
This work was supported by National Institute on Deafness and Other Communication Disorders grants R01DC01947, P30DC04661 and F32DC005756.
Ethics declarations
Competing interests
The authors declare no competing financial interests.
About this article
Cite this article
McLaughlin, J., Osterhout, L. & Kim, A. Neural correlates of second-language word learning: minimal instruction produces rapid change. Nat Neurosci 7, 703–704 (2004). https://doi.org/10.1038/nn1264
Received:

Accepted:

Published:

Issue Date: