Abstract
A standard view in the neuroscience literature is that the frontal lobes sustain our ability to process others' mental states such as beliefs, intentions and desires (this ability is often referred to as having 'theory of mind'). Here we report evidence from brain-damaged patients showing that, in addition to involvement of the frontal lobes, the left temporoparietal junction is necessary for reasoning about the beliefs of others.
Access options
Subscribe to Journal
Get full journal access for 1 year
$225.00
only $18.75 per issue
All prices are NET prices.
VAT will be added later in the checkout.
Rent or Buy article
Get time limited or full article access on ReadCube.
from$8.99
All prices are NET prices.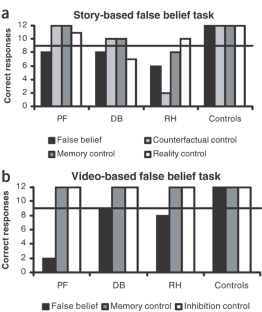 References
1

Fletcher P.C. et al. Cognition 57, 109–128 (1995).

2

Gallagher, H.L. et al. Neuropsychologia 38, 11–21 (2000).

3

Stone, V.E., Baron-Cohen, S. & Knight, R.T. J. Cogn. Neurosci. 10, 640–656 (1998).

4

Rowe, A.D., Bullock, P.R., Polkey, C.E. & Morris, R.G. Brain 124, 600–616 (2001).

5

Saxe, R. & Kanwisher, N. Neuroimage 19, 1835–1842 (2003).

6

Allison, T., Puce, A. & McCarthy, G. Trends Cogn. Sci. 4, 267–278 (2000).

7

Frith, C.D. & Frith, U. Science 286, 1692–1695 (1999).

8

Carlson, S.M., Moses, L.J. & Hix, H.R. Child Dev. 69, 672–691 (1998).

9

Riggs, K.J., Peterson, D.M., Robinson, E.J. & Mitchell, P. Cognit. Dev. 13, 73–90 (1998).

10

Peterson, D.M. & Riggs, K.J. Mind Lang. 14, 80–112 (1999).

11

Kay, J., Lesser, R. & Coltheart, M. Psycholinguistic Assessment of Language Processing in Aphasia (Lawrence Erlbaum, Hove, 1992).

12

Burgess, P.W. & Shallice, T. The Hayling and Brixton Tests (Thames Valley Test Company, Bury St. Edmunds, 1997).

13

Baron-Cohen, S., Wheelwright, S. & Jolliffe, T. Vis. Cogn. 4, 311–331 (1997).

14

Baron-Cohen, S., Wheelwright, S. & Hill, J. J. Child Psychol. Psychiatry 42, 241–252 (2001).
Acknowledgements
This work was supported by grants from the Economic and Social Research Council, the Stroke Association and the Medical Research Council (UK). We thank all the patients for their participation as well as the reviewers for their comments.
Ethics declarations
Competing interests
The authors declare no competing financial interests.
Supplementary information
Lesion reconstructions from MRI scans for the three patients. Lesions have been drawn onto standard slices1. Only slices 3 to 8 are reported. 1. Gado, M., Hanaway, J. & Frank, R. J. Comput. Assist. Tomogr. 3, 1-19 (1979). (JPG 135 kb)
About this article
Cite this article
Samson, D., Apperly, I., Chiavarino, C. et al. Left temporoparietal junction is necessary for representing someone else's belief. Nat Neurosci 7, 499–500 (2004). https://doi.org/10.1038/nn1223
Received:

Accepted:

Published:

Issue Date: